Rimali Batra graduated from ILS Law College, Pune in 2010. After graduation, she worked at ICICI Bank's Corporate Banking and Litigation team in New Delhi for a year. Thereafter, she pursued a BCL degree at the University of Oxford. After completing BCL, she joined Jindal Global Law School as a Research Associate. She subsequently accepted a job offer from J Sagar Associate's Regulatory and Policy team and after continuing there for a while she went on to join her present office at the Regulatory team of Trilegal.
In this interview she talks about:
Reading BCL at Oxford and tips on scholarships
Being a Research Associate at JGLS
Working at JSA and moving over to Trilegal
Most of readers are budding and enthusiastic lawyers, how would you like to introduce yourself to them?
I was born and raised in Delhi. I did my schooling from Montfort Senior Secondary School located in Ashok Vihar, New Delhi. Thereafter I went to ILS Law College, Pune to do my graduation in Law. After ILS Law College, I worked with ICICI Bank's Corporate Banking and Litigation team in New Delhi. A year and three months later, I went to University of Oxford to read law. After BCL, I joined Jindal Law School, Sonipat as a research associate and worked there for three semesters. During the second half of 2014, I joined J Sagar Associate's Regulatory and Policy team and worked on matters concerning power (Electricity Act, 2003). I was with Mr. Amit Kapur's team in JSA for a year and have now moved to Mr. Sitesh Mukherjee's Regulatory team in Trilegal. I have been at Trilegal for five months now. That's been my journey thus far.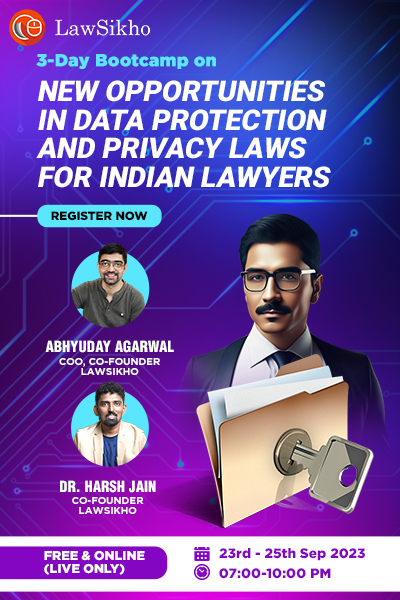 You have had many interesting career switches from starting out as a banking lawyer then being a Research Associate at JGLS to your current profile at Trilegal. What all do you consider before taking these decisions?
One is of course bound to be surprised at the changing courses of my career paths but then it was all a part of the plan, which I hope the readers will see as this interview answers unfold. All decisions that I have made till date connect, and connect wonderfully.
I am a curious individual and don't shy from taking risks. I have always been experimental in nature and challenges attract me and hold me. Call it my weakness, call it my strength. I believe that I perform well when I multi-task (It's like enjoying the main course with some side dishes). That is how it has been since school days. For instance, in school I did not just study hard and well, but also trained myself to be a good basketball player (played national and international tournaments), a praiseworthy debater (both at the inter-school level and state level), a leader (school head girl) and a decent quizzer (inter-school level). Similarly in College, I did not settle for just being among the top 10 rank holder for all five years in the Pune University (ILS was one among the 20 odd colleges affiliated to the Pune University), but also represented ILS at various national and international level moot competitions, elocutions and paper presentations. At Oxford too, I read the BCL alongside playing basketball for the University of Oxford. And now whenever I have time and I am not working, I am doing either of the following – pro-bono advisory on energy laws and medical law and ethics, reading books, stock trading / following the market, writing and publishing stories or on issues of law that interest me, teaching English to underprivileged kids at home on weekends, part-time teaching at law schools or travelling.
Did you have lawyers in your family or in close proximity?
A little about my family: There are no lawyers in my family (or in extended family for that matter). My father hailed from Sonipat and my mother came to India in my Nani's womb from Pakistan. My father was a businessmen and my mother assisted him in his business. He was and is my role model. He had no basic formal education and left school in class VI to pursue his dream of setting up a business. My mother was a national level table-tennis player and a B.Com graduate from University of Delhi.
My elder sister, who is a gold medallist, is a Human Resources manager with a renowned company in New Delhi and my younger brother, who is also a gold medallist in B.Com (H) from University of Delhi is running his own business and takes care of dad's business. I think I inherited my mother's sports skills and reading habits and my father's experimental, risk bearing and helping nature. I believed that a little confusion and nervousness is always good but fear is destructive, and therefore I aim at balancing my fears and my weaknesses with my confidence and strengths, as I move forward. I also leave achievements behind and look at them as a thing of the past and aspire to achieve a little more as days go by. So, in a nut-shell, law and basketball are my passion and I am a learner and observer at heart.
Why did you decide to be a lawyer? How was your law school experience at ILS, Pune?
As far as my memory goes, I sealed the decision of being a lawyer in Class Xth – even before I decided whether to take commerce or science. My decision was based on an aptitude test that was conducted in school moral science class. Thereafter I started adding biographies of famous lawyers to my reading rack alongside the already placed biographies of basketball players. I also read a lot of John Grisham. That marked the beginning. In class XII, I joined LST for preparation. I did not fill any other forms (B.Com, Eco (H) etc) but gave entrance tests for N-Schools. At one point in time, when I did not get through Symbiosis, I almost lost hope for making it to any other N-School, but then when I made it NALSAR, I regained my strength. I also made it to ILS on merit and on sports quota. Now, the decision there was simple, but I got swayed by the India Today ranking and picked ILS over NALSAR, as the ranking placed ILS at number 1 in 2005.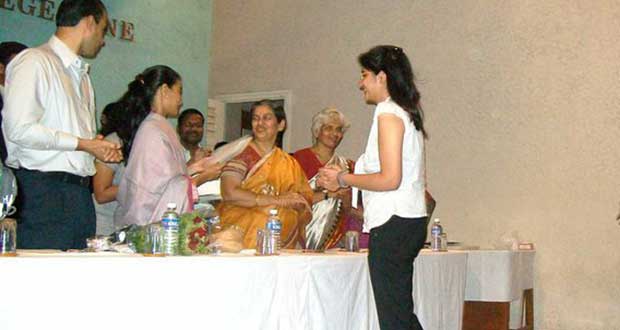 ILS for me was a place of opportunities. Located in the heart of the city and walking distance from Symbiosis, ASCL, Ferguson College, FTII and Gokhale Institute of Political Science and Economics, it offered a vibrant student crowd and a bundle of opportunities. My learning was not limited to the classrooms of ILS. I participated in moots that enlarged my frame of learning, pursued diplomas in subjects that were not taught as a part of the academic curriculum and interned with NGO's/human rights organisations in Pune. During college, I successfully completed diplomas in International Arbitration, Cyber Laws, International Business Laws, Securities Laws and Medical Law and Criminology. I was one of the speakers in the team that represented University of Pune at University of Oxford in the quarter-final rounds of the Oxford IPR Moot Competition, 2009. My first publication was on 'domestic violence' in the college journal (in 2007), followed by a piece on 'separation of powers' in the Ambedkar Law School journal (2009). During college, I also participated in cultural events like poetry writing and recitation, signing and painting. And of course I continued to play Basketball at the Deccan Gymkhana, since our college did not have a functional basketball court. I made some great friends at ILS. Overall, I believe I was able to paint my canvas with so many colours because I was in a college that gave me so much time and space to explore and go looking for opportunities, if they refuse to come to you.
When people say "Law school", they look no further than the National Law Universities. As a graduate of ILS, Pune have you faced any such bias? What would be your advice to students in ILS?
I think the trends are changing a bit. Especially because of so many law colleges mushrooming across the country. ILS has a legacy of being one of the oldest institutions imparting legal knowledge. What ILS lacks is professional training. Meeting my counterparts from N-Schools, always encouraged me to imbibe in me the skills required to think, talk and approach life like a professional. Bias does exit but not all of us have to face it. ILS has a reputation for producing some good litigators however has not earned the same reputation in the corporate world, thereby making it difficult for kids in ILS to crack competitive corporate jobs. I recall an incident during my first job where a senior of my team, while praising my work, introduced me to be from NLS. On my prompting, he corrected himself and toned up his praises even more (considering he was surprised!). I would advise students from ILS to do additional courses and good internships because only studying law at ILS and getting a degree is not going to be enough.
My advice to students of ILS would be two-fold
(a) focus on academics in order to score well. Do not consider classroom teaching the end all of academics, that's just the starting point; and
(b) Make the most of the time at hand. Involve yourself in activities/course or additional degree's that interest you. ILS makes space and time for you to incorporate that in your schedule. Most importantly, do both with the sole objective of learning.
Students can consider requesting administration to take notice of events, moots and competitions that interest them and be rest assured the college will do its part. Student may also invite luminaries in the legal fraternity for lectures and seminars. Basically, what a student in ILS needs is the 'instinct to initiate' and 'go towards opportunities'.
Please describe the internships that you did in college.
For internships, I always chose New Delhi, because this is where home was and logistics were easy to manage. My first internship was in the District Courts of Delhi where I read and researched on matters of criminal law and property related disputes. Thereafter, I did my second internship in Delhi High Court where I worked on matters on the original as well as the appellate side on various subjects. In my third year I did internships with Senior Advocates of Supreme Court. I then did an internship with litigation teams of two law firms and my final internship was with the Law Commission of India where I wrote a thesis (which retired into a book) on Constitutional validity of Medical Termination in India. I planned my internships and explored possible avenues for a lawyer in order to better understand my calling. By the end of five years, I was sure of being a litigator (at the least) not sure of the subject area that interests me.
You worked as a Legal Manager at ICICI Bank. How does a typical day at ICICI work out? What were your main tasks and what responsibility did you undertake?
ICICI Bank was my first employer. I was placed through college. I was based out of the Delhi office (I asked for Delhi as my location during my interview). I worked in no specific vertical, but was primarily doing litigation for/against the Bank. Anything and everything was a part of my profile. On a day I would be doing ECB lending, security creations and on another I would be researching and preparing written submissions for matters pending in the consumer forum or the Supreme Court and on yet another day I would be doing retail banking advisory. Having such a profile made it interesting to work in ICICI. I worked there for a year and a half, before I decided to do a masters.
How did your appointment take place at ICICI Bank? What kinds of questions were asked at your interview for ICICI bank?
ICICI follows a three step procedure, shortlisting on the basis of CV's, followed by a Group Discussion and finally a personal interview. The Group Discussion revolves around a hypothetical problem relating to law of contracts and consumer protection. The personal interview is primarily based on the resume and a few HR based questions.
Please tell us about your decision to do an LL.M and how you went about choosing the program and university.
I decided to pursue my masters from Oxford ever since I visited the University in 2009 for an IPR Moot Competition. On my return, I pursued it like a dream. The advantages of doing a BCL are:
(a) it offers the students to choose a suitable combination of subjects, based on their preferences as opposed to a custom-made LLM course. So, even though I read only four subjects as part of the BCL but at the same time the rigorous workload and timelines gave me the advantage of specialising in four subjects at one time,
(b) Oxford targets on strengthening reading, breaking down complex material and articulating the same in form of legal writings/answers/tutorials. They say, don't study BCL, you read for BCL.
What do you think clicked in your favour during the selection process for Oxford? What are the scholarships you had applied for?
I can't answer this question with certainty. It has to be a combination of my academic performance in ILS, my statement of purpose and the write-up. Also, the fact that I assured my willingness to attend the course and pay for it, in case I did not get scholarships from Oxford, could have boosted my application. However, I did say that I will not attend if I had no scholarships at all. Other than that, achievements mentioned on my CV (like basketball, moots, diplomas etc.), my statement of purpose and my write-up may have added a little value.
How do you think a law student can build up his profile to get through to top-notch universities like Oxford?
It's important to have a strong academic score. A rank in the law school adds value to the application. Apart from that, a student should be able to demonstrate inclination for engaging in theoretical and policy aspects of law. It is also advisable for students to have publications on their side. I remember interacting with the Dean of the University and inter alia, discussing the approach adopted by the University in considering applications from Indian law students. He talked about the law college's ranking also being a relevant factor, apart from the academic achievements of the student.
What was your area of study during your masters at Oxford? How was the academic pressure like and did you find time to engage yourself in other activities?
I read Principles of Financial Regulations, Corporate Laws, Medical Law and Ethics and Philosophical Foundations of Common Law. The courses were rigorous and the readings ranged from being easy to intense and complex. However, I made time to be a part of the Oxford University Girl Basketball team after being shortlisted at the trials conducted at the beginning of the course. I played 4 or 5 inter-university matches and also participated in the legendry 'Varsity Tournament' played between Oxford and Cambridge every year.
Please tell us about the scholarships you applied to and the procedure for each.
I applied for all possible scholarships I stumbled upon during my research. I started looking for scholarships before making my application. I followed this website -governmentofindiascholarship.com. I specifically applied for Rhodes, Common Wealth Scholarship, KC Mahindra Trust, Jain Trust, Ox-Cam among others. I was awarded the KC Mahindra Trust Scholarship and the Ox-Cam Scholarships. The application procedure is a little detailed as the students need to prepare independent SOP for each and demonstrate availability of the balance funds (in case where the scholarship does not cover for everything).
The interview rounds for KC Mahindra and Ox-Cam is fairly simple and questions are primarily targeted at (a) 'Why oxford?' and (b) 'What after masters?'
Additionally, I would suggest students to ask their employers or seniors they have worked with for financial assistance as some firms, seniors or employers are willing to offer funds with or without a promise from the student to come back and work with the said employer or senior.
Please describe your experience at Oxford. What were the classes and professors like?
Oxford was a scintillating experience for me. Especially, reading philosophy at Oxford gave me a deeper understanding of law, legal principles and concepts. Oxford has seminars (classroom teaching) which requires students to read before walking in. For my corporate law class I joined a group that was made by students themselves to discuss seminar questions before the seminar and help prepare better for exams.
At Oxford I was exposed to a system that takes its readings very seriously. As a Masters student, we were required to not just read hundreds of pages every week, but, to also reflect on them during our seminars. I enjoyed this practice very much and it has allowed me to hone my writing skills in the process. A typical reading list will have at least 8-10 important readings (combination of articles, case laws and policy paper series from different jurisdictions, but primarily UK and US). Professors, at best, assist as students deliberate and discuss a topic. One more thing which I found particularly interesting was the presence of an economics, finance and corporate law professor at the same time during seminars for one of my courses, namely, principles of financial regulation.
The tutorial system is quite unique. There are 4 tutorials for each subject and are spread over three semesters followed by a three hours written exam at the end of the course. I found the tutorials challenging but refreshing as they helped me assess my performance and understanding of the subject alongside attending seminars. They also helped me hone my skills of articulating my thoughts and understanding of the subject.
You switched to a pure research based career after coming from Oxford. How did this change take place? How did you get to associate yourself with Jindal Global Law School?
Academics is very close to my heart and still is. For as long as I can remember, teaching and educating has always fascinated me. When at Oxford, I heard about Jindal Law School and its dean, Dr. (Mr.) C. Raj Kumar who happens to be an alumnus of Oxford. I was given an opportunity to work as a Research Associate and lecture two courses 'Property Laws' and 'Corporate Laws'. Honestly, one may see it as a switch in careers, but for me, academics fits in very well for an aspiring lawyer, especially after a masters. I also felt a dire need to re-apply and re-read my subjects, from the Indian law perspective – after I finished my masters.
Though I chose to be a litigator, I haven't lost touch with teaching and academics (and hopefully never will). I have conducted seminars and lectured at various law schools in India, ever since I left Jindal. I am a visiting faculty with Symbiosis Law School, Noida and often visit ILS Law College for conducting week long courses, as and when time permits.
You had worked with Jyoti Sagar Associates and you are now working with Trilegal. Why this switch?
After two very fruitful and enriching years at Jindal Law School, I decide to do join regulatory litigation. I was with JSA for a year and have been with Trilegal for 5 months now and having been working on laws in the energy sector, especially the power sector. With not much precedent in the sector, the practice is demanding and engaging.
How is being a research associate or a legal manager at bank different from working at a top – notch law firm? Does the work load increase, how have you managed this transformation?
When I was in ICICI, I assisted in consumer dispute litigations for/against the bank on subjects involving 'corporate laws', 'banking laws and regulations'. When at Oxford I read 'corporate law' and 'financial regulations'. When at Jindal, I taught 'corporate laws and financial regulations'. When at JSA, I put together the knowledge and experience acquired from 'corporate laws', 'regulations' and 'litigation'; and worked hard in acquiring sector specific knowledge. Electricity/Power sector is a super-niche sector and I find it thrilling and challenging. My work at JSA was very extensive and intense. At Trilegal, I continue working on matters in the power sector with the same intensity and I enjoy it immensely.
How has the journey been so far? What are your long term goals?
For me my journey that has been the best part. The people I met, places I visited, life experiences I picked on the way, all add to me being who I am today. For today and tomorrow, I am a litigator, learner and an observer and I aspire to be perfect at what I do.
Lastly, what would be your message to a law student who wants to excel in the legal profession?
Let me quote Abraham Lincoln's message "If you are resolutely determined to make a lawyer of yourself, the thing is more than half done already." I echo.
When in law school, plan a little about your future. Immerse yourself in travel, cultural exchange, sports, parties and meaningful conversations, as much as possible. Don't let your degree define your career limits. Don't forget to explore and experiment. Take risks sometime, it adds a bitter-sweet flavour to your becoming a lawyer. If you do, then accept your failures as much as your cherish your victories.
And most importantly, keep your imagination alive.