How would you like to introduce yourself to our readers? According to you, what unique qualities define you as a person.
I am a judicial officer currently serving in the Delhi Judicial Services. I was born and brought up in Lucknow and did my schooling from Loreto Convent. I secured AIR 5 in the All India Law Entrance Test in 2011 and graduated from National Law University Delhi in 2016. After graduation, I worked at Star India Private Limited in Mumbai for a short duration. I joined the Delhi Judicial Services in 2019.
I am an avid reader and sports lover. I also enjoy travelling and teaching.
The unique qualities that define me as a person are my ability to adapt to any situation and my enthusiasm to learn.
Tell us about your 3 experiences at NLU Delhi, which helped you shape your career?
At NLU Delhi, I got a chance to take part in numerous varied activities that have shaped my thought process and consequently, my career choices. Most of these activities revolved around access to education and access to justice. The three experiences that have had the most impact on me are –
Heading the IDIA team- 
(For the benefit of those who do not know about IDIA (Increasing Diversity by Increasing Access) – It is a non-profit organisation working in India which aims to empower underprivileged children by giving them access to quality legal education.)
Leading the IDIA Delhi team helped me understand the nature of my privilege and my obligations to those who haven't led a similarly privileged life. It gave me a chance to interact more closely with the most socially marginalized sections of our community including children who were transgenders, victims of human trafficking, sexual abuse and gender/caste/religion based discrimination. 
NLUD Death Penalty Research Project field work-
I conducted field work in Uttar Pradesh and Uttarakhand where I interviewed family members and lawyers of some death row convicts. As a part of the project, I got a chance to travel to some of the most remote areas in these two states and to stay there. It was an eye-opener as I witnessed how prevalence of caste and gender based discrimination, lack of education, abject poverty, non-accessibility to justice, lack of basic resources like clean water, health-care and electricity impacted thousands of lives. This project also gave the opportunity to closely study the interaction that many of these underprivileged people have with the criminal justice system and how the later has failed them on many occasions. 
Tihar jail visits-
I visited the Tihar jail on numerous occasions during my law school days. My interaction with the undertrial prisoners in Tihar made me realize the deplorable state of legal aid in the country. It also gave me an insight into the psychology of a criminal.
Once I had these experiences, it was not possible for me to ignore or un-see them and they played an important role in my decision to pursue a career in judicial services.  
What inspired you to become a judge?
A judge plays one of the most important roles in the justice dispensation system. She has to decide upon questions directly impacting life and personal liberty each day. The district judiciary forms the bedrock of the justice system of the country- it is the place where most litigants have their first and last interaction with justice. It is important to keep in mind that for an overwhelming majority of litigants, the court of first instance is akin to the Apex Court as they do not possess the means to approach the higher courts in appeal/revision. Thus, the judicial office is a position of great responsibility and it is this sense of responsibility, coupled with fact that I find the act of adjudication very interesting and positively challenging, that inspired me to become a judge. I am sure that this service will keep me motivated to give my best each day.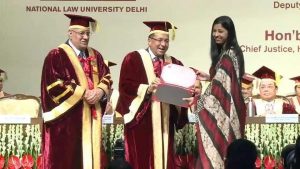 When did you start preparing for the Judicial Services? For how long did you prepare and how many hours did you put in? Tell us about your cornerstone study habits.
I started preparing for the judicial services examinations only after quitting my job. I used to study for 7 to 10 hours each day. However, that said, the number of hours being put in are not even half as important as utilizing that time in an efficient manner. Some of my cornerstone study habits were-
Reading judgements of the Supreme Court as well as the Delhi High Court and not just text books/coaching notes 
Critically analysing provisions of law and imagining different fact situations that could come up in court- researching to find answers and not letting go of doubts without finding concrete answers
Constantly revising and re-revising
Practising answer writing in a timed manner
Taking out time for my physical and mental health by ensuring that I don't get overworked or stressed
Did you join any coaching program for your preparation? What are the pros and cons of preparing on your own vs joining a coaching service?
This is the most often asked question by aspirants. I would like to categorically state that joining a coaching institute is not at all necessary and self-study is more than sufficient. 
I did join two institutes. In the first institute, I attended class for around 3 months. However, since I felt that self-study was more beneficial for me, I stopped attending classes and proceeded to prepare on my own. I also joined a mock test series for prelims and mains at another coaching institute.
I found self-study to be more beneficial because it gave me the freedom to study at my own pace and to develop my own understanding of the laws by interpreting them creatively. A lot of times coaching institutes impose their myopic interpretations of the law on their students, which I believe is detrimental not just for judicial services examinations but for a judicial career as well. 
If you believe that your fundamental concepts of law are clear, joining a coaching institute is not necessary. However, if you are not very confident about having strong knowledge of the basic principles of each law, you could consider joining a coaching. 
Is it a good idea to prepare for multiple states' exams at the same time? Do you think it is possible to combine judicial services exams preparation with other competitive exams?
It is certainly possible to prepare for multiple state judicial services examinations at the same time. However, I believe that it is better to focus primarily on not more than 2 or 3 states at a time because the format, syllabus, examination calendar, as well as the expectations that each state has from its candidates, are different. For instance, in Delhi the focus is on concept clarity and ability to apply the law to real life situations and hence, bare acts are provided to the candidates and questions are application based. But in UP or MP, the focus is on testing the candidates' knowledge of the basic provisions of the law, the questions are theory based and bare acts are not provided. Thus, the same preparation strategy may not work for all the states.
With regards to other competitive examinations, the answer would depend upon the difficulty level and the syllabus of that other examination. I have very often been asked about whether one should prepare for UPSC CSE and judicial services simultaneously. There's no right answer to this question but the candidates should keep in mind the following:
The law optional in UPSC CSE focuses on substantive laws whereas judicial services examinations lay a lot of focus on procedural laws.

Mostly theoretical questions that can be directly answered from the bare acts or landmark case laws are asked in the UPSC CSE optional whereas in judicial services examination, a more in-depth and nuanced understanding of the law is required.

General knowledge is not the decisive component in judicial services examination but the same is of primary importance in the UPSC CSE.
Did you target only one state's examination or multiple states'? In case of multiple states, how did you strategize for each state?

My primary focus was the Delhi Judicial Services Examination. I focused on other judicial services examinations only after writing the Delhi mains.
Can you tell us in detail about the training you received at the Delhi Judicial Academy? 
The training at the Delhi Judicial Academy is truly transformative. It is for one year and consists of the following components:
institutional training which comprising of lectures, debates, mock trials, personality development sessions, sensitization sessions etc
court attachments to give the trainees a first-hand feel of the district courts of Delhi and to enable them to slowly start stepping into the shoes of a judge
field visits to police academy, forensic science laboratories, prisons, hospitals, schools for children with special needs, old-age homes and a village immersion programme.
What are the books that you referred for your preparation? Please share with our readers the subjects to be covered and the kind of exams one needs to clear for Delhi Judiciary services.
There are three stages in the entire examination process- preliminary examination, mains examination and interview. 
PRELIMINARY EXAMINATION- 
Syllabus: Contracts, IPC, CrPC, Evidence, Partnership, Sale of Goods, Arbitration, Constitution, Specific Relief Act, Limitation, English grammar and vocabulary, general knowledge. 
The questions asked in the DJS preliminary examinations are mostly application based and test the candidates' clarity of concepts. Hence, it is important to read the bare act very carefully and to understand the application of the law to real life situations. Landmark cases and recent developments in the law are also to be kept in mind.
MAINS EXAMINATION:
Paper 1- GK and Language
GK- Newspaper (The Hindu), monthly magazines like Pratiyogita Darpan, Lucent's GK, websites like insightsonindia.com, gktoday.in
English- no special preparation
Hindi- Hindi newspaper (Editorial section)
Paper 2- Criminal Law
IPC
CrPC
Evidence
Paper 3- Civil Law 1
Contracts
Sale of Goods
Partnership
Tort
Family Law
Delhi Rent Control
Specific Relief Act
Paper 4- Civil Law II
CPC
Limitation Act
Evidence
For all of these subjects, I first referred to one or two standard textbooks. One can use any textbook recommended by their law school. My focus was on understanding how the various provisions of law are interlinked with each other and for that, I read recent Delhi High Court and Supreme Court judgements regularly. I relied mostly on these judgements to build my own understanding of the laws. It is a good idea to make notes while reading the judgements and books. 
Tell us about
three challenges
a challenge
that you have faced while preparation and how did you overcome them.
I struggled with some health-related issues during my preparation but I was able to control the same by making drastic changes to my lifestyle. I started eating better, sleeping longer, exercising more often and leading a more disciplined life. 
You were one of the semi-finalists in an international moot. Tell us about three skills you have acquired from mooting.
A law school should not be treated as a place where one merely studies various laws; it is primarily a place where one develops the skill to think critically, understand nuances in issues, research thoroughly, and articulate well, all of which are indispensable for any lawyer or judge. Mooting has helped me develop these skills. 
You have been the best IDIA Delhi Chapter leader until now. How has it improved your leadership skills? What motivated you to do this.
Thank you for the kind words. 
My involvement in IDIA taught me that a leader must always lead by example instead of following a top-down approach. She should always consider herself to be a part of the team and not an entity superior to or distinct from it. A motivated and enthusiastic leader can uplift and inspire the entire team.
As a team leader, I decided to actively take part in the teaching/mentoring/fund-raising activities instead of merely being a passive supervisor. This ensured that I had a strong connect not just with my fellow volunteers but also with the scholars/trainees as well as the management team. I had a team of extremely dedicated volunteers who deserved to be heard patiently and to be valued for their unflinching commitment to the cause and hence I tried to make the decision-making process as democratic as possible.  I'd be failing if I don't mention my co-team leaders Kritika Padode and Shweta Kabra who were with me in this at every step of the way. It also goes without saying that a lot of this was possible because of Shamnad Basheer sir's personal guidance and support and because of the trust that he reposed in the Delhi team. 
I was interested in the cause of making education more accessible from my teenage years and was a part of similar projects during my school days as well. I don't think that there are many other things that have the kind of transformative power that education has. Quality education can change the life not just of the person receiving it, but also of his family and the society at large by creating problem-solvers and community lawyers. This was my primary motivation behind working for IDIA. 
What advice would you like to give to the students preparing for judicial examinations and what are the common mistakes that should be avoided? How should they approach this exam at its initial stage and any specific areas they focus upon?
The first and foremost thing to do is to introspect and understand why you want to be a judge. The examination process is very time-consuming and uncertain and hence, if one is not clear about the reasons as to why one wants to hold a judicial office, one can lose motivation and feel lost. 
The most common mistake that many candidates make is that they bite more than they can chew. It is important to prioritize and focus on a few examinations rather than writing each and every examination that they can possibility take. 
Another common mistake is that many candidates have the same strategy for the examination of every state. Each state has a different pattern, level of difficulty and expectation from the candidates and the same should be properly appreciated.
I recommend that at the initial stage the question papers for each state one is interested in should be thoroughly studied. Effort should be made to collect all relevant resources at one place and to make notes so that revising is easier and more efficient. I also recommend that the candidates read full judgements and not rely on summaries available online. 
How would you guide our readers to prepare for the judiciary interview? 
The DJS interviews are really short. They last between 2-7 minutes. The interview is mostly a test of personality as law has already been tested in the mains. The panellists are warm and cordial. Do not be nervous. Before answering any question put to you by the panellists, pause for a few seconds and frame a structure in your head before answering. Smile, be courteous and polite. Be completely honest and sincere in your answers. 
How does the judiciary preliminary preparation differ from the mains preparation?
I strongly suggest that one should prepare for the mains before preparing for the preliminary examinations. Learning the bare act is a lot easier when you are thorough with the concepts. 20-25 days of dedicated preparation for the prelims is more than sufficient once one round of mains preparation is done. For prelims, one should focus on reading the bare act with utmost attention to detail. 
However, in DJS mains the bare acts are provided and hence rote learning is neither required nor encouraged. 
Is it a good idea to prepare for the judiciary examination while being in college? From which year one should start preparing for the examination?
The sooner one starts preparing, the better it is. It should be kept in mind that as of now, there is no fixed calendar or schedule for the judicial services examinations. Hence, it is better to start preparation while one is still in law school. That said, I would like to encourage law students to make an informed choice after exploring other career options as well. 
Anything else you would like to share with our readers?
Enjoy the process of preparing and learning. Don't look at it as a task. 
Make your own independent preparation strategy based on your unique strengths and weakness, instead of blindly following what others have to say.
Take care of your mental and physical health.