Robin Quadros graduated from National Law Institute University, Bhopal in 2012.. He has thereafter worked at Rohit Das & Associates and MLS Vani & Associates. He is currently working as an Associate at Desai and Diwanji, Mumbai.
We asked him to share his journey from being a law student to being a corporate lawyer.
Given that most of our readers belong to the legal fraternity, how would you introduce yourself to them?
Hello everyone. I am Robin Quadros. I was born and brought up in Mumbai and I have graduated from National Law Institute University, Bhopal in 2012. I am an Associate at Desai & Diwanji, Mumbai.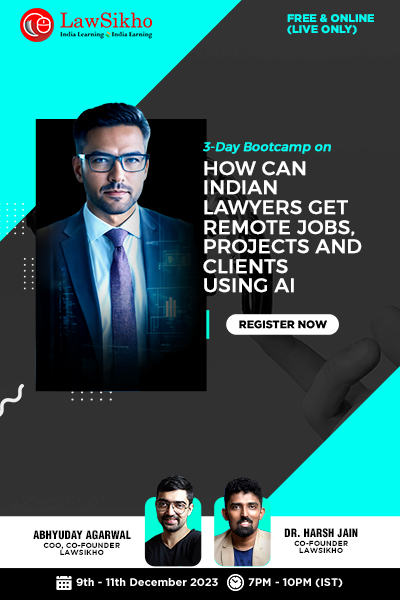 How did you gravitate towards law? Why law and not engineering or medical studies?
The thought in relation to a career in the legal industry was always fascinating. I believe that the work as an engineer or a doctor is a bit mechanical. The same kind of work is required to be performed almost every day. The degree of the problem may vary, but not the solution.
I believe that everything or every action to be carried out from below the earth such as mining, oil exploration, etc. and everything above the earth including space is covered by laws. The work of a lawyer has more scope than working as an engineer or doctor, because an engineers and doctors are more or less restricted to their specialisation. I have always been keen on corporate law, which in itself is vast, yet I am not prevented or precluded from practicing in media law, space law, international law, taxation or any other field of law. Life as a lawyer is different every day. In case of litigation matters, all cases differ from each other. In case of corporate matters or transactions, the requirements of different clients vary. The fun part for the lawyer is that her/ his mind is always at work. This is the reason I had considered being a lawyer and had no other second thoughts. It is the most exciting career option for anyone.
How would you describe your legal education? Did your legal education prepare you for the real world practice of law?
Being a student in any National Law University is always difficult. There is always constant pressure due to the hectic schedule. The trimester system at NLIU, Bhopal made life a bit trickier. Every student has her/ his own way of working/ studying and so did I. I believe if a student's mind is clear in terms of career options for the future, they can work/ study in a particular manner in order to achieve that goal. I was not a topper in my law school though I always believed that knowledge is power. I tried to keep abreast with current affairs as law is ever changing and hence along with regular college studies as a student, it is quintessential for a student to be updated with new laws or new interpretations of the existing laws.
Life as a law student has surely helped me prepare for the "real world practice of law". Every experience, whether good or bad, is a good "learning" experience and will always help me in my career. I would suggest that every law student should be ready to face as many difficult situations and challenges as possible. If you face a difficult or tricky challenge in future, the confidence to face it will flow from your past.
As a law student which activities did you participate in?
As a law student I was quite keen on mooting. I believe that mooting is the best manner to prepare a law student for the real life practice. Mooting hones the skills of the law student in research, drafting the memorial, arguing in front of the judges as well as being street smart and being quick on the feet. I have also presented few papers at conferences which assisted me in my drafting, research as well as presentation skills.
Tell us about your law school journey from the 1st year till your final year. Did you have any guidance on how to go about your academics, co-curricular activities and internships?
I did not take any guidance in terms of academics. Every student is different and so is their way and manner of working. A student must always follow the path which helps them the most. I decided to balance my academics with other interests such as extracurricular activities and internships. I always focussed on learning, be it academics or other activities. I would like to credit my seniors at NLIU for their guidance in terms of internships and co-curricular activities. I also had some close friends from other National Law Schools who would help, advice and guide me as and when required.
What kind of internships did you do while you were a student? Any remarkable experiences during your internships that shaped your career choices later?
I had interned at NGO's, an LPO and various law firms. I decided to intern at NGO's and an LPO solely with an intention to understand the kind of work carried out by such organisations. I had already decided on my career choices before joining NLIU, so the internships only assisted me in achieving my immediate career objectives.
As I had already decided to work in a corporate law firm, I decided to have diverse work experience through my internships. Through my internship experiences I gained knowledge in banking, real estate, general corporate and project finance matters amongst others, which till date is helpful in some manner or the other. As I was a law student during the recession period in 2009, through my internship experiences I realised that I must gain experience in as many areas of practice as possible. For example, if the markets and economic situation of the country is weak, the amount of work received by the law firms in capital markets and securities and possibly the number of acquisitions in the country may be lower.
The work at a law firm is largely dependent on the political and economic situation of the country. In a country like India, I believe that the focus of a lawyer may be on a particular practice area, but the lawyer must not shy away from other practice areas. In case of a bad economic situation in the country, the knowledge gained by the lawyer in other practice areas will help them survive till the markets are stable. This was something that I identified through my internships which according me was important.
Did you find that your law school education had prepared you sufficiently for the many tasks you were required to execute during your internships and later at your job?
Education always prepares you for the challenges in future. However, that is just the first step. Good education from a good law school is a stepping stone. One must never forget that law is ever evolving. The process of learning never stops. Law school education helped me prepare the basics. There are many new laws that are enacted. The courts also keep interpreting the existing laws which a lawyer is required to be aware of. My law school education played a major role in executing my work during internships.
However, the work that I received at law firms during my job and the queries from clients were more complex and required much more research and analysis. It is always a different situation when you have to read a question and answer during exams as compared to advising a client in a litigation matter or a transaction. The advice given by the lawyer to the client should be good because one wrong piece of advice could affect the client in an adverse manner. The pressure faced by the lawyer in advising the client is much more than answering a question paper.
How has your mooting experience been?
To be honest, I will not term my mooting experience as "successful", but personally, the experience has been "satisfying". I believe that no one will have faith in you, if you do not have faith in yourself. I always liked to challenge myself where it has been possible and compete against others. I do feel sad and regret that I have not won a national moot and a best speaker award where it has been possible. I won the second best speaker in my first ever intra batch moot in my law school, which I will not consider as success, as there could have been more that I could have achieved in my mooting career.
But mooting has instilled a lot of confidence within me and has helped me till date, including personal appearances in the Hon'ble Bombay High Court and especially in a particular case that was decided in my clients favour. Mooting has also helped me improve upon my research abilities in corporate and litigation matters. I would encourage every law student to moot at least once in their life.
Everyone who participates in moots and takes up that challenge up front as a law student in their first year is always a winner. I have seen at least hundreds from various law schools who prepare for moots till the last moment and then back out. So everyone who participates is a winner in their own way, compared to those who back out due to low self-confidence.
After graduating from NLIU you directly joined Rohit Das & Associates. How did the appointment take place?
I had two internships at Rohit Das & Associates ("RDA Legal"). As RDA Legal at that time did not have an office in Mumbai, I had interned at RDA Legal, Bangalore in my 3rd year and RDA Legal, Kolkata in my 4th year. RDA Legal (then PXV & Partners) had visited the NLIU campus on "Day Zero" for recruitment but I could not sit for the placement due to personal problems. I had received an offer from a reputed litigation firm in Mumbai after graduation. As I was keen on corporate law, I spoke to Mr. Rohit Das over a call expressing my interest and intent to join RDA Legal. He decided to meet me and after a fruitful conversation during the meeting, I was offered a job by Mr. Rohit Das. Another good law firm in Mumbai had expressed their interest in recruiting me after I was offered a job at RDA Legal, which I declined due to strategic reasons.
You left RDA and had joined MLS Vani & Associates. What prompted this switchover? Would you say that the work environment at MLS Vani was significantly different from RDA?
This is a tricky question to answer. I had joined RDA legal as it was a start up and wished to be a part of RDA Legal's growth as well as contribute towards the growth of the firm. However, there were certain administrative problems in the firm, which I do not wish to state now, due to which I could not continue in the firm any longer. The switchover was smooth and I am sure Mr. Rohit Das understood my actual reasons for resigning.
The work environment at MLS Vani & Associates was way different from RDA Legal. I had joined a litigation firm from a corporate firm. I had to regularly appear in courts, had regular meetings with clients in office. I was responsible for whatever happened in the courts, so my personal responsibility and accountability in drafting as well as appearances was much more. MLS Vani & Associates was a much smaller firm in comparison to RDA Legal but was as professional as any other good law firm irrespective of the size. I was a part of some good matters in the banking and real estate area. The appearances in the courts was hectic but  fun, especially being part of the team against a few top tier law firms and working with a good litigation firm such as Dutt Menon & Dunmorrsett.
You've recently joined Desai & Diwanji. What prompted this move?
Though I had joined a litigation firm like MLS Vani & Associates, my interest was always to be a part of corporate transactional matters, especially Mergers & Acquisitions. After leaving RDA Legal and joining MLS Vani, I did miss being a part of M&A transactions and working on corporate matters. As Desai & Diwanji is one of the best law firms in terms of M&A and General Corporate it was not that difficult a decision to switch.
How did you approach Desai & Diwanji for this job?
Well, I did not have any contacts, so it was the normal procedure. The HR of Desai & Diwanji had always been honest in terms of requirements of the firm. I had called the HR a year back (in 2013) and she specifically informed me that the firm is looking out for a lawyer with litigation experience of at least 7 years. As I had an experience of only one year in general corporate, I obviously did not fit in to the requirements. I tried the same procedure in 2014. I called the HR and expressed my intention and interest to join Desai & Diwanji.
The HR inquired about my work experience and informed me that a particular team was looking out for a lawyer with experience in litigation and corporate. The interview was scheduled with the concerned partner and after clearing the interview I was a part of this team at Desai & Diwanji. I currently handle 3-4 litigation matters and assist my team in corporate matters including legal opinions, due diligence and transactions such as M&A.
How does your typical workday look like?
I generally work from 9:30 am till around 9-10 pm average. The work atmosphere is really good. Being a part of a law firm with so many lawyers is always an advantage. Even if I work for 12 or 15 or 18 hours a day, I do not feel any physical or psychological exhaustion as the other associates in the firm always provide constant strength and support to each other. My suggestion to law students is that the work in a law firm is always hectic and you must choose it if you prefer that kind of work and feel you are made for it, but not just on the basis of money you will receive at the end of the month.
Many young lawyers at corporate firms complain about the work being too exhausting, and that maintaining a work-life balance is just not possible. Could you share any advice on this?
As you sow, so shall you reap. The efforts which I put in today will bear fruits tomorrow. Well, I have worked for even 15-18 hours a day, for quite a few continuous days in my short stint at Desai & Diwanji till date and even had a similar schedule at a previous job. This situation in relation to work hours is not only limited to Desai & Diwanji, as lawyers in other top law firms also work long hours continuously which at times extends to two or three days. I would love to learn, make mistakes (and learn), work hectic hours, as long as I achieve what I desire in life. Many young lawyers do complain.
Working in a good law firm is not everyone's piece of cake. I have been working crazy hours for a while, but I remove time for family, friends and loved ones. It may be a weekend or a late night. I always like to surprise my close ones and they do appreciate my efforts. Where there is a will, there is a way. If you enjoy your work and your close ones support you, life will always be easier. The lawyers who complain are probably in the wrong field or job. Work is about enjoying, not complaining. If a client requires a particular task to be completed within a particular time, it has to be completed. This is the situation existing at all top law firms. If you are having sleepless nights, so is your client! My simple advice is that, if you feel something is not right for you or not working out for you, you are probably at the wrong place!
If you could re-live your 5 years in Law school, is there something you would do differently?
I do miss my 5 years at NLIU, Bhopal dearly. It was never fast moving and hectic like my life in Mumbai. But life is all about how you live it. Bhopal was not as fast moving as Mumbai was, but I ensured that I made my 5 years at NLIU, Bhopal as fruitful as possible in my own way. I enjoyed and studied in my 5 years at NLIU, Bhopal, and I doubt I would do anything differently now. Life is all about balancing work and living.
Where do you see yourself five years from now?
Probably in a corporate law firm. Hopefully handling M&A and other corporate transactions and in a more responsible position.
Lastly, what would be your message for our readers?
I have noticed a lot of law students fear the efforts which go into the preparations for a moot. I would like to remind law students of the saying "Survival of the fittest". Your loss is some other students gain. If you wish to be a lawyer, you should be prepared to take on all challenges that you come across. Mooting is the easiest of all those challenges you may face as a lawyer and in your life. It is not always about winning. As I stated above, every experience will help, whether good or bad.
Another message, for law students or young lawyers, irrespective, is that many try to seek jobs in "top tier law firms", whether for status or money but being blank or unaware about their area of interest. Identify your area of interest. I have asked many final year law students on their future plans, with the answer being "Let's see. I am trying at all top tier law firms." When I ask them their area of interest and their reason to apply at that "top tier law firm", I get a blank reply. I have also come across many law students and lawyers depressed that they did not make it to a top tier law firm. If you do not get your desired job today, prepare yourself in such a manner that you might get it tomorrow. Some lawyers who make it to a top tier law firm complain about work-life balance and how difficult life is! There are many boutique firms practicing in specific practice areas, some paying as high as or higher than top tier law firms, considering that the lawyer is worth the price. Experimentation is fine during internships, but experimenting jobs is not cool! You may lie to the whole world, but you can never lie to yourself. Choose your career wisely at the appropriate time. Making it to a top tier law firm is not bad, but only if you feel you can handle it and if that is what you desire.
I think I will end with an appropriate dialogue from the movie 3-Idiots for current law students. As many seem to have forgotten it, I quote, "Do not run behind success, but try to achieve excellence. Success will be achieved through excellence".