Roshan Gopalakrishna graduated from NLSIU, Bangalore in 2008 with a keen interest in sports and entertainment law. He is currently the Chief Legal Counsel at Copyright Integrity International and Senior Associate at the Law Offices of Nandan Kamath. He has advised the International Cricket Council on rights protection and is also a member of the Taskforce set up by the Karnataka Knowledge Commission to draft a comprehensive Sports Policy for the State. In this interview he talks about:
Pursuing sports and entertainment law.
Representing India at the Australia-India Youth Dialogue 2015.
Working at CII and the Law Offices of Nandan Kamath.
Our readers consist of law aspirants, law students and young lawyers. How will you introduce yourself to them?
Hello everyone. I'm a sports and entertainment lawyer with 7 years of experience in advising various stakeholders in sport. I graduated from the National Law School of India University in 2008. A large part of my life revolves around sport, and I hope it continues to stay that way!
Tell us a bit about your childhood and pre-college life as well as educational background. Do you have lawyers in your family?
I was born in the coastal town of Karwar, Karnataka. Apart from being a place of great natural beauty, (the Western Ghats, the Kali river and the Arabian Sea all meet here) Karwar is famous for two things (i) Project Seabird – which will develop into the largest naval base east of the Suez Canal (ii) inspiring Rabindranath Tagore to pen Prakritir Pratishodha (Nature's Revenge). Tagore's brother Satyendranath was a district judge in Karwar in the 1880s. In Tagore's words – "The sea beach of Karwar is certainly a fit place in which to realize that the beauty of Nature is not a mirage of the imagination, but reflects the joy of the Infinite and thus draws us to lose ourselves in it. Where the universe is expressing itself in the magic of its laws it may not be strange if we miss its infinitude; but where the heart gets into immediate touch with immensity in the beauty of the meanest of things, is any room left for argument?"
I was born into a family of doctors on my mother's side and civil servants on my father's side. There were absolutely NO lawyers on either side of the immediate family. As my father was a civil servant, we were able to experience life in many districts across Karnataka. As a devout follower of the state syllabus, I completed the SSLC from Sri Ramakrishna Vidyashala Mysore, one of Karnataka's best residential schools for boys, and II PUC (Science Stream) from the Government PU College, Chikkamagalur.
In India there is bit of resistance towards legal education even now. What motivated you to choose law as a career?
I think I realised early on (around 8th standard – I was an early thinker!) that I did not have the aptitude required for a career in medicine or engineering. The larger issue was that it took an additional 2-3 years for me to figure out what exactly it was that I wanted to do. At boarding school in Mysore, the correspondent Rev. Sw. Muktidanandaji and the warden Rev. Sw. Atmashraddhanandaji suggested that a career in law and specifically at NLSIU would be a good option given my inherent qualities.
My parents were extremely supportive of my decision and it helped that my father was aware of NLSIU's reputation from his time as the Registrar of Bangalore University in the 90s. After that it was a matter of focussing on the NLSIU entrance and hoping for some divine intervention.
How did you get through to NLSIU?
Ah, after two years of trying!
I attempted the NLSIU entrance exam in 2001 for the first time, and ended up with a rank in the top 100 or so, but missed the cut-off of 115 by about 4-5 marks. It was particularly devastating as I had no back-up option and I knew that some of the haste that I showed in the last 15 minutes of the test had proved to be my undoing. So while my father was posted in Chikkamagalur district, I basically just spent a whole year reading, playing cricket and badminton, and 'preparing'.
Wiser, I attempted the NUJS and NLSIU entrance tests in 2002. The result of the NUJS entrance test was shocking to say the least. I ranked second overall! While I was undoubtedly pleased as punch, unfortunately, it also brought out one of my worst qualities – hubris, and I just assumed that I'd waltz through the NLSIU entrance as well. The NLSIU entrance test of 2002 was probably the toughest in the history of the institution. The topper scored 99/200! Yours truly was ranked 62, basically bottom of the waiting list.
The academic term at NUJS started a month in advance of the term at NLSIU.  As I had already paid the fees, I joined NUJS in June 2002 (Kolkata during the 2002 FIFA World Cup that Brazil won, beat that!). As fate would have, an opening at NLSIU in mid-July meant that I was able to join NLSIU at last, by the skin of my teeth no less.
Tell us about the places you have interned at. Did you plan your internships throughout law school?
At NLSIU, the 2-month break internships are largely structured as follows – first year and second year: usually NGOs or non-legal, third year: trial courts, fourth year: appellate courts and fifth year: usually with a law firm or a company.
I followed this roadmap for the large part. More so since at NLSIU the trial court + appellate court + fifth year internship count towards a grade. Once I realised that my interests were in the sports ecosystem, I pro-actively sought opportunities to work at sports management companies, leading to internships with Mahesh Bhupathi's Globosport, the Organising Committee of the Sony Ericsson International Bangalore 2007 (a WTA tier 3 tournament) and with Mr. Vinod Naidu – Sachin Tendulkar's manager. Further, I was also able to convince members of the faculty at NLSIU to include sports related topics in the list of project topics allotted to students (IPR, ADR, Business Contracts, etc.). I guess this was a fun way of getting the most out of your passion and your profession.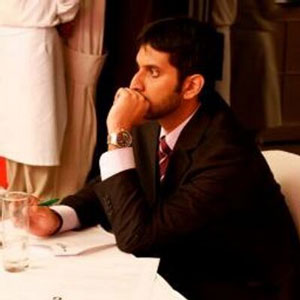 Currently, you are working at two boutique firms CII and The Law Offices of Nandan Kamath that are now widely regarded as the best firms for IPR protection and sports law in India. Please walk us through your work profile in both of these organizations.
I joined CII and LawNK on June 1, 2009. On graduation from NLSIU in 2008, I headed to Melbourne to work with a law firm. Changes to the requirements for Indian lawyers to qualify locally in the state of Victoria (studying 11 Australian law subject to qualify, as opposed to 3-4 in 2007-08) meant that I headed back to familiar shores earlier than I had planned. I also managed to gain 2-3 months of experience consulting for an advisory company engaged in the Australia-India space.
At LawNK, I was the firm's first associate. At CII I was given the opportunity to build the company's trademark monitoring practice. The clinching factors were (i) the opportunity to work in Indian sport (ii) a chance to work with Mr. Nandan Kamath, India's premier sports law practitioner.
Both choices have been equally rewarding! I currently occupy the role of Chief Legal Counsel at CII and Senior Associate at LawNK. In addition, I also provide pro bono legal assistance to the GoSports Foundation. CII is now one of the world's premier rights protection agencies, and LawNK has been ranked amongst the 50 best boutique law firms in Asia, the 50 best IP law firms in India and was officially appointed to provide legal advice to the ICC on commercial matters during the CWC 2011.
You have advised ICC [International Cricket Council] on anti-piracy and rights protection its flagship events (CWC, Champions Trophy, World T20). What has your experience been?
CII has been the ICC's Rights Protection Partner since the ICC World Twenty20 2009. Our mandate is simple. We work with the ICC's legal team in protecting the legal sanctity of the ICC's 3 major revenue streams – ticketing, broadcast and sponsorship.
Typically for an event such as the CWC, our work starts about 4-5 months in advance of the event. We dedicate teams of between 2-8 individuals for specific online, off-line and on-ground monitoring roles – monitoring live broadcast, highlight videos, trademark infringement, etc. and look to resolve infringements without the need for litigation. A large part of our efforts are focussed on educating the public on the permissible and impermissible use of the ICC's IPR. Towards this end, we issue various public advisory documents and articles in newspapers. Personally, I have been able to lead the on-ground efforts at stadia in Bangalore (CWC 2011) and Chittagong (WT20 2014).
Tell us about your experience, being a part of the Taskforce set up by the Karnataka Knowledge Commission to draft a comprehensive Sports Policy for the state.
Well, for one, this has made my parents, in-laws and wife (in no particular order!) extremely proud!
The Karnataka Knowledge Commission is a high powered commission constituted in September 2008 under the Chairmanship of Dr. Kasturirangan with an overarching aim of transforming Karnataka into a vibrant knowledge society. Each state in India now realises the importance of sport, and the taskforce is certainly the first concerted attempt by the GoK to address the lack of a comprehensive policy on the subject. The focus of the policy is to enable citizens to start, stay and succeed in sport, at various levels and support excellence, while using certain parts of Karnataka's proven strengths (IT, BT, ITes, higher education) to create a strong system to administer and develop sport in the state. We hope to release the sports policy in a few months.
What contributed to your selection as an Indian delegate for the Australia India Youth Dialogue 2015?
The AIYD is the pre-eminent track two dialogue between young leaders from Australia and India. It was set up in 2009, around the time that Indian students were falling victim to attacks in Australia, with a view to get young leaders in both countries to interact and, in the long term, to increase cultural exchange and awareness. Each year AIYD brings together 15 Australian and 15 Indian young leaders who are experts in their fields of business, arts, academia, diplomacy, government, science and sport to discuss opportunities and challenges significant to the Australia-India relationship.
As sport is one of the focus areas for the AIYD, and we have a lot of blue-chip sports clients based in Australia, I was able to indicate consistent engagement in the Australia-India space, and an ability to contribute to mutual co-operation (Australia has released a Sports Diplomacy Strategy 2015-18 which presents huge opportunities to develop sport at various levels in India). My Australian counterpart (on the sport side) was Lisa Sthalekar, arguably the greatest female cricketer of all time!
You are a regular contributor to SportzLaw Monthly and lawinsport.com on issues relating to law and sport. How do you keep yourself updated of the recent developments in the field of Sports law and Intellectual Property Rights?
Just to clarify, these are not research papers or academic articles! The articles that the team at LawNK has published are an attempt to capture the present position on the inter-play between Indian law and sport on various issues, and to explain the position in a manner that is easy to read for students, marketers, etc. We're happy that our articles go some way in bridging the knowledge gap when it comes to law and sport in the Indian context. For those interested, the articles are available at – https://lawnk.wordpress.com.
Twitter is my favourite source for information on sport, law and business.
As a concluding message, what would be your suggestions to law students/younger corporate lawyers?
Thank you for giving me this opportunity. I hope your readers find it informative. The sports, media and entertainment industries in India need good, motivated, knowledgeable and commercially savvy lawyers. To end, I'd like to quote Wayne Gretzky – "you miss 100% of the shots you don't take". So got out there, and take your shot!