Roshan Santhalia graduated from NALSAR University in 2011. He has interned with Hon'ble Justice Madan B. Lokur, High Court, Delhi, Hon'ble Justice J.M. Panchal, Supreme Court of India, UN Anti-Corruption and Crime Prevention Department, and Cambridge Police Executive Programme during his time as an undergraduate. He then went on to pursue his masters in criminal justice at Oxford University, batch of 2012. He is currently a litigator based in Delhi, and primarily practices at trial courts and the Delhi High Court. He also founded his own boutique firm, Santhalia Law Chambers, in 2012.
We have taken this opportunity to ask him about:
His motivation behind pursuing a LL.M Degree.
His experience as a student of the Oxford University.
The recruitment rate for overseas students.
Means of securing a scholarship to study at a foreign university.
What was your motivation behind doing LL.M.? When did you finally decide to do your masters?
I have always wanted to litigate in courts right from the beginning of law school. My primary and predominant motivation for pursuing an LL.M. was to improve my capabilities as a litigating lawyer. Moreover, I have always believed that as a first generation lawyer, the an LL.M. from a reputed university will help me build my litigation practice. As of now, the plan seems to be working. It was by the end of my second year in law school that I had made up my mind to take up an LL.M. after my first law degree.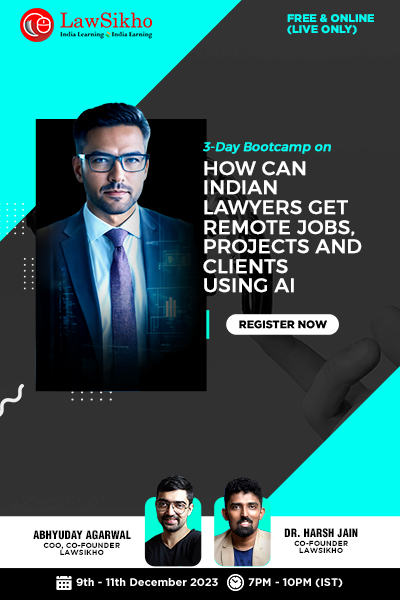 How did you choose the university/college?
I believe that choosing the right university for your LL.M is extremely important. I have always advised my juniors to not apply to universities which are average or below average. With the upsurge in the global education market, there have been numerous universities which have come up with their own LL.M programs. It is important that every LL.M aspirant emphasizes on two aspects of the LL.M program. These are the overall brand reputation of the university and the quality of the faculty in the area of your interest. For instance, an aspirant might want to go to Oxford because of the brand name it has, but, if he/ she wants to specialize in Intellectual Property Right laws then Berkeley or Stanford are much better options. The right balance needs to be struck between these two factors and an ideal combination would be one in which the target university has a good brand name along with having a good faculty in the area of the desired specialization of the aspirant.
What did you study? Why did you decide to take up this particular subject?
I took up Criminal Justice at Oxford because I have always wanted to practise criminal law. All throughout my law school career, I have devoted a major portion of education and learning in the field of criminal law. I believe that every aspirant should first locate his or her lead in a particular area of law. An area which interests the aspirant much more than other areas of law and other similar factors should be taken into consideration. It is important that by the end of the first half of one's law school career, he/ she should decide his/ her lead area so that he/ she can concentrate and build his/ her CV accordingly.
How has your experience been so far? Tell us about the faculty and facilities. Anything memorable that has stayed with you?
It's been about six months since the completion of my masters. I would say that my experience as a Masters student was a bit poorly balanced. The academic side of my entire experience took away all the time in which I should have probably socialized and done other extracurricular activities in and around the town in which I was living. I was very lucky to be a part of a class at which luminaries like Professor Andrew Ashworth and Professor Lucia Zedner taught. One does not need to worry about the faculty if he/she is going to renowned universities. Professors abroad are extremely professional and diligent. They would never ever give you an opportunity to be critical of them in any form.
How's the Indian fraternity over there? Are there many Indian students?
Indians are everywhere, aren't they? I believe that all the good LL.M schools across the world have an excellent Indian fraternity. We have done very well across different disciplines and therefore, one will never find any dearth of friendly and helpful Indian students in any university. Not to forget, the children of Indians who have settled abroad also form a substantial portion of the Indian fraternity abroad.
How is the recruitment/ placement situation for overseas students?
Prior to the recession, I hear that the placement rate for overseas students was good. Currently, I believe that it has become very difficult for anyone who does an international LL.M to get a job in the international market. One needs to appreciate the fact that LL.M is a masters degree and therefore, it is more analytical, jurisprudential and theoretical in nature. As compared to this, the JDs and other undergraduate equivalents in foreign law schools teach the practical aspects of the local laws to their students. Therefore, the undergraduate students always have a better bet with local jobs of that particular jurisdiction. Having said this, I must say that exceptional candidates who do very well in their LL.M programs do end up getting good jobs too.
How is the academic schedule? Is there a lot of academic work?
Yes. A lot of academic work. LL.M programs across the globe are designed in a manner that a huge amount of course content can be compressed in one single year. As I have answered before, a major portion of my time which should have been spent discovering other things around Oxford was taken up by the excessive academic pressure which was exerted by the LL.M course on me. One should be mentally prepared for a lot of academic reading during the course of their LL.M program.
How did you manage food and accommodation?
Accommodation varies from university to university. Oxford and Cambridge have a collegiate system which means that every student will be allotted a college which shall essentially take care of the residence and food for that student. US universities, I have heard have halls of residence within their faculty of law or very near to it.
Tell us about your classmates – is there a predominantly international crowd? What is the general age group of students?
My class had students from all over the world. I had classmates from all the seven continents. The general age group of students is anything between 24 – 30. However, there are certain students who are also more than 30 years old.
How does one go about scholarships? Does the institute offer any scholarship?
Comprehensive scholarships to high quality law schools are very difficult to get. Again the mode of scholarship and the way in which one can get it varies from one law school to the other. The US and UK employ different mechanisms to provide academic scholarship to deserving candidates. One needs to do his/ her research very well to apply for all the appropriate scholarships. You can either get a full scholarship or tuition fees waiver depending on your class rank in the undergraduate law school and the interview which you give to the scholarship committee.
Going forward, how do you expect this experience to influence your career?
I believe that every LL.M has two major components to it. One is the substantive component of the course which basically relates to the substantive law and theories which you have gained from your LL.M course. The other component is the improvement in your capabilities to analyze, think, draft etc. on different legal issues. I believe that my higher education experience has added much more to the second component mentioned above than the first. The first component is primarily municipal/ local in nature as the theories and substantive law which one learns in his/ her masters can be most related to that particular jurisdiction in which the law school is located. In contrast to this, skills of analysis, drafting and how to critically develop a perspective on any particular area of law are skills which are universally applicable in different fields and sectors of law.