Sambhav Ranka is a graduate from ILS Law College, Pune, batch of 2005. He subsequently went on to pursue his Master's degree in Law from Queen Mary, University of London, with a focus on international corporate and commercial laws. Since then he has worked at Morgan Walker Solicitors, LLP and Nithish Desai Associates. He is currently Partner at IC Legal, Advocates & Solicitors and heads the M&A, Private Equity and Venture Capital practice at the firm.
In this interview we speak to him about:
Being a third generation lawyer
His diverse work experience
Challenges in the field of Mergers and Acquisitions
How would you like to introduce yourself to our readers?
I come from a family that has been part of the legal industry for generations now. I too am in the legal profession, but by my own choice, not because it is an evident conclusion. I believe that I belong to a generation, which has broken free from the past practices of following the footsteps of the family profession/business and ours is the generation that has started the practice of having the right to decide the career path of interest and choice. I say this as I had all the liberty to choose a different career path. However, the glory and passion towards the legal field brought me where I am today.
What motivated you to pursue law?
My grandfather is a Senior Advocate, Rajasthan High Court. My father is a Judge, Jaipur Bench, Rajasthan High Court and my brother is a counsel. Growing among legal professionals all my life, legal articulation was in my genes and vision. Besides this, meeting and interacting with legal luminaries and legends all throughout my childhood and being in awe of their wisdom, solidity and art of exhibition, I was always inspired to imbibe the same.
Share with us your experiences as a law student at ILS, Pune.
ILS Law College laid the ideal foundation for me to join the noble profession of law. The best experiences at ILS Law College were the times invested in the extracurricular activities and looking beyond hard-core academics, which led to a holistic development. All my classmates were from different geographies (even beyond India) which further expanded our horizons. Needless to say, the faculty has always done above and beyond to help us out. Participation in various competitions, events and simultaneous internships at different fora aided in shaping the legal professional in me.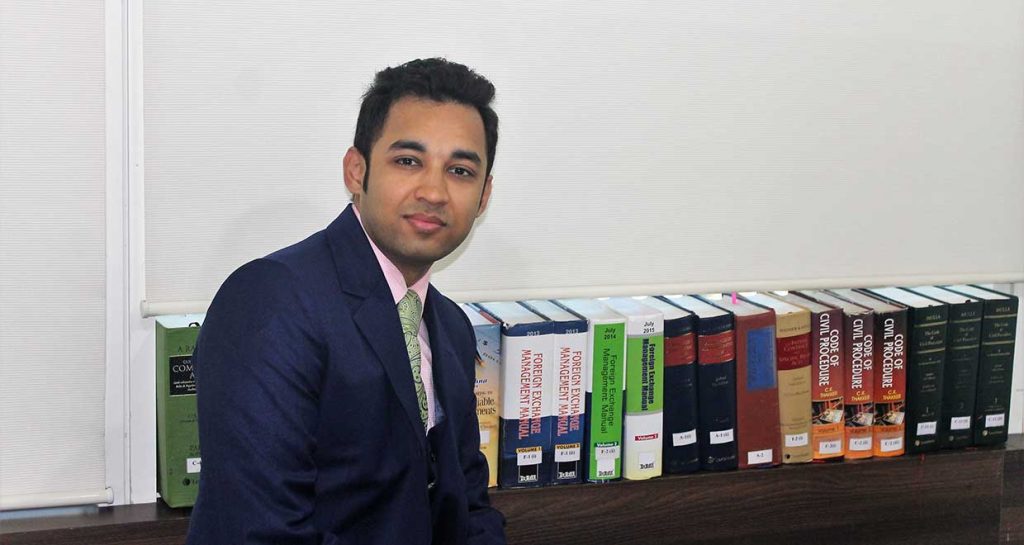 How did you develop the skills necessary for academic writing?
The best way to build up the skills for academic writing is by doing ample reading, and more importantly, reading the right content. As lawyers, our profession is anyway built around reading legislations, commentaries, articles, orders, etc. At times, it is helpful to read content that is not related to the legal profession. For example, I make sure that I find time to read the opinion pages from the NY Times, Wall Street Journal, Washington Post and the like. In addition to building vocabulary, such write-ups help in opening the horizon of thoughts and imagination. This helps a lot whenever I try to author any article or write-up myself, as the devil is in the detail.
In my early days, I was advised about two principles that I believe and follow: 1) Never feel shy in raising any query, whether to a senior, in a meeting or even at a public gathering. No question is stupid. Effective solutions can be arrived at only by questioning everything. Also, not clarifying the fundamentals will make you more susceptible to making bigger mistakes in the future. 2) There is no end to learning, knowledge and education. Even legends in the legal profession (and even beyond) would agree to this. The extent of knowledge that is out there to learn and grasp is enormous, so, it is up to you to capture as much as possible. Among others, these principles have helped me in developing my drafting skills in the legal profession as well as to author articles, etc.
Tell us about life after college.
Immediately after college, I pursued my LLM from University of London, U.K. in International Corporate and Commercial Laws and soon thereafter, I was lucky to get into a city based law firm in London called Morgan Walker Solicitors, LLP. The firm had Indian partners and had adequate Indian clientele and work, which I was exposed to. I handled all forms of client work possible, including litigation, corporate, consultancy, etc., which helped me in identifying my interest areas to a great extent. I had a stint of close to a year and a half at the firm in London. This period was immensely important to identify where my interests lie and what areas of law I wish to delve into deeper.
I started with the London firm as an intern and pursuant to that, the partners were confident to take me on board for a full time position. I have felt that work experience in any form brings in a lot of different perspective than what we typically see or think as a student. Having done my internships at different forums has been tremendously helpful to me to understand the sophisticated work atmosphere that revolves around in a law firm, a chamber or beyond.
Tell us about your work experience at Nishith Desai Associates.
NDA has been remarkable in building the foundation years of my legal career. The foremost importance that has been given at NDA is continuing education for the firm members. Everything else in developing an individual concentrated around this principle. Among other practice areas, my initial focus at NDA was in the alternative investment fund space and I gained experience in setting up onshore and offshore funds. Over time, I developed interest in transactional practice and got involved in M&A and private equity investments space. The first three to four years at NDA were focused mostly on two aspects- strengthening the legal and technical knowledge and developing control on different laws relevant to the practice areas, and developing and enhancing the drafting skills for drafting agreements, memorandums, legal opinions, etc.
What prompted you to pursue an LLM  from the University of London?
The twofold advantages of pursuing LLM are the in-depth and comparative knowledge that you attain in your area of interest, and the exposure that you gain by learning alongside with students from across the world. These were precisely the reasons for me to pursue higher education and with the recognition that the University of London has, among other top institutions globally, clubbed with the experience of living in the city of London made my decision easier. The common legal system prevalent in India and the United Kingdom made it easy for me to understand the legal processes and hierarchies of the UK legal system. Further, as many key Indian legislatures date back to the British era, the basic tenets of legislations in both the jurisdictions are very similar. Courtesy my LLM, today I have friends in the legal fraternity from all over the world and I have had the privilege of working with quite a few of them in the past years.
What has your experience of working at ICL been like?
IC Legal is a young, vibrant and a growing firm compared to many other established firms in India. Two years since I joined them, the firm has grown to almost three times in terms of head count. This speaks of the growth trajectory that we are witnessing here. The firm currently is close to 40 lawyers with seven partners and the team composition is mostly young people. Most of the senior team members have had experiences with leading firms and thus the collective experience ensures that we deliver top quality work to our clients and generate value for them. My other partners at IC Legal are likeminded and we make a great team and passionately enjoy the work that we are doing.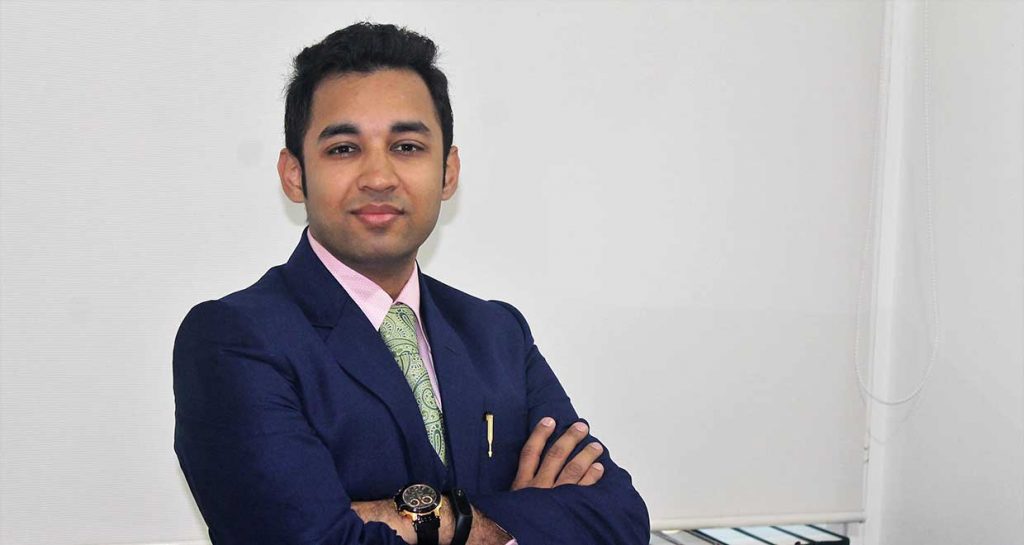 What are the most challenging parts of being a partner at a law firm? How do you manage to maintain a work-life balance?
Partnership is all about multi-tasking, and doing all such multiple tasks in the best way possible. As for responsibility, one needs to keep an eye on several aspects in addition to client facing and client deliverables. Business development, firm administration, personnel management, marketing pitches, knowledge management, etc. are some of the regular coups one has to go through.
Balancing oneself between the professional and personal life is of utmost importance. It does get strenuous at times in the legal profession; however, balancing it with the personal and family time is absolutely critical to bring fresh perspectives to things. Importantly, we all strive to start the day early so that we get off also early and get time with family. It is also important to take off for rejuvenating holidays at regular intervals. Separately, we also do regular firm lunches/dinners, firm weekend outings and annual firm offsite so that there is no overrun of professional life over the personal life.
What does a typical day of work at ICL look like? What are your roles and responsibilities as Partner at IC Legal?
There is no fun in doing something unless you passionately enjoy doing it. This has been the mantra for us at IC Legal. We enjoy the work that we all are undertaking. This means also having a bit of fun and laugh during the working hours. Unlike most of the other law firms, we try to keep a light atmosphere at the work place. Cracking jokes, talking movies, discussing sports, etc. keeps us going all throughout the day. However, this does not call for any form of sacrifice to the client work and the respective roles and responsibilities of the firm members.
Other than developing my own practice area and team, it is important for me to ensure that we are trying to do a holistic development of all the firm members. The objective is to make everyone a better professional and evolve them into swiftly undertaking work under different hats. We try to work from a perspective that everyone in the team should have a basic knowledge of all the practice areas and the related laws and regulations and at the same time one should be an expert in his/her own practice area and knows all the complexities surrounding it. People management, speaking at conferences, practice area development, firm management, administrative concerns, etc. are some of the key roles and responsibilities that I jointly oversee at IC Legal.
How does one develop an aptitude for a portfolio as diverse as yours?
We have believed that it is important to develop a sector or industry knowledge for legal experts. Nowadays, clients engage us for not only legal acumen, but also for the strategic inputs and industry familiarity that we are able to contribute. In addition to legal expertise if we generate value for the clients by advising them on additional considerations keeping in mind their specific industry, it goes a long way in cementing the relationship. To develop the knowledge pool for different industries, we regularly keep ourselves abreast with all the latest developments, trends, issues, considerations, etc. affecting different industries so that we can devise innovative solutions and implant such knowledge in our work.
What are the challenges you face as a lawyer dealing with contentious areas like cross border investments and M&A?
Cross-border transactions are mostly a complex interplay between laws and regulations of multiple jurisdictions. As an Indian qualified lawyer, we are supposed to be well acquainted with the Indian laws; however, at times, certain transactions require you to analyse and ascertain the best possible solution keeping in mind the laws of other jurisdictions. It then becomes necessary to work closely with attorneys of other jurisdictions on such transactions. The other challenge that at times is faced is with respect to the numerous legal and corporate compliances that the clients have to undertake to ensure that the transaction complies with all the laws and regulations. Given the cumbersome requirements under the Companies Act and the Rules thereunder in addition to the various requirements under FEMA and the regulations thereunder, it becomes challenging to ensure that nothing is missed out from a compliance standpoint. Thus, one needs to keep an eye on the smallest of considerations involved and at the same time keep a solution-oriented approach to achieve efficient outcomes.
What would be your parting message to our readers?
First and foremost, it is imperative to know the basics and to make the foundation strong. I have always believed that the initial four to five years in our profession should be dedicated towards building the legal and technical knowledge. Second, concentrate in developing the drafting skills. As a lawyer, drafting agreements, petitions, memorandums, legal opinions, etc. are vital. Capturing the essence accurately is the key. Third, in the initial years of practice, be open to experiencing multiple practice areas and undertake variety of work, until you identify where your interest lies. And, fourth, have patience in whatever you select as your career path. Dedication and hard work will pay off at the opportune time.