Santhosh Mathew is an alumnus of the NLSIU, Bangalore of the 1995 graduating batch. He focused on litigation right from the beginning. A first generation lawyer, he started his practice at Dandapani Associates in 1995. He became independent and co-founded a litigation firm in 2004. He is currently a Standing Counsel for the University of Calicut. His practice areas are in Writ Petitions, Telecom, Media laws, Banking Laws, Company Law and Service Laws.
In this interview he tells us about:
His first few years after graduation
Role of mentors in litigation
Work of a Standing Counsel
Necessary skills for the legal profession
Tell us a bit about your pre-college years. What motivated you to study law?
My grandfather was a District Sessions Judge at the time of his retirement in 1964. My father after graduating in law from the Government Law College, Ernakulam, joined 'Malayala Manorama' which is a leading Vernacular Daily, as its Personnel and Administration Manager. He used to take care of the Company's legal matters His classmates from GLC, Mr. K.P Dandapani (A former Judge of the Kerala High Court and the present Advocate General of Kerala) and Mrs. Sumathi Dandapani were very close family friends.
After completing my 10th Standard like any other youngster at that time I joined for pre degree (equivalent to present day higher secondary) and took Physics, Chemistry and Biology along with Mathematics to pursue a career in Medicine or Engineering. In time, Mr. Dandapani came to know about the National Law School of India University, Bangalore and bought an application form for me. When the entrance results came out, I was in the waiting list and hence joined ILS Pune which has an awesome campus. After two weeks, my admission at NLS Bangalore was confirmed and finally, I landed up at the "Harvard of the East" in 1990 with Roll no: BLIJ 189. The classes back then used to be held in one of the three car sheds which were converted to class rooms later on. That was the beginning of a wonderful journey in my legal Career.
Tell us about your objectives while in the preliminary years of Law College. What were your plans after graduation?
In my preliminary year my intention was to clear courses without getting too many repeats. Since I was not a very hard working student I was happy with my B+ grades! I studied the notes prepared by my Classmates Mr. Piyush Joshi and Mr. V. Umakanth. In my first year I interned with Adv. P.C. Abraham in the District court at Kottayam. I feel it is very important that all students start by doing an internship with a lawyer who practices in the lower courts and learn to draft Civil Suits and Criminal Complaints first. Merely by walking along with the Court Clerk will teach you the filing procedure.
From the Second year onwards I used to do my internship with Mr. & Mrs. Dandapani who used to entrust me with various matters to do research and also with drafting of pleadings. My internships helped me to make up my mind to be a litigator. My appeal to all the law Students reading this is to use all the opportunities you get during your internship to decide what you want to do after graduating. Nobody will entrust you with any responsibility unless you volunteer. Only if you display a passion to take up responsibilities, the seniors with whom you intern will have the confidence or inclination to entrust you with more work. I understand that some lawyers don't pay the interns. My appeal to those lawyers would be to loosen their purse strings a bit and pay a stipend which will at least cover their expenses.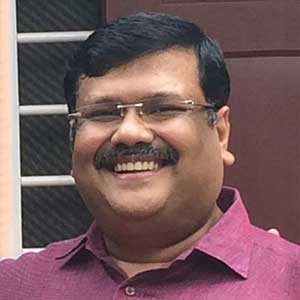 Looking back, how significant do you think that your legal education was? When did you happen to experience the learning curve?
I sincerely regret not being a serious law student. Since I was not a very ambitious person I was more involved in co-curricular activities and did not spend too much time participating in Moot Courts other than the mandatory ones which were required as part of the curriculum. Since we had a fine group of students from all over the country I got to learn about various cultures and made some great friends. The projects done every trimester helped us to learn about different research methodologies and made us better equipped to do legal research.
By the time we graduated we had a clear idea as to how case law could be worked up. This helped me tremendously in my career as a lawyer. So to all the law students out there, my appeal would be to try and identify a topic you can relate to and do an honest work with all earnestness. During my LL.B. course I ended up doing a lot of absurd projects which on hindsight makes me wonder, "Why on earth did I do those projects?" Please remember that you will be the sole beneficiary of your project and if you do a shabby work, you will be fooling no one but yourself.
Do you feel that there is a difference in the court atmosphere between now and when you started practice? Has it become easier or more difficult for a young lawyer to establish himself?
I believe the present day judges are much more accommodative of junior lawyers. In Kerala the Judges never had a fascination for Senior Lawyers from outside. So the local lawyers received great exposure which resulted in improving the quality of such local lawyers. My seniors Mr. K.P. Dandapani and Mrs. Sumathy Dandapani were always encouraging and permitted the juniors to take up their own matters which helped us to build up our careers apart from being a major boost to our self esteem.
In fact all the juniors who have been mentored by Mr. & Mrs. Dandapani have made a mark for themselves after becoming independent. I was with Dandapani Associates for 9 years from 1995 till 2004 when I set up independent practice with my wonderful partner Mr. Sathish Ninan who is my friend, philosopher and guide. So it is very important to find a good office and work with a senior for a decent span of time. Court crafting is something you don't acquire over night. It is very important that you don't compromise on your integrity for monetary gains. If you get a bad name in this profession, you are DOOMED.
Please tell us about your experience with regard to your first few sessions in court. Has it become more difficult for a fresher to achieve success?
In my first year of practice there was a complaint filed by the then Chief Minister Mr. E.K. Nayanar against 'Malayala Manorama' before the Press Council of India. The complainant had instructed Senior Counsel Mr. Rajeev Dhavan. We had instructed Mr. Gopal Subramanium. Justice Sawanth was the then Chairman of the Press Council.
When the matter was taken up, Mr. Rajeev Dhavan started arguing and Mr. Gopal Subramaniam became unavailable as he had to go to the Supreme Court for some urgent matter. When our turn came up, "yours truly" had no other option but to argue the matter and with God's grace we got a favourable verdict. My client was so happy that they celebrated my victory by publishing my photograph in the 'Malayala Manorama' newspapers by celebrating it as a victory by a young David over Goliath.
On a lighter note, a lot of my friends at the Bar after seeing my snap in the newspaper thought I had met with an accident! This was a big boost to my budding career. Thereafter there have been numerous opportunities in the last nineteen years of my career where I have been at the right place at the right time.
For instance, when Mont Blanc came out with the 'Mahatma Gandhi pens', we filed a PIL in the Kerala High Court against the sale of those pens in India alleging violation of the provisions of Emblems and Names (Prevention of Improper Use) Act, 1950. As a result, Mont Blanc undertook before the High Court of Kerala that it will not sell the 'Mahatma Gandhi series' pens in India.
We have conducted a lot of cases before the High Court relating to issues relating to health hazards from Telecommunication Towers. We have been successfully representing most of the major cellular operators and Telecom infrastructure providers in Kerala before the various Courts. We have represented various educational institutions challenging the unreasonable restrictions imposed by the State Government which adversely affected their minority rights guaranteed under the Constitution of India.
God has been extremely kind to me. One must have the self confidence that he or she can handle any matter that comes his/her's way. If we don't know the subject matter in detail, we should study extra hard and consult the seniors who are experts in that field. The legal profession is a unique profession where seniors are willing to go out of their way to guide a junior counsel in need. While arguing a matter if a judge asks a question to which you readily don't have an answer, have the humility to admit that fact and be assured most of the judges would be more than happy to grant you time to work up and make your submission. Remember Bench and Bar are two sides of the same coin and you have a duty to our client to win a case but you have a bigger duty as a responsible officer of the Court to assist the Court to arrive at legally correct judgments. Therefore, never mislead the Court.
What was the role of mentors in your case? How important do you think a mentor is in the field of litigation?
I was extremely lucky to have wonderful seniors like Mr. K.P Dandapani, Mrs. Sumathi Dandapani and Mr. Jaju Babu who are all designated Senior Counsels who mentored me and had tremendous confidence in my abilities. This motivated me to reach office at 7.30 AM and work till late night until the work entrusted was finished completely. They paid me handsomely which was also a very important factor as far as a junior lawyer is concerned. It is very important for a young lawyer to have a mentor to guide him/her just like a toddler during infancy.
Please tell us about the requisite soft skills which are essential for a young lawyer to build a successful career?
There is no substitute for hard work. Try to get a good mentor. Be ready to take whatever assignment that is given and never shirk away from responsibilities. Learn to respect your colleagues and opposite side lawyers. Invest in proper infrastructure. Don't be concerned about money. Always be courteous to the judges. You don't win any case by picking up a fight with a presiding officer! You will only succeed in losing not only that case but other matters too till the judge gets tired of dismissing your matters! It's good to have aggression and self confidence but over confidence would land you in trouble. Always be prepared and never go to argue a case without preparing properly. Always take the relevant statutes and the latest case laws on the point when you go to argue a matter. Never underestimate the opposite side.
How did you build up your client base? How many years of practice would you say it requires to build a firm clientele?
There is no hard and fast rule for this. Work hard and put in your best effort when a client comes to you. Satisfied clients will in turn, get you more clients. Legal profession is a unique profession where you cannot build up a client base through marketing gimmicks. One needs a lot of luck to be at the right place at the right time. There are so many learned lawyers who have vanished due to lack of opportunities. I genuinely feel that not all are capable of being leaders. There is a lot of space for everyone here. The lawyers who are incapable of building up a client base on their own must find good senior or like minded lawyers and form a firm and learn to manage things. Some are good in impressing clients but may not be effective lawyers. These two categories can form a common platform. Gone are the days of individual practitioners. A group of like minded lawyers providing a one stop shop would become the order of the day in the future.
What has been your experience of being a Standing Counsel? How is the work pressure and what are your responsibilities like?
Being a Standing Counsel of an institution like the University of Calicut was purely providential. It was a huge responsibility. In June 2011, nearly 4000 case files were brought over to my office and I didn't know where to start with. Within three years, I have with the support of my able colleagues Mr. Arun Thomas and Mr. Jennis Stephen, disposed off nearly 2500 cases. I consider it a huge opportunity to help students who have a genuine cause to have their grievance redressed.
A lot of old service matters could be disposed off. The High Court judges who dealt with the jurisdiction are very efficiently disposing off matters. The biggest challenge was to build a good working relationship with the client and to get instructions on time. Giving timely legal advice and getting instructions from the various departments of the University were all difficult in the beginning but over a period of time it started functioning smoothly like a well oiled bicycle. One must learn to respect the representative of the client who comes to instruct you.
I was fortunate to have a great team right from the Vice Chancellor till the Assistant in the Legal Department who would be ready to render all possible support and assistance. Each day was a new learning experience. Being a Standing Counsel of a prestigious institution increases your visibility and gives you tremendous exposure. You get to argue cases against the best lawyers in the field. You get to learn the subject in extenso.
When you hire lawyers, what kind of skills and profile do you look for? What kind of a profile suits best to the profession?
All the lawyers we have hired have been recommended by my friends. We have been extremely lucky to have a set of sincere hardworking colleagues. I personally feel that young associates must be delegated work depending on their potential. Over burdening a junior lawyer with work he/she cannot do will only help in demoralising them. At the same time I hasten to add that each one should be pushed to their optimum to make them good lawyers and better individuals.
Right from the time of internship in their first year, law students must try out different options like NGOs, Law Firms, Individual practitioners etc. and by the time one completes the third year he/she must have a clear idea about where they want to be after graduating. As a junior lawyer one must not be bothered too much about the monetary aspect. For the first five years it really helps if one has a generous and understanding father.
I was really privileged to have a great father who ensured that all my needs were to be taken care of so that I could concentrate in my work. If you are serious about the profession, you must be ready to put in long hours at work. Be assured after some time in your career those long hours you have put in as a young lawyer will definitely help you in your journey. I have seen a lot of youngsters in my time. Some of them have started their blogs, websites, entrance coaching centres etc, taken up theatre and even marriage photography mainly because most of them eventually got fagged out after learning "Law" for five years and this prompted them to do something out of the box.
Do you think that achievements such as having a landmark judgment to your credit can change one's recognition drastically?
I don't think so. I strongly believe each day is a new day and you have to consistently deliver your best. There is no place for complacency in this profession. You cannot afford to rest on your laurels. In fact some of my important cases which we won did not actually get the client the relief which they ultimately wanted. They were classic cases of "operation successful but patient dead". It definitely feels nice when your peers send you a text in appreciation of your efforts after reading a reported judgment which you have argued.
Do you feel that there are differences between students of 'elite' law schools and students from other law colleges and traditional universities?
Frankly it is difficult to generalise. The students from the 'elite' law schools have a structured curriculum which makes them better equipped. I guess one gets a 5-10% head start if you graduate from a good law school. But if any student feels that he is superior in any way to his peers who have graduated from other law colleges he is a FOOL.
Once you enter the profession if you don't work hard, others will catch up and before you realise it, they will run over you. It is high time and the scheme and syllabus of all law colleges are also structured in a similar fashion which will do away with artificial barriers. With the right kind of opportunities and a proper level playing field, anyone with a passion will be able to make a mark in this profession.
What are your views on the future of Indian legal education? How would you suggest that a law student manages to stay ahead?
It is high time the three year courses are stopped. After retirement persons must not be permitted to enter the profession as a litigator. They could be permitted to practise in non litigation areas. The State Bar Councils must provide for a stipend for young lawyers from economically weak backgrounds to survive for at least 5 years after graduation. All lawyers have a duty to contribute to that corpus. Courses which gives more in depth exposure to applications should be evolved and incorporated into the curriculum in place of those which require mugging up and reproducing what you have memorised. An opportunity must be provided to young first generation promising law graduates to get a placement with a successful lawyer. All of us have an obligation to reach out and do our little bit for our young brothers and sisters who join the profession with all earnestness to become "social engineers".
What would be your advice to young law students? How do you think that they should approach their career?
Don't be an arm chair critic who looks down on everything in life. Learn to appreciate the good things in life. Equip yourself and make yourself marketable. Be ready to work hard. Be practical in what you want to achieve. Everybody cannot be a Harish Salve, K.K. Venugopal, N.R. Madhava Menon, or a Cyril Shroff. India is one of the biggest populations in the world. Everyone has a legal requirement at least once in his/her lifetime. If we can make a qualitative difference to at least one person due to our expertise we can make the world a better place to live in. Ours is a noble profession.
Let us collectively restore its lost glory. Wish you all a Merry Christmas and a Happy New Year!