Satvik Varma is a Litigation Counsel and Corporate Attorney. Prior to setting up his private practice, Satvik was a partner at India's premier law firm, (undivided) Amarchand Mangaldas and also served as the Vice-President and Counsel in the corporate law group at Lehman Brothers (2003-2005) headquarter in New York. Satvik started his career as a litigator (1998-2001) at the Supreme Court of India and the High Court of Delhi. While practicing in Courts, Satvik had the opportunity to participate in and argue various constitutional laws, insurance and family law related cases.
Satvik holds a Bachelor of Arts (with Honours) in History and a Bachelor in Law (LL.B.) from the University of Delhi. He earned a Master of Law (LL.M.) from Harvard Law School, where he was a part of the South Asian Lawyers Association. He is dual qualified and licensed to practice in both India (1998) and the State of New York (2003).
Satvik is a frequent speaker at various panels, seminars and workshops and is often featured on television debates for his views on legal matters. He writes regularly on corporate governance, legislative matters, economic and trade policy and current legal affairs for most of India's leading business newspapers, magazines, and journals.
In November 2017, Satvik released an anthology of his essay's titled "Yes, I'm Opinionated" – "Musings of a Lawyer on Governance, Law and Policy" published by Lexis Nexis. The book has received advance praise from sitting judges of the Supreme Court of India and the Delhi High Court and leading Senior Counsel in India. 
Satvik has a keen interest in global and regional affairs and serves on the advisory board of the Asia Society India Centre, a United States not-for-profit. He has been selected from amongst many as an Asia 21 Young Leader, where he actively engages with others from the Asia-Pacific to discuss issues of common interest to the region. He is also a member of the Young Indians, an initiative operating under the aegis of the Confederation of Indian Industry (CII), to help motivate the youth to shape the economic and social agenda of India. Recently, he was selected from a very large and diverse group of candidates as an Aspen India Leadership Fellow and is cohort of the Aspen Global Leadership Network.
In this interview we speak to him about:
Challenges of setting up his independent firm
Experience of studying at Harvard Law School
Importance of Internship
Being a prolific writer and authoring several articles and now a book
Maintaining a work life balance
HOW WOULD YOU LIKE TO INTRODUCE YOURSELF TO OUR READERS? PLEASE SHARE YOUR ACADEMIC AND PROFESSIONAL BACKGROUND
I am a litigation counsel and corporate attorney based in New Delhi. My practice focusses mainly on corporate commercial litigations, shareholder and company disputes, breach of contract and specific performance disputes, competition law and telecom/satellite law related litigation and domestic and international arbitrations.
I also regularly contribute to most leading Indian newspapers on topics related to law. Recently, I released a book- "Yes, I'm Opinionated" – Musings of a lawyer on Governance, Law & Policy. I am addicted to current affairs and a keen observer of politics.
I graduated from Campus Law Centre, Delhi University in 1998 and immediately joined the chambers of Mr. Kailash Vasdev (currently Senior Advocate). In fact, I had been associated with Mr. Vasdev's chambers for some time and had worked there through most of my LL.B. days. While at Mr. Vasdev's chambers, I would often share notes with my brother who was working in the financial sector in London and would hear about M&A and Joint Ventures and Securities, all of which were topics I knew nothing about. So in 2001, I decided to make the transition from Litigation to Corporate law and joined, for a very brief period, Dua Associates in their Corporate Transactions/M&A team. Prior to joining Dua, I had already applied for an LL.M. overseas and went on to pursue my Master in Laws at Harvard Law School, graduating as the Class of 2002 or what was then termed as the 9/11 Class. This was because in the "normal" preceding years, of the 150 students that graduate HLS, well over a 100 students would get a job upon graduating. But in our batch only around 8 students got placements, in what was termed as the "foreign lawyers program", for a brief stint in the States followed by them returning to their home country to work with the same firm. Regardless of not having secured employment I decided to write the New York State Bar Exam which, admittedly, was one of the most gruelling experiences of my life. Like most students, one enrolled for the BARBRI classes, which lasted through the day and then there was homework to be completed before the next day. On an average, preparing for the Bar was a 16-18 hour day and one was often reminded of the low pass percentage for first time takers. I was fortunate and blessed to have passed the Bar in the first attempt, but still didn't have a job. In fact, in 2002, there were very few entry level positions available in New York and I didn't even manage to secure a single interview in over seven months. I was adamant to work and live in New York and hence I persisted. I still remember a particular time when I was called to an interview and spent the day with the recruiter distributing flyers for an attorney who was contesting for a Selectman's post (equivalent to municipal councillor) and those were the first $40 I earned in America. Eventually, I got lucky when the legal head of TCS, who I had been introduced to by a dear friend and had kept in touch with through the Indo-American Lawyers Association, referred me for a temporary lawyers position at the investment bank of Lehman Brothers that had just signed up an outsourcing agreement with TCS and Wipro. Like most Wall Street positions, I went through five rounds of interviews (the first I had had since graduating HLS seven months prior) and was eventually hired as a temporary lawyer for an eight week assignment. I was lucky that five weeks into my assignment, I was confirmed in the position and given the title of Vice-President Corporate Law at Lehman Brothers. Asides from the title, I was delighted to have a huge office on Park Avenue in New York and went on to work for Lehman for a few years before eventually returning to India.
Upon my return, my former partner from Dua Associates had just moved to Amarchand Mangaldas (undivided) and proposed I join his team. I was slightly undecided at what to do as it was my initial desire to start my own litigation practice but eventually decided to join Amarchand as a Senior Associate in the M&A & Private Equity team. I eventually rose from amongst the ranks at Amarchand and was announced as Partner in 2010, at which time I decided to start my own private litigation practice. Many people thought I was foolish to be giving up such a lucrative position and the comfort of being under the umbrella of India's premier law firm. But I was exhilarated with my decision to return to litigation practice and being back in Courts was something that excited me.
Since 2010, I have been developing my practice as an arguing counsel in Courts and Tribunals all across India focussing primarily on corporate- commercial disputes, and I have to say that I have loved each and every day since setting up my own law chambers.
HAVE YOU ALWAYS BEEN INCLINED TO A CAREER IN LAW? ARE YOU A FIRST GENERATION LAWYER?
I am actually a fourth generation lawyer with many in the legal profession both from my mother's and father's side of the family. In fact, my paternal grandfather was amongst the first lawyers from Bihar to have relocated to the Supreme Court and was, what was then called, an "agent" of the Supreme Court of India. He was one of the 23 agents present at the inauguration of the Supreme Court of India on 28.01.1950. But there was never any pressure on me to pursue a career in law especially since my older brothers first degree is in law, but he's always worked in the investment banking and finance sector. Consequently, while my interest to pursue law has been influenced by my family background, the real inclination stems from my compelling desire to work amongst people, to help "resolve" matters and to play a role in helping shape policy and the legal landscape in India. Now, after being admitted for almost 21 years I can say without a doubt that practising law is not just my profession, it's something I'm extremely passionate about, it excites me and its something I greatly enjoy doing.
TELL US A BIT ABOUT YOUR TIME STUDYING LAW AS AN UNDERGRADUATE STUDENT AT THE UNIVERSITY OF DELHI
 Having earned an Honours degree at Hindu College I was very familiar with North Campus and, in many ways, Campus Law Centre was an extension of that joyful experience of being at Delhi University. We had some excellent professors at CLC but really the emphasis was on the discussions outside classrooms and the interaction amongst the students. During my time pursuing an LL.B. there was no requirement for internships, however I had started attending Mr. Vasdev's chambers from my second year and was, hence, able to comprehend the practical application of what was being taught at Law Faculty.
WHAT WERE YOU AREAS OF INTEREST DURING YOUR LEGAL EDUCATION? HOW DID YOU DECIDE THE FIELD OF LAW THAT YOU WANTED TO SPECIALISE IN CAREER-WISE?
 The late 1990's were when the period of liberalisation really accelerated and one was seeing more and more international businesses set-up in India. One was were constantly reading about trade and investment policy developing in the country. As a consequence, at Law Faculty, I was drawn towards Law of Contracts, Law of Torts, Constitutional Law and Criminal Law. My initial many years were spent primarily at the Supreme Court of India and hence my interest in Constitutional Law grew. But ultimately, given my professional experience of having worked both as a litigator and a corporate lawyer, I developed a great interest for corporate-commercial laws. I find this area of law challenging, exciting and forever developing, remoulding itself to the changing economic scenario in the world. It's also the field where I am able to make meaningful contributions having worked on both ends of the spectrum.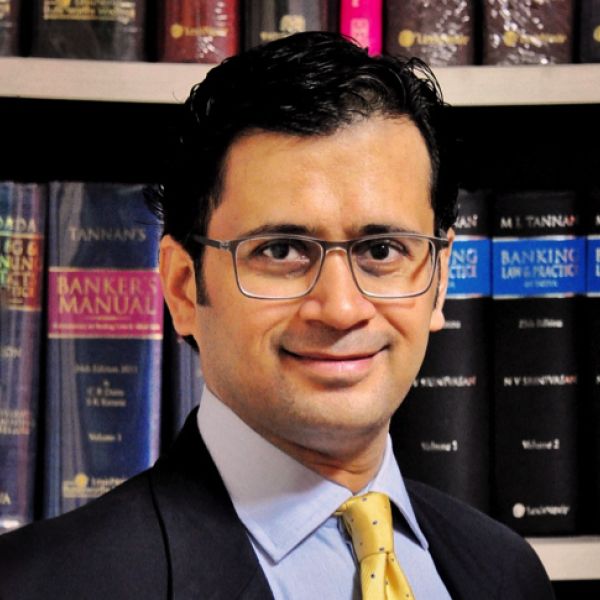 INTERNSHIPS PROVIDE STUDENTS WITH THEIR FIRST EXPOSURE TO THE PRACTICAL ASPECTS OF THE LEGAL PROFESSION. COULD YOU TELL US ABOUT THE INTERNSHIPS YOU TOOK UP, AND WHAT YOU LEARNT FROM THOSE EXPERIENCES?
 The curriculum at Law Faculty did not prescribe mandatory internship, hence one took up internships voluntarily. I had started working from my second year at Law Faculty, i.e. 1996, and one of my greatest takeaways from working at a chambers was the need for lawyers to have an attention for detail. In 1998, the Bar Council introduced the compulsory apprenticeship program for law graduates, which eventually got overturned. During that period I had the chance to hear senior members of the Bar present to the Constitution Bench and was fascinated by the practical examples which lawyers presented to juxtapose the law with its application. It has been my attempt to carry forward and apply both of these early experiences in everything I do.
LAW GRADUATES ARE FACED WITH HAVING TO CHOOSE FROM SEVERAL CAREER OPTIONS AND THE CHOICE OF STUDYING FURTHER. WHAT ADVICE WOULD YOU GIVE STUDENTS IN AVOIDING A DECISION PARALYSIS?
 Many of the choices available to law graduates today didn't exist 20 years ago, but it's absolutely fascinating to see these young lawyers opt for different career paths, where their law degree can be used. For example, I recently met a lawyer with just a few years of experience who had joined a think-tank to work on policy papers. This was not an option when I had graduated, but it's a great development and also a testament of how the core skills acquired while studying law are transferable skills and can be utilised across a variety of professions.
Law graduates need to be patient, and not jump the gun to hastily back-pedal from any decision they may have taken if they don't seem immediate results. The legal profession is more like a cricket test match, with two innings, and not a T20 game where one need to score on every ball. Take a decision and stick by it because too many changes reflect badly on your resume.
PLEASE SHARE WITH US YOUR LLM EXPERIENCE AT HARVARD LAW SCHOOL. HOW WOULD YOU SAY YOUR PRIOR EXPERIENCE AS AN ADVOCATE AIDED YOU IN YOUR MASTER'S DEGREE?
 My experience at Harvard and then working on Wall Street has in many ways shaped my professional discipline, my work ethic and lawyering skills. Most good law schools today require at least two to three years of work experience before they will even consider your application and I believe that prior work experience in many ways will prepare you for a fairly rigorous and intensive 1 year Master's program.
Personally, I strongly urge all young lawyers to pursue an LL.M. and explore ways of studying overseas. Aside from the international exposure, and learning from experiences of those from across the world which adds to one's overall personality development, the LL.M. program also exposes one to many areas of the law that one doesn't study in India. For example at Harvard I took a course called Analytical Methods for Lawyers which included Game Theory, Statistics, Accounting and Decision Analysis in Contracting matters which I found fascinating. I also studied other topics I had no exposure to in India like Entertainment and Media law, Alternative Dispute Resolution methods and got an opportunity to study Negotiations from the Gurus of Negotiation Theory – William Ury, Roger Fisher, Bob Mnookin etc.
WHAT ARE THE CHALLENGES THAT YOU FACED STUDYING AT ONE OF THE PREMIER UNIVERSITIES FOR LAW IN THE WORLD? HOW DID YOU KEEP UP WITH HARVARD'S ACADEMIC RIGOUR?
While the academic schedule at Harvard, and for that matter in most LL.M. Programs, is quite intense, it's also a lot of fun and at the end. What is paramount is what one wants to take away from the program. At Harvard for example, some of the greatest discussions took place outside of the classroom; at student events or informal discussions. As a place of learning Harvard encourages that, so one doesn't really face any "challenges" in such a structured program. The program allows one to pursue other interests and activities across all Harvard campuses and that is a good way to balance the academic schedule along with the non-academic activities on campus.
I would also like to share that while I was at Harvard Law School, my older brother was at Harvard Business School and if I remember correctly, we are the third or fourth set of brothers to have graduated Harvard University on the same day, at the same time but at different ceremonies. So on graduation days my mother was at my ceremony and my father attended my brother's ceremony.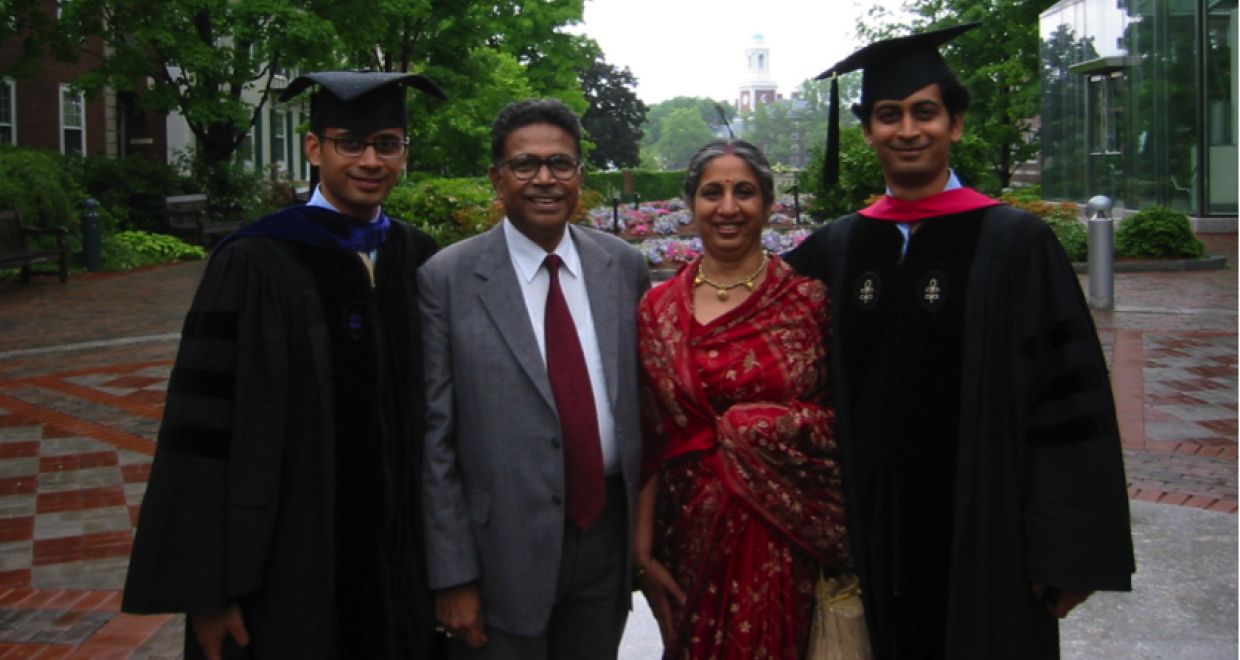 HOW DID YOU COME TO TAKE UP A POSITION WITH LEHMAN BROTHERS? WHAT ARE THE MAIN TAKEAWAYS FOR YOU FROM THIS EXPERIENCE?
As I mentioned above, my introduction to Lehman Brothers was made by the General Counsel of TCS Americas. It was the only interview I got after graduating from Harvard and I started as a temporary worker and was made Vice-President Corporate Law in five weeks of working with them. In this role, I was supporting the global procurements team on all their contracts and handled everything from negotiating the bank's Bloomberg Data contract to the acquisition of Private Jets that were undertaken. I also worked very closely with the Benefits team and worked on re-negotiating the global health benefits and insurance program for 14,000 employees. My greatest take-away from working at Lehman was how to understand the business and commercial interest of your client, in this case the bank itself, and balance those interests with the law to make sure the deal goes through. I was also able to put to immediate use the negotiation skills I had acquired while at Harvard and see them bear results. That is something that has held me in great stead in all my client dealings.
WHAT MOTIVATED YOU TO JOIN AMARCHAND MANGALDAS? COULD YOU TELL US ABOUT YOUR JOURNEY TO BECOMING A PARTNER AT ONE OF INDIA'S LEADING LAW FIRMS?
Upon my return to India, my former partner from Dua Associates had joined Amarchand Mangaldas (undivided) and while I was keen to start my private practice, he asked me to join and it was an offer I found very tough to refuse. In retrospection I am thrilled to have accepted that offer as I learnt immensely from working at India's premier law firm. Amarchand had a great brand value and I remember when I shared with my Harvard colleagues that I had joined Amarchand, almost everyone had heard of it in their home country. During the time at Amarchand, it was in the process of charting out its course for further growth and I really enjoyed being a part of the journey which eventually led to my selection as a Partner at the firm. This was an especially happy moment for me as I was one of the 19 Partners at the Delhi office. It would be my strong recommendation to junior lawyers to, at some stage, work at a large law firm to understand the mechanics of an Indian law firm and only post that experience decide their long term career goals.
WHAT ARE THE CHALLENGES AND LEARNING OPPORTUNITIES THAT YOU ARE FACED WITH IN YOUR INDEPENDENT PRACTICE?
Independent practice is an all in one process – you're the originator of the work, the executor, the teacher and mentor, the researcher and sometimes also the office manager! But it's a lot of fun and while I recognise that independent practice may not be for everyone, I would not trade independent practice for anything else. One of the most difficult things for me while returning to litigation and independent/private practice was to try to re-establish my brand, which one had to do from scratch. Amongst the best things about private practice is the freedom to do all kinds of different things and work across various practice areas, which one is not able to do while in the structured confines of a law firm. As a result, one is constantly evolving and learning something new every day which makes independent practice a lot less monotonous or repetitive.
GIVEN THE DYNAMIC NATURE OF THE FIELD YOU PRACTICE IN, HOW DO YOU KEEP YOURSELF UPDATED ABOUT THE LATEST DEVELOPMENTS IN THE LAW?
 One of the best ways to stay updated about the latest developments in the law is through leading law journals and the various other online law portals which come up with an analysis and bring to one's attention the developments in the law across the country. Given that I write almost every week and invariably choose topics outside of my area of work, I always learn through the process and make it a point to read the latest Court decisions. Despite the latest cases being available at the press of a button, I urge all young lawyers to maintain their personal case journal and update the same regularly.
Additionally, the entire chamber eats lunch together on Saturdays and we have a rule where one of my Juniors is expected to have read up on a case and is required to share details of that with the others. We do this in a relaxed environment not to make it overly burdensome and keep it fun, yet not lose sight that it's a work assignment.
WHAT DOES A TYPICAL WORKING DAY LOOK LIKE FOR YOU?
Most litigators and more so those in private practice work 7 days a week. Weekends tend to be the busiest as one is catching up on drafting, vetting drafts and settling pleadings. On most days I'm in office till past 10 pm. But the advantage of private practice is that post Court hours one is the master of one's own schedule and can plan one's day accordingly. So on most days, I would try to get back home to be with my Son during his dinner time and also try to eat with my wife and then come back to office to work late into the night.
HOW DO YOU MANAGE YOUR TIME BETWEEN YOUR PROFESSIONAL AND PERSONAL INTERESTS? WHAT ARE YOUR INTERESTS OUTSIDE LAW?
 I'm extremely fond of art and fashion, love food and travel and greatly enjoy listening to new-age jazz and lounge music. There is often music playing in the office. I am also fond of photography and many photos taken by me adorn by chamber walls. I also have a great interest in theatre and drama having worked for many years at India's leading professional theatre group. So if there're any plays in town, I make it a point to try and see them. The good part is that in private practice one is able to manage one's own schedule and create one's own personal- professional work life balance. I equally urge all my Juniors to definitely engage in some sporting or other activity on a daily basis.
WHAT WOULD BE YOUR PARTING MESSAGE TO OUR READERS WHO ARE PRIMARILY LAW STUDENTS AND YOUNG LAWYERS?
Today, a law degree offers many alternative career options for law students. My parting message both to law students and young lawyers is – Choose wisely, the career path you'd like to pursue, but then follow it with dogmatic determination. Follow your dreams, chase your heart and be passionate about your work doing it with utmost honestly and all sincerity. Don't draw comparison with your peers or classmates and don't jump-ship just because you feel your friend is 'doing better' or is ahead. Once you've chosen a path, give it lots of time and all your energies. The practice of law, whether at a law firm or as a litigator requires one to put in a lot of hard work and long hours. One must have the mental strength and resolve to deal with 14-16 hours days. Even if they don't produce immediate results, its like making a deposit in a bank, all those hours will eventually yield results. As a U.S. Supreme Court Judge said "The law is a jealous mistress and requires a long and constant courtship. It is not to be won by trifling favors, but by lavish homage." But above all, , remember to have fun along the way, its not always the destination, but also the journey that matters.