Savni Dutt graduated from NLUJ in 2013. She has represented her college at prestigious moot court competitions like the ICLN ICC Trial Moot Court Competition where her team went for the International Rounds. Apart from being a part of the Editorial team during her internship with the Centre for Legislative Research and Advocacy, she has also published her book, 'Freedom to Publish'. With her specialization and interest in Intellectual Property Law, she joined the litigation team at Saikrishna & Associates and is now working there as an Associate.
In this interview we asked her about:
Graduating from NLUJ and working at Saikrishna & Associates
Importance of Internships, maintaining grades and experience at mooting
Approach to Academic Writing and publishing a book
How would you introduce yourself? Could you please share a little bit of what motivated you to pursue law as a career?
Throughout my time at school in Gurgaon, I was mostly involved in academics. Other than that, my interests were dance and theatre, and they continue to be. I studied law at National Law University, Jodhpur and now work as an Associate in the litigation team at Saikrishna & Associates. My interest in the study of law stemmed from the many stories I had heard of my late grandfather who was a practicing lawyer in Delhi. However, I was always inclined towards a career in research or policy and studying law seemed to be the most appropriate step towards achieving that. So while I knew I wanted to study law, the decision to actually practice law as a career only came about incidentally.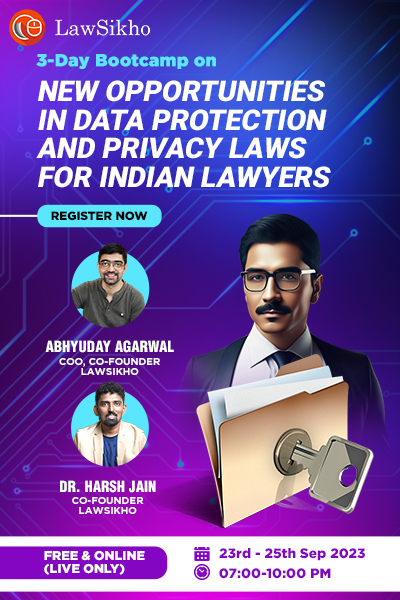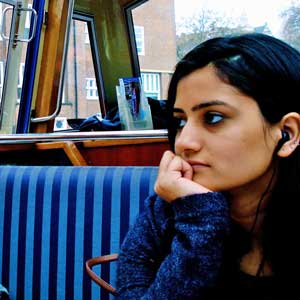 Tell us a bit about your days at National Law University, Jodhpur?
NLU, Jodhpur is a fully residential university that allows its students to make it their own. It gives its students a lot of time and flexibility. There is an active and competitive mooting culture at NLU Jodhpur. Most students seem to gravitate towards it but there's enough time for other things like writing and sports to name a few, if one is interested. I chose to spend my time in helping organize our college fests as also other intra-university events.
How were you internship experiences?
Internships play a huge role in helping a law student find his/her area of interest and are the best source of learning. The kind of hands-on experience that a good internship can provide is unbeatable. Therefore, it is very important to choose the right kind of place for an internship to suit your interest and then to give it your best. As a student looking to learn at the job, I tried to do as many different kinds of internships as I could. My main goal was to use the period of 5 years to experience as many different kinds of legal work as I could to be able to make an informed decision about what I wanted to do once I graduated. I interned with an NGO, a research organization, with a trial court lawyer at the Tiz Hazari district court in Delhi, as also some corporate law firms. I also briefly interned with the in-house legal team of an international company. But it was the brief encounter I had with litigation during my internship at Saikrishna & Associates, which gave me the opportunity to assist on some very interesting cases, and helped me finally choose litigation over other options.
You've represented your university at prestigious moot court competitions in India and abroad. How significant do you think mooting is for law students?
I think mooting is something that all students must participate in at least once during their law course. While mooting might not be a reflection of what courts are really like, the lessons that one learns from the process and approach followed in moot courts are helpful even professionally. To me the most important things about mooting are working as a team and working within the limitations of time, pages, format, etc., that can truly be very stressful. Moot Court Competitions are a great way for students to push themselves into thinking out of the box. These are the important skills that according to me have been the handiest while drafting pleadings for court, often on short deadlines and appearing before an actual Court.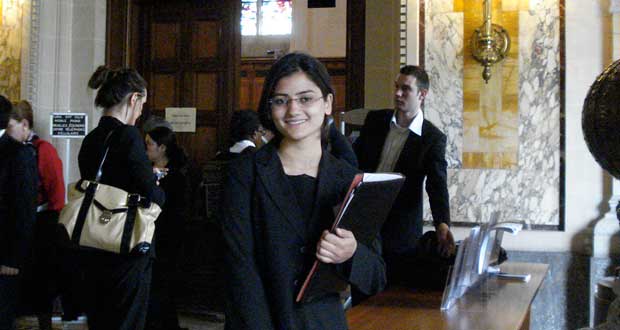 At the 2012 ICLN ICC Trial Competition your team was one of the two that qualified from India. What was the experience like?
The 2012 ICLN ICC Trial Competition was a surreal experience from the time our entry, for the qualification round, was scored the highest amongst the Indian entries. The format of the competition is very different from other moots and it was nerve-wracking because each speaker was responsible individually for each round. The subject matter of the moot is international criminal law, which was a big challenge for us because we had to start our reading and research on the subject from scratch. As part of our preparation we had completed a certain amount of reading even before the topic for our written assignment was sent to us. After our qualification to the international rounds and the submission of the memorials, it was a series of oral practices that continued for around two months to perfect the structure of our speech, timing and modulation.
Please tell us about your book- 'Freedom to Publish'. How would you recommend that law students approach academic writing?
'Freedom to Publish' is a primer aimed at an audience of authors, publishers, students and professionals to empower them with basic knowledge of possible legal issues that one must be wary of when publishing something. The book has been published by 'Manas Saikia Foundation' and is distributed free of cost in public interest. Mr. Saikia had the idea for the book in the wake of the growing number of instances where books and publications were being abandoned or withdrawn because of potential legal actions. The book has been kept short and simple to increase its accessibility and utility to someone who isn't a lawyer.
An academic piece should appeal to a wide audience. Thus, it is imperative for an author, to put ideas and research in a coherent and streamlined manner. There is also an additional responsibility to check, recheck and be absolutely sure of what is being published. These are important skills for any lawyer, and with each academic piece, one perfects them. Law students, interested in academic writing, should ensure that their publication is focused on a specific issue instead of it being on a broad subject. It is also important that the publication proposes a solution or an alternative or a concrete conclusion to explain, to the reader, the purpose that has been achieved by it.
You've been a member of an editorial team as well. Please tell us about the experience. What are the things you get to learn from such an experience?
I got an opportunity to work with the editorial team on the Policy Booklet for Parliamentarians on Millennium Development Goals and Gender Budgeting in India, during my internship with the Centre for Legislative Research and Advocacy. It was an interesting experience though short lived, as it was limited to the duration of my internship. Nevertheless it was an enriching experience that taught me the importance of compartmentalization of work while working as a team. It also taught me how I can filter my writing and appropriately convey my ideas by making them crisp and easy for the reader. This proved very helpful in the process of writing the book.
We would love to hear about your work profile. What made you choose this particular avenue?
After studying a course on IP, I realized that there was no other subject that came as naturally to me as this one. I also believe that our professor of IP, at the time, Mr. Yogesh Pai had a role in making the subject that much more interesting. Eventually, to test my interest I chose to intern at Krishna & Saurashtri in Bombay but I was convinced only after gaining some litigation experience at my two internships with Saikrishna & Associates in Delhi.
I work with the litigation team so my work primarily involves cases dealing with issues of copyright, patents, trademarks along with some cases relating to media law, personality rights and tort law in the form of unfair competition and commercial misappropriation. Additionally, I've been lucky to be involved in the series of ongoing litigation concerning the possible overlap between the competition law and patent regime. An ordinary day at work is a balanced mix of court action, drafting, researching and brainstorming with other associates.
What were the biggest hurdles and challenges in the first few months? How did you deal with them?
The first six to eight months of my career were exciting, intimidating and annoying all at the same time. They were exciting because I was finally doing what I had been waiting to do from December 2012 to August 2013. It was intimidating because my actions now had consequences. One of the biggest challenges for me in the first six months of my career was coming to terms with the responsibilities that come with being a professional. Finally, I use the term annoying because for the first few months it felt like I knew nothing, which made it harder to focus. While I am still trying to figure out how to deal with being both happy and angry about work at the same time, there is one thing that I have learnt. I have learnt that things will get done.
What, according to you, are the skills required of an advocate aspiring to build a successful career in intellectual property law?
Every time I have been in doubt, I have been told that to be able to do build a successful career in law, one need not be a genius. Average intelligence with hard work is all one needs to become a successful lawyer.  Whatever be the field of law, there is no substitute for hard work. For those interested in IP as a potential area of practice, I would suggest extensive reading on the subject. IP is vast, it is growing and most of it is still unclear, so there is a lot of room for different views. If there is a topic that interests you, read about it as much as you can but importantly write about it too. I also feel that we focus a lot on the concepts in IP and forget the procedure. One must pay equal attention to the filing and procedure for grant or registration of an intellectual property.
How important do you think that extra-curricular activities are to a law student?
Any extra-curricular or co-curricular activity is extremely important for a law student simply because it adds value to one's time and experience as a student at the same time developing some skill or characteristic. It is also a great way to begin networking, which is extremely important for any lawyer/law student. Through law school, it was my attempt to choose a different activity every semester. So if I chose to participate in a moot one semester, the next semester was dedicated to a sports fest or a parliamentary debate. This way I was able to give importance to academics, participate in events and have some spare time at college.
As a concluding message, what would be your suggestions to law students?
Law students must remember that it is very important to maintain a good grade and to participate and to intern but it is equally important to enjoy law school. I borrow here the unconventional yet inspiring closing words by Judge Kozinski from Mattel v. MCA Records, Inc.,
"The parties are advised to chill."