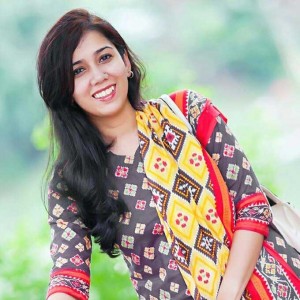 Shezin Hussain graduated from NUJS, Kolkata in 2009. Being a Bangladeshi citizen educated in India she has the insights of the legal systems of both the countries. After graduating from NUJS, she completed her LL.M. from Southeast University, taught as a guest lecturer at Metropolitan University, Sylhet, and has been a practicing lawyer at the Judges' Court at Sylhet.
She has also been an Investigation Officer for BRAC which is the largest NGO in the world. Most amazingly being a passionate sportsperson she has had the opportunity of organising the latest ICC Women's T20 World Cup 2014 among all her commitments.
In this interview she has talked about:
Life at NUJS and interning at places in India and Bangladesh
LL.M. from Southeast University, Dhaka
Organising the ICC Women's T20
Being an investigation officer at BRAC
The comparative legal practice of India and Bangladesh
Our readers mainly consist of young lawyers and law students, how would you like to introduce yourself to them?
Hi, I am Shezin W. Hussain residing in Sylhet, Bangladesh. Currently I am practicing as an Advocate at the Judge's Court, Sylhet. Apart from that I'm working as guest Lecturer for the Department of Law & Justice, Metropolitan University, Sylhet and a political fellow for Democracy International, a USAID Agency.
You finished your schooling in India. What prompted you to pursue your education in India? How were your formative years as a school student? Did you partake of all activities in school?
It was solely my parent's decision to send me to India to complete my schooling. Both my parents were involved (Mom is still involved) in politics, due to which they couldn't spend much time on me and my siblings, hence they sent us away to boarding schools for better education.
During my early school days, I focused more on my academics; hence I worked on my grades instead of concentrating on other activities. Eventually, when my grades started soaring upwards, I started participating in various co-curricular activities.
How did the thought of pursuing a career in law cross your mind? Did you have lawyers in your family who motivated you to pursue a career in the legal field?
I never thought of entering the legal profession, it was my dad's decision that I take up law as a subject after I had completed ISC in 2004.
My grandfather was a practicing Advocate in the Judge's Court, Sylhet but I had lost him while I was in Standard VI, so I wasn't actually motivated by him. It was more of my dad's decision. Now that I don't have my father to see me pursuing my career, I feel lucky to have had a father who anticipated the potential in me and asked me to tread the path of the legal profession.
What prompted you to consider NUJS, Kolkata for your legal studies? How did you get to know about it? Which other universities were in your shortlist?
My mother, while visiting Kolkata in November 2003, came to know about this University in some newspaper. She had visited the University and collected the application form, which she later posted me. I was preparing for the ISC exam, scheduled in March 2004, I was asked to fill up the application form and post it back to the University. This was the first and last University I had applied for. I didn't consider looking for any other Universities.
Please share some of your memorable experiences at NUJS, Kolkata. What made your college life exciting? How well do you think your education at NUJS prepared you for the real world practice of law?
Securing a place along with other meritorious students made me wonder how I ended up there.
Initially life in NUJS was hectic, nerve wrecking & challenging. I was not a brilliant student but more of a mediocre student; hence I had to struggle with the study pressure in the beginning. Eventually, when I had settled in, things started to fall into place. My grades stabilised and I could engage in other extra-curricular activities.
The years I spent at NUJS have been the best 5 years of my life, I made wonderful friends, discovered the vast arena of legal education, and ventured the city of Kolkata in every possible way. Overall, it was a great experience.
The legal education that I received from NUJS, has helped me imparting knowledge to my students during my teaching experiences. It has also equipped me to deal with the legal complexities of litigation.
Tell us about your internships. Any remarkable internship experience which shaped up your career? How would you recommend students to go about choosing their internships?
I have done several Internships, under the Advocate on Record of Supreme Court of India, Kanga & Company, Jyoti Sagar Associates, Mumbai, Senior Advocates of Judge's Court in Sylhet, Bangladesh. All, these internships have given me an opportunity to experience different aspects of the legal profession. Corporate culture, litigation gave me an opportunity to decide what kind of a career I'd like to pursue. Unfortunately, in my country, there isn't much scope for students to carry out internships. The sole reason is that the corporate culture in Bangladesh is still developing and  the universities in the country don't emphasise on Internships, due to which many students are unclear about their careers after graduation. Indian students already know what they'd like to pursue after completing their graduation but  it is important to focus on law firms that you'd like to work with in the future while choosing your internships. A good internship definitely reflects well on your C.V. while recruiters hire you.
What was your motivation behind pursuing LL.M.? Was it a personal endeavour or a professional requirement? Why didn't you opt for Indian Universities?
I wanted to pursue LL.M from the U.K but due to personal anomalies I couldn't do so. Later, pursuing LL.M was more of a professional requirement than a personal endeavour. I didn't opt for Indian Universities as they don't offer specializations in subjects; plus, since the duration is of 2 years, it didn't seem very encouraging to me.
You completed your LL.M from Southeast University, Dhaka, Bangladesh. What all did you consider before choosing your subject for Masters? What are the differences you found between Southeast University and NUJS?
As I said, since it was more of a professional need to pursue LL.M, I opted for Southeast University. Since there was no specialization, it was a general LL.M, and hence I didn't have the option to choose any subjects.
There are numerous differences between NUJS and South East University. I cannot compare NUJS with any Private University. If I ever get an opportunity again, I'd like to pursue my LL.M in a foreign country.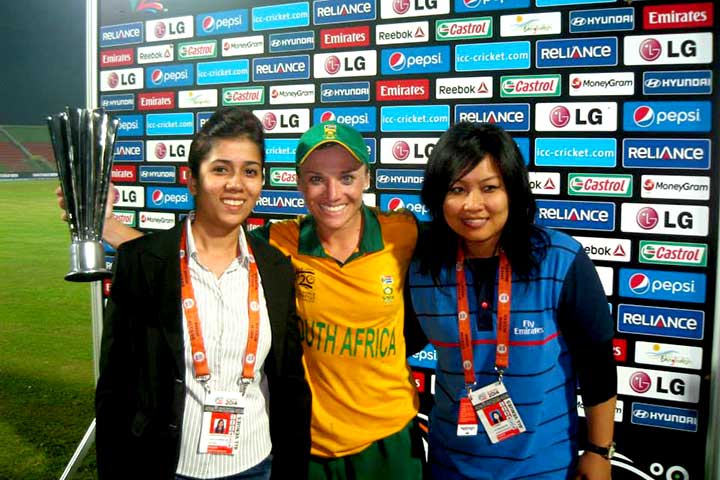 You were closely associated with the ICC T20 Women's World Cup 2014 and the South Asian Games 2010. How was your experience organising these events? Have you been a sportsperson? What draws you to sports?
I was the MC for the South Asian Games 2010. It was definitely a great experience. That was the first time I faced thousands of people. This experience has definitely added as a boost to my experience during the ICC T20 Women's World Cup 2014. I worked as a Local Coordinator for the women's teams along with being the MC for the player of the ceremony after each match. Dealing with ten teams was super challenging and hectic. The event was scheduled for more than a month. It was an eye opening experience as I came in contact with hundreds of officials and employees of the International Cricket Council, the Bangladesh Cricket Board, famous players and match officials. I feel extremely lucky to have been a part of such a stupendous event.
I was more into sports during my school day and college life. I have played almost all kinds of sports and was a part of the football team and cricket team while at university and the basketball, hockey teams during school days. It's rejuvenating and I enjoy playing sports.
You worked as an investigating officer at the Gender Justice & Diversity Section, BRAC, Dhaka, Bangladesh. Tell us what your job profile was all about, what comes under the responsibility of an investigation officer?
The job as an Investigation Officer in Gender Justice & Diversity at BRAC was interesting and challenging. Basically this job profile was focussed on working with sexually harassed men/women at work place. A grievance cell was created whereby those working with BRAC if they faced any sexual harassment at work place could launch complaint with SHARE Unit, (Sexual Harassment Elimination Unit). After receiving complaint from SHARE, two investigation officers are given the task of visiting the place of occurrence and carry out investigation. After returning back from investigation, report has to be prepared and handed over to the Team Manager. Later Team Manager along with the head of SHARE Unit would decide upon what action to be taken. The punishment could range from termination, temporary suspension and warning. An aggrieved person if not satisfied with the awarding sentence could approach to Ombudsman. The decision of the Ombudsman is final.
So, as an investigation officer, I had to investigate the matter by visiting the place of occurrence, take statement of the victim, accused and witnesses. It was very challenging job because sometimes the accused would turn hostile, the witnesses would refuse to meet. Most importantly basing on my report following actions would be assigned. So since it was sensitive issue dealing cautiously was essential.
BRAC's GJ&D had formulated Sexual Harassment Elimination (SHE) Policy in 2004, following which BRAC was committed to follow the High Court Division's Guideline against sexual harassment that was promulgated on May 14, 2009.
Given the Law firms where you interned offer a lucrative pay package and a prestigious career, how did you decide to return back to Bangladesh and start practice? Have you always thought of litigating from your days of being a law student?
It was simply my father's decision that I come back to Bangladesh and start working here. Since 1994, I have been in India for education purpose, hence my father wanted me to return back just as I had completed my graduation in 2009. I didn't think of taking up litigation while I was a law student. The circumstances lead me to opt for this path.
You are currently working as an advocate at Judge's Court, Sylhet, Bangladesh. How is the court atmosphere in Bangladesh? Can you share some of your experiences in the first few sessions of the court?
The Judge's Court scenario is pretty much different. Though initially I didn't like the atmosphere but gradually over time I got used to. The first few sessions of the court was challenging as most of the time while appearing for any matter, I am facing a senior opposing counsel. I was nervous at the beginning but over time I have grown confident and hesitation don't take over me.
Also, immediately after graduating in 2009 I couldn't start practice straight away. In the legal system of Bangladesh one has to pass the bar examination before practicing as an Advocate. Passing the bar exam is really challenging as one has to face more than 15,000 or more examinees from all over Bangladesh every passing year.
Can you tell us about a few highlights of the legal system of Bangladesh? Do you find any major differences between India and Bangladesh?
The legal System in Bangladesh follows the Common law. The Judiciary is independent. The Supreme Court of Bangladesh is the Apex Court with two divisions, The Appellate Division and the High Court Division. Appellate Division hear and determine appeals from judgments, decrees, orders or sentences of High Court Division. High Court Division has both Appellate and Original Jurisdiction. It hears appeals from orders, decrees and judgment of subordinate courts and tribunals.
The laws and acts are all most similar except that amendments have made certain changes. The personal law is different than that in India. Also, unlike the Indian System, one has to qualify the bar examination in order to practice in the Judge's Court in Bangladesh. For enrolment in High Court, minimum two years practice in lower court and if the candidate has LL.M that he /she can sit for enrolment examination of High Court.
What are the primary requirements of a practicing lawyer in Dhaka? Is it possible for an India educated lawyer to start practice in Dhaka and vice-versa? Do you consider practicing law in India ever? How would it be for you to adjust your career in a city like Delhi or Kolkata?
Primary requirement for a practicing lawyer is that he/she has to be enrolled after passing the Bar Council Examinations. It is not possible for an Indian Lawyer to practice in Bangladesh unless he/she is a citizen of this country and vice-versa. I had considered practicing in India but since I am not an Indian Citizen, hence I cannot practice. If I would have the opportunity I would comfortably adjust my career in Kolkata, as I'm accustomed to the life in Kolkata after staying there for 5 long years.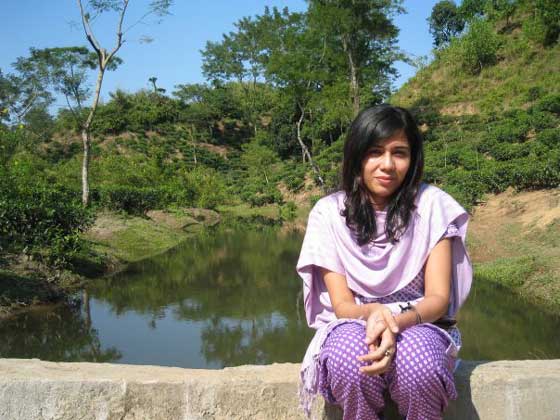 Is legal practice in Dhaka as lucrative as in Kolkata? What are the primary challenges in establishing an illustrious career there?
If you consider the High Court practice, then I would say both Dhaka and Kolkata are on same footing. Even though primarily it's very tough to build up this career in litigation but with time one can blend in.
The primary challenge in litigation is being a woman. If the family is not supportive than pursuing litigation, maintaining family could be pretty challenging. Though now days the families are less conservative so this makes the chances a bit better to opt for litigation. And of course competition is there considering clients prefer Barrister-at-Law than other Advocates. This trend has been since there after independence and till date it continues. People have the notion in Bangladesh that if you become a Barrister you are much more qualified than ordinary advocates who are in practice for long years. The trend is changing though, after realising that not all Barristers are worth the penny.
You have worked in India as an intern in various law firms and under various famous advocates, do you find any difference in the working cultures of India and Bangladesh? How different are both the countries in terms of work culture?
The work culture is much more different in Bangladesh in comparison to India. The education I got from NUJS has given me an upper hand. In comparison to other graduates from certain private universities and public universities in Bangladesh, I think I had a great exposure in this profession. The experience that I have gained has pushed me ahead in my profession. As a result, I am pursuing litigation along with teaching and also being a political fellow for Democracy International, a USAID agency. Also, the corporate culture is not yet full-fledged in Bangladesh unlike India. It will take another few more years to form the corporate culture like that of India. Also the political instability has direct influence in our legal system, so that works to as a barrier for companies coming in and investing in Bangladesh.
Lastly, what would be your message to a law student who wants to excel in the legal profession?
For the law students, please utilise your time wisely while studying and try selecting the good law firms for internships. The internships reflect a lot in what you are capable of pursuing as a lawyer while you will enter professional field. Most importantly, let your heart follow what you want to pursue, don't follow anyone because making your own identity will always lead you ahead in life no matter what you chose. Good wishes to all the upcoming lawyers.