This interview has been published by Ayush Verma.
How would you like to introduce yourself to our readers?
I am the Co-founder of Create and Protect IP Partners and I help creators, artists, freelancers, and small business owners identify and use their Intellectual Property optimally. I feel like our country needs to acknowledge and respect creators and artists now more than ever. There is a big transition happening in the creative space in India and we need artists to safeguard their rights. As someone who is naturally inclined towards the creative field, I want to extend a friendly hand to all artists.
What prompted you to think of law as a career? If not law, what other options would you have considered?
Trying to decide your field of study can be extremely exhausting. Eliminating what I didn't want to do helped me focus on the things that I had a genuine interest in. I wanted to do something which connects me to the issues of society and be able to help in my way. Law seemed like the most holistic option because it didn't restrict me to the legal subjects but also brought in subjects like sociology, political science, etcetera.
Where did you do your internships while at law school? How important were these internships in shaping your career?
My internships in the initial years of law school focused on different subjects. I wanted to experience all fields before narrowing down and deciding what I want to pursue. In the 1st and 2nd years of law school, I interned with non-profits since legal knowledge is pretty limited during the initial years of law school. I continued to intern with different teams and finally by the end of the 3rd year, I locked it down to IPR. I consciously focused on getting internships with IP firms or teams at law firms.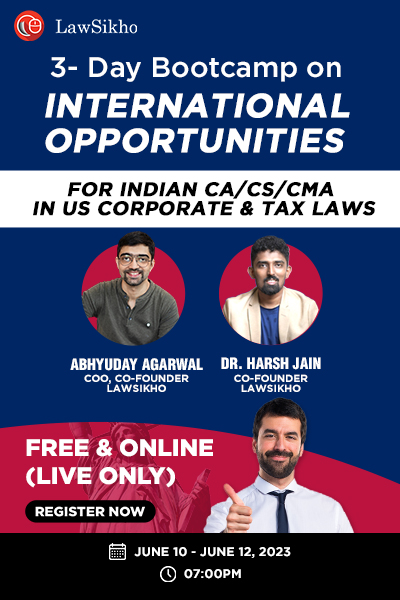 Internships are extremely helpful for any student throughout their law school. It is however important to be mindful of the internship one is pursuing. Merely doing an internship to display on the resume doesn't cut it. What law students need to understand is that they should focus on getting experience from organizations that would give them good exposure and prepare them for the professional world.
You co-founded Create and Protect IP Partners within a year of graduating from law school. What were your reasons for deciding to work independently right from the start of your career? How did you overcome the initial challenges?
My co-founder and dear friend, Yesheshvini, and I always had an entrepreneurial inclination. We wanted to make a safe workspace for legal professionals in India and have been determined to provide a space that is encouraging for all thoughts and ideas. We understood that starting something as fresh graduates would not be a piece of cake but thankfully the support from our families made the decision worthwhile.
We love creativity and more so when it is mixed with work. In a field like IP, you have to come up with innovative and creative solutions every day. One of the major reasons we wanted to start something like this was to bridge the gap between the creative and legal community. In the past couple of months, we have interacted with several creative professionals and one thing that's common in all the conversations is the lack of understanding and awareness about artists' rights.
Some of the initial challenges that we faced included clients not trusting us and our work ethic. Being a young company headed by two females can have its ups and downs. We just have to believe in ourselves and we keep encouraging each other.
We're still building it and it is a lifelong commitment, however,  it's extremely rewarding to see creative entrepreneurs grow with the little assistance that we can offer.
Would you like to tell us more about your firm's area of expertise and work culture?
Create and Protect IP is an organization that focuses on creating awareness about Intellectual Property and its associated laws in India. We help individuals, creative professionals, entrepreneurs, and start-ups to understand, register and protect their Intellectual Property. We work closely with our clients to understand their needs and provide bespoke, budget-friendly solutions to protect their intellectual creations. We want to build a community with business and creative entrepreneurs and make them aware of their intellectual and artistic creations.  It is about empowering these communities and making sure that they have a safety net for their IP. We are an inclusive and safe space for sharing thoughts and discussions. Every professional/student that associates with us is treated as an equal team member and we respect everyone's opinion.
We believe that there is so much that we can learn from each other every day and that converts as the best way to work.
Do you remember any peculiar or difficult cases that you might have worked on so far?
Difficult or easy, cases are always fun. We get to learn a lot about not just the law but also the client and their working psychology. Catering to a wide audience comes with an advantage (or disadvantage at times) of coming across various personalities. Yesheshvini and I are fortunate enough that we have had clients that respected us and our work ethic. There have, however, been some instances when people tend to take you for granted. This happens especially because our company is in the formative years. We have seen some clients who try to put pressure and make things work their way but at the end of the day, you have to take a strong ground and stick to it. It's extremely important to have a good and solid work ethic and we like to abide by it.
In almost all the cases that we have dealt with, one common pattern that we saw is that almost every time, creatives/freelancers are exploited. This is where safeguarding your rights becomes of utmost importance. 
How did you develop an inclination towards Fashion and Art Law given that it is such a niche and unexplored area?
I have always had an inclination towards all things creative. Fashion and art are a great medium to put your thoughts in a tangible form and I believe that both these areas are a wonderful combination of culture and visual arts. Visual arts give me a sense of satisfaction and are a great way to express when words fall short.
That being said, both these niche areas have been researched and talked about the world over and I stumbled upon them shortly after joining my 9-5 job. I found myself becoming more curious about IP and related laws and started reading up and explored different areas. Fashion and Art caught my eyes almost immediately. India is in the middle of a transition where independent creative entrepreneurs are getting recognized and this gave me a push to do something which is challenging yet necessary.
In such a specialized area of expertise, who are some people that you look up to? What role have they played in shaping your career?
There are many but I will mention some of them here. Amazingly, the majority of them are these wonderful ladies who are doing some incredible work in their niche.
To name a few, it'd be Manojna Yelluri, Monica Bota Moisin, Subhash Bhutoria, Debottam Bose, Julie Zerbo, Carry Sommers, Yayoi Shionoiri, Alana Kushnir, Priyanka Khimani, Sandhya Surendran, Megan Noh; the list is pretty long!
It's so inspiring to be able to follow and understand their work and create your version of the work that they do.
For people interested in Fashion and Art Law, do you have any specific book recommendations or resources you often refer to?
The internet. It is such a magical and endless sea of knowledge. You will get plenty of online resources and websites that cater to these specific topics such as – Art Law India, CIPRI, Fashion Law to name a few; just subscribe to their website and get new topics to read, research, and explore. That is exactly how I go about it. Both these areas are still growing and it is good to share what you read with others.
Drawing from your experience, what does the future hold for Fashion or Art Law in India?
India is slowly yet surely recognizing the creative industry and it will only go up from here. One of the biggest issues is that with an industry that is so vast and encompasses a variety of art forms, it is difficult to have one common problem-solving legislation. I have mentioned this before as well, our country has the written law in place but it is difficult to practically implement it in a diverse setting like this.
One common thing about working with artists is that all of them have different and unique experiences. That's why it is important to keep sharing, learning, and growing. We need to keep a conversation going and only then will we be able to spread awareness and educate.
You've mentioned in an interview that one of your reasons for pursuing IP law was how undervalued the creative industry is in India. Could you please elaborate on the same? What are some of the shortcomings in our legal system that fail to protect the rights of independent artists or small businesses?
Yes, the creative industry is highly undervalued in our country. Most of the creators who work as freelancers are taken advantage of and their work is often exploited. One of the issues is defining your scope of work and having rights to the work you create. It becomes imperative to understand whether you are working in a 'contract of service' or a 'contract for service'. There are many facets to look at and evaluate. We need this industry to have a stronghold in the market but we fail to protect their rights. It is time to promote them now more than ever. Talk more, have discussions, share thoughts and experiences. Until and unless we don't talk about these topics, it becomes difficult to come up with solutions. 
With the creative industry booming on digital platforms, what role do you see IP law playing in the same? What does the future hold for IP lawyers globally?
The creative industry is at its maximum potential now than it ever has been. Especially in the pandemic, we witnessed the world finding solace in different forms and mediums of art. We are a content creation and consumption generation. It has become accessible to many; you just need to take your phone or laptop and record or write something. It is easier to communicate your thoughts and express them to your chosen audience. New types of content are available every single day and most of it is original. This generation is not just copying content but creating some great original works.
With this massive expansion and boom of content creation on digital platforms, it is essential to protect your brand and the type of content you make. The majority of the businesses have taken to digital marketing and try and come up with innovative ideas to sell their products/services. This is where the IP lawyers come into the picture. This is also one of the reasons that I love this field. IP lawyers don't just have to look and analyze the legal aspects, they also have to work hand-in-hand with marketing professionals and make a tight brand strategy.
This goes for all new creative entrepreneurs or businesses – always book a consultation with a lawyer before starting your venture.
What would be your word of advice to students interested in Fashion and Art law?
Research, read, and write – just be curious. As I mentioned earlier, there are many learning resources available online but you need to filter out the noise. Don't be mindless with online courses just to receive a certificate. If you are passionate about a particular subject, enroll in a course that would add value. Both these areas are not well developed in India but some professionals are doing great work, reach out to them and try and get some experience.