Siddharth Acharya graduated from Government Law College, Mumbai in 2014. After a very brief stint at Oasis Council & Advisory and Khaitan Legal Associates, started his own independent practice before Supreme Court of India & High Courts and various forums like the National Company Law Tribunal, National Company Law Appellate Tribunal and Securities Appellate Tribunal.
In this Interview, we speak to him about
His formative days as a transactional lawyer;
His transition from a transaction lawyer to a litigator;
His fondness for directing films and his documentary "The Abandoned Cranes" which received attention across the globe and
His inclination towards working for think-tanks on various public policy related works.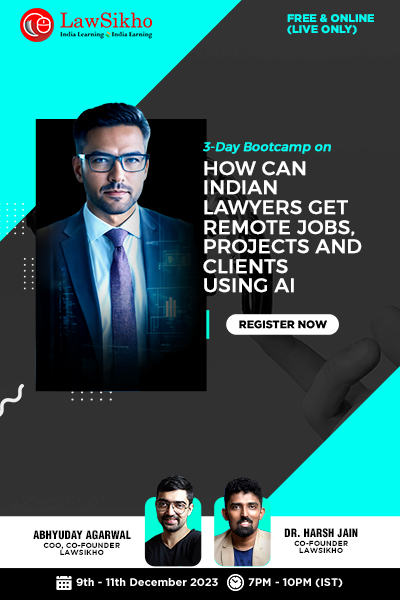 HOW WOULD YOU INTRODUCE YOURSELF TO OUR READERS?
Rather than calling myself as a Super-Lawyer, I will introduce myself as an independent practising super-struggling lawyer who is out there to carve a niche for himself in the Meccah of litigation which is New Delhi. I am in process of building my practice brick to brick here and intend to become Advocate on Record in future. I take up consumer matters pertaining to Insurance and company matters pertaining to Insolvency and Bankruptcy as I personally believe consumer forum and National Company Law Tribunal are the best places where you shall start arguing and it is quite heartening to see how encouraging Judges these days encourage you to speak in court. It is an organic process and takes time but yes I am out there to work hard and learn something daily.
TELL US ABOUT YOUR PRE COLLEGE LIFE. WHAT MADE YOU DESCEND TOWARDS LAW?
I was an above average student of Bikaner Boys School. During my school days I had keen interest in quizzing, cricket and debates. I was not a rank holder in my class but I use to get decent grades and use to secure highest marks in History and Political Science. My other interest was the theatre which I used to pursue in my school and read novels and plays of Shakespeare, Munshi Premchand, Anton Chekov, Fyder Dostoevsky and George Bernard Shaw. My great-grandfather was a District Court Magistrate and a prestigious senior lawyer in Bikaner. I still have fond memories of seeing him in the profession. He was a voracious reader and had garnered a lot of respect in the legal fraternity of Bikaner. He used to do a lot of pro-bono work and his stature and prestige stayed in my sub-conscious and has a lot of impact on me even till now. Law as a profession did not come to me as a natural choice, I was clueless and confused after my school on what to pursue. I secured admission in reputed Biotechnology College in South and Agriculture University and wanted to prepare for Civil Services but back in 2009 CLAT was gaining a lot of popularity among the youth in my hometown. My cousin ended up securing job in her campus placement in SEBI after finishing her education from National Law School, Jodhpur and suddenly word of mouth spread in the family that if you wish to have a successful professional life and end up in a dignified post after your graduation then it is the best time to pursue law.
WHO WAS YOUR MENTOR, OR MAIN SOURCE OF INSPIRATION WHO MOTIVATED YOU ALL ALONG THE WAY?
There are various people who have motivated me in the journey. My initial mentor was Mr. Dinesh Shripat who is my uncle and he had persuaded me to take up law as a career. After I finished graduation, I started working with Mr. Haresh Jagtian in Mumbai. His flamboyance, articulation, magnanimity and charisma is infectious. I really consider him as an institution and one can learn a lot from him be it law or life. His understanding about subjects like Jurisprudence, Evidence and Constitution is exceptional and I was fortunate to have been associated with him directly on PIL which he had filed against the State of Maharashtra on criminalising possession of beef. I got to work with various legal and constitutional jargons of Bombay High Court Bar including likes of Aspi Chenoy and Navroz Seerwai.
Another person from whom I garner a lot of inspiration is Mr. Sharan Jagtiani and Mr. Somasekhar Sundaresan, both of them are among the most sought after counsels in the fraternity. At their age, if I achieve even a fraction of their accomplishment, I would consider myself successful. Mr. Sakate Khaitan, Managing Partner of Khaitan Legal Associates and Mr.Yogesh Chande from Shardul Aamarchand also have a strong influence on me professionally.
HOW WAS YOUR EXPERIENCE AT GLC, MUMBAI? WHAT WERE YOUR AREAS OF INTEREST IN THE LAW? DID YOU ENGAGE IN EXTRA-CURRICULAR ACTIVITIES WHILE IN COLLEGE?
GLC taught me to be independent and courageous. I was a young naive boy who was going through everyday cultural shock as the transition from a small place like Bikaner was a bit painful to go through. I got to intern with various law firms like Junnarkar Associates, AZB and Partners, J Sagar Associates, Luthra to name a few. I found the firm environment extremely challenging and intimidating and to be honest did not really enjoyed it. Coming from a small place and fear of survival mounting on my head in a super-expensive city like Mumbai, I did not have the courage to take up litigation immediately after graduation so reluctantly I decided to join the firm.
My area of interest was Investment Laws especially Securities as I had obtained post graduation diploma also in it but what really intrigued me was Constitutional Law. I started watching ShyamBenegal's series Samvidhan on YouTube which covers the constitutional debates that took place in Constituent Assembly before India became Republic in 1950. My love for politics helped me to understand the contemporary political problems of this country along-with nuances and intricacies involved in the drafting of the most sacrosanct document of the nation. The upheaval and challenges which founding fathers of the Constitution must have had gone through. Understanding the entire process made me aware about the importance and indispensability of Constitution to run such a diverse and pluralistic democracy.
I was engaged in extra-curricular activities like Model United Nations and authored a paper those days on problems faced by Muslim women in India. I also did Moot Courts and Model United Nations. But what I liked doing the most was debates.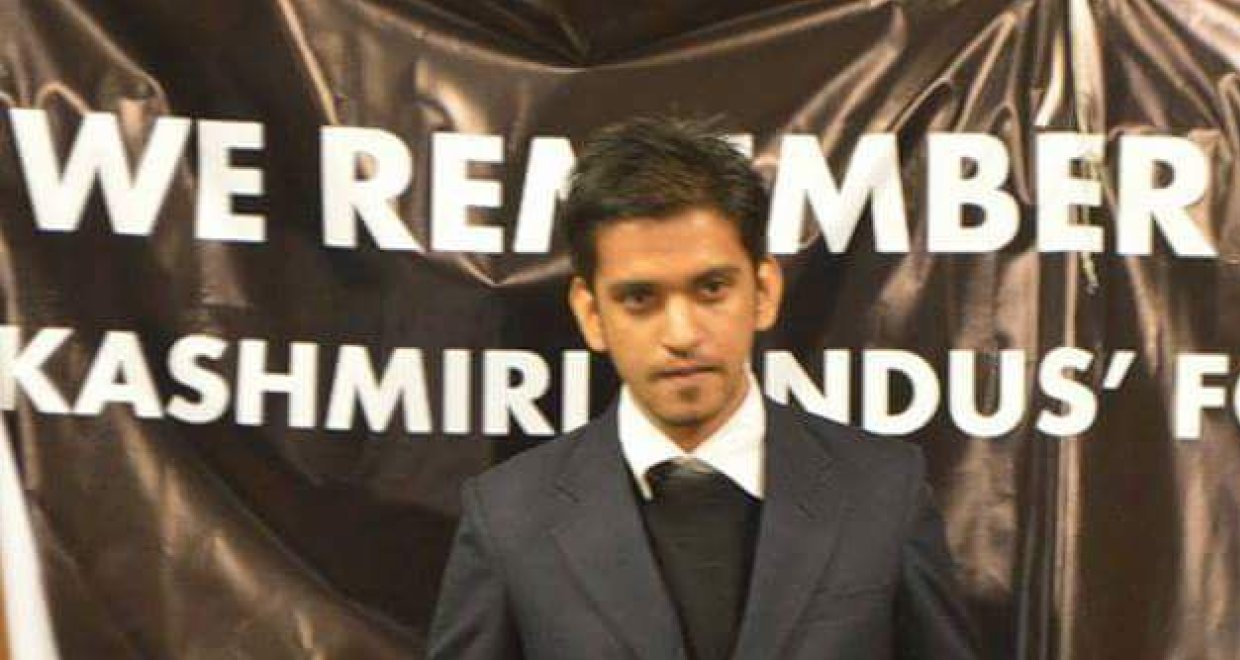 DURING YOUR LAW SCHOOL YOU HAD DIRECTED VARIOUS SHORT FILMS AND DOCUMENTARIES ONE OF THEM WAS THE ABANDONED CRANES WHICH RECEIVED ATTENTION ACROSS THE GLOBE. COULD YOU PLEASE TELL US ABOUT THE DOCUMENTARY AND YOUR CHALLENGES WHILE PREPARING THE SHORT FILM?
(Siddharth's documentary The Abandoned Cranesgot screened at the House of Commons and was screened at Brussels in European Union Headquarters. He has addressed the British Parliament and French Parliament on the socio-economic concerns that hound the Kashmiri Pundits. )
The Abandoned Cranes was a subject which I would say I had lived with for many years before making it. It was a 52 minute comprehensive documentary film based on Jammu and Kashmir conflict. It was an earnest attempt to sneak into the genesis of political problems in the state of Jammu and Kashmir after the rigged elections that happened in the state in 1986. I also traced reasons on how militancy mushroomed in the state thereafter making Kashmiri Pandits leaving their homeland and also analysing Armed Forces Special Powers Act and Public Safety Act. It took me eight months to complete it and interesting fact remains that I did not inform my parents about the making of film and shooting in Kashmir along-with likes of Yaseen Malik and Bitta Karate (dreadful militants of those times) and other surrendered militants. The film was appreciated at various human rights film festivals and I got an opportunity to speak at House of Commons. I came across various challenges as I had literally risked my final year of law in terms of grades and thereafter my career. From shooting till editing I was a learner myself as I did not come from film-making school but I was so deeply entrenched into it that I could not think of anything else at that time. My parents were apprehensive that this would spoil my career as I was not making it with any commercial interest and had abandoned my regular studies for a while. Finishing documentary itself was an accomplishment and I am really glad that it was appreciated by people all around.
WHAT ARE THE CAUSES YOU FEEL STRONGLY ABOUT?
I am extremely sensitive towards the plight of people who cannot afford basic medical facilities and health care. The State plays an important role in providing free medical services through health insurance cards but under the guise of schemes like Rashtriya Swasthya Bima Yojana and Mukhyamantri Swasthya Bima Yojana of States, people have been cheated and most of the premium released by government is siphoned off by the private hospitals and Bureaucrats. The lackadaisical attitude of Bureaucrats in resolving the issue and being insensitive towards them is something I am willing to take up soon in Court of Law.
I am also extremely sensitive towards what is happening today in State of Jammu and Kashmir. The youth in Kashmir today feels oppressed, marginalised and victimised and rants anti-India slogans. Due to poverty and various other reasons, youth there feels completely disconnected with rest of India. On a personal level, I have taken an initiative where I have hired a law graduate Suhail Ghanie from Kashmir University as my sub-ordinate and in coming years will be giving internships to Kashmiri youth. If my practice picks up more in coming years then I will be doing the same experiment in naxal affected areas and other troubled areas. The time has come where new generation in conflict areas have to be psychologically integrated with our country. If they get exposure to justice mechanism and get aligned to the mainstream which other youngsters do then only they will be able to subscribe to the idea of unified India.
YOU HAVE DONE SO MANY INTERNSHIPS. PLEASE TELL US HOW FAR DID YOUR INTERNSHIPS DURING LAW SCHOOL HELP YOU IN YOUR CAREER AFTER YOUR GRADUATION? HOW WOULD YOU RECOMMEND THE PRESENT LAW STUDENTS PLAN THEIR INTERNSHIPS?
(Siddharth has interned at the Chambers of Mr. Harish Salve, Senior Advocate, Luthra and Luthra (Law Offices), J. Sagar Associates, AZB & Partners, Anand and Anand, Crawford & Bayley Co and various other places.)
Numerous internships actually helped me to analyse myself. It helped me to understand my mettle as a lawyer. What I am suited for and what I am not suited for? Like for an example during my stint in J Sagar and AZB, I realised I can't become a good transaction lawyer. Those internships and small conversations with accomplished legal luminaries helped me to unleash my own calibre and understand that everyone here is gifted with some ability or the other. Like I remember this encouraging conversation coming from a Senior Partner of a reputed law firm, where he said these words "Every law firm intern wants to take up a corporate job and gets disappointed thinking he does not deserve it. We hire people not only considering the merits but also deeply pondering on the entire thought process of the candidate as to whether he or she will able to acclimatise to the working environment of the firm. We tend to not imbibe free thinkers in the firm. That does not mean we don't like the candidate or we feel they are good for nothing. Someone who has it in him or her will definitely find the path and next five to seven years decide whether you have it in you or not."
Also your internships dismantle various myths and pre-conceived notions legal career and teach basic jobs like filing, co-ordinating with court-clerk, adapting to the chaotic phases in the litigation. In the process, you learn to value everyone working around you. What it teaches you the most is discipline and if you get the right mentor then there is no stopping for you.
I would suggest law students to try their hands in various fields in initial years so as to understand and grasp the nitty-gritty of various things and analyse your potential. It will help discovering themselves.
HAVE YOU EVER FELT THE NLU AND NON- NLU DIVIDE? DO YOU THINK IT IS A CONSIDERATION FOR EMPLOYERS?
It is quite unfortunate that it exists in the fraternity and it is a harsh reality. I am an ardent supporter of non-NLUs as during my own college days, I was a victim of this class divide. Like I remember interning in a premier law firm, the Partner of the firm always use to encourage and delegate work to associates from a specific university where he had passed out from. I am not saying this exists everywhere but employers do prefer N schools and there is a clear bourgeoisie-proletariat kind of divide and they are ruling the roost in firm recruitment. N-school graduates do have an advantage in terms of placement and recruitment but ultimately it is non N-school candidates who emerge more successful in the long run as the vision of N-school alumni do not go beyond campuses and big corporate towers.
HOW DID YOU SECURE YOUR FIRST JOB? HOW IMPORTANT DO YOU THINK A HIGH CGPA IS FOR RECRUITERS?
All thanks and regards to Mr.Haresh Jagtiani who had given me a chance in his law firm.
Recruiters and HR in our country feel CGPA is the most sacrosanct thing in a student's life, securing important CGPA is very important as it shows how diligent and focused a student is.
WHY DID YOU MAKE A TRANSITION AFTER WORKING AT CORPORATE FIRMS TO PURSUE A CAREER IN LITIGATION?
I would say circumstances got me into private practice as neither I come from an established legal background nor I am a local Delhi boy or Bombay boy. My fate offered me the opportunity and I could not succumb to the temptation. Litigation and arguing in court gives me more thrill than sitting and working for hours on a long draft and activist bent of mind helps you in litigation more than corporate.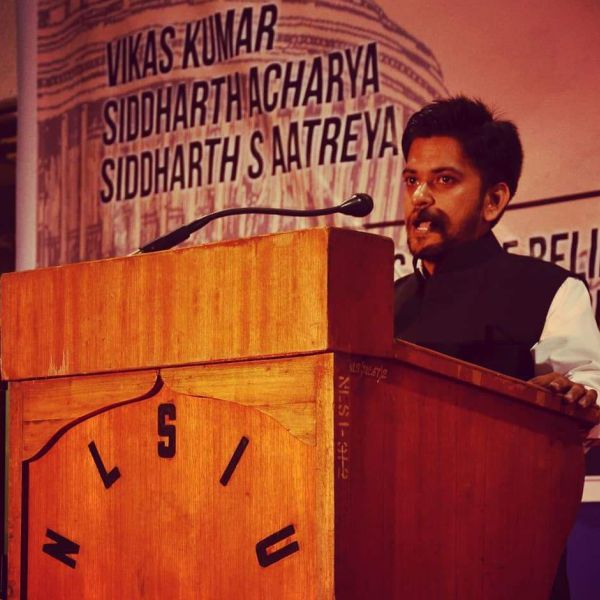 WHAT WERE THE STRUGGLES THAT YOU FACED AS AN INDEPENDENT COUNSEL?
I am facing struggles on a daily basis as most clients do not tend to take you seriously when you are in your twenties. You get to do matters which have small stakes and the appeals which you receive from lower courts and commissions and has already been decided against your clients. These matters are called ventilator matters and they make you an expert at condoling people. But honestly, no fat cheque can match the happiness which you get after a favourable order in the court of law.
WHAT INCLINED YOU TOWARDS PROPOSING, DRAFTING, FRAMING AND SUGGESTING ON VARIOUS PUBLIC POLICY RELATED WORKS FOR THINK TANKS AFFILIATED TO GOVERNMENT OF INDIA?
(Siddharth has worked on various policy related work pertaining to Life Insurance and General Insurance and regularly gives legal inputs to the Department of Financial Services, Finance Ministry and Health Ministry on National Health Protection Policy.)
What really made me inclined towards public policy was an unfavourable order I got from Chief Justice K.M. Joseph of Uttarakhand High Court. This was a PIL filed in September, 2016 where I had brought irregularities to the notice of the Court about how tender processes are rigged in the health sector and beneficiaries of healthcare schemes are not getting benefitted at all due to poor claim settlement ratio thanks to private hospitals. Uttarakahand at that time did not have any tertiary level treatment hospital which could cater heart transplant and cure for serious diseases. I realised it was the time to take a plunge to counter the nexus between bureaucrats, politicians and businessman who will destroy the healthcare system of the country. Healthcare being dormant yet important sector is the pillar of modern India. If the system fails to provide it to the needy then what is the difference between India and a remote third world country in Africa.
WHERE DO YOU SEE YOURSELF TEN YEARS FROM NOW?
Honestly speaking I am not that foresighted, I intend to do in what comes to me and rise gradually. I would like to be known as an upcoming lawyer in constitutional courts seeing myself arguing on various constitutional matters.
WHAT WOULD BE YOUR PARTING WORDS TO OUR READERS, WHO ARE PREDOMINANTLY LAW STUDENTS AND YOUNG LAWYERS?
Have faith in yourself and keep going. There will be moments of highs and lows in your professional career. Stop comparing yourself with your contemporaries or taking a keen interest in their monthly earning and packages and keep experimenting.