Siddharth Marwah is a corporate-commercial lawyer and is currently working as a Senior Associate with Khaitan & Co. His area of practice involves mergers and acquisitions, joint ventures, foreign investment and general corporate and commercial matters. He also serves as a guest lecturer with certain law schools mostly being involved with his alma mater Campus Law Centre, University of Delhi, where he also sits on Governing Body of the Campus Law Centre Alumni Association. He was recently appointed as a sole arbitrator in a corporate-commercial dispute.
Siddharth is a graduate in law from Campus Law Centre, Delhi University, batch of 2015. He was the Vice-President of the Campus Law Centre Students' Union, established the Legal Aid Cell in his college and was declared the best paralegal by DLSA. During his time in law school, he was actively involved in the Delhi University student politics and legal aid and was awarded a 100% scholarship by the University of St.Thomas, Minnesota.
In this interview he talks to us about:
Being convener of the Legal Aid Society in his college and his continued involvement with legal aid
His experience in corporate-commercial law
His involvement in student politics
His continued involvement with his alma mater
His many accomplishments as paralegal, writer, lecturer, etc.
HOW WAS LIFE AT CAMPUS LAW CENTRE?
Life at CLC was a rollercoaster ride to me. From managing the scores to being the part of the Students' Union was fun and taught me various aspects of law and gave an insight into politics. My involvement with the legal aid society helped me realise how difficult the access to legal justice was for people and it's a realisation that has stayed with me. The best part about studying at Delhi University was that I got to interact with people from different walks of life and from all over India. That exposure helped me to grow as an individual and that experience has helped me in my legal career as well.
You talk about your involvement with legal aid during law school, and we see that it's something you continue your involvement with. HOW WAS YOUR EXPERIENCE WORKING AS A PARALEGAL?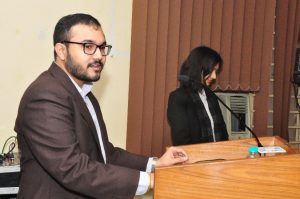 (DLSA awarded him as the best paralegal volunteer 2014 and he was also the Student Convener of the Legal Aid Cell at his college)
Legal Aid in our country still needs a helping hand from the authorities to enhance the justice system. Being the student convener of the Legal Aid Cell, I helped establish the Legal Aid Clinic in our college. I was involved in organizing legal awareness drive in slums and informing people about their basic rights, organising legal aid camps and conducting PLV training sessions. Working as a paralegal made me question conventions that we had unquestioningly come to accept. DLSA, on seeing my zeal towards the work awarded me as the best Paralegal in 2014.
Continuing my association with legal aid, we at the Campus Law Centre Alumni Association are planning to organise large scale Legal Aid camps throughout Delhi to help as many underprivileged people as we can. We already have 500+ lawyers willing to support us in this cause. I would personally like to focus on cases of domestic violence and child abuse.
Tell us more about your work with the Campus law centre alumni association? We understand that you are planning to raise funds for the renovation of The law school?
(Siddharth is the Treasurer of the Campus Law Centre Alumni Association, and is the youngest member of the governing body of the association)
CLC is one of the oldest law schools in the country and has an alumni base of 10000+ lawyers across the country. The idea was to provide a common platform for the alumni to meet and for the students to interact with them. Unlike the other law schools, Campus Law Centre didn't pamper us. We did not get much institutional support for internships and placement. We were left completely on our own – and it was up to us to make the most of the time and resources we had. Keeping that in mind, my aim ever since college has been to provide every student with an equal opportunity when it comes to getting internships and placements and through the alumni association, I hope to achieve it. We are blessed with an enviable alumni network and we aim to provide a platform that will increase the accessibility for the students. We have Senior Advocates like Mr Mohan Parasaran, Mr Sidharth Luthra, and Mr Rakesh Munjal as part of our governing body. The advisory body of the association is headed by the Chief Justice of India, Justice Gogoi as our Patron-in-Chief.
The renovation of the college infrastructure is one of our primary goals, so that the students can have access to world-class infrastructure and better learning facilities. We have started reaching out to all our senior alumni and many of the alumni have also offered their assistance to help renovate the entire college infrastructure, which is what we will be working towards it in the coming months.
DO YOU HAVE PLANS NOW FOR AN LL.M?
I always had a plan to work for some time in India before going for further studies. St. Thomas School of Law awarded me a 100% scholarship to pursue LL.M but I chose to practise law in India first. My family supported my decision and IndusLaw (where I started my legal career) provided me with an opportunity to work with them as an associate in their corporate team. Yes, I do have plans to study further and may seek LL.M. opportunities in business and corporate laws in the future. Having said that, I do firmly believe that nothing can replace actual practical experience.
HOW DOES ONE GO ABOUT THE ART OF delivering lectures and WRITING?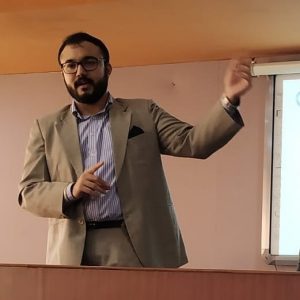 (Siddharth delivers guest lectures on corporate laws at various law schools throughout the country. MONDAQ awarded his article on GST as the "Most popular article in India".)
I feel blessed to have gotten the opportunity to deliver lectures at such prestigious universities so early in my career. Both delivering lectures and article writing requires in-depth research on the topic and one should use simple as well as classic vocabulary in order to make both the lecture and the article attractive and understandable even to a layman. Article writing plays an important role in improving your research skills and it adds stars to your CV if published. The whole experience of interacting with students while delivering lectures and answering their queries helps you grow as a person. I now understand how it feels to be on the other side of the table. While preparing for a lecture you have to do an in-depth analysis of the topic and be ready to answer any questions which the students might have. This is very different from writing an article where even if the article is detailed its more or less a monologue.
IN WHAT WAY DO INTERNSHIPS HELP A STUDENT? IS THERE ANY SPECIFIC ANECDOTE regarding your internships, WHICH YOU WOULD LIKE TO SHARE WITH OUR READERS?
(Siddharth has interned with the likes of Trilegal, Luthra&Luthra, and Senior Advocate Mr. Amarjeet Singh Chandhiok in the past.)
Internships are very important for a law student as they provide practical exposure to the student and help him to analysis knowledge of books in real life. Working under Chandhiok sir was a thrilling experience and made me follow a concept of love what you do and do what you love. Internships play a vital role for a law student and one must try to get an exposure of all fields through internships in order to evaluate his interest before graduation.
However, there is an interesting anecdote which I always like to share with students when it comes to internships. During my entire student life, I only did litigation-based internships. Even my internships at Trilegal and L&L Partners (then Luthra & Luthra) were all in litigation. But today its been more than 4 years that I have been practising corporate law. So, I think what matters most is that you develop your research skills, the interpretation of legal statutes, and try to inculcate a sense of professionalism through your internships. If you excel in these areas, then you can practice in any field of law. While law school and internships do help lay a good foundation, I truly believe that education for a lawyer begins when he/she starts practicing law professionally. Everybody starts with a clean slate upon graduation. And from all that helps you is your hard work, dedication, sincerity, and your ability to learn on the job.
Coming from a family of litigators, HOW DID YOU CHOOSE CORPORATE LAW AS YOUR SPECIALISATION? WHAT COURSES WOULD YOU SUGGEST TO YOUNG LAW STUDENTS LOOKING TO SPECIALISE IN CORPORATE LAW?
Well yes, that's a question I get asked a lot. My grand-father was a Senior Advocate in the High Court of Delhi and specialised in Criminal law. All the other lawyers in my family who practice law are also into litigation. So yes, me venturing into Corporate Law was a first for the family. To begin with, my grand-father wasn't too pleased at the prospect of me not visiting the court regularly!
To be honest, Corporate Law for me began mostly as an experiment. Something to try before I ventured into litigation. But like they say destiny takes you where it has to. My initial months in Corporate Law and being involved in private equity deals made me realise that this is where my interest and passion lay. During my first job, I mostly represented start-ups in their funding rounds. The thrill of helping a new business raise funds to expand while helping the promoters retain contractual control over the company they created really got my interest. This was also the time when our government was promoting the Make-in-India campaign and helping start-ups raise funds to expand and contribute to the country's economy felt like the right thing to do.
However, I would advise students to make well-informed choices based on their area of interest. The first and foremost aspect which a student should take care of is deciding an area of interest. Once that step is complete, it becomes easier to work towards making a career out of that interest area. Looking at the Indian market, courses on Private Equity, Competition Law, Capital Markets and Finance would give students background and basic knowledge of the legal structure. The Insolvency and Bankruptcy Code is also something whose knowledge will prove very helpful to students in today's scenario.
WHAT DOES YOUR WORK AT KHAITAN & Co ENTAIL?
My area of work at Khaitan & Co includes mergers and acquisitions, joint ventures, foreign investment, and general corporate and commercial matters. Working in a law firm like Khaitan & Co is a great learning curve for me and I'm happy doing it. We at Khaitan & Co work on some of the most marque and high-value deals which helps broaden your horizons as a professional. With the government's push for Make-in-India, we have seen a marked increase in the number of private equity and venture capital deals in the country and I am blessed to have worked on a number of such deals. The main element in a law firm is its working environment and Khaitan & Co in this aspect is the best place to work. They say that it is not your job but your boss which shapes your career, and in this regard, I find myself have been lucky. I started my career under Mr Avimukt Dar (Senior Partner, IndusLaw) who really helped shape my interest in private equity and M&A, and now I'm working under Mr Bharat Anand (Senior Partner, Khaitan & Co) who is an institution in himself when it comes to corporate and commercial law. His work ethic and zeal for work are unparalleled.
TELL US ABOUT YOUR TRYST WITH STUDENT POLITICS. HOW EASY OR DIFFICULT WAS IT TO MANAGE YOUR COLLEGE GRADES AND YOUR RESPONSIBILITIES AS A MEMBER OF THE STUDENTS' UNION?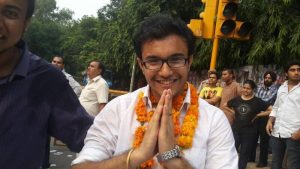 (Siddharth served as the Vice president of Campus Law Centre Student's Union 2013.)
Law and politics have always been intertwined. We lawyers make our living by analysing, arguing, and counter-arguing our interpretations of the legislations which the elected politicians and representatives make. Growing up I always thought of politics as a medium for change and Campus Law Centre provided me with my first tryst with politics. One of the many issues close to my heart was that I always wanted to help students who face problems on entering an English institution from a vernacular background. The sole purpose in contesting elections was to uplift the conditions of students in the college and to provide various opportunities to strengthen the students' interest. Another issue of providing equal internship and placement opportunities to all students including those from non-legal backgrounds in one which remains close to my heart even today and is something which I am trying to push for through the Campus Law Centre Alumni Association. Student politics gave a lesson that one should be happy to help others in order to achieve the desired mark in politics. The students I helped out back then are still in touch with me and it gives me immense pleasure to see them do well in life. It also serves as a driving force to continue social engagement and help people especially students out in whatever way possible.
As far as managing my college grades and my responsibilities as a member of the Students' Union is concerned, that was never a problem. I always believe in focusing on the work in hand and to divide your time appropriately. So, no matter how pressing my other commitments were, I always made it a point to attend all my classes and study regularly.
WHAT WOULD YOU LIKE TO SAY TO THE UPCOMING LAWYERS?
Work in an area of your interest. Enjoy your days in college and study for good scores too. In the field of law, you can achieve success only by hard work and once you attain that position, sky is the limit for your prosperity and fame.