Snigdha Pandey Kaushik is a graduate from Gujarat National Law University (Batch of 2009). She has interned at CCI and financial institutions such as IFCI and IIDL. She worked at litigation law firms before joining Assets Care and Reconstruction Enterprise Ltd. as an Assistant Legal Manager, followed by the post of Legal Manager at International Asset Reconstruction Company Pvt. Ltd. After working at IARCPL for almost a year, she started practising and joined Chitale & Chitale Partners. In this interview she talks about:
Law school at GNLU
Working at IARCPL
Being an independent legal practitioner
Please introduce yourself to our readers. Please tell us a little bit about your childhood and your background?
I am Snigdha and I have graduated from Gujarat National Law Unversity. I come from a family where my father and mother belong to a small city named Indore in Madhya Pradesh. The initial years of my life were spent in Bhopal. Since my father had a transferable job we moved to Bangalore from Bhopal. My perspective of life and my independence were due to Bangalore since Bangalore has the concept of Pre University College so you get exposed to a typical college life at a very early age. I feel that this exposure made me independent at a very early age.
How did you gravitate towards law? Why law and not engineering or medical studies?
Early in my life I was clear that Maths and Science are subjects which are not meant for me. I was always comfortable with subjects like History and Civics. Hence, right after my 10th I took Arts and since I was in Bangalore I could not have been away from NLSIU. That's when I decided that for sure this is what I want to do as this is one subject which I will never be bored of. Hence, Law and I can still say that this is one of the best subjects I studied.
Tell us about your years in law school. What made your journey with GNLU exciting?
Law School Journey has been a very memorable one. I feel that in these five years what one learns always stays with you. The best part of law school is that it has taught me that nothing is that what you cannot do.
The experience of the Hostel life apart from just studies was great. The Hostel is the best part of the Law School. It makes one learn how to make a relationship and how to deal with different kinds of people. The exciting part of GNLU is your friends. I feel that studies are not the only thing you do when in college. You need to enjoy those five years of your college too and the best people with whom you can do are your friends.
How did you fare in your academics at GNLU? Would you say a great CGPA is a necessity to kickstart a good career in the legal profession?
Well with respect to my academics at GNLU I have been an average student. Personally speaking, I don't find it necessary that you should have great CGPA for a good career start. I feel that one just needs one opportunity whichever way you get it and use it for your benefit. It all depends on the individual what he or she wants to achieve and how they will.
What were your areas of interest during your graduation? How did you go about developing expertise and knowledge in these areas?
My areas of interest were Competition Law and Finance law. During my tenure I pursued my internship at CCI and at financial Institutions like IFCI, IIDL. I feel that nothing better than an internship can help you to understand your interests as practical knowledge always helps and after having the insight, knowledge about these institutes it helped me a great deal in working on my Dissertation subjects during 5th year of my college which in turn has now made my basic knowledge of the subjects clear.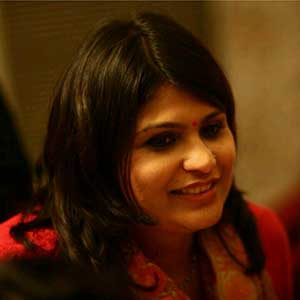 After graduation, you worked with various litigation law firms before joining Assets Care & Reconstruction Enterprise Ltd. as an Assistant Legal Manager. How did the shift from law firms to ARC take place?
Well yes I started with Litigation as I wanted to understand how courts work. The shift to ARC was not difficult as I was interested in the financial sector so the decision was not difficult. The responsibilities entrusted to me during my tenure at ARC were of a Assistant Legal Manager where I had to make sure of the Legal compliances for the company. I had to keep knowledge of the ongoing cases on a day to day basis and meet with the lawyers/briefing lawyers and  drafting of MOU and Assignment Agreements.
You also had the opportunity to work as a Legal Manager at International Asset Reconstruction Company Pvt. Ltd.? Why did you prefer working in ARCs over law firms? How did that go?
Well when you become Manager Legal the work wise responsibilities' increase as then you are solely made responsible for the company cases as you are expected to do things efficiently and in a way where minimal supervision is required. It was a good experience which gave an insight of how things are for an in house counsel. Well there is nothing like I preferred working with an ARC and not a law firm. It was a conscious decision before making my mind completely about what exactly I want to achieve in my career it was important for me to understand whether can I work as an in-house counsel or not. Hence, now what I am doing is something I know I really want to do.
After having worked at IARCPL for almost one year, you started you started practicing and joined Chitale & Chitale Partners. Was it pre-planned or it just happened during your days at IARCPL? What prompted you to make this choice and join a litigation law firm?
It wasn't pre-planned at all. During my tenure of working in-house there was always something which I was missing at the Courts. In spite of having lots to work I wasn't happy with just being in office. Well, independent practice is not what I would say I am doing because it's too soon to be completely independent in the profession for me I am doing my work but also in assistance of the seniors as there is still a lot to learn and achieve and without the assistance of my seniors in the profession it's not possible.
What are you main practice areas? How has been your experience so far? Is it more comfortable be your own boss or is the pressure of work almost similar?
Well since it's very niche for me so right now I am open to any kind of work coming my way before I establish myself in one field. I have worked from Competition Law to Criminal law to Environment Law, Company Law and Arbitration. The experience has been good so far. Well yes, I find it being more comfortable when you are your own boss as you can work the way you want to and manage time your way but there are days when there is work pressure. That's the time you miss the helping hands as when you are your own boss from tiniest details to the main work it's all your work then time management becomes crucial.
How did you overcome your initial jitters in a courtroom full of experienced lawyers and judges? Tell us about the highs and lows.
Well it's your confidence which helps you to overcome the jitters. The good thing is that the judges are encouraging themselves (in my case I have felt that) if a young lawyer is arguing and that encouragement helps you to overcome the jitters. Highs of course are the very opportunity to argue a case and if getting a good response from the Judges. Lows is the time investment required for you to establish yourself it needs a lot of patience and dedication as it's not something you can achieve in months or in a year time.
As a practising lawyer how did you manage to learn the basics of court room practice? Did you have anyone to guide and mentor you during the initial days of your practice?
The basics of Court room practice I have learnt from observing the seniors and the way they argue their cases and the way they present a case before the Judges. This daily observation helps you to understand and prepares you for the day when you have to stand before the Judges. How you should start with your submissions and what is required to grab the attention of the Judges. Well not really but fortunately I have friends and seniors in the profession who help me at times if I feel I am stuck or encourage me well enough to handle situations my own way. Fortunately the transition isn't bad.
How did your first hearing as an independent practitioner go? Which are the most memorable cases you argued on?
Cases I will not have much to talk about as I am still trying to establish myself in the profession. But any case you get to argue becomes a memorable case for you. My first hearing as an Independent practitioner is indeed a memorable one as it took about 6 months plus for the matter to reach its final disposal but the feeling of getting a favourable order in your very first hearing is just ecstatic.
What is your workday like? Are there new challenges every day or did work fall into a predictable pattern?
Well, no, the work has never fallen in a predictable manner as when you are independent that's the time you keep exploring options of how to enhance your practice and how to get more work. Also, if you're attached with someone it will help so lot of days have been spent working all alone working with friends or working in a small set up law firms to figure out how it will work for you.  I am still looking for that best option.
How far is theoretical knowledge in law schools consistent with the practical arena?
Theoretical Knowledge is the basic knowledge what you gain from law schools and the basics always helps you to be consistent in the practical arena.
Do you think your experience in mooting, debate, ADR and client counselling competitions shall help you in your litigation career?
Yes absolutely. I am happy that I was a part of the Moot Court competitions in Law School and got an opportunity to be a part of a National Moot Competition as that helps to have the confidence which is required for arguing in a court room.
What can the law schools do to encourage more people into litigation? Do you think the law school curriculum requires overhaul?
As per me, not really as I feel that the Law Schools are giving you the right training I feel it's important for you study both sides of law without any prejudice. It's the individual who has to figure out what's the area he is more interested in and what he or she can practice.
The Bar Council of India has recently come out with new Certificate of Practice and Renewal Rules, 2014 that prohibit an Advocate from starting to practise in the Supreme Court unless they have practiced for at least two years in a trial court and three years in a high court in India. What is your take on this?
Well honestly I do not agree with such a rule as I feel that an individual has a right to choose his or her forum where they want to practice and where they want to establish themselves as a lawyer. Though personally speaking I would say that it's very important as a litigation lawyer to have practised in the lower courts too.
Indian criminal law is, to a large extent, influenced by its British counterpart. Do you think if Indians would have framed our Penal Code, it would have been better?
Yes, of course. It's a fact that when you follow somebody else's law after sometime you do realise that the problem in your country is not similar to the problem the other country faced. Hence, if we would have made our own Penal Code we would have made it keeping in mind the kind of issues our country was facing or the issues which are more prominent here.
How to make a conscious career choice – corporate vs. litigation?
Conscious career choice is when you realise your own strengths when you realise that this is what I enjoy and you accept that career along with its negatives and still feel happy with it, that's when you know you have made a conscious choice.
What would be your parting message to law students who want to litigate just after graduation?
My parting message to the law students who want to litigate after graduation is that no matter how slow your growth is in litigation one should be patient as Litigation is one career choice which needs lots of patience with hardly any money in the beginning.  Another important aspect of Litigation is the building of social relationships with your counterparts as it's very important in Litigation to interact with your counterparts and maintain a good relationship with them.