This interview has been published by Prabhjot Singh, Priyanka Karwa and The SuperLawyer Team
What motivated you to choose law as a career? And how has been the journey so far for you?
Every law student at some point in time questions the decision taken to study law. And at the same time, each one has an interesting anecdote to share. Mine was a simple one. There was no tussle at all. I cherished studying something of everything and everything of something. At a young age, after having a casual family discussion, I concluded that Law is the only field that will give the freedom to touch different subject matters and not restricted to one particular field.
And rightly so, the journey has been spectacular so far. More so for the same reason why I chose law at first place. No two days are same. This profession surprises you every day. It challenges you every day. In the journey to perform for others, you end up outshining yourself. Of course it demands lot of patience. Specially if you are a first generation lawyer. But with few breaks and pauses, one must continue to keep moving and enjoy the journey while you help people with the toughest phases of their lives alongside.
What were the challenges that you faced in the beginning of your career?
Being a first generation lawyer is no cakewalk. One has to constantly keep oneself updated. One craves for constant flow of work with dignified reimbursement. Unlike other professions, we do not have one place to go every single day. There different places in one city and at times different cities of the country. What kept me driven was the faith my clients had in me that I can deliver and eventually when I did, they became my biggest marketing tool. My clients have brought along work by referring me further.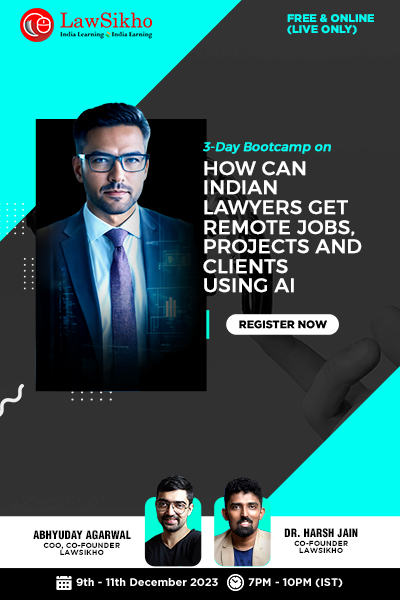 And it became a chain. And that's when I understood, when you get a genuine client, take up the case, work hard and deliver. Even if you are not paid accordingly, just don't drop the case for this reason in the initial years. I have learnt so much only because my clients trusted me. So, I may agree that initial years are tough as too many things go parallelly yet, many small steps taken in the forward direction will one day make you take a giant leap.
What was the main idea behind Avant Garde Corporate Communications and how far does it help you reach your career peak?
To be honest, I don't feel I am even half way mark of my career peak as there is immense potential in this field to learn and deliver. The idea behind one's own firm came when I left my first and the only law chamber I had joined. I was a quick learner and in one year's time I had pushed myself enough to gather as much as required to take up cases individually.
The only concern left was to upgrade oneself in respect to different laws and forums but that being a continuous process, I thought it's time to fly solo.
My well-wishers were apprehensive about starting my own firm so soon but I made it only because irrespective of the fact whether I had done a particular kind of matter or not, I picked up cases and worked my way backwards. Today, we represent clients before various courts of the country with not being identified as a firm doing only limited kind of matters.
Somya, do these legal tech tools have helped litigants and corporates so far in preparation of different documents or filing and what in the future would be challenges for lawyers in dealing with such tools?
Needless to say, legal field requires studying, creating, maintaining and modifying a lot of material. The paper work is humungous. The introduction of Artificial Intelligence have definitely made our lives a little convenient but one may not rely on it solely. The biggest challenge that I see is the secrecy to be maintained by the law firms in respect to their clients. Imagine all the confidential information of a high-end client saved in a cloud of the firm and the entire thing gets compromised if your system is hacked. One will live in a shadow of fear constantly.
On the other hand if you insinuate to automation and AI, lawyers will be replaced, that's not happening in 100 years at least. There is more to this profession than just preparation of documents and research. A lawyer has the power to change the course of the case at any conjecture which the AI would not be able to match in near future.
Being a POSH Trainer, you must have seen organisations neglecting the role of different related laws and regulations. Can you please put some light on the reason and how efforts can be made to improve the situation?
During the Financial Year 2021-22, Ministry of Corporate Affairs (MCA) registered more than 1.67 Lakh company incorporations as compared to 1.55 Lakh companies during FY 2020-21 which is the highest ever so far. It's an indication that India is growing as a market, as an economy and as a land of opportunity. But the numbers when it comes to compliances under POSH are shockingly low. The sole reason behind this is when it does not come from the Top Leadership.
The management presume that all is well in the heaven until it happens. To break the myth, sexual harassment has been part of the society since forever. It is only now that people have gathered courage to speak about it. But still, there is a long way to go. People misinterpret POSH Act a tool to harass male employees. Although it is all about gender sensitisation.
There definitely a requirement of more awareness coming from government as well as the organisation to encourage people to be aware of their rights irrespective of their gender. Despite there being a penalization clause, I think the requirement is that of a strict compliance of the Act in order to gain a goodwill for the entity whether big or small.
Being able to put your thoughts in the form of a legal reporter or journalist is such a treat in this profession, how do you see this domain to create more exciting opportunities for individuals?
We are progressing each day. The horizon is getting broadened exponentially. As mentioned before, the profession is all inclusive. The commonality of the art of storytelling is common in both journalism and litigation. Brushing up this particular skill can definitely let you achieve life changing results for your clients.
Somya, any hobbies you follow to sharpen your skills in this profession?
You will be surprised if I tell you, playing a good game of chess opens your faculty in more ways than one. It gives you a perspective to look at everything from a bird's eye view. This has helped me subconsciously over the years.
Quite often, we have seen the importance of 'Legal Content and editing' undervalued, what's your take on this Somya?
A lawyer should be careful of his/her choice of words. Gone are the days when there were certain set of formats repeatedly used in and outside courts. People read maximum content online these days and legal content plays a very important role when it comes to education and upgrading both lawyers, law students and even public in general. Online portal should thus be careful about the content they are posting as its there for the larger good. Moreso for those who can afford legal consultancy of a reputed lawyer.
Nowadays, people don't have that zeal to pursue a career in litigation, what can be the reason for that apart from job security in corporate?
If you pick up latest interviews of judges from the Apex court, they encourage young students to pick up litigation as their career choice as there is certainly lack of the same vis-a-vis the number of pending cases in the court. No wonder, its challenging and one needs to run places to get the desired result, at times spread over years. But keeping the spirit of this profession into consideration, one must not forget the changes it brings in people's lives. We must break the myth that the courts work in stereotypical manner.
On the contrary, one can be very innovative and apprise the court about the various aspects pursuant to the facts of the case.
A good lawyer can make a remarkable change by assisting the court and also by counselling the parties. I understand the struggle part in the initial years specially a low salary for junior lawyers but one must sail through it. Over the years you build up the knowledge bank and it never fails to help you in different matters later. Consistency and perseverance can really take you places in this profession which goes missing in the present generation of "Influencers" earning quick money by dancing on a 15 sec music piece.
Lastly, Somya, a few pieces of advice for our young law professionals?
If you are tired, take a break, get up and get moving, do not stop. And when I say move, I mean to the courtrooms and not the court canteens! Keep upgrading yourself, don't hesitate in taking up different kinds of matters. Remember, it can only take one case which you have worked very hard for, to change your professional trajectory.

-SOMYA SINGH
---
Get in touch with Somya Singh-