Sonakshi Kapoor graduated in BBA.LL.B from Symbiosis Law School, Pune in 2013. She had joined as a Junior Associate at A. U. Khan & Associates and had mainly worked in litigation matters. In 2014, she applied for the Legislative Assistant to Member of Parliament ("LAMP") fellowship, her application was accepted along with only 42 others among more than 1200 applicants.
She tells us in details about:
The application procedure, dos and donts in order to get selected
Working with legislators and drafting private member bills and assisting them
Experience gathered from the LAMP fellowship
How would you describe your childhood and pre – college life as well as educational background? Did you have lawyers in your family who motivated you to pursue a career in legal field?
I spent a substantial part of my school life in a boarding school in Mussoorie. The day I declared to my parents that I had decided to study law (I was still in the 10th Grade) they were left confused and quickly dismissed it as a phase. We had no lawyers in my family, except a first cousin of my father, but growing up in a boarding school ensured a very limited interaction with my extended family. So there was no one toinspire me or eventually guide me through a legal career.  It was altogether a scary thought for my parents especially when I decided to go all the way to Pune from Noida to get a degree in law.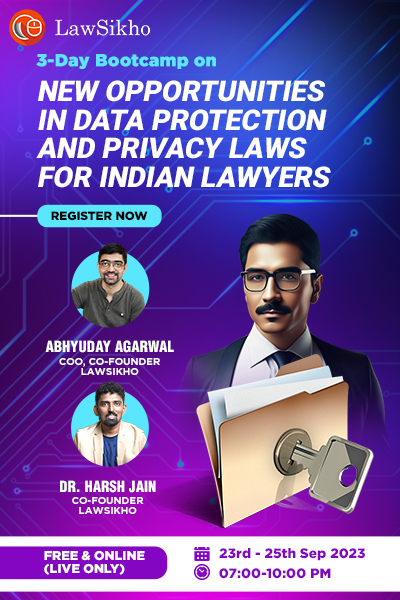 What inclined you towards the field of legal education? Do you reckon any specific incident that made you choose law as a career?
Growing up in a boarding school, my access to the internet or the TV was so limited that it was almost non-existent. Books were the only source of recreation and inspiration for me. By the time I was 15 and meddling with the possibilities for my future (even contemplated being an astronaut or an archaeologist), I had already drowned myself in dozens of writings and books on women rights, particularly in the Middle East. The fact that a law alone could prescribe or curtail the freedom of an individual and influence life had struck me hard and was pushing me to pursue a career that would simply empower me. Hence, Law.
Tell us about your law school life, how instrumental was Symbiosis Law School, Pune in shaping up your legal career? Did you grow an interest towards policy making in law school itself?
Moving to Pune defined a very important phase in my life and my five years in that city have been instrumental in shaping the kind of person I am today. Symbiosis Law School, despite its small campus (the college has a bigger campus now), did manage to offer an education befitting a good law school of our country. We had defined hours and a plethora of subjects to study. This not only ensured that we read and understood almost all important central legislations but we also had ample time to participate in extracurricular activities.
It was through a pamphlet on the college notice board that I read about the LAMP fellowship and how it offered a platform for young aspirants to participate in the policy making process. I applied for it in 2013 itself, however due to the recent Lok Sabha Elections the fellowship was deferred. My professors in college, who were also helping me with my LAMP application, helped me list out other similar career options that I could apply to. But I decided to practise law and apply for the fellowship a year later.
You have worked with Senior Advocates and at National Commissions including the NHRC. Any remarkable internship experience which shaped up your career? How would you recommend students to go about choosing their internships?
Every internship gave me an opportunity to experience something absolutely different. And I am grateful for all experiences, especially the bad ones for they helped me decide on what not to pursue, for instance from my internship at Bajaj, I knew I was not the right fit for a desk job at a corporate house. During my internship with a senior advocate, I was star struck. I learnt a lot but also gathered from my peers and seniors on how difficult a successful career in litigation was especially when you don't come from a family of lawyers. However litigation is, without doubt, the more exciting career path and even as a LAMP fellow, I sometimes do miss attending courts (even though my practise lasted a year). As a law student, one should not hesitate to intern anywhere and everywhere. It is equally important to intern in a law firm or a company as it is to intern in a district court. However it would be helpful to achieve some clarity during the last two years of your law school, so you can only focus on the work that you would want to eventually do.
Being a LAMP (Legislative Assistants to Members of Parliament) fellow is a great achievement indeed – you were selected over 1200 applications that were received this year. What all did you have to do in order to get selected?
The selection process involves filing out an application form with a Statement of Purpose and a brief note on a recent policy or law. While I breezed through my Statement of Purpose, my biggest challenge was the policy synopsis.  I analysed the 2013 legislation on food security and had a tough time battling with the 500 word limit for there was much to say. The Food Security Act is a very controversial law with very conflicting opinions on its implementation and success. However multiple revisions later, I was happy with my note and submitted my application a day before the actual deadline. I was lucky enough to be called in for an interview at the PRS office (PRS also conducts interviews via skype for outstation applicants). The Panel interviewed me on the basis of my resume and my policy note and to adjudge my interest in public policy, my understanding of the fellowship, and my future goals. I was able to aptly respond to almost all the questions except a few to which I admitted having no knowledge of. Overall the interview did go well and I eventually received a mail admitting me to the Fellowship.
How does one apply for the LAMP fellowship? What are your suggestions to people who aspire to become a LAMP fellow?
The application process generally begins by April and the deadlines are also released. The general information on the fellowship such as eligibility criteria, selection process, stipend etc., is available on http://lamp.prsindia.org/thefellowship. The Application form is also available on the website and clearly specifies the procedure for filling and submitting the form. If you wish to apply for the fellowship, then you should start keeping a tab on the everyday working of the Parliament including the bills which are introduced or eventually enacted and issues which are discussed (for instance the crisis of black money was recently debated). Once the deadlines are released, start working on your policy note by listing at least 2-3 topics that you would want to analyse and eventually decide on the policy synopsis that you would want to submit. While writing your statement of purpose, try to put down concise information relevant to your achievements and your interest in public policy and the fellowship. Do submit your application few days before the actual deadline for you may face a lot of issues with the website at the eleventh hour, with many applicants trying to submit their applications.
LAMP fellowship provides an excellent opportunity to interact with Legislators at a personal level, and to understand the policy process. What have you learned in your stint as an LAMP fellow?
As a law student and then as a lawyer, my most basic achievement was understanding our legal and political structure and as a LAMP fellow, I have continued this learning process. I have dedicated my time and potential to the cause of a Member of Parliament by contributing towards his policy and legislative debates and other Parliamentary interventions (including drafting a bill) which I know will have an impact –in a small way – on the laws and policies of tomorrow. The magnitude of this responsibility alone has been the biggest learning experience for me.
Please tell us about the kind of work a LAMP Fellow is required to do in a typical workday.
A typical work day (when the Parliament is in session) involves framing and submitting Parliamentary Questions, Matters of Urgent Public importance that my MP would want to raise in the Parliament and working on supplementary interventions. The biggest task is meeting all the deadlines set out by the Parliamentary Secretariat and complying with its procedural requirements which are very similar to the filing process in courts. The interventions and questions often revolve on issues related to the constituency of my MP. It's a small contribution to my MP's work but it keeps his mind free and helps him take up larger issues.
When the Parliament is not in session, work generally revolves around preparing for the next session, drafting private member bills, working on speeches that my MP is required to deliver on various platforms, and attending workshops and training sessions organised by PRS.
Do you have any interesting experience whilst being a LAMP fellow which you would like to share?
As a LAMP fellow everyday offers a different experience. Even though I function within the confines of a schedule and various deadlines, no two days are alike. However rather than an interesting experience, I would like to share an important moment as a fellow which was when my MP raised an issue drafted by me, for the very first time, in the Parliament. It was an intervention (supplementary question) on preserving the language and culture of tribes in Kerala and it taught me the magnitude of my responsibility and of the consequences.
Do you have any plans to pursue higher education in the future?
I do wish to pursue a Masters in Public Administration and I am in the middle of shortlisting colleges and universities abroad for my higher education. In the coming months, I will begin with my application process including taking the necessary tests. I would want to eventually work as a forerunner in the framing and implementation of policies and projects that resolve important societal problems.
Is there any message you would like to share with our readers?
You should be strong and stubborn in what you want to pursue despite all resistance. Even if it is a different career path, don't hesitate to explore it but have the courage to make mistakes for they are inevitable and sometimes the best teacher. Studying law can be tedious and monotonous mostly but it is indeed an exciting career option so be strong willed and work hard but don't forget to have fun along the way.