Srividhya Ragavan is a Professor of Law at Texas A&M University School of Law. Her research emphasizes issues relating to international trade and intellectual property rights. She writes on a variety of related issues including traditional knowledge, pharmaceutical patenting and agricultural subsidies. Her work, both research as well as service, particularly focusses on India. Her monograph Patents and Trade Disparities in Developing Countries was published by Oxford University Press. She also co-edited a book with Irene Calboli on diversity in intellectual property was published by Cambridge University Press.
She serves as a consultant for the Department of Industrial Policy & Promotion, Government of India. She has served as a Fulbright Nehru Scholar and as a Fulbright Specialist in the South Asia region. She has an SJD from the George Washington University Law School, an LL.M. from King's College, University of London and B.A. LL.B. (Honors) from the National Law School of India University, Bangalore.
In this interview she talked to us about:
Difference in respect to the pedagogy of Indian Universities and Foreign Universities
Why Texas A&M University is an attractive destination for international law students
Scholarship Opportunity at Texas A&M University School of Law
Tell us a story from your college days. What made NLS Bangalore special back in the day?
Raised in a protected environment in a small town in southern India, being thrown into a multi-cultural progressive environment of NLS was a culture shock. It took over a year or even more to find my place, my confidence and my voice.  Many of my batch-mates still laugh at how homesick I was when I first moved into the dorms. I give credit to the then professors at NLS who helped us accumulate the skills to transform each one us into who we are now. The residential nature of the environment at NLS helped us to gain legal education while also acquiring life-skills such as appreciating diversity, cultivating mutual-respect, confidence and independence. Traversing the learning curve at NLS helped me ease into US academia despite being fresh-off-the-boat in Oklahoma. 
What drew you to academia rather than practice as an attorney? Why not become a corporate lawyer which seems to be the most popular choice for NLS grads?
I have worked for top corporate houses in India as well as with reputed law firms. I enjoyed my work in corporations and at law firms. To me, that presented a different set of exciting challenges by involving questions of importance to particular clients. The distinguishing feature of academia is the ability to delve exhaustively in an area of research of one's choice and passion.  I have been passionate about the legal barriers preventing access to and affordability of medications. 
You were also a visiting faculty of NALSAR and other Indian colleges. Can you please tell us the difference in respect to the pedagogy of Indian Universities and Foreign Universities.
Typically, the Socratic style is touted as the biggest distinguishing feature of American teaching style. While I am not appraised of recent teaching trends in India, professors in NLSIU those days employed Socratic style of teaching. Overall, I find that Indian professors are as invested as their foreign counterparts in their students. I believe that the big difference abroad is in the organizational requirements for a class which results in a professor organizing the entire semester ahead of time to set the expectations for students. Universities abroad also have exhaustive governance rules and enforcement procedures such as for student involvement in university governance issues, etc., which sets clear boundaries and delineates the limits for each of the constituents of the University.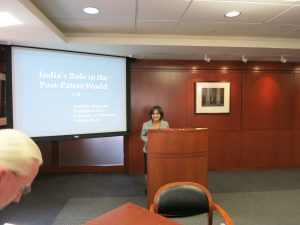 How is teaching in a US university different from teaching in Indian law schools?
A good teacher is good anywhere in the globe. In India, teaching forms a much larger component of academic career here, sometimes to the detriment of research, which is a considerable component to determine academic success in the US. Students in law schools in both India and the US are typically interested and informed constituents. American law students tend to be a tad more independent while, Indian students, have more exposure to international issues and also tend to raise questions with an element of social consciousness. Personally, I have learnt from all of my students, irrespective of whether they are Indian, American or anywhere else. 
How can Indian universities compete at the highest level in the world? What would have to change?
I think it would serve to emphasize more research and scholarship in India although I am not advocating the US model. I believe that well-researched academics with knowledge of local realities are best posited to provide practically implementable suggestions. Personally, I feel that India can do more to use academic expertise to evolve impartial research to inform important discussions. Academic voices should be supplemented and not be supplanted by bureaucrats and judges.
What are the 3 biggest challenges that you have faced in your career? How did you overcome them?
My three biggest challenges to career are from being a woman, a foreigner and creating a balance between work and life. I don't think I have overcome any of these challenges yet. Wherever I am in the globe, the biases from the first two realities (including in India where I am an NRI now) and the challenges of creating a balance between work and life remain. The only way to address these challenges is to constantly strive to do better and address these challenges head-on. It is also a constant challenge between being humble while being confident. 
Any tips for budding legal writers?
Indians are natural story tellers. It is high time we told the story about the legal issue we face and present solutions. There is an old saying which states that the history of the hunt will always glorify the hunters until the lions have their story tellers. Thus, until Indians present India's positions on legal issues coherently in global forums, the narrative will always glorify an imposed system.
How can law students develop good writing skills?
By writing regularly; by learning to form "informed opinions" (as opposed to being opinionated); by supporting opinions with facts; by being cognizant of one's inherent biases and ensuring that they don't cloud one's assessment of facts and by using critical opinions as a means to improve content and writing skills. 
What would be your advice to young Indian lawyers who would love to have a global academic career in 
teaching at international universities?
I think finding a good mentor early on is critical to appreciate what the market values and how best to project one's skill in a subject area. Writing skills, critical thinking, clarity of articulations are also important traits. 
What is special about Texas A&M University? Why is it an attractive destination for international law students?
The University is one of the oldest Universities in the US. The laws school boasts of an international faculty from India, Hong Kong, Europe, Mexico and more. We have faculty expertise in several areas such as intellectual property, health care, cybersecurity & privacy, energy and environment and arbitration. The law school is located in the Dallas Fort-Worth metroplex which is one of the fastest growing metropolitan area in the country with a large Indian population.  Texas also houses many Indian companies including Cognizant, Wipro, Mahindra, Infosys, and others. The state of Texas has the highest investment from Indians in the United States which makes it an attractive destination for Indians.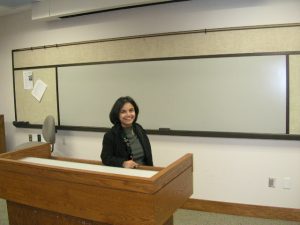 How can one get scholarships at your university to study law?
Getting a scholarship is a by-product helping the law-school appreciate one's value as a student to the school. We consider all students for scholarships. Law schools measure the value of a student by predicting the probability of your success in the future. The prediction is made based on your background, class room performance, other achievements, your drive to continue in a chosen path and your ability to stay focused in that path. Students should translate all of these things into a coherent format with a view to gain the attention of the law school. I can assure you that Texas A&M has always looked for strong students who would thrive at the law school. 
Is it advisable for Indians wanting to practice in Texas to do an LLM? Or is JD a better option?
Both degrees provide offer opportunities that a student can capitalize on depending on individual circumstances. Bottom line is, if a student's singular goal is to work permanently in the US – versus doing the year of OPT after graduation –the JD would open more doors. I think LL.M helps acquire advanced education in one or more specialized areas. A generalized LL.M helps to gain special knowledge in more than one area. Both degrees will allow the student to sit for the bar exam, although the JD is the more common degree among US lawyers.  With either of the degrees, students need to carefully pick appropriate courses keeping in mind their professional interests, available internship or employment opportunities to get to their goals.
How can Indian law students looking to do an international LLM chose where they want to do it from?
Many factors can influence a student's decision and choice of course. These factors include the overall ranking of the law school, the specialty ranking of the law school, the location of the school, the student's objectives in taking the course and the financial viability of the program.