Subhodeep Jash graduated from Symbiosis Law School, Pune, batch of 2010. He subsequently went on to become a Young India Fellow, and is an alumni of their founding batch. After successful stints with the Department of Commerce, Government of India, and AZB & Partners, he started working with Dua Consulting as Senior Consultant (Regulatory and Public Affairs), where he was responsible for managing and implementing advocacy programs for Google, Cognizant, Harley Davidson, Hershey's and others. He also drafted position papers, stakeholder maps and policy monitor reports for their government affairs programs. He is currently enrolled at the Master's program at Hertie School of Governance, Berlin, with a focus on public policy analysis.
In this interview, we speak to him about:
His passion for quizzing and holding a Limca record for the same
Studying public policy, and the need for more lawyers to engage in policy reform
Studying in Europe, and his plans for the future
How would you like to introduce yourself to our readers?
A lawyer by training and a policy wonk by profession, albeit now in a more academic capacity as a Master's Candidate at the Hertie School of Governance, Berlin. I have a particular interest in policy debates centred around the digital economy.  I also happen to be a huge cinephile (including TV shows), a trivia nerd, and an ardent supporter of Manchester United.
What motivated you to pursue law?
I wouldn't say that I knew with certainty during high school that I wanted to take up law. I guess the most appropriate way to describe this would be that I stumbled into it knowing about law as a career path. Initially, having chosen to pursue science (in the engineering stream) in my 12th grade in school, I didn't have the benefit of knowing about the wider spectrum of alternate careers such as law and economics. However, I guess the seeds were sown at a very basic level in the general interest I took in current affairs as a quizzer as well in civics during my history lectures for the boards in class 10.
But once I took the decision, I knew that the profession would be challenging, lucrative, intellectually stimulating, and one which plays a significant role in shaping social and economic relations across the globe. The profession does demand a great deal of analytical ability, good research and interpersonal skills, and teamwork, which to some extent I have acquired in law school and over the course of my professional tenure as a researcher at the Ministry of Commerce and as a Consultant at Dua Consulting.
Tell us about how you developed a passion for quizzing and how you continue to pursue it as a prominent interest?
(Subhodeep has won several quizzing accolades, and also holds the national record in the Limca Book of Records for conducting the first ever quiz in the Antarctic Peninsula in March 2016.)
From an early age, I had developed a habit of random reading and learning outside my curriculum. This led to my interest in quizzing. Quizzing is an endless mind game which helps individuals keep abreast of developments in general and in their area of interest. It is much more than a trivial pursuit and is as much about knowledge as problem solving. I guess the pinnacle of taking quizzing as a passion forward in a really big way occurred while at law school, where I essentially took more of an interest in participating in quiz competitions over moot courts.
My interest in knowledge-driven initiatives continued post law school in my association with Walnut Knowledge Solutions (WKS). The idea of starting Walnut occurred in 2011, while I was studying in the Young India Fellowship program. Along with three of my friends from law school, who I believe are amongst the most excellent quizzing minds in India, we envisaged WKS as a knowledge delivery firm utilizing quizzing and other similar knowledge based devices as a means of learning, engagement, and development across schools and colleges.  However, since I didn't wish to deep dive into this in a more full-time capacity, Sachin and Raghav, the two founding partners took this up as a full-time passion project and it gives me great pleasure to see how they've grown with this venture. I did wish to remain on board in a more advisory capacity, and hence I do still keep myself engaged with them. When Sachin and Raghav heard that I was heading to the Antarctic for an expedition, they thought that it would be a great platform for me to conduct a quiz surrounding climate change and related issues right in the heart of the Antarctic Peninsula. Just before I was leaving for the expedition, I was telling them how cool would it to be conduct a quiz there and we were wondering on whether something like this has been done on the Antarctic. The rest, as they say, is history!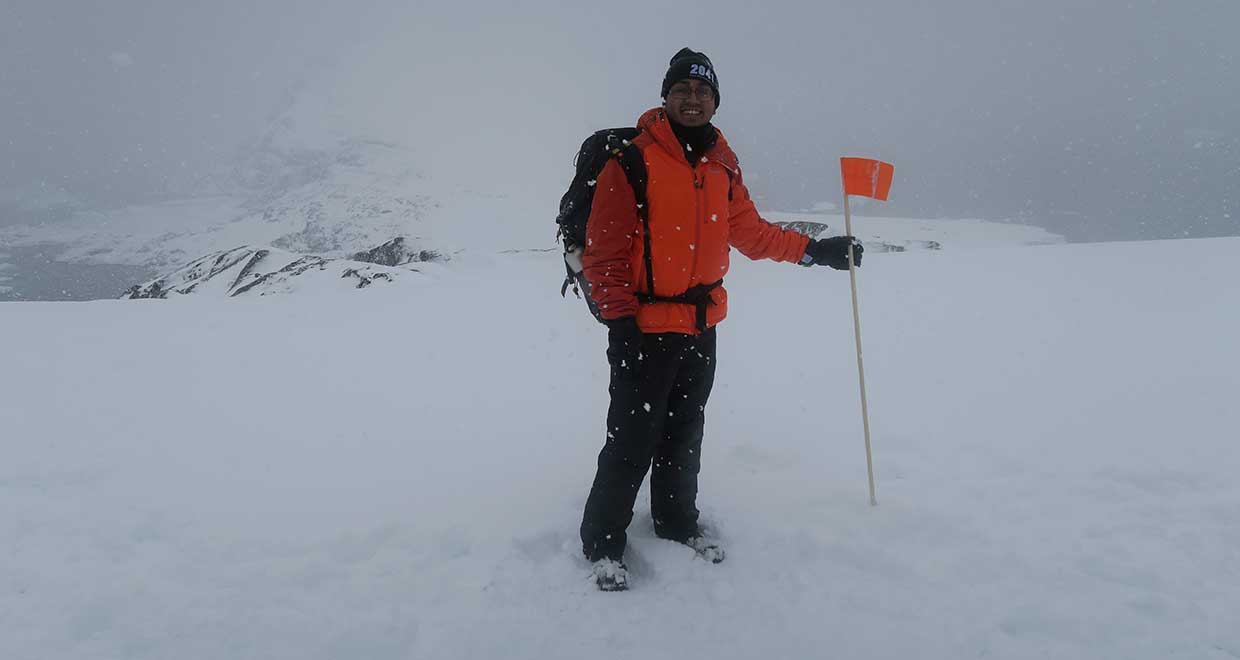 Could you tell us what it was like to be a part of the international delegation of young leaders to travel on the expedition to the Antarctic with Robert Swan?  
I was a part of the India delegation selected for the International Antarctic Expedition 2016 organized by the 2041 Foundation which hosted a leadership program in the Antarctic to debate climate change issues. The Expedition is founded with a mission to inform, engage and inspire the next generation of leaders to take responsibility, be sustainable, and know that now is the time for action in policy development, sustainable business generation and future technologies. This took place for a twelve day period in March 2016 and was led by Robert Swan, OBE, one of the world's preeminent polar explorers and environmental leaders, who is the first person to have walked both, the North and South Poles.
At a personal level, the myriad of landscapes, wildlife & elemental forces experienced there is quite indescribable.  Be it the craggy crevasse of a glacier or the sheer expanse of polar ice, whale-spotting or gazing upon a penguin rookery, zodiac cruising or taking a polar plunge. The glacial calving on display there also portends the urgent need for us to introspect on the need for immediate action when it comes to climate change.
Can you tell us about representing your university at some very prestigious events?
(He has represented Symbiosis Law School at the TATA Crucible Quiz in 2008.)
I was fortunate to have found an excellent quizzing partner in the form of my batch mate, Suvajit at Symbiosis Law School. We managed to excel in many of these business quizzes and won several competitions. Winning the Pune regionals of Tata Crucible Business Quiz, a national level business quiz (telecast on CNBC TV18) was definitely a high point, especially at the time, given the fact that we were one of the youngest teams in the fray and also as typically a law school wouldn't be fancied much at these business quiz competitions.
What were your areas of interest during your legal education?
My theoretical interest in public policy comes from my academic training in Symbiosis Law School and the Young India Fellowship (YIF). At law school, courses in international trade law and arbitration helped me grasp the intricate linkages between the international trade system with industrialization, globalization and multinational corporations. Assignments in law school, business quizzes in national forums, moot court exercises and internships have all been instrumental in inculcating teamwork, adaptability and most importantly, opening up to the idea of a more multi-disciplinary breadth in perspective needed to take up public policy as a career path.
The impetus towards choosing the career path in public policy was shaped largely by the opportunity to pursue a one year stint with the Commerce Ministry, Government of India straight after law school. I was working as a research trainee with the then Joint Secretary, Mr. Rajeev Kher at the Trade Policy Division on international trade policy issues- WTO and bilaterals.  I was involved in preparation of opinions and research papers to examine the scope of liberalization of certain sectors in the country under the GATS regime. During my tenure, I observed the Free Trade Agreement (FTA) negotiations with EU, Canada and Singapore and carried out background work in this regard. Therefore, these experiences were quite formative in shaping my interest in this field.
Tell us about the post graduate course as part of the Young India Fellowship that you pursued from Ashoka University.
The Young India Fellowship (YIF) was a holistic learning environment; we had renowned faculty members and mentors and we were exposed to a wide array of practitioners and phenomenal eminent scholars across various disciplines. The courses on economics and public policy taught by leading development economist A. K. Shiva Kumar, international relations by Devesh Kapur (Director, Center for the Advanced Study of India, University of Pennsylvania) and ethics and technology by Kenneth Foster had a deep impact on me, providing the motivation and tools required to look into policy problems from multiple perspectives and not just from the lens of a lawyer. The selection to the YIF was through a highly competitive process. I was among 57 fellows selected for the program, and that too on a full scholarship for the founding batch (of 2012). This post-graduate liberal arts and leadership development program, run by Ashoka University in collaboration with the University of Pennsylvania, was created with the objective of nurturing potential change agents amongst the youth in India. And, this one year experience was quite the tipping point for me in developing the conviction that I don't really want to take up the more traditional or mainstream career as a lawyer working at a firm or in the sphere of litigation.
What was the experience like working as a Project Trainee for AZB?
I was involved in an eight-month Experiential Learning Module (ELM) project with AZB & Partners, dealing with Competition Law and Policy in India. The project demanded an understanding the Indian Jurisprudence of Competition Act, 2002 in relation to the influence carried in the Western philosophy of evolution of anti-trust jurisprudence. I prepared a report that looked into the legal & economic implications on India's current Anti-trust regime under the aegis of decisions taken by the antitrust regulator, Competition Commission of India (CCI). It was a great learning experience, especially aided by the able guidance of our mentor for the project, Ms. Vinati Kastia.
What did a typical day of work like for you at your time in Dua?
I worked as a Senior Consultant (Govt. Affairs) with Dua Consulting, the regulatory and public affairs arm of one of India's leading law firms (Dua Associates) for a span of four years.  My responsibilities included managing government affairs advocacy programs for clients across verticals such as IT, telecom, pharma, etc. on specific issues pertaining to their business interests.
Besides the regular clientele work, I also handled the drafting of varied independent submissions to the consultation processes initiated by the telecom regulator- TRAI on issues ranging from spectrum valuation, network neutrality to broadband access and delivery. I believe that this part of my job added an extra dimension to my work expertise and moreover, in developing my interest in the specific area of ICT (information and communication technologies), especially having the privilege of able mentorship from Mr. BK Syngal, a Senior Principal at the firm and the former Chairman and Managing Director of VSNL.
What motivated you to quit your job at Dua and pursue a Master's degree?
I always did harbour a realization that a more theoretical underpinning and greater academic exposure was needed beyond my training as a lawyer at Symbiosis or in liberal arts at the Young India Fellowship. Hence, I'd made up my mind, around 2014, that I would look to take up a Master's program in Public Policy.

What was the application process like for the Hertie School of Governance?
The application process at Hertie, as with most policy school applications require a Letter of Motivation, which is more or less akin to a Statement of Purpose, the CV and a broad application form fulfilling certain basic criteria along with two letters of recommendation (one each from the academic and professional spheres).
By the time I applied to Hertie last year, I think I'd become seasoned in writing these policy applications. The first program in fact I'd applied to, was the newly initiated Master of Public Policy (MPP) program at National Law School, Bangalore in the summer of '14. I did get an offer from NLS but I wasn't quite convinced about taking up an MPP in India at the point. Hence, I took the GRE and decided to apply for US policy schools initially in 2015. I did receive admission offers from the Walsh School of Foreign Service at Georgetown, Fletcher School of Law and Diplomacy at Tufts and SAIS at Johns Hopkins but none of these schools offered a significant scholarship, which was imperative for me to take up a program in the US.
Hence, I had to weigh in and take a hard call that I needed to refocus my energies and look at programs in Europe. That's how I decided to look at the Hertie school, as it seemed to have a great program. A program in Europe also costs significantly lower than the ones in the US, so with the partial scholarship that I received from Hertie, the decision became easier this time around.
How are you finding the academic environment at the Hertie School of Governance?
The academic environment at the Hertie School of Governance is indeed rigorous and challenging, but at the same time the work load isn't that strenuous that wouldn't let you soak in the cultural vibe of being in a city like Berlin. I have just completed my first semester which primarily covered core foundational courses in Statistics and Economics along with courses in Public Management and a course on Comparative Political Economy. Right now, as I begin my 2nd semester, I'm in fact taking a Law and Governance course that would examine economic ordering through law in a more European context.
Besides the academic rigor, I'm part of an editorial team of the school's policy magazine, The Governance Post.  During my spare time, I also work as a volunteer with Cinema Politica, a Canadian non-profit organization that hosts alternative and independent film screenings in Berlin.
India often looks to the West and their experiences in developing legislations on emerging fields; how important is it to find an Indian approach to policy making that is indigenous and suited to the Indian context as opposed to borrowing from foreign legislations?
That's a very good question and quite interesting that you ask me this. I recall that when I was working at the Commerce Ministry and trying to understand the nuts and bolts that comprise policymaking, the process of developing legislations intrigued me especially while examining the discussion paper on FDI in Multi Brand Retail at the time. The process, which is more or less straitjacketed towards floating a consultation paper, seeks stakeholder inputs and these inputs are then clubbed as per the stakeholder responding to it (i.e., industry, civil society, think tanks, etc.)
What didn't seem organic in this entire process for me, was the very basic initial step, the basis on which this initial consultation paper is floated. There is indeed a tendency for us to just pick up international best practices and blindly suggest a model policy along those lines. Thereafter, of course, I've had varied experiences of dealing with consultation papers, which have been evolving towards a more Indianized approach. Definitely, one of the most effective and transparent policy making processes we have in place in this country is the route adopted by TRAI.
I believe, going forward, as we deal with regulation-making in the space of innovation and the digital economy, a more sandbox environment needs to be thought about; that is, to bring in a more collaborative approach with multiple stakeholders involved right from the ancillary stage of floating a consultation paper on a particular issue which would usher in a proactive than reactive paradigm to the policy making process.
Do you feel that law schools have been successful in producing socially relevant lawyers and researchers in the field of policy reform?
I do believe that with the growing recognition of law as a career path beyond family lines, as was prevalent even to some extent when I entered law school, there has been a steady churn of lawyers doing really exciting work that is of great social value. There is of course, now a lot more national schools out there to present prospective lawyers with more options in terms of range of institutions. I guess students in law schools should very much explore alternate paths when it comes to internships and I personally find organizations such as Vidhi, Internet Freedom Foundation, or even something like PUCL very apt in this regard.
But I think there's still more institutional reform needed in the way the legal profession is governed. Liberalizing the legal services sector would be a bold step in this regard; it's been an issue that's been delayed for long, as I recall that this was a point of discussion in the WTO services negotiations, back in 2011. While working at the Ministry, I did even draft a submission in this regard as part of the work at the Trade Policy Division.  This would not only be ideal for competition in the traditional legal space but healthy also for opening up new vistas in the more non-conventional paths.
What are your plans after graduating?
I would like to see myself working in a multifaceted institution and work on finding solutions to complex global challenges through the use of technology as an enabler and a driver of inclusive growth in developing nations. The Master's program that I'm pursuing, I hope will contribute towards providing me with that impetus.
I haven't really thought about this extensively, but I would prefer working with an international organization in the immediate future.
What would be your parting message to our readers?
I'd strongly encourage those who are either in law school or looking to enter law school, that they should do so with an open mind in terms of the breadth of options that exist beyond a career at a law firm or in litigation. Even for those, who do make up their mind in taking up a traditional career in law, I think it is important that when it comes to the learning aspect, to go beyond just the core law courses and explore learning about developments in other field(s) such as economics and social anthropology. The law school in itself might not provide you the breeding ground on this; hence it's important to take this initiative by yourself. This would especially help you in understanding problems from multiple perspectives.
And, if anyone does want to explore a career in public policy, post law school, I'd be more than happy to share my thoughts and experiences with them.