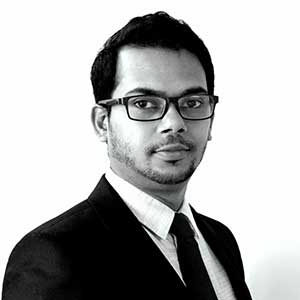 Subhojyoti Acharya graduated from Faculty of Law, University of Calcutta in 2008. He is a Certified LPO Professional (CLPOP) from Lawave. He is also a Certified Anti-Money Laundering Expert (CAME) and Forensic Accounting (CFAP) from Indian Forensic. Additionally Subhojyoti is member of ACFE (Association of Certified Fraud Examiner, TX, USA) and member of ACAMS (Association of Certified Anti Money Laundering Specialist, FL, USA). He is also member of Indian Council of Arbitration (ICA) and Bar Council of India (BCI).
He started his career with Clutch Group LLC in Due Diligence services, Legal Research and Compliance, Legal Off-shoring, Document & Contract Review, Contract Management, Legal and Compliance Research & Writing, Litigation Support, ediscovery, Document Redaction, KYC research, Due Diligence and Legal & Regulatory Compliance Services, Competitor Analysis, Anti-Fraud Investigations and AML compliance.
Later, he joined HSBC 's Global Banking & Markets acting as Senior Associate in Due Diligence & Regulatory Compliance Service (KYC) on behalf of HSBC Bank globally.
Now he is associated with Credit Suisse's Private Banking Wealth Management Division catering Credit Suisse Trust as Team Manager. He is responsible for Legal Research, Market intelligence, regulatory, legal and tax environments, AML and Anti-Fraud Analysis.
He is familiarized with Legal and Regulatory Compliance (KYC / Due Diligence) norms, Legal & Regulatory Research and Analysis. Anti-Fraud and Anti Money Laundering monitoring, Customer Due Diligence (CDD), Sanctions Reporting, PEP Screening etc.
Tell us a bit about your childhood. How did you decide to study law? Did you have lawyers in your family?
I belong to a closely-knit Bengali family in Kolkata, I have always fancied the idea of becoming a wildlife photojournalist contrast to any sort of corporate captive, not to mention my keen interest in the outdoors and nature's wonders. However, my ideas changed with time and maturity. I was enlightened further by an article 'Career in Legal Industry' sometime when the national law schools were making their way into the legal education system – I was hugely motivated by the fact that studying law not only meant a career in litigation in the courts, it's far beyond, it's open and high-minded.
I will also like to include here my grandfather who was a renowned advocate in the Calcutta High Court which, I assume, to have further contributed to my thin line of inherited passion for the subject eventually leading to a career choice.
Do you think having family members or mentors with a legal background help in this profession?
Strictly speaking having a strong legal background, although is not a condition precedent to excel in this industry, nevertheless it is always a cushion of comforts for the individual planning to embark on an independent practice to have a legacy to fall back on, in terms of knowledge, exposure and ready-reckoners during the initial rough days. Standing at this juncture of time, I strongly feel that the time has come when law is not just a profession; it is a challenging career option requiring demonstration of high entrepreneurial abilities and resourcefulness.
You have graduated with B.A. LLB.(Hons.) degree from Calcutta University in 2008. Tell us about your law school experience. Share some highlights from your college days that shaped you as a lawyer.
Like any other govt. funded institute, Department of Law, University of Calcutta had its own pros and cons. But I had been extremely fortunate to rub shoulders with rather a few well-versed lecturers and some highly ambitious and well-informed fellow mates who were keen to explore the diverse career opportunities after graduation from a global stand point.
As a student, I voluntarily pursued a number of internship opportunities in various environments, like, law firms, NGOs, corporates, IP attorneys and finally in the Supreme Court of India. This not only provided me with the required level of perceptibility and confidence but also helped me to align myself to a specific career objective that I was not too certain of, until then.
What do you feel about the perception that students of certain 'elite' NLU's have a much easier time in kick-starting their career as compared to law students from other colleges? Is this true at all?
Even in the era known for the thriving presence of various National Law Schools, I consider myself privileged to be part of Department of Law, University of Calcutta. There were definitely challenges with regard to infrastructure, quality of academics, overall growth and development as compared to National Law Schools or any privately managed institutes; conversely these have always helped me in becoming a thoroughly self-motivated, highly innovative and painstakingly diligent – I could discover myself having stupendous entrepreneurial abilities at a grass root level.
After graduating from University of Calcutta, you joined Clutch Group as a Legal Associate. How did the appointment take place? What comprised your work at Clutch Group?
After graduation I had almost made my mind to be a part of the dynamic corporate world and to achieve this I was looking for a global brand, something that would provide an exposure and some networking opportunities with legal attorneys outside India.
In 2008, LPO was still a developing concept in India but I thought to take a plunge and taste the untasted. One of the project leaders of Clutch had come across my profile in LinkedIn and put up a call with me for an evaluation discussion which resulted into her being persuaded by my enthusiasm, interest and hunger to learn.
In Clutch, I started with document reviewing, much later, I shifted to contract management, legal research and quality analysis of perennial projects as a part of pre-litigation motions in US court of Law.
It was my first company and I was overwhelmed with the opportunities to work closely with US licensed attorneys (as I initially thought, or rather dreamt) and I was learning to understand their code of professional ethics and culture.
Thereafter you worked as a Senior Associate in the Due Diligence & Regulatory Compliance Service at HSBC Bank. What was the nature of your work over there?
HSBC was a giant leap – indeed a turning point of my career, which in due course mended ways for me to venture into the world of regulatory compliance and Anti Money Laundering framework – something I find hugely interesting.
The business, at that point of time, required a legal expert who could leverage upon his analytical and logical reasoning skills requiring a lot of decision making in the end. The role demanded attention to details, strong networking abilities, unparalleled risk assessment skills, a thorough understanding of various international and well as local policies, rules, legislature and global economy.
My role revolved primarily around Client Due Diligence, KYC Screening, AML Checks and Risk Analysis for the investment banking clientele of the bank. The clients included a diverse list of body corporates, FI, NBFC, ministries, funds, SPV, trust, partnerships, charitable units and etc. across various jurisdictions.
In the meantime, you have pursued two Diploma courses. One is from NALSAR, Hyderabad with a Post Graduate Diploma in Media Laws and another is from Symbiosis, Pune with a Post Graduate Diploma in Business Administration. What is the reason behind pursuing these courses? Was it a professional requirement to enhance more in your career?
In short, as a professional from a dynamic industry, one always needs to constantly update and upgrade his skills, level of specialization and expertise in order to fit into any competitive environment and from a business perspective, to maintain a consistent edge over the others. A modern day business demands a multitasker along with specialised and diversified knowledge.
You did couple of certificate courses throughout your career. Do you think these certifications have sharpened your skills more as an LPO professional? You are also a Certified Anti-Money Laundering Expert. Please tell us something about this certification in to our readers.
Any certifications have two fold objectives. Firstly, it upgrades your basic knowledge to a specialised skill and secondly it presents one's specific potentials under an acceptable standard to the rest of the world.
LPO certification was achieved during my last leg of graduation which I believed to have provided some kind of superiority at the time of my on-boarding procedure in the very first organisation.
I am a Certified Anti Money Laundering Expert (CAME) from India Forensic and also I hold individual membership at Association of Certified Anti Money Laundering Specialist (ACAMS) from the U.S. This is closely related to what I do now and it has helped me developing my improved understanding on the subject.
Currently, you are pursuing a Certificate course in Wealth Management. Please tell us about this certification to our readers.
I have completed my Certification in Wealth Management from the Association of International Wealth Management of India (AIWM).
This certification may help the professionals (who are part of NBFC or Banking Industry) to understand the financial market and the nature of various products that are on offer, regulated and used from a general standpoint in order to be familiar with the wealth planning industry and requirement of HMWI/UHNWI.
You thereafter left HSBC to start working at Credit Suisse in their Legal & Regulatory Compliance Research, Private Banking & Wealth Management as Legal Head. What prompted this switchover?
As mentioned earlier I was catering to the Investment Banking sector in HSBC and was curious to understand the Private Banking landscape of a global financial service sector. As all know Credit Suisse is world's most admired private bank hence I considered myself blessed to get an opportunity to exploit the area, to know the spirit and functioning of a Swiss Bank and the legal and regulatory environment in which the business operates.
This was again a calculated risk to relocate from Bangalore to Mumbai, which eventually paid off in style.
What does your current work profile at Credit Suisse consists of? How is a typical workday like?
Currently, I lead a team of lawyers from Mumbai office of Credit Suisse Trust, which is wholly owned subsidiary of Credit Suisse Group head quartered in Zurich, Switzerland. Credit Suisse Trust a is part of Private Banking and Wealth Management Division of the bank which provides tailor made inheritance and tax planning services to its HNWI/UHNWI clientele.
The team collaborates with trust lawyers and legal & compliance officers of the bank and supports them with complex tax research, AML alerts, trust legislation updates, data protection and privacy laws monitoring, FATCA (Foreign Account Tax Compliance Act) legislation implementation and in the area of AEOI (Automated Exchange of Information).
You are a certified LPO professional. Would you say that the work environment at an LPO is completely different from a Law Firm?
LPO is a complete different set up as compared to a regular law firm and therefore drawing a comparison chart between these two industries will be unfair and unjustified. A young law graduate before choosing from either of these two dimensions needs to decide how he or she wants to shape up a career in law. A frequent switch between these industries may make one's career foundation frail, therefore not advisable.
Any plans for an LL.M abroad? What are your long term goals?
Right now I don't have one as my current area of expertise and specialities may not demand the requirement of a LL.M degree, but I have kept the option open for future and would love to do that from a foreign university, but of course on a distance learning mode.
Lastly, what would be your message for our readers?
Well, from whatever I learnt and experienced from my six plus years of professional career is if someone can identify what he loves doing and if he can transform that dream to reality as a source to earn his living hood then sky will be the limit for him and happiness would know no bounds.