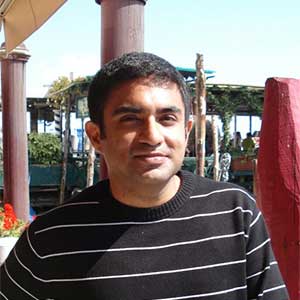 Mr. Sudeep Malik, Director at EBC (Eastern Book Company) did his Bachelors in Arts (B.A) from St.Stephen's. After his undergraduate degree in law, he further went to the  University of Cambridge to pursue his Masters in Law. He is currently one of the most popular teachers at RMLNLU.
In this interview we asked him to share his thoughts on:
Moulding your goals
Pursuing your masters abroad
Juggling between a director and a teacher at RMLNLU.
Most of our readers are law students and young lawyers. How will you introduce yourself to them?
Someone who believes that if there is any religion worth adopting, it is the Rule of Law, whose Holy Scripture is our Constitution and other noble Charters, and whose High Priests are We, Officers of the Law. Yes, that does almost make our Judges Gods, but I wonder if any other Temple grants as much relief! Being a firm atheist, I believe that all reality is Man-Made: a product of the Mind of Man, the Artifice of Man. Of course, 'Man' very much includes all women! And of all of Man's inventions, the Rule of Law is the greatest. All of civilisation is enabled, actualised only through, and underpinned by, the Rule of Law. I think that it should be pretty obvious in such a world view, how important lawyers with integrity are. It is a terrible shame for India that the integrity quotient amongst our lawyers is by and large abysmal. Even more unfortunately, the more senior a lawyer, the higher the fees, the more saleable the lawyer, and the lower the integrity quotient gets. But lawyers being lawyers, the only way to resolve this malaise is to build in strong integrity codes which invite strong censure and punishment if lawyers act without integrity. This is not pie in the sky, since it is such codes that keep lawyers more on the straight and the narrow in other more developed Common Law jurisdictions such as the United States and England, lawyer jokes notwithstanding!
You have done your Bachelors in Arts (B.A.) from St. Stephens. How did Stephens help you to mould your goals?
I was extremely fortunate to be taught by Mr N. Raghunathan and Mr Sanjiv Grewal, who passed on their love for pure knowledge and rigorous thought for its own sake, to me. They inspired me to seek purer and purer knowledge, right to the boundaries of thought itself. It is from them that I learnt what intellectual rigour is. Mr Grewal had a wonderful phrase for those who were not intellectually rigorous: he called it "hand waving". "Oh! That is all hand waving" was the worst putdown in his classes, both for students and supposedly established theoreticians.
Your father is a Scholar and is a Gold Medalist (LL.M.) from Columbia, and your brother too has pursued his Masters from Franklin Pierce University (U.S.A.), so did they have any role in acting as your role models to convince you to pursue Law after your Graduation?
Absolutely. They left me and the others in the family with no choice but excellence. Though it took some persuasion and gentle nudging for me to switch from Economics to Law, but once I discovered that Law is Applied Philosophy: Thought actualised, that I fell madly in love with Law. The love affair endures with ever greater passion, as I marvel and marvel at the wonders of the Law, and what it achieves for Humanity. And of course, the intellectual joy of the process is breathtaking.
You further went to the University of Cambridge to pursue your Masters. How did you apply for the University? What is the procedure to apply to the prestigious University?
The key element of the procedure is to be able to put across clearly, boldly, briefly and credibly to the Admissions Tutors what exactly you seek from Cambridge (or from a similar University) and what you expect to do with it once you graduate. Thus, writing a clear, bold, brief and credible Statement of Purpose (SOP), is of the essence. Good grades do matter, but they are not enough on their own. A rich curriculum vitae which portrays an all-round personality matters a great deal. If one's grades are a shade lower, then a sterling piece of writing, published or otherwise, can make a significant difference. Of course, the piece of writing has to be superlatively analytical with a clear thesis: there has to be a clear point that you want to make, which is clearly made in simple language, and which adds to our knowledge in a non-trivial manner. The usual cut-and-paste job would only lead you to disaster. The application procedure changes from year to year, so it is best to study the details given on the University website, which is extremely informative.
Share some experiences with us about your life at Cambridge and how different do you think is the life of your students at RML NLU?
Astonishingly, or not, there is very little difference that I perceive between life at Cambridge and at RML NLU, apart from the weather. One interesting difference is that all members of Cambridge University live in constituent Colleges of the University, all Colleges having students from all possible disciplines offered by the University. So you might dine one day next to a Physicist, on another day with a Doctor, or a Mathematician and so on. It also meant that one made friends with people from very different disciplines from one's own. Another interesting difference is the tradition of Formal Hall and College Guest Nights, which were basically occasions to get all dressed up and wear your University gowns to be served half-decent food, and a lot of good wine. Unlike the culture of hypocrisy that prevails in India with respect to alcohol, the Colleges have their own bars run by students, and their own wine cellars. Having a drink as a part of food and enjoyment is considered rather normal, even though you would on occasion find people rolling drunkenly downstairs. All part of growing up.
How far do you think that doing a Masters from a foreign University helps an Indian Undergraduate Law student? Would you recommend them to pursue their masters from India or a Foreign University?
This has to be said with great humility, but it has to be said, that a lot of education in India is still stuck in the dreary desert sand of dead habit. That is to say, that a lot of material is simply memorised and vomited in examinations, but students graduating from Indian universities can barely think critically for themselves at all, or apply any of the knowledge that they have memorised (assuming that anything is retained), after graduating. A great strength of a lot of foreign Universities whether in the United Kingdom, United States, Singapore, Australia and Canada (all being Common Law jurisdictions), in fact of their entire education systems, is their central focus on critical thinking and the ability to apply knowledge practically. They consider their primary task to be that of teaching students how to think for themselves, and thus enable them to apply knowledge practically.
If you know how to think for yourself, then the world is your oyster. Thus, I would strongly recommend that undergraduate law students from India pursue their Masters from abroad as far as possible. However, I would equally recommend that they should work for two-three years in a good lawyer's office before applying for an LL.M abroad. A "good lawyer's office" does not mean a fancy big name, but a lawyer's office that gets a lot of work whether on the civil side or the criminal side; and two-three years should be spent actually doing legal work and not just dressing up like a penguin and prancing about in court corridors. LL.M students are more likely to take away genuine learning and skills' enhancement from an LL.M if they do so after having genuinely worked as a lawyer for two-three years.
What do you have to say about the quality of LL.M education in India? Is it possible to justify a one-year LL.M programme given the education regime of India?
What I have said about education in India in general above, applies equally here. Some Law Universities in India do offer a reasonable LL.M programme, so if you cannot afford to go abroad or your grades and your curriculum vitae will not win you admission abroad, then it might be worth doing an LL.M in India. However, the requirement that one work for two-three years before doing an LL.M applies even more forcefully in this context.
When did you decide to start teaching and what made you take this decision?
What made me start teaching is my own experience with the Indian educational system and its dreary desert sand of dead habit, though I was extremely fortunate to have had a lot of teachers in school and in St Stephen's (as I have related above) who did engender a great deal of critical thinking. It was, and remains my ardent desire to share what La Martiniere, St Stephen'sand Cambridge have taught me, to as many students as I can. To try and open students' minds and make them think, think and think, until it hurts, as I often say in my classes! I believe that this would not be an insignificant contribution to nation building, since capable critically thinking lawyers are the bulwark of the Rule of Law, and I have already related above, what I think of the Rule of Law and its role.
I must record my deep gratitude to Prof. Balraj Chauhan, the erstwhile Vice-Chancellor of RML NLU, Prof. CM Jariwala and Dr A.K. Tiwari, all of whom greatly encouraged me and gave me the opportunity to teach in the first place. I am further deeply grateful to Prof Gurdip Singh, the current Vice-Chancellor of RML NLU, and Prof. Amar Pal Singh, the Head of Department of Law, for having reposed great confidence in me, in allowing me to teach with full freedom in the way that I do, and for fully supporting my endeavours.
You have been teaching Property Law at RML NLU for a few years now, what made you choose this subject? How has your experience been teaching at a Law School?
Even as a student, my deepest love was for private law subjects, and I specialised in the Law of Obligations and the Law of Property, so when Prof Chauhan had asked me to list my preferences, I had listed Property Law as one of them, and was happy to be given the responsibility of teaching this wonderfully intricate, complex and challenging subject. Moreover, I wanted to teach a subject that is of great practical importance, and not because I teach it, but I cannot think of many more subjects that are of such great practical importance.
Teaching has been, simply put, a dream experience. Of all of my marvellous teachers, Mr Carlyle McFarland who is the foremost of them, and probably one of the greatest teachers of all time, also taught me how to teach. When he first told me that teaching is about good communication, I was quite puzzled, since I had always thought that it is about good lecturing and speaking well. Well, we learn, don't we? And I learnt especially that communication does not always require speech. And today, about four years down the road, I fully comprehend what he meant, and it is those eyes which show that the fire has been lit, and passed on, which give me the deepest satisfaction, and renew my commitment to teach, daily.
Which teaching methods do you follow to make Property Law interesting for your students? What is your advice to students who want to score well?
To be quite honest, one has to be a bit of a clown and quite a performer to keep people awake, since, let's admit it, Law can be quite boring. What can make Law exciting is the choice of examples that one takes in teaching the principles. The examples should be entertaining ones picked from what's happening daily in the world or from important cases, and what students can relate to, in their own lives. The crazier the example, the better. Even something as dull as Property Law, then suddenly comes alive. And with these examples my entire endeavour is try and make students see how the principle applies, and how changing the facts would change the principle that would be applicable. And then, I contradict myself in class, and ask students to defend the earlier position. After all, in Law, there are always two sides to the case, are there not?
Well, scoring well should not be the priority, though it is nice to score well. The priority should be to think, think and think, until it hurts. And then think some more. And to do this on a regular basis. If you can think through every example taught in class, and modify the facts of those, and think through those, and through fresh examples from decided cases, and debate and discuss different principles with your mates, scoring well will be the least of your problems.
You have attended and organized a number of Conferences and Workshops, how has your experience been so far being associated with RML?
The most wonderful workshop that I have attended as a contributing participant was in a Teachers' Training Workshop held in May, 2014 in RML. I had the challenging task of sharing my teaching methods with all my learned colleagues. Formally put, I would say that my methodology is to take Clinical Legal Education into the Classroom, which I have described to some extent immediately above. We are all familiar with Clinical Legal Education in the form of mooting, and internships, and the success it has had, so I think it only fit that it should be extended to the classroom as well. Why I say that the Workshop was wonderful, is the sheer enthusiasm of all my learned colleagues to imbibe the best possible teaching practices, and to make the teaching of Law, deeply meaningful for their students and themselves.
When you pursued Law, did they stress on the need for internships? Do you think internships are essential for a Law students C.V.?
Continuing from above, I cannot emphasise the importance of internships enough. A lot of students waste away wonderful learning opportunities by simply not taking their internships seriously. I know that sometimes professionals do not take young interns seriously enough, but then young interns are only too happy to have rubber-stamped internship certificates, without having done even an hour's honest legal work. Internships are not as essential to a law student's CV as they are to their learning Law. Make that extra effort and persuade your supervisor to give you some real legal work, and work day and night, and give them something useful in return. You will be the greatest gainer.
You are also the Director at the Eastern Book Company, which is a very busy job profile, so how do you manage to juggle between the two profiles?
Actually I have three profiles, the most important and demanding one being Associate Editor of Supreme Court Cases. This is my core job, as it were, and comes before anything and everything else, since the SCC issue must go out every week, on the 7th, 14th, 21st and 28th of each month, rain, shine, hell or high water, in sickness or in good health. It is in the time that is left over that I do my best to discharge my responsibilities as Director at EBC and teacher at RML. I'm still learning how to juggle the three profiles, but I would not be able to do it without the unstinting support and encouragement of all the other EBC Directors, each of whom patiently accept my teaching commitment, and many a time have made sure that the baton did not fall, since I was busy lecturing, or taking project presentations well into the late evening. There is a wonderful harmony between all three roles, or if one prefers management-speak, there is a great synergy between the three. Teaching keeps me intellectually on fire, since students through all batches have kept making me think, think, and think until it hurts! And when you are intellectually inspired, great ideas and insights come more frequently than they would otherwise. The Muse, as it were, is then more often with us.
Does EBC offer internships to Law students? What is the procedure to apply for an internship?
EBC has a flourishing internship programme and we have interns during the holidays from almost all the National Law Schools and other leading law schools in the country. The application procedure is very simple: you simply write into our HR Manager at hr.exec2@ebc-india.com, with a formal application and your detailed CV. If you are shortlisted, then the remaining procedure shall be explained to you.
What are the job prospects at EBC for Law students? What are the qualities that you look out for while hiring an individual?
The job prospects at EBC for law students have never been better since we are in a phase of great expansion to create a great deal of first-rate legal material for legal practitioners and students in all possible mediums and formats: print or books, web or internet based, tablet-based, e-reader based, what have you. For this we require large numbers of legal editors with sharp analytical legal minds with good writing skills. For more details, again write to our HR Manager at hr.exec2@ebc-india.com, with a formal application and your detailed CV.
You have authored a lot of books on Law. Which of these do you think is a must read for an aspiring Lawyer?
I would recommend Supreme Court on Contract and Specific Relief, since what is so special about this work is that the entire case law of the Supreme Court has been re-cast rationally in terms of the life-cycle of a contract. It is my opinion that this is the most useful way to study and learn the law of contract, since the Contract Act, 1872 has huge gaps and is not particularly rational or consistent in its framework.
What are the top 5 Law books that you recommend your students and your readers to own?
Tort Law by McBride and Bagshaw;
The Concept of Law by HLA Hart;
Chitty on Contract;
Law of Trusts and Equitable Obligations by Pearce, Stevens and Barr;
Law of Restitution and Unjust Enrichment by Gerard McMeel.
What would be your message be to all the people who want to take up a career in teaching?
I would strongly urge every law student who is fortunate enough, whether due to personal circumstance or public support, to do an LL.M from a foreign university to come back and teach in any Indian law school at least for 2-3 years, part-time, at some stage in their careers. You might teach in your own law school, or you might teach in any law school which is conveniently located near your workplace.
And I think I have said it enough times above, but if you can teach someone how to think, you make them the master of their destiny.