Sudhir Mishra completed his graduation in History from Deshbandhu College, Delhi University. Thereafter in 1998, he finished his degree in Law from Campus Law Centre, Delhi University. Soon after graduation, he started his own law firm, Trust Legal, which specialises in environmental, health, financial services, securitisation, banking, oil and gas law practice, as well as alternative dispute resolution.
In this interview, he speaks about:
Choosing a niche area such as Environment Law for specialisation
Starting his own full service law firm right after graduation
His most memorable transactions in Environment and Corporate Law
How would you introduce yourself to our readers, who are young and aspiring lawyers?
I am a first generation lawyer who was always very sure about one thing – that I will not join any law firm, but will start on my own. It was in the year 1998, when I plunged into the legal profession with all my belief, that one day this country will take note of me.
What made you decide to have a career in law?
I did not decide – it happened by accident and destiny. I was interviewed for IAS in 1998 and failed to clear it, and then was forced to a large extent by my father, who was a serving IAS officer, to take law as a career.
What made you decide to become an independent legal professional, rather than joining a senior lawyer or law firm at the beginning of your career?
As in 1998 there were very few law firms and I was already twenty eight (28) years of age, I had a lot of reluctance in undertaking prolonged training and working as a junior in a law office. I had great interest in environmental issues, and during my training with Ms. Pinki Anand, Senior Advocate and now Additional Solicitor General (ASG), I was very confident about kick starting my own practice, rather than being part of somebody else's setup. I took everyday as a challenge, setup a small office at home and started visiting NGOs working in the field of Environmental Law. Somehow, there was a deep feeling inside me that I will succeed as a lawyer, which propelled and fuelled my ambition of being on my own. In three years' time, by 2001, I was retained by close to five National and International NGO's and was also working for Government Undertakings and lot of private companies. It was a time of excitement, uncertainty and thrill, and I loved every moment of it.
What made you choose Environmental Law? Please tell us your experiences that made you focus your practice in environmental law.
I was attracted to Environmental Law because there were very few lawyers involved in this field, and I had a great liking for environmental issues, most specifically Wildlife and Conservation.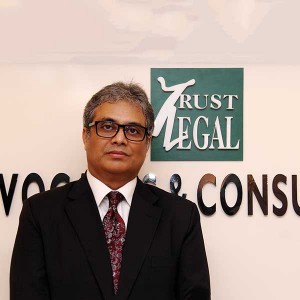 Please tell us about the most memorable environmental law petitions you have litigated on.
The two most important petitions which I followed and argued on Environmental Law have been:
Stopping the road which was passing through the Jim Corbett Tiger Reserve, before the Supreme Court, and
Stopping a wet land (World Bank Drainage) project, for the protection of Sarus Cranes, before the Allahabad High Court.
Also, what have been your most memorable environmental law transactions on the corporate side?
My most memorable environmental law transaction on the corporate side has been in helping the largest FDI in a tourism project for setting up a Ski Village in Manali (Himachal Pradesh), wherein I managed the Environment Impact Assessment (EIA), Environmental Clearance issues (EC) and Environmental Management Plans, by engaging with The Energy and Resources Institute (TERI) and Indian Institute of Forest Management (IIFM).
What did you find appealing about working on your own?
It's like being a daily wage earner, who is a master of his own fate. Life is so uncertain that securing a career and a settled and a protected life is too boring.
From an independent legal practice to forming and running the boutique law firm Trust Legal – how challenging was your journey?
I was left with little options, since the country had been acknowledging me as a prolific Environmental lawyer by 2003-2004. Infact, I went for the International Visitors Leadership Programme (IVLP 2005) organised by the US Government, owing to my pioneer work in Environmental Law in India. However, big commercial success was more a need and necessity for social recognition. I was married in 1999 to Mamta Tiwari, who became a Partner in Fox Mandal in the year 2001, and was regularly being voted amongst the top 20 Dispute Resolution Lawyers in Chambers & Partners, Legal 500, etc.
Comparisons  started to happen, and it was very important for me to ensure that environmental law would pay just as well. We created the firm Trust Legal with that philosophy, and today we are the leading law firm representing all kinds of companies in India and abroad on Environment and Health law practice. Infact, Healthcare has become a bigger and major practice area of the firm, with Trust Legal representing more than 30 hospital groups across the country in litigation and corporate advisory. The firm is also very active in the field of Real Estate & Infrastructure, Oil and Gas and Banking & Finance law practice.
What is your role as the Managing Partner of Trust Legal? What are the challenging and stressful aspects of managing and running a firm?
As the Managing Partner of the firm, I encourage my team to think as entrepreneurs. My job is to ensure that the business of the firm is moving in the positive direction, salaries are paid on time, talented people are encouraged, along with ensuring the emotional and physical well-being of lawyers. There is nothing stressful in managing a law firm as a lead Partner, since your entire day is filled with excitement, and a sense of purpose and duty.
What do you want to say to the next generation lawyers? Which are the growing areas of law where a new law student or young lawyer can focus and distinguish himself/ herself?
I suggest that each lawyer should follow his/her own dreams, by assessing his/her own interest area, and then working accordingly. I believe that apart from environment; health, infrastructure, commercial litigation will also be  new big areas to focus on.
Tell us about your early education, your place of graduation, your place for learning law and your experiences during student years.
My early education was in a place called Siwan in Bihar, where most of my classes upto class 10th were conducted under a tree, as the school building was very depleted. I did my 10+2 from an even smaller town called Bankain Bihar, where my father was posted, and then I moved to Delhi University. I did my graduation from Deshbandhu College in History, and Law from Campus Law Centre, Delhi University. Most of my education upto class 12th was supervised by my father at home, who used to teach me personally, and there was a great emphasis on reading newspapers, books, autobiography and magazines from a very early age of my life. In my college and law school, my personality was greatly decided and shaped by my friends who all are well accomplished in their respective careers.
Whom are you influenced by? Who is your role model?
I am influenced by my father S.K. Misra (Ex IAS officer Bihar Cadre) and my role model is my cousin sister Sonal Mishra (IAS officer Gujarat Cadre). My father taught me that with confidence and integrity, anything is achievable. My sister Sonal taught me the spirit of hard work, determination and aiming very high. Her success in IAS in 1997 fuelled in me a desire to make a very big career in law.
These days, most young law students look towards corporate law. What is your take on that?
As I said earlier, one should not go by what everybody else is doing – the idea is to create your own destiny, your own line, your own fate, your own league. One should follow one's instincts and never settle for something ordinary, or for quick returns. One should remember that it's a long life and success should remain a guiding factor in your fifties and sixties, so the decision which you take in your twenties should not ruin your old age.
What do you see as the future of legal profession? What message would you give to young law students and recent law graduates?
The future of legal profession is superb, and is undergoing a silent revolution. Hundreds of more law firms will come to cater to increased economic activity within the country.
My message to young law graduates is to create something new and long-lasting.