Suhail Mathur graduated in law from National Law University, Delhi,  batch of 2014. He is currently engaged with a reputable international law firm. He is also the author of the bestselling book The Bhairav Putras, and has been ranked as one of the top 50 Indian authors to follow.
In this interview, he talks to us about:
His experience at NLU, Delhi and his decision to pursue law.
His view on internships.
His decision to write a book and the challenges he faced as a first time writer.
His experience as a cricket commentator.
What prompted you to consider law as a viable career choice? If not law, what other options would you have considered for your career?
I wanted to become a film director. But film direction and other related courses all happen to be postgraduate degrees. So I was wondering what other avenues I could explore. During my school days, I was a member of the debating forum, and was extremely passionate about it. So I eventually realized that pursuing law would be the best course of action, as is provides adequate intellectual stimulation, keeps you on your toes and pushes you to keep thinking out of the box. Moreover, the fact that your victories or your losses were not yours alone but were also shared by your client was greater motivation to work harder.
Describe your experience at NLU, Delhi as an undergraduate law student. Any memorable incidents you would like to share?
My experience at NLU, Delhi was quite pleasant. We shared a fantastic rapport with our professors and seniors. I'm still in touch with most of them and we keep meeting from time to time. There were only two batches, and everyone knew each other by name. It was a closely knit community. There is a lot of activism now, which wasn't the case during our time. The campus also possesses a greater degree of gender sensitivity now. The college atmosphere was better during our time.
What activities were you a part of in college?
I was heavily into debating. I participated in the Oxford format of debate, which was a rarity since most of the students participated in Parliamentary debates.  I was perhaps the only one who debated in the Oxford style. I participated in 6-7 debating competitions, and I won all of them. Other than that, I would make short films and student films during my tenure whenever we had a session break. I wrote my bestselling book The Bhairav Putras during my time at law school. Since we had fewer classes in the 4th and 5th years, I could actively indulge in creative pursuits. In my 5th year, I also ventured into cricket commentary for Star Sports and Airtel's mobile application.
How did you decide to write your first book The Bhairav Putras? What were the challenges you faced as a first-time writer?
On a lighter note, I always saw authors from IIMs and IITs writing books, and thought that it was high time that an NLU student also did the same. But to be really honest, you need to have the passion to write. Merely wanting to write doesn't suffice; you need to be skilled as well. I had been in my school's editorial board and I used to write and direct a lot of plays. There was a point when I was making short films and they were being circulated among friends and family. I realized that all that I was trying to do was tell a good story and if that story were told in the form of a book, it would reach a larger audience.
History and mythology are two things I am passionate about, and I was very clear that when I write a book, it should be a culmination of both. My book is predominantly a historical thriller with loads of adventure and a dash of mythology.
As far as challenges are concerned, the challenges are not in writing a book;  they lie in finding a good publisher. When I wrote my book, I got eighteen contracts from publishing houses. Some of the publishing offices were asking me to pay to get published, and I was very clear that I wouldn't do that. I would rather not have my work published at all than pay. Eventually, Red Ink Publishers came on board, they brought out the book with a huge print run, and the book did exceedingly well. The book is currently in its fourth edition, and it's been the number one best seller on Amazon eight times and for sixty consecutive weeks it was on Amazon's bestseller list.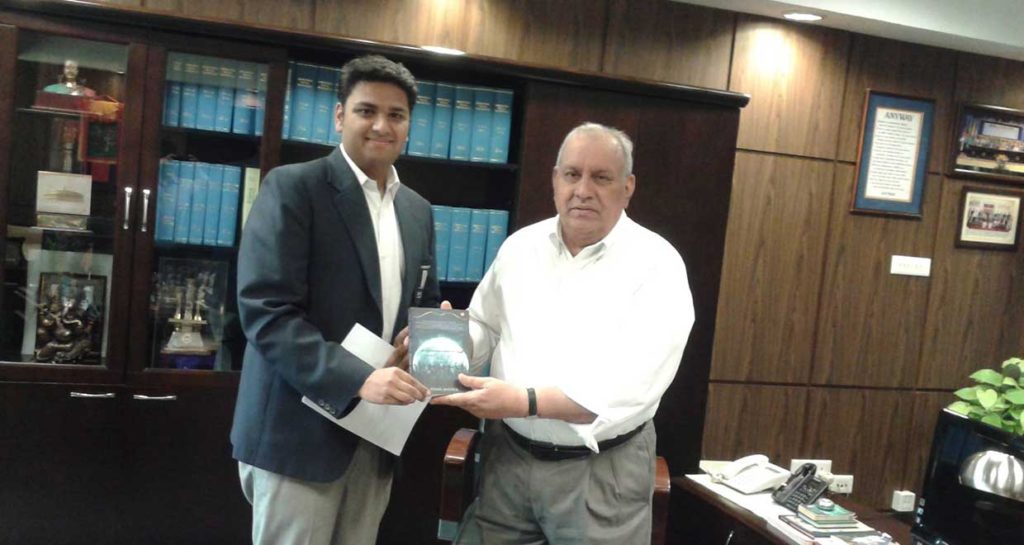 How does one get their book published?
If you actually want to write a book, you should first go to a literary agent. When my book did very well I was invited to a lot of literary festivals, and I came to know that young authors weren't being given their due by literary agents. Being an author myself, I wanted to change that. So I started the company, "The Book Bakers", where we help authors get published and undertake editing, cover designing and marketing work for books. We currently deal with 45-50 publishing houses pan India which includes all the major publishing houses.
Recently, The Great Khali, the WWE wrestler, collaborated with us on his autobiography, which we placed on Penguin India. I love to work with first-time authors and have helped many of them.
Many times it happens that if you send out a book directly to a publisher, they may not read it with as much interest because they get thousands of scripts on a daily basis. But a script sent by an agent is better received since as they think it has passed a preliminary test of quality.
Also, we guys don't send it to the editorial and submission IDs but to the personal IDs of the individuals looking at different genres of publishing, whether it's literary fiction, commercial fiction or non-fiction. It becomes much more streamlined and straightforward, and also helps the aspiring authors. I am very accessible on Facebook, as well as on our e-mail ID which is thebookbakers@gmail.com. People are free to write to us and we are always willing to help them.
How did you manage the time to write a book?
The thing is that if you have the passion, zeal and dedication to pursue your interest, you will manage to do that. At no point did I write the book in class or in my hostel. I wrote the book only on weekends at home. I finished writing The Bhairav Putras within the 50-60 days that stretched over a year. You have to see how to find time for both the things because you don't want your law school's studies to suffer in this. You need to keep your passion and profession side by side, and that's how you make a perfect mix.
One of the things I am quite saddened about is that in the legal sphere, the people at the top of the ladder are quite narrow-minded in their conceptualization of a lawyer. On various occasions, they ask me why I wish to continue with  law now that I am a successful author. But what these guys fail to understand is that they are undermining themselves in the process. They are undermining the ability of a lawyer to engage in multitasking. You could be a top corporate lawyer, a good writer, and also a successful literary agent. When people in other occupations and professions can be writers in their concerned fields successfully, I don't see why lawyers can't, and that mentality needs to change.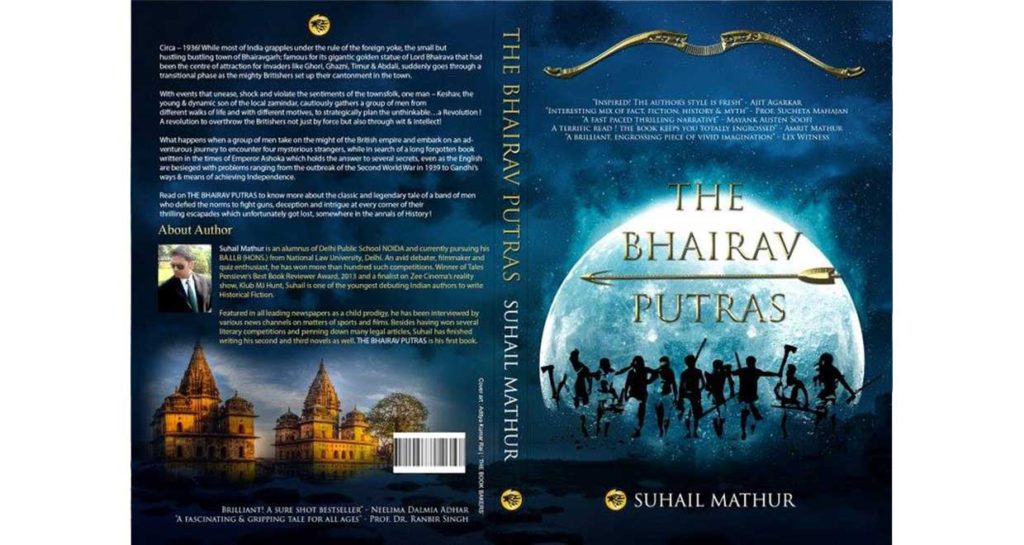 How was your experience when you were interviewed by various news channels? Do you have a PR agent? How did you ensure good publicity for your book?
In India it was a great thing that a law student was debuting with mythological and historical fiction. So the response that I got was splendid. The very famous legal magazine Lex Witness partnered with us as our official legal magazine partners, for which we thanked them in the trailer and the book. They covered me in three of their issues, including a preview, interview, and a review. The prominent online portal Infibeam was my official online partner, and we had a very successful outing with them too. People showed a lot of encouragement in that aspect.
I received endorsement blurbs from several known personalities as well. Ajit Agarkar has been my favourite cricketer and I got in touch with his wife, Mrs. Fatema Agarkar and she was very sweet. She got me in touch with Ajit and he wrote an endorsement blurb for my book. My college Vice Chancellor, Professor Ranbir Singh, Professor Sucheta Mahajan, Mr. Amrit Mathur, Mr. Mayank Austen Soofi, and many more wrote endorsement blurbs for my book, which meant a lot to me as a first time writer.
To ensure good publicity for your book you must, foremost, have a good product with you. Then you need to sell that product. If you are making a good product and not selling it well in the market, then nobody is going to know about it. It was important for the people in the legal field to know what a student of law was capable of doing, because not only did that promote me, but also my college. The first batch had not yet graduated from my college at the time and therefore garnering positive publicity for my alma mater was important to me. It reflects well on my college's credentials as well as mine.
The Book Bakers has actually revolutionized the entire system of marketing and PR these days. Most of the PR was earlier confined to social media. Now we have tied up with television channels and radio stations, cinemas, metros, newspapers and magazines, and that's the kind of PR we are willing to give to our authors and other authors who may want to market their book. Seeing a book trailer on a TV channel is unprecedented, and if people want to do that, we are giving them that opportunity. It's very important to stand at the place where you are, and have a vision for the future. One must set targets for oneself; think about where they want to see themselves five-ten years down the line and work towards that goal.
How did you become a cricket commentator for Star Sports and Airtel's mobile application? Being a lawyer why did you decide to become a cricket commentator?
Cricket has always been a passion and I always loved watching the game. When I was in the 4th standard I was invited by Indian coach, Mr. Anshuman Gaekwad, to meet the entire team because he was very impressed with my knowledge of the sport. Back then I wanted to write a book on cricketers, describing their personal likes, and get an insider's view of their lives. I actually met the Indian team on the first day of the Delhi Test match in which Anil Kumble took ten wickets. Mr. Gaekwad sent Mr. VVS Laxman along with me to meet every cricketer and gave me an India cap for my cricket knowledge. I went on a cricket show called "Stumped" and was later invited by Mr. Harsha Bhogle for an hour long chat. And all of this happened when I was just nine years old! Mr. Sunil Gavaskar, who also shares the same date of birth as mine, 10th July, sent a hand written birthday wish to me. People really encouraged me at that point in time, and so the interest was always there. I always used to do commentary at home for fun whenever a match was on, and finally, Mr. Raman Bhanot and his organization, which ties up with the Star Sports and Airtel, provided me with an apt opportunity. Whenever there was a match, I used to do cricket commentary and covered the Ashes, India's tours to South Africa, New Zealand, the Asia Cup and IPL. It was a great experience and I cherish that a lot and had it not been for my law firm job, I would have continued with this for a longer period of time.
Is it crucial to participate in various competitive activities in a law school? What was your experience in this regard?
It's good to take part in moot courts, debates, and other co-curricular activities as it helps in building self-confidence. The ground reality at law firms  is that they do concentrate on a person's marks more than anything else. It's disappointing because it's necessary for lawyers to have a well-rounded personality. The change needs to start from the law firms' end, in the way they recruit and filter candidates, rather than the students' end, because law students are doing wonderfully well in their student life.
You chose to work at a top law firm. Why not litigation? How did you prepare for your interviews?
I have always wanted to work for a law firm. Litigation never interested me much. All my internships with law firms have been challenging and rewarding in equal measure. They were great learning curves. I knew that I wanted to eventually work at a law firm and my time interning with some of them just bolstered my conviction further.
When you are going for an interview you need to know the basics. But what do the basics encompass? Do you consider contract law, criminal law and CPC? There is no definition of what the basics comprise. It is not possible to remember everything about the law and asking the candidates vague questions is unfair. Students are taught the rudiments in their first year but it is impossible to assimilate and retain that information throughout your graduation. There need to be better defined parameters when law firms are testing potential candidates.
I am generally high on my confidence and possess the ability to convince people. I really worked hard at my internships as well. I had certain achievements under my belt, and I had also worked at the firm and done well as an intern, so there was no reason why I can't do the same once I actually joined the firm. These are the things you really need to play on. You need to play on your strengths and these were my strengths. Some people sit down and go through each and every book of law and make themselves perfect so that they face no issue while answering questions at interviews.
The law firms need to select based on the person's personality and their ability to interpret the law effectively. I hadn't done any extensive reading right before my interviews, but just played on my strengths with confidence.
How was your experience as a junior lawyer in a law firm? Did you acquire any important skills while working there?
I had a great time working there. It is a challenging role to work in a law firm. The idea is to work as much as you can. If there is no work, you begin to stagnate and that's not a very good thing. If you are getting an opportunity to work, you should take it up, and that's how you learn more. Also, you will create a good impression in the firm. There is a world of difference between when you are interning and when you are working as a lawyer. As an intern, you are supposed to give out information to the lawyer, but as a lawyer, you are supposed to interpret that information given. So what I learnt was how to interact with the clients when we went for discussions, and how we must convince them.
What are your views on the desirability of foreign law firms entering the Indian market?
There are so many law firms abroad and they have been waiting for so many years to enter the Indian market. I just want to tell Indian law firms that if you believe in yourself, let foreign competition come in. You already have a head start in terms of your presence in the country and knowing its laws. The international firms would of course be hiring Indian lawyers but they are the ones who are at a disadvantage because they are entering a new field while the Indian law firms are the established players. So why not help many more law aspirants secure good jobs. I always feel a little saddened when I see a law student not getting placed. There were some very talented people in my batch who couldn't make the cut, and I felt very bad. When you have made it to a National Law University or a reputed law school, then that should be reason enough for people to trust you and your ability. It's actually a wrong mindset to continuously prevent foreign law firms from entering the market. If there is globalisation happening all over the world, then why not let foreign players come over here as well!
Do you think having family members or mentors with a legal background helps in this profession?
I don't have anyone in my immediate family who is in the legal industry. I don't see my lineage as a shortcoming. If there are no lawyers before me, why not be the first one in the family! I don't consider it to be a disadvantage or a disadvantage. From college, we gave our interviews and came through the hard way. But the process is probably simpler for students with lawyers in their families because they have contacts. I see a lot of lawyers get ahead in their jobs because their parents are partners at the firm.
What would be your message to our readers?
You must have set goals and have the ability to complete them but everything isn't as rosy as it seems. At law school, everyone will tell you to do great internships in order to secure a job. But this isn't a foolproof plan. One needs to be realistic and only then can one tackle the challenges in this profession better. Also continue with your creative pursuits and don't limit yourself as a lawyer. There is certainly more to a lawyer than what law firms would tend to make out of them. I balanced my legal work, agency work and my writing and if you divide the time you can achieve success. I have recently signed a three book deal with Om Books International, a noted Indian book store chain which operates abroad as well . If you are passionate about something then the legal work can co-exist with other creative pursuits. Never give up hope, but be realistic too. People will tell you a lot of things and at the end of the day, I believe it is your luck that is going to take you places more than merit. If it was based on merit alone, then a lot of people who are deserving would have got the opportunities they didn't get. I feel that I was deserving as well as lucky, and am thankful to God for the same.