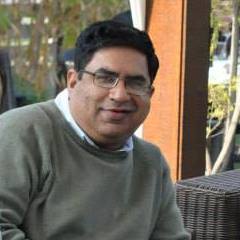 Sumeet Malik graduated from NLSIU in 1999. Thereafter he worked briefly for 9 months in Mr. K K Venugopal's chamber and then decided to pursue an LL.M in Intellectual Property from Franklin Pierce. With his legal training and specialisation in Intellectual Property Law, he joined his family-run Eastern Book Company. Currently he is the Director at EBC and manages overall Content and Editing for EBC. We asked him about:
Graduating from NLSIU and from Franklin Pierce
Work and typical day at EBC
Integration of a 'lawfirmite' in a publishing house
Tell us a bit about your childhood and pre-college life as well as educational background. Did you have lawyers in your family?
I did my schooling from La Martiniere College, Lucknow, an over 150 year old institution. Law was very much in my blood – I was born in a law publishing family. My grandfather, Shri P.L. Malik who was educated only till class 10, had by the dint of hard work and perseverance, compiled a book called 'Industrial Law' in 1950. It is today the most authoritative book relied on by Industries and Industrial houses in India. My father completed his law from the law faculty, Delhi as a gold medallist and went to do his LL.M. from Columbia University, New York. So yes, there was quite a lot of law in my background.
The image of a lawyer back in '94 was neither inspiring nor attractive for most students. What motivated you to choose law for a career?
Coming from a law publishing background one would imagine studying law to be the choice, but it was an informed decision.
How was your experience in NLSIU? Keeping in mind that you had to assume responsibility of one of the biggest publishing house in India, were you academically interested in core legal subjects?
It was a great learning experience. I met many wonderful people but everyone whom I interacted with taught me something. It would not be out of place to mention Prof. Menon and Prof. NS Gopalakrishnan to have had the most influence on me. My biggest academic takeaways from law school were my ability to research the law and how to think like a lawyer and this is what I try and tell all law students today. The law that you study while in law school will change but if you have the skills I mention then you are prepared for the rest of your life.
Right after graduating from NLSIU you went for an LL.M. in Intellectual Property from Franklin Pierce. How was your experience with faculty and academics there? In retrospect how do you think the LL.M. has contributed to your overall career development?
Actually, I worked in Mr KK Venugopal's chamber for nine months before I went for my LL.M. Those nine months too were a great learning experience. Franklin Pierce has a great faculty. The teaching style is a little different from NLS. There is a greater emphasis on writing papers and class room discussion. The level of academics is quite high in Franklin Pierce. I would say most definitely so. My class had so many people from all over the world and I think I learned from all of them, some a little, others more.
Would you recommend an LL.M. from Franklin Pierce to people who want to work in the Legal Publishing Industry? How do you think it will prove to be helpful?
I think doing an LL.M. or a Masters programme helps in the overall development of a person. You gain a lot of exposure. An LL.M. at Franklin Pierce or any other US law school should be an added bonus for working in the Legal Publishing Industry.
You have been the Director of Eastern Book Company. What does a Director at a publishing house like EBC do? What falls within the scope of your responsibility? Tell us about a typical work day.
EBC is a family run and managed business so each of us have our own responsibilities. My most important responsibility is content development, so whether it is enhancing content for SCC Online or co-ordinating with Authors for new titles. I edit/compile/write 15 books in a year. Human resources for one division of the group is also looked after by me. It's a little difficult to tell you about a typical day since each day brings different challenges. In the last year I have also travelled extensively, so there is something new that happens daily.
What are the top three challenges you faced as a Director of EBC? And how did you go about solving them?
I think that the greatest challenge is in the implementation of systems. Other challenges include the hiring and retaining of the right talent. There is a lot of expectation from the EBC group for making available high quality legal resources and quickly too. So it is important to meet those expectations.
What would you say are the primary similarities between a conventional law firm and a publishing house? Is it possible that a 'lawfirmite' can join EBC and seamlessly integrate into the work environment?
I would think that there is little similarity between a conventional law firm and a publishing house. The pace, expectations and deliverables are completely different. A lawfirmite can integrate into the EBC work environment but they will have to readjust all three – the pace, the expectations and the deliverables. Each project on which legal editors work has something new to offer. Learning and personal satisfaction and fulfilment are placed at a premium when working at EBC.
When you hire law graduates, what kind of skills and profile do you look for? How can law students go about developing these skills?
When hiring law graduates it is important to gauge their compatibility to the work i.e. of being a legal editor. Good analytical and research skills are needed to work as legal editors and since English is the medium through which this knowledge is communicated good English skills are a must. Some of the requirements are part of a person's nature and others can be developed through practice and effort.
What kind of effort should a young associate put in to work to get it appreciated? What are the major differences between a young associate and a director at workplace like EBC?
It's hard to point out the kind of effort required to be appreciated, but honest hard work cannot remain unnoticed for long, so the emphasis should be to complete the task to the best of one's ability and for the personal satisfaction of one's self. No one can ever take that away from you. A young associate will usually perform tasks that have been allotted to them and a director will usually be involved in policy formulation and implementation of that policy.
You must have interacted with many interns over the course of your professional career. What is your view on quality of law students that you see? What skills do they lack and would benefit from building?
There is a lot of casual attitude towards the learning process. A lot of students believe that having got into a prestigious law school is enough to land them a job or success in their lives. That's not how it works. Develop your legal research skills. The law is ever changing. Also, get the basics right. Always think in first principles.
Do you offer internships opportunities at EBC? What is the application process and what do you look for in a cover letter and C.V.?
We welcome internships at EBC. Those interested can send in their CVs to hr.manager@ebc-india.com. For us if you are willing to learn and utilize the internship for learning you are welcome to EBC.
Given a chance to turn back the clock would you have done anything differently from what you've done?
No. There is nothing I would have liked to change.
What would be your message to a student aspiring to join a publishing house?
My advice to all such law students shall be: Take your learning seriously.