Sumit Wadhwa graduated from ILS, Pune in 2007. Initially, a B.A Maths (Hons.) from Shaheed Bhagat Singh College, he firmly believes that solving problems, either legal or mathematical is all about using logic and a reliance on logic to solve problems and address issues is crucial in any field. Sumit started his career with Lall Lahiri & Salhotra (LLS) as an Associate in the Prosecution Department and after a year moved to the IPR Litigation and Enforcement team of the firm. He was promoted to Head IPR of the Litigation Department in the year 2015 and later to Partner – IP Litigation
In this interview he talks to us about:
His experience for more than ten years' in the IP law
How with your hard work you can achieve your dream
Work ethics which are indispensable for all lawyers in their practice
The importance of internships for a law student
The discipline of maintaining a work-life balance
How would you introduce yourself to our readers?
I am an IP Lawyer, based out of New Delhi, working with Lall Lahiri & Salhotra (LLS) with more than 10 years of experience. I believe that if you work hard, you can achieve your dreams.
Tell us about your experience at law school?
The time I spent at ILS was a memorable one and also exceedingly instructive and enlightening. It gave me the tools to become a lawyer, able to look at an issue from differing perspectives and has instilled in me a work ethic that I think is essential for all lawyers in their practice.  During my three years there, I also got the opportunity to meet and interact with people from different cultures and backgrounds, which played a significant role in broadening my outlook and perspective.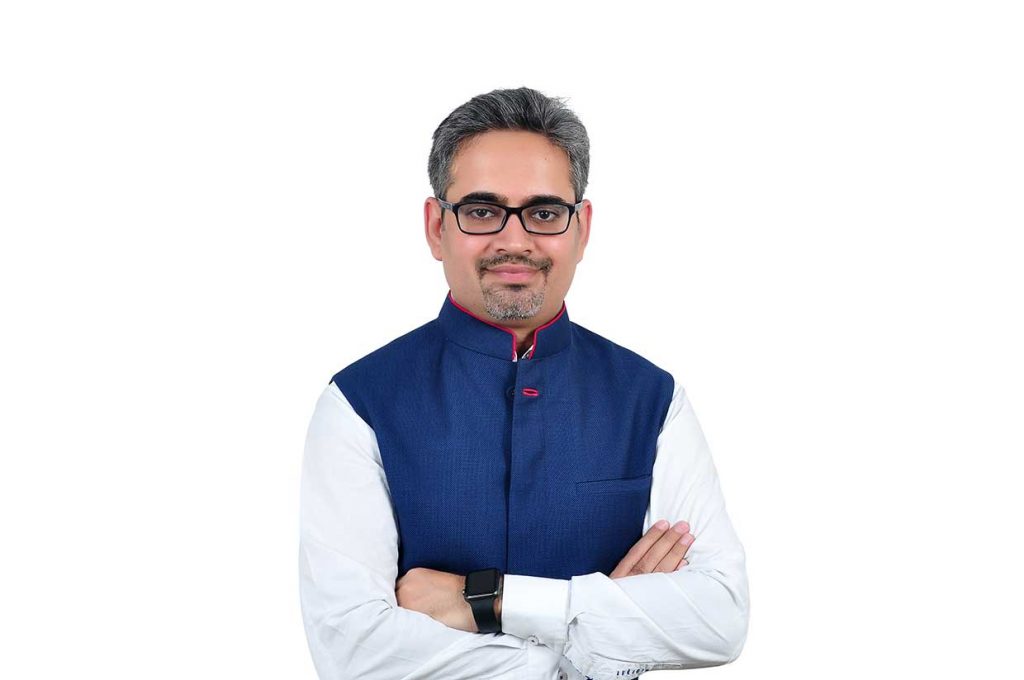 Having done Honours in Mathematics, how would you like to describe your transition from mathematics to law?
I had decided to pursue Honours in Mathematics but was not sure what will I do after finishing the course. After my last year results, I was not quite clear if I wanted to do Masters in Mathematics and thereafter PhD in Mathematics. The uncertainty also stemmed from my underlying interest in legal studies. Since my family was in the business of law books and my brother was also pursuing law at that time, it did seem like a natural trajectory for me to take. The decision was made easier because my exposure to legal and judicial studies had existed since childhood. I decided to pursue Law and got admission at ILS Law College. While both the courses i.e. Mathematics and Law are totally unrelated, over the course of my time in ILS and later at LLS, I have come to believe that solving problems, either legal or mathematical is all about using logic. I believe that the take away here is that every person does not pursue a fully charted course in their lives and one must be open to making changes and adapting to circumstances. I am quite glad that I made this change since my earlier studies gave me a logical bent of mind and clarity of thought that has helped me in my legal work and also allowed me to pursue the field where my aptitude is more suited. I would advise all students to consider their own interests and if a change is called for, then they should not hesitate in making those changes.
How do you think your degree in mathematics have helped in your law career?
As I mentioned earlier, a reliance on logic to solve problems and address issues is crucial in any field. I am of the view that the study of mathematics in which you have to solve problems using deductive logic is excellent training for a lawyer. There exist methodological devices which are used in mathematics that are excellent mental training for addressing issues which correspond to those used in the application of the Law. The ability to look at the big picture while also being able to methodically address smaller components of a problem has been useful to me in the practice of law.
What all law subjects did you find interest in law school?
I found the following subjects interesting during my Law course-
Intellectual Property Rights
Code of Civil Procedure
Indian Penal Code
Family Law
I was the Topper in Family Law and was awarded – Shri. D.B Bhopatkar, Certificate; Shri J.R. Gharpure Certificate and Principal Pandit Prizes for scoring highest marks in Family Law-II in LL.B at ILS Law College for Pune University in the year 2005-06. I was also honoured with a gold medal for scoring the highest marks in the subject Civil Procedure Code by the University.
How did you take a decision to pursue a career in IPR? What in your opinion should a law student keep in mind while choosing a particular domain of law to pursue a career in the same?
I was fascinated with trademark law. Particularly when you are studying IPR, case studies about different brands and their protection strategies can be very interesting. I found that IPR, which encompasses so many aspects of business and legal areas, allows for a wide range of issues to be addressed and while allowing for specialization, also provides new avenues for challenging one's mind. This became quite clear during my internships with some of the best IPR law firms. Consequently, I decided to practice IP law and also did a Post Graduate Diploma in Intellectual Property Rights, from National Law School of India University, Bangalore.
I believe that the student should try to do as much internship as possible while pursuing Law. The internships should be done with Lawyers/Law Firms practicing different fields of Law to obtain maximum exposure to practice in various fields. This will enable a student to make his/her mind about the specialization that attracts that individual. Additionally, one must always keep factors like personal aptitude and interests in mind.
What is your opinion on grades at law school? Many law firms and organizations look for innovative people and the yardstick they use for short listing people for the job in their organization is the marks. Do you think the system is flawed?
The grades/marks that a student obtains at law school can be immensely helpful to organisations to ascertain how well the student has studied /knows about the subject. Therefore, such marks and grades are important and cannot be discounted. Having said that, I also believe that these marks are not the only indicators of a student's merit and there are various factors that need to be considered when selecting a candidate.  If anything, marks or grades should be lower in an organization's order of priorities when looking at a law student.  Internships are crucial to a student's resume and the extent of practical knowledge that a student obtains from those internships as well as nature of those internships is vital in selecting a student. Similarly, extra-curricular activities undertaken by the student are very important indicators of certain qualities like initiative, hard work and problem solving, all of which are very relevant criteria for a lawyer. The other important factors that a law firm particularly must prioritize over marks and grades are the ability of the student for rational thinking and problem solving as well as ability to cooperate and work as part of a team. Thinking on your feet is also equally important for a good lawyer and one must be able to address hypothetical problems of law in a cogent manner during an interview.
What all activities did you take part in your law school?
I participated in Legal Aid programmes where we had gone to villages and held legal awareness programmes to educate people about their rights.
Please share with our readers about your experience of transitioning within LLS from an Associate to a Partner of the firm.
It has been a great working experience at LLS. I have worked under the leadership of Mr. Rahul Chaudhry, Managing Partner; Ms. Anuradha Salhotra, Founding Partner and Ms. Veena Poolakal, Partner.  I have learned a lot at this firm and believe that I truly became a lawyer by working at LLS. Law school can of course give you the tools and education that you need but it is only when you start working that you realize the difference between an academic study of the law and its practical application. LLS is such an organisation for me where I have been allowed to grow and learn. LLS provided me with a team of seniors who are leaders in the field of IP Law and as a new lawyer, I was able to gain insights into the workings of this field of law through their work.
Over the years, I have had the chance to work at all levels in the team, starting as an associate. As a result, I have been able to understand the scope of responsibilities at each level and the firm has equipped me to handle work with a degree of understanding that I think I would not have otherwise obtained. Having begun my career here, I am able to work in a manner that is in line with the firm's philosophy and work culture. The importance that the firm places on client satisfaction and flawless work are now also ingrained in my work ethic which echoes the firm's.
What all internships do you think a law student must undertake during their time at law school as a student?
As I mentioned earlier, internships are a vital part of legal education and are also important when considering a candidate for a job. A Law student should undertake as many internships possible while pursuing law and in as many different fields of Law as possible. Even if you are sure of the field of law you want to pursue, I believe obtaining experience of and exposure to other practice areas allows for a student to become better-rounded. The nature of internships is also important and if you want to pursue a career in a particular field then you must try and obtain experience in various aspects of that field. For example, if you want to pursue a career in IP Law, obtain a variety of IP Law experience in internships, such as working on copyright issues, trademark prosecution or litigation. It is also important to intern under Trial Court lawyer to understand the court procedure, functioning, arguments, etc.
What is your average workday experience like? How do you maintain a work-life balance?
Work-life balance is important to maintain in order to ensure long term efficiency in your work and also for self-satisfaction with one's professional life. Since I work in the litigation team and a large part of the day is often spent in court, I have always chosen to live closer to office to reduce time spent in commuting to and from office. This has allowed me to be able to work efficiently while at work but also be available to my family when required.
For any successful lawyer, certain amount of discipline is also essential. So, time management and prioritising work is vital. Being a litigating lawyer, a typical work day for me starts around 9 at the office after which a few hours are also spent at court. I have found that the scope of my work is quite varied and I work on multiple types of legal actions, such as trademark counterfeiting, IP infringement actions, advertising related matter, customs – registration and enforcement, domain name registration and enforcements. As a result, every day can bring a different challenge and the work is always interesting. As a partner, I also spend time working with members of my team and am fortunate to have seniors who are available to advise my team and me whenever we need any assistance.
What is your opinion about the concept of mentor and mentee in the legal fraternity?
In my opinion, this is one of the most important aspects of an individual's grooming and subsequent growth. Just the way even top professional players (including world's top most ranked players in Tennis, Badminton, or the teams in football, cricket, hockey etc.) keep experienced coaches, the mentor is an all-time friend, philosopher and guide to be revered as well as a fall back option to seek clarity in complicated matters or conflicting interests and to prevent burn out etc.
Tell us a bit about the works that you have done so far in the firm.
I started in the Trade Marks – Protection department of the firm wherein I have drafted replies to the examination reports, attended hearings etc. Thereafter, I was shifted to the Litigation department of the firm – wherein I have undertaken handling of litigation matters, involving the drafting of the pleadings/petitions/applications, attending hearings, conducting civil and criminal raids, briefing seniors, filing domain name actions before the WIPO and .IN registry, Customs applications. I have also done few non IP cases relating to recovery of money, Debt Recovery Tribunal matters.
How do you stay up to date about the recent developments in all the fields where you work and have an interest?
I regularly read PTC (Patent Trade Marks Cases) journal, cases on the subject on Manupatra, Linkedln Updates, Spicy IP and other internet websites which provide latest updates on various aspects of the subject. In particular, I try to keep track of some of the most important cases while they are taking place, especially those that contain issues of practical importance or important issues of law.
What advice or suggestion would you like to give to our readers, who are predominantly law students?
Pursue your dreams and work hard with full dedication, you will be able to accomplish your dreams. I believe there are no short cuts whether it is in your legal studies or in practice. The legal field involves a continuous study of law and keeping up to date on developments so one must develop a habit of reading new cases and legal precedents, no matter how busy you might be. As an aside, I would like to mention that there can be no substitute for a thorough reading and analysis of all aspects of whatever issue you are tackling, whether at college or in your profession.