Suvarna Mandal graduated with a BSL.LL.B (Hons) degree from ILS, Pune in 2012. Soon after Graduation, she went on to pursue Masters in Intellectual Property Law from Kings College, London. She has an enviable academic record and an excellent series of internships at top law firms. She has also done Diploma courses in Corporate Laws, Cyber Law, Intellectual Property Law, and Business Laws. Currently, she works as an Associate at Saikrishna and Associates.
In this interview, she talks about:
Law school experience at ILS
Pursuing further studies and LL.M from Kings College
Appointment at Saikrishna and Associates
Though it's one of the most asked questions but yet, why law?
Well, to be completely honest, I wasn't planning on doing law when I was in High School. I intended to pursue a career in either medicine or journalism. However, in addition to having a keen interest in public-speaking, I was also an avid follower of legal luminaries like Nani. A. Palkhiwala and Leila Seth, and consequently, a career in law fascinated me. I procured an admission into ILS, Pune and though I had secured admissions into various colleges in Delhi University as well, I was advised by many to definitely look into law as a career option.
Luckily, I had the chance to attend college at ILS for a month before I had to finally decide my career path, and within a month, I was sure that law is the best career option for me. It is my personal opinion that as a lawyer you are constantly learning and constantly adapting to a dynamic environment, and the knowledge that one procures from their LL.B degree is just the tip of the iceberg. From what I have gathered so far, even a lifetime is not enough to specialise in a particular genre of law. This was one of the deciding factors for my inclination towards law.
Tell us something about your college life? What all activities did you participate in?
While in college, academics was always the first priority, and I spent a major portion of my time understanding and studying the subjects that were taught in every semester. In addition to that, in order to expand my knowledge in specialised fields, I had done Diploma courses in Corporate Laws, Cyber Law, Intellectual Property Law, and Business Laws from Asian School of Cyber Laws, Pune and ILS itself. I had also participated in a couple of Moot Courts conducted internally at ILS and also represented my college as a Speaker in the National Round of the Commonwealth Moot Court Competition, 2009, at School of Law, Christ University, Bangalore. My preference for Intellectual Property Law directed me to write a couple of articles on IP related topics. As far as co-curricular activities are concerned, I was part of the Corporate Law Cell and the theatre group "Aahwaan" of ILS.
You have interned at top-notch law firms including Khaitan, AZB & Partners, Karanjawala and LexCounsel. How did these experiences help mould you as a lawyer?
My internship experiences at all these firms have been varied as I have had the opportunity to work in different departments and areas of law including IP Law, Corporate Law and basic civil litigation. Personally, internships have benefitted me greatly because my internship with the IP team at Khaitan made me realise that Intellectual Property is definitely my core area of interest. As a law student, it is difficult and in fact premature to make up your mind about the field of law that you would like to practise in. In my view, as a student of law, it is sufficient to just have a general idea about your areas of interest. In this regard, internships help you a great amount because you get to experience first-hand, what it would be like, to work in that particular area of law.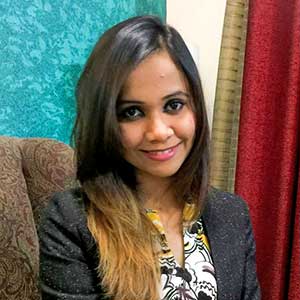 Right after graduating, you went for LL.M. Please share with us all the decisive moments leading to this.
Many law students are often torn with the decision of choosing to pursue their LL.Ms soon after their LL.B. or getting some work experience before opting for the same. There are pros and cons in either scenario, and the decision has to finally be taken by the individual. I too had my share of the dilemma and confusion, but I was clear that  Intellectual Property Law was my preferred area of interest and that I wanted to study more for a comprehensive understanding of the subject. This encouraged me to first complete my Masters and then start working as a legal professional.
Since I was sure that IP Law was the subject I wanted to specialise in, I started looking for LL.M. courses that offer the same, and The Dickson Poon School of Law, Kings College London was one of the premier and top rated institutes in UK for the same. KCL offered a specialist LL.M. Degree that focussed on Intellectual Property law prevalent in various jurisdictions and had modules that helped the prospective students in developing a speciality in the subject in academic as well as practical aspects.
The faculty was excellent and comprised of the top-names in the field like Tanya Aplin, David Llewelyn and Sir Robin Jacob. Due to all of these reasons, this course was obviously my first choice and I was fortunate to secure an admission at Kings College, London.
The experience of studying at KCL was enriching on all fronts which gave me the opportunity to learn from the best intellectuals in the sphere of IP, and learn with students of different backgrounds and cultures.
As of today I can confidently say that my LL.M. at KCL has benefitted me personally and professionally. One of the main reasons for me to apply for an LL.M. outside of India was to understand the manner in which IP laws were interpreted and how they operate at a global level and its comparison with IP Laws in India.
Please tell our readers about the application procedure and other requirements?
From personal observation, I had noticed how Universities (especially abroad) gave importance to student profiles that indicated that the student has put in hard work to build a rounded CV representing his interests and activities not only in his law course but also in co-curricular activities of his choice. Internships, publications, involvement with NGO's and social causes, cultural activities, etc. facilitate in building an overall strong profile. Having said that, a good score is essential to get into a college of your choice as that is the first criterion that Universities look into.
The applications for LL.M. should be sent out as soon as the Universities commence with registration process as many a times, good candidates are left out merely because of applying late. Very important aspects of your LL.M. Applications are to have a crisp Statement of Purpose and to obtain good Recommendation Letters. If you have decided to pursue your masters then it is essential to start working on your recommendation letters (from faculty and from your internships, if you are not already working) and your SOP.
What were your areas of interest while you were an undergraduate student and how have they helped in choosing your subjects/courses for the LL.M programme?
I have been a voracious reader all through and have found that reading has always leaded to my inspirations and aspirations in life by broadening my horizons. As an undergraduate student, in addition to being involved with activities that were offered by my college, I was also involved in Theatre and Music. I was part of an English theatre group of Pune and performed on stage for the same. Music has been a part of my life since I was a child and I have received training in singing in Indian Classical Music and Western Music. This particular interest directed me towards writing my own songs, and after composing a couple of melodies I couldn't help but wonder how I could protect these compositions. My interest in these creative fields and the element of curiosity to protect my musical compositions made me want to explore the field of Intellectual Property Law.
Tell us something about your LL.M year. What kind of activities were you involved in over there?
My LL.M. experience was challenging, enriching and ultimately very rewarding. I was given the esteemed opportunity to study under and interact with internationally acclaimed academicians and practitioners who helped me greatly in my analytical and critical approach to the issues in IP Law. I studied amongst students of different nationalities, some of them were established legal professionals with substantial work experience, and some of them had recently graduated law, just like me.
As postgraduate students of KCL and University of London we had access to some to some of the best law libraries worldwide, including Maughan Library of KCL, and the law library at the University of London's Institute of Advanced Legal Studies (IALS). The college encouraged its students to participate in various seminars and workshops by Guest speakers, networking events, etc. organised internally or externally conducted. The students were also given an opportunity to meet legal experts such as Judges, solicitors, barristers, in-house legal counsels, etc. in order to discuss a career in IP Law.
How difficult was studying abroad in terms of finding accommodation, finances and settling in? Are there any scholarships for studying at KCL?
There is no denying that living in a city like London may be a little intimidating at first, but eventually you get comfortable. As soon as you are accepted into a college, you are provided with various accommodation options that the college can offer you, and fortunately, I was able to secure a hostel accommodation at KCL even before going to London.
There are also several options available to students who do not wish to live in accommodations provided by the college and several organisations/websites work towards helping such students. London is a very student friendly city as there are substantial amounts of discounts available to students in public transport, restaurants, grocery stores etc. which is a relief considering that London is an expensive city to live in. As far as scholarships are concerned KCL does offer a couple, however they are extremely competitive and mostly inapplicable to Indian students. The website of the college offers all the details pertaining to the same.
How was the faculty and academic schedule at KCL? Given your experiences how would you pit Indian students with their foreign counterparts?
That pretty much depended on your choice of modules. The modules that I chose, required me to attend about 3-4 classes per week with a pre-defined reading list that needed to be studied before the class. This way, the understanding of what you studied from the list became crystal clear when the same was discussed in class with the professors. A glaring difference in the mind-set of the foreign students viz. a viz. their Indian counterparts is that the former believed in a more 'comprehension based' education system whereas we believe in memorising our syllabus, sometimes without understanding the underlying concept. I am of the opinion that if we are able to inculcate an application-based and practical method of comprehending the subject in our education system and combine that to the gruelling hard work that Indian students are used to, then we would have the perfect recipe for all round success.
Was there time enough for non academic pursuits at KCL? How did you find the study-life balance to be?
Though the LLM course is rigorous and requires commitment, there was enough time to explore London and indulge in the activities that it had to offer. The city has a rich history and culture and there are many places that one could visit in and around London even on a student budget. The recipe for balancing your student life and unwinding in one of the most renowned cities of the world is simple. One should make it a point to study the reading list given to you before classes, regularly attend your classes, engage in discussions with your peers and professors during classes, and always complete the assignments given by your faculty. This will help you greatly for your examinations and at the same time you will also have enough leisure time to relax and enjoy student-life at London.
Soon after Masters, you joined Saikrishna and Associates as an Associate. Tell us about your induction into the firm.
Getting absorbed into Saikrishna & Associates is a privilege and I grow and learn as a legal professional every single day. It is truly a terrific opportunity to be able to work with and rub shoulders with the best and the brightest minds in the industry. The seniors of the firm are fantastic mentors and dedicated lawyers that inspire you to work harder and learn more. I have been an Associate at S&A for almost a year now, and have had the chance to work in various verticals and practise areas of the firm such as IP Litigation, Transactions, Company Law Litigation, Advisory and Policy Reform, etc. I have also had the chance to co-author with my seniors, several publications in legal journals and magazines.
Many lawyers would say that the actual learning takes place in the years of practice. How far would you say it is true? What was the case in your situation?
Well, knowledge is power and experience enriches our knowledge. A good educational background lays down the foundation to be a good professional. As a lawyer the learning is constant irrespective of what stage you are in, whether a student or a professional, and you never really cease to be a student of law. It is essential to be true to the role that you are currently in and to try and meet the expectations of that role. There is obviously a difference in studying law and practising law, however the comfort level to understand both comes with hard-work, patience and time.
What would be your advice to students interested in Intellectual Property Rights?
Intellectual Property Law is a dynamic and constantly growing field. We currently live in a digital and global society and Intellectual Property Rights permeates into our daily lives. IP Law in India is developing at an exponential rate and has tremendous untapped potential. Students who wish to study and understand IP law should try and secure internships in firms that practise the same. In addition to that they should try and take up diploma courses in IP law so as to increase their knowledge base in the subject. It is also essential to stay abreast with the developments and major judgments in the field.