Varchasvi Gagal graduated from Jindal Global Law School recently in 2016. After witnessing a wide array of legal cultures through global legal education in college and on exchange at Baltimore School of Law, University of Baltimore, he has been researching the use of legaltech to transform Indian Legal drafting methods, for the past 2 years. He worked at the Legal Clinic of his college to understand the need for documentation among people at the grass roots level.
Varchasvi has recently launched India's first DIY document drafting platform for all called LegalSpell. He has been working on his start-up for more than a year ago. His vision is to revolutionize the way document drafting is done in India.
In this interview he talks to us about:
What is LegalSpell and how it is one of its kind.
His motivations and inspirations in life and in creating LegalSpell.
His journey from a simple law student to the CEO of LegalSpell.
His vision to do something path breaking with LegalSpell.
Future plans and taking Document Drafting towards a much needed evolution.
Tell us a bit about yourself. What drives you? What is one achievement you would be most proud of today?
I come from a background, which involved my upbringing in a small town (Alwar) in a joint family. I have been molded in such a way that commitments are considered to be of the utmost importance.  Being from a business family, I have always admired my father. Watching him work inspired me in so many ways. He struggled hard and created an industry all by himself.
He drives me towards becoming a better man.
I like to be honest. I am a straightforward person and in a lot of ways, direct and practical. And maybe that is why I never back out from my commitments. I like to keep things clear, and law taught me that in order to do that, it's better to do everything legally. And maybe that is why I never back out from my commitments. That was my motivation towards LegalSpell.
When you are working towards something that you believe in, you just don't want to stop. And that has made me a workaholic. I just love to work and I can't sleep until I am satisfied with the inputs I am giving in to achieve my goals.
Although it took me more than a year to analyze the needs of people, one thing I am proud of today is that, I have finally created something that I once imagined. We created a user interface, which would not only revolutionize drafting, but will cater to anyone and everyone. The tool was specifically designed to adapt to the user, keeping in mind a professional as well as a layman. I am proud that LegalSpell will work directly and indirectly towards legal awareness and safety.
Tell us a bit about your law school days, and your internship experiences?
Law School for me was a joyride. It has transformed me in so many ways and yet it was a home away from home. Spending half a decade in a place is not a piece of cake. But Jindal was an experience of a lifetime. The 5 years have taught me so much, made me aware about the world, and has witnessed my transformation in many ways. I was taught by few of the most renowned faculty in India and on the other hand I made friendships to last for a lifetime. The semester exchange program opportunity gave me so much of an insight into the legal cultures of the world.
Also, I thank my college for giving me some wonderful friends and seniors. Samridh, Ojasvi and Harsh Aggarwal have been my constant support throughout. My seniors, Advocate Jayant Malik and Arjan Sharma have guided me in shaping LegalSpell as a product. In fact, my friends and an integral part of team LegalSpell, Namon, Karan and Hrideja are also from the same college.
As far as my internships go, I thoroughly cherished interning at Impact law venture. That was the time when Mr. Pankaj (the owner) gave me some brilliant insights into start-ups.
When was the moment you decided to not pursue the mainstream legal career and dive into entrepreneurship?
My exchange semester along with the internships played a huge role in my decision in choosing a non-conventional career. I gained a lot of experience at my internships, and a lot of knowledge in my college, however there was always something that was missing. There was always the will to do something path breaking.  Something that not only creates an impact in the legal sphere, but transforms it forever. And when it clicked, nothing was the same ever again. The drive that it brought has borne its fruits in the form of LEGALSPELL.
What is LegalSpell?
LegalSpell is an online drafting platform for lawyers, corporates, entrepreneurs, start-ups, freelancers, designers, chartered accountants and laymen alike, a tool facilitating an instinctively easy drafting. LegalSpell ensures a time-efficient and cost effective user experience. Having been designed to automatically customize and personalize the document drafts for the user, this novel drafting platform has convenience imbibed in its core. A user can prepare their customized draft simply by answering a few questions and thereafter, use the drafting platform to personalize their draft to better suit their needs. While using this platform, the user has the flexibility of hand-picking clauses from LegalSpell's automated draft prepared on the platform or add pre-drafted clauses specifically tailored to suit their draft from the Referrals tool. To add to the user's experience, the drafting tool also incorporates features like an onscreen Google search and drafting notes, amongst others. The orientation of the drafting platform has been kept well aligned with that of the conventional drafting tools to instill adaptability and for enhancing the user's ease of use.
For instance, if a lawyer needs to draft an application under Section 34 of the Arbitration Act (filed for setting aside an arbitral award), all he needs to do is answer a few specific questions and LegalSpell will automatically prepare the draft by creating the Index, Memo of parties, List Of dates, Affidavits and Vakalatnama in just one go.
What is legaltech? How does LegalSpell use legaltech?
Legaltech is nothing but a step forward towards a future where the legal fraternity goes hand in hand with technology to attain more efficiency and productivity in legal work. The idea is to revolutionize the legal sphere with advancements of technology to foster the legal needs of people with utmost convenience.
LegalSpell is driven by the application of technology to redesign the conventional document drafting practices into a neoteric and more sophisticated system of drafting. Our vision is to strive towards efficient and hassle free document drafting through the use of legaltech. Our goal is to innovate and develop technology to make the legal system much smarter, faster and efficient. We believe that while all other spheres of our life have been transformed through the means of technology, the legal system has remained deprived of such transformation. By introducing LegalSpell, we are reshaping those conservative and conventional methods by the use of technology.
Who all does LegalSpell cater to?
LegalSpell not only caters to Lawyers, CA's, Corporates, Start Ups, Freelancers but to layman as well. It is so easy to use that through an easy 5-step process, a highly intricate and complex document can be drafted within minutes. With our initial offerings, LegalSpell provides a platform to draft more than 120 documents, which are divided among Court Related documents, Agreements, business related documents and personal documents. In fact, with the course of time, we are aiming towards a repository of 250+ documents by the end of October. With all that in the cards, we are just getting started. Our goal is to provide our customers with a choice of each and every single document possibly required under the Indian legal system.
How is LegalSpell of aid to the legal fraternity?
Being a company started by lawyers, we realized that due to increased cost and time pressure in a highly competitive industry, it had become imperative to invent a cutting-edge solution to the highly cumbersome document drafting methods. LegalSpell serves as the perfect tool to solve these issues.
The amount of time it takes to create an ironclad document is far beyond imagination for a layman. Be it a lawyer or a paralegal, drafting is and has always been a cumbersome process. But not anymore; LegalSpell caters to the needs of legal fraternity, where it not only saves time, but is also cost effective. No more drafting hassles, instead after a mere work of answering few questions, the user will be served with an automated draft of the selected document in one go.
Moreover, LegalSpell not only provides the lawyers with a means to increase efficiency and work productivity, but also helps them to expand their horizons into different aspects of law with the diversity of documents that it offers.
How did LegalSpell come about?
After spending a whole semester in Baltimore School of Law, studying the functionalities of law in the global sphere and experiencing the digitized legal culture there, I realized how India lagged behind from global standards of fast and efficient document drafting. Being a legal student at that time, it perturbed me that there was no dedicated document-drafting platform in India to cater to the documentation needs of people.
I realized that the nuances of the legal world have been changing at a pace faster than ever and range into multiple shades of an otherwise black and white regime. The idea behind LegalSpell was to empower everyone to keep up with this change. While technology has transformed the way professional needs and demands are met, the realm of documentation lacks a smart and efficient use of technology to fulfil its demands. By creating a tool for document automation and customization, we are reinventing a smarter and more productive way of generating high quality documents with utmost ease and convenience.
As a result, I, along with two brilliant lawyers set upon to create LegalSpell, to foster the documentation needs of people.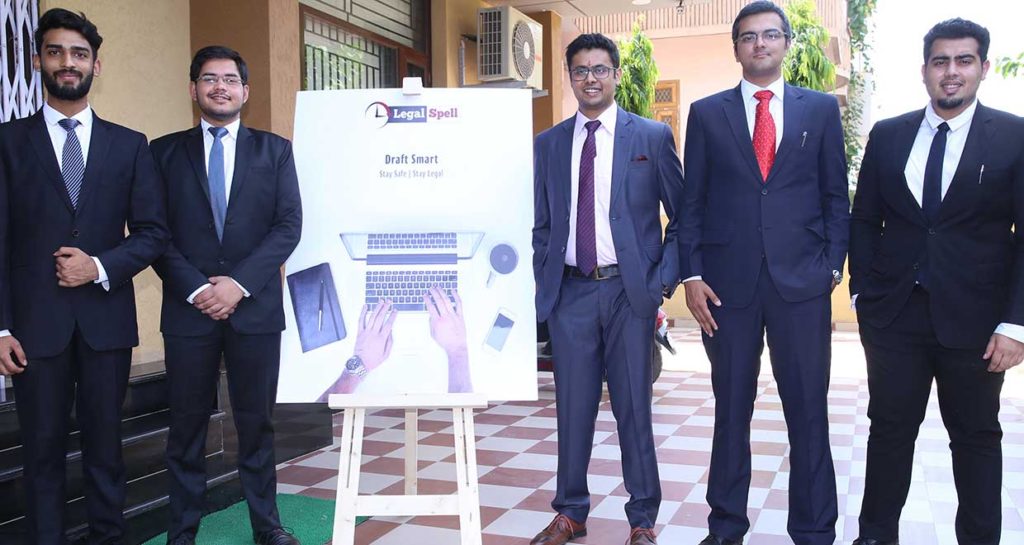 Who are behind LegalSpell?
Driven by the pursuit of spreading awareness amongst people, LegalSpell was conceptualized by myself with the support of Mrinal Gagal (Entrepreneur) and was, thereafter, pragmatically augmented and developed by two lawyers, Jayant Malik and Arjan Sharma. Our Team Consists of Ojasvi Singh (Advocate), Meghanjali Routh (Economic Strategist), Karan Dhingra (Law Student), Namon Deep Jain (Law Student) and Hrideja Shah (Law Student).
What were the problems faced while bringing about LegalSpell?
Everyone believes that a good idea is all that is needed to establish a successful start-up, but take my word, that is merely the beginning. Maybe that is why there's no copyright on the idea but on its expression.
The number of hurdles faced over the course of time in the creation of LegalSpell are innumerable, however one of the biggest challenge was to develop an instinctive platform that could respond to all the needs and necessities of the user. The research and development invested in the creation of LegalSpell, is one of the most significant reasons why LegalSpell is one of its kind. It took us a whole year, just to research and analyze the needs and demands of the consumers.
Also, our I.T. team along with our Legal team faced countless problems while trying to incorporate technology in creating flawless drafts. However, they did a commendable job by working day and night to create a dedicated DIY document-drafting platform.
Why a start-up over a conventional job or an independent legal practice?
I am and have always been passionate about law, and at the same time I have always been taught by my father that progress is the key to everything. The idea behind LegalSpell was to create something in the field of law that proves to be a definitive step towards a progressive legal culture.
Don't think of LegalSpell as just another product in the market. It is much more than that, it stands tall on the foundations that are built on much higher principles. As a law student, my inspiration has always been backed by the habit of need for quality and excellence, that was instilled in me in my early years of law school. As Aristotle has said "we are what we repeatedly do, and excellence, then, is not an act but a habit."
By creating LegalSpell, we are not only progressively catering to the needs of fellow lawyers, but are creating a legal environment where anyone and everyone has access to quality documents which helps them stay legally sound in their respective professions.
Why serve only yourself by doing a conventional job, when you can serve the whole fraternity by making their work more productive and efficient.
What can we expect from LegalSpell in the near future?
This may sound a little over-confident, but we are just getting started. Not only are we planning to come up with three new services by the end of this year, but we are already working on adding a wide array of documents related to every profession, so as to cater to the legal documentation needs of as many people as possible.
We already have a document offering of 110+ document drafts, and our goal for 2016 is to take it to 500+ documents by late December. On the top of that, our R&D team is constantly working on making LegalSpell's drafting platform more instinctive, more responsive and even more user friendly, based on the feedbacks from our existing customers.
If all goes as planned, LegalSpell will transform the way documents are created in India.
Is LegalSpell intended for the Indian Markets only?
The answer to the question whether it is "intended" only for the Indian markets won't do justice to what the future holds for LegalSpell.
As of now, LegalSpell is specifically focused on catering to the needs of Indian users. It is designed to respond to each and every need of the user while drafting their intended document. The documents are fashioned according to the Indian Legal System to provide utmost precision.
However, as I mentioned earlier, that we believe in progress and we are not denying the fact that somewhere down the road, LegalSpell might include international documents under its ambit.
Where do you see LegalSpell in the coming years?
We believe that with the inception of LegalSpell, we have created something truly incredible. It holds the potential for an endless number of possibilities. We have and still are striving towards revolutionizing the Indian Legal System, and we won't stop until a truly remarkable revolution is witnessed by our legal system. We take pride in the fact that we are instrumental in doing so.
We already have plans for the coming years, however they are still in their initial phase, and right now we are working on our plans for the near future, moving forward one step at a time.
As they say, "the sky is the limit", but for us, we don't believe in limits, and that is why "the sky is where we start from."
What would be your message to readers?
Believe in what you do. I believe law, as a career is just not limited to litigation or corporate life. In today's world especially when India is moving at such a fast pace towards digitization, a law student has multiple avenues to choose from. I believe that in order to sustain or to be successful in such a competitive and fast moving environment that we live in today, one needs to be innovative. We are just at the inception of innovation in the legal field and there is a long way ahead. Courses we study in our law school shape our reasoning abilities. Once we graduate only then do we realize that there has been a significant change in how our reasoning and logical abilities have been boosted. At the end of the day, the only thing that matters is one question, "Are you living your profession" and my answer to that question is YES I Am.