Vini Singh graduated from HNLU, Raipur, in 2012. She then went on to pursue her Masters from UCL. During her time as an undergraduate she has interned in the Chambers of Mr. P.S. Koshy, Multiple Action Research Group – MARG, been a Judicial Clerk to Justice S.K. Sinha, High Court of Chhattisgarh, interned at Chambers of Mr. Shanti Bhushan, Sr. Advocate, Supreme Court of India, Chambers of Mr. K.T.S. Tulsi, Sr. Advocate, Supreme Court of India, Chambers of Mr. K.K. Venugopal, AZB & Partners, and AMSS. She is also a Company Secretary. 
In this interview we speak to her about:
Getting an LL.M. from UC, London
Being a Company Secretary
Taking the Chattisgarh Judicial Exam
Tell us about your life before college.
I did most of my schooling from Indore except for the final three years which I completed in Raipur since my family had moved here. I was a science student and very keen on becoming a doctor like my father. After I finished my schooling, I took a year off to prepare for pre-medical exams and appeared for many of them at the end of that year. Never in my dreams had I thought of choosing law as a career, but a few of my friends convinced me that I should have a back up plan and there was no harm in giving an entrance exam. So I filled up the entrance exam form for HNLU and appeared for the exam with just two weeks preparation. To my surprise, more than 50% of the question paper contained exactly what I had studied, and not only did I clear the exams, I secured 4th rank as well.
Meanwhile, I was also offered a seat in a medical college, but since their sessions start late, I decided to give HNLU a go. I attended classes for almost a month and it would be wrong to say that I chose law; I would rather say that law chose me.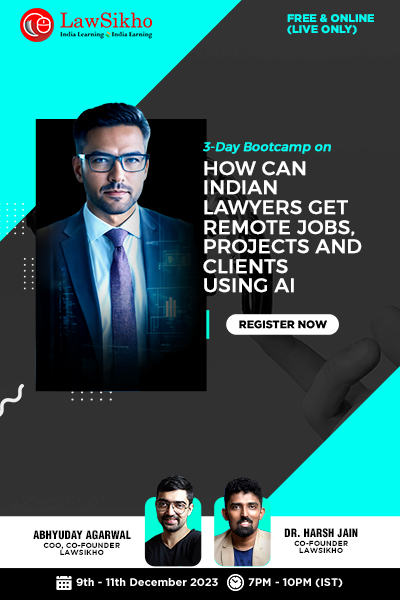 How will you describe your college life?
My college life was a lot of fun. I had a great group of friends, we studied together, went on a lot of trips, celebrated birthdays and festivals, occasionally played badminton etc. Apart from academics, I participated in a few activities and competitions organised by various committees, helped organise conferences as a part of legal and social services committee and worked for the library and academic committee.
How would you say a student can go about studying and having distinction in a few subjects?
(Vini has bagged gold medals in Constitutional Law, Economics and Political Science. These are invariably some of the most lengthiest and difficult papers.)
I am someone who has never adopted a certain strategy to tackle coursework or a gain a certain percentage of marks. I would say that I was able to do well academically only because I really wanted to learn. If I found something worth a read I went for it, irrespective of the fact whether it was prescribed material or not, which is why I ended up reading a lot of additional stuff such as Plato's allegory of the cave or Dworkin's Law's Empire. All this additional reading eventually helped me a bag outstanding grades and those gold medals.
How was your experience interning with SC lawyers?
(Vini has worked as an intern for two great SC lawyers – Mr. Shanthi Bhushan and Mr. KTS Tulsi.)
It was great working with such eminent SC lawyers, both internships gave me an opportunity to closely observe the pros and cons of litigation as a career choice. Mr. Bhushan is very approachable; one can discuss anything with him right down from movies to politics to any complicated legal question. My internship with Mr. Tulsi was even better because I got to work on not only criminal cases but also on arbitration matters and I also learned a lot from his team. I was placed with Mr. Bhushan by our Internship Coordination Committee, so I just had to send my resume to him for securing the internship. I applied to Mr. Tulsi's office personally by approaching one of his juniors and requesting him to give me an internship opportunity.
What did your work at AZB & Partners entail?
Working with AZB Partners was a really good experience. I got work on a variety of matters since they do not assign interns to a particular team. So, if my morning began with say a research on FEMA, my night ended with verifying documents for an arbitration matter. However, as I was really interested in Competition law, I took initiative and more often than not sought work from that team. They were filing the then recently introduced Form I of the Combination Regulations at that time and I learnt a lot while working with them.
What inspired you to pursue an LL.M?
The academic experience was one my major reasons for pursuing an LLM, besides that I really wanted to challenge myself, that is why I decided to go for higher studies.
I had to write a letter of purpose as a part of my LLM application explaining why I wished to pursue an LLM and what my expectations were. I believe that my application successfully convinced them that I was a deserving candidate, which is why I was given a seat in the programme. I think that it is really important convey a genuine interest in pursuing further studies to get selected in any LLM programme.
While selecting a college to pursue my LLM, I considered the courses offered, the faculty and the total cost of my education. I chose UCL because they offered good courses in the areas I wanted to study.
Why did you choose to go for UCL?
As I mentioned earlier, my prime consideration for choosing UCL was the courses I wished to take, apart from that the reputation of the university was also a major factor. I did consider other colleges in UK such as Kings, LSE and Queen Mary, but I did not consider Indian colleges because I wanted to experience life abroad and I did not wish to spend two years pursuing a masters.
Tell us about the accommodation, financial requirements and campus life at UCL?
UCL is located in Central London and has very good accommodation facilities for the students including facilities offered by the University of London. However, if someone does not wish to stay in university accommodation one can always get a flat share in areas nearby the university at decent rates. Campus life at UCL is fantastic, there are several activities and plays that are always going on, there are a lot of places to eat, drink, hang around, karaoke, kickbox etc. The university has also got its own gym facility for people who are conscious about their fitness. I did find a lot of people from the Indian fraternity and we also had an Indian society that held many events, cricket match screenings whenever India played and celebrated various festivals such as Navratri and Diwali.
Apart from the tuition that has recently increased and the accommodation costs that come around to 150 to 250 GBP per week, one can easily enjoy London at 500 GBP per month, plus it is not very difficult to find and manage a part time job, so it is not very costly. Plus UCL automatically considers you for many scholarships including a scholarship offered by the Chief justice of India.
Tell us about the academic pressure and the faculty at UCL.
The academic environment at UCL is very different from our law schools. There the classroom is a place for discussion and not the place to learn basics. If a student is not up to date with his/her readings, it will be very difficult for them to get anything out from the class and they may even have to face embarrassment.
The reading list is huge, if one does not follow a proper schedule, it can be almost impossible to deal with the course load at the end, so even though I was not very regular in my studies here, I had to force myself to change this habit and only then did I manage to cover my course material.
Faculty at UCL is very cooperative and they are usually available to clear any doubts and discuss issues in person as well as online by mail or by UCL's electronic platform moodle.
How is the recruitment/ placement for overseas students?
The placement scene for overseas students is not very good at present. I would not deny that the tag of a prestigious university does open doors but if you are already qualified in your country, and you do not have many years of experience with you, it is very difficult to get a job. Plus you would also have to clear QLTS at your own expense since your law degree is considered as non law in the UK.
It is comparatively easier to secure a training contract, if you have not yet qualified in your own country, however, you still need to write an exceptional application and clear six or seven rounds of assessment to get through.
What do foreign universities look for in applicants?
Excellent academics is definitely a must, however foreign universities do look for other qualities in their candidates such as any contributions to their society by volunteering etc, organisational skills, publications and sometimes achievements that distinguish you such as maybe your exceptional capability in a dance form.
Tell us about the Chartered Institute of Arbitrators Award for Best Performance in International Arbitration that you received.
As a part of my LLM programme, I undertook a course on International Arbitration. This course is recognised by the CIArb, therefore they give an award for excelling in the course in association with the Faculty of Law. I was given this award for securing a distinction and I suppose the highest marks in the course.
What were your subjects in LL.M. and what made you choose them?
I decided to choose my subjects based on my interest rather than any commercial advantage. I studied a mix of commercial and public law subjects so while on the one hand I took up International Arbitration, Cross Border M&A and Comparative US Antitrust v. EU Competition Law, I also took courses like Comparative Constitutional law and Principles of media Regulation. My dissertation focused again on International Arbitration, since I find that area interesting.
I am currently litigating; however I do plan to get some experience in the areas I have specialised in.
How was the Summer School at London School of Economics?
Summer School at LSE was fantastic and very hectic at the same time. I studied EU Competition Law there and the course really helped me lot in my undergraduate Competition law course and also during my post-graduation. However, I would only recommend such a course to someone who is already a bit familiar with the basics and ready to burn the midnight oil for those two months. I was visiting London for the first time hence I was more interested in sightseeing, but still, I did attend all classes, if not tutorials and got a lot out of it.
How has the Company Secretary course helped you as a lawyer?
The Company Secretary course has been very helpful thus far. My concepts of corporate law, taxation law, securities and finance are a lot more clear since I undertook the course. Also I think that a little bit of company accounts and management studies can do no harm to a lawyer. So, I would definitely recommend this course, if not much, you do get another degree with just a little bit more effort that you are already putting in for law school.
How was your experience writing the Judicial Services Examination in Chhattisgarh?
I recently gave Judicial Services Examinations in my state. I did not have to prepare much as I had already studied all the core subjects in depth for the bar examination. So for my preparation, I revised all the key concepts again and studied local acts prescribed in the syllabus.
The exams however turned out to be a huge disappointment as there were hardly any questions in the exam paper that required application of any legal concept. Most of the questions were regarding the dates on which a certain Act or amendment came into force, the number of sections or chapters in a certain Act, or the chapter no. of IPC or Evidence Act that contained so and so provisions. So unfortunately my preparation strategy was not very helpful. However, after having a look at question papers of other states, I can say that it is important that your concepts are clear in order to succeed in such a competitive exam.
What would be your message to our readers who aspire to go for an LL.M. abroad?
Dear friends, all I would say is please do not chase grades, aspire for knowledge instead, be curious to learn, the grades and success would automatically follow.