Vishnu Ravi Shankar graduated from National Law University, Jodhpur in 2011. He worked at corporate law firms, beginning with Tempus Law Associates in Hyderabad for a year and a half, post which he worked in the Hyderabad and Delhi offices of Trilegal till 2014. Thereafter, he quit to join as a Partner at Ekalavyas, a sports media and talent management enterprise that manages and runs ekalavyas.com.
In this interview, he talks to us about:
His background, inspiration and passion leading him to pursue law
His experience working at corporate law firms and the decision to leave
His decision to work as a Partner at Ekalavayas and the nature of work
His views on the scope of sports and entrepreneurship in India and advice to aspirants in this field.
How would you like to introduce yourself to our readers who are mostly law aspirants, law students and young lawyers?
Well, essentially, I am a corporate lawyer turned entrepreneur who is truly passionate about sports and the business of sport, and the sport of basketball in particular. I used to be a full time corporate lawyer until last year and now, I undertake the dual role of managing my independent corporate law practice along with being a member of the core team at Ekalavyas, a sports media and talent management enterprise that manages and runs www.ekalavyas.com, India's first and only basketball news website.
Tell our readers a bit about your childhood and pre-college life as well as your educational background. Do you have any lawyers in your family who motivated you to pursue a career in the legal field?
I grew up in a middle-class Telugu family which instilled middle-class values in me. I was born in Chennai, where most of my family is from. The unique aspect of my childhood was that my family lived in a number of places all across the country. I studied in 13 different schools! The good part about all the shifting and moving around was that it  familiarized me with the diversity that India had to offer right from a very young age. I experienced the various different cultures of India and this holds me in good stead even today.
I was always into sports. I played basketball, football and cricket at an amateur level, but I was really into swimming and achieved some success at the same at the school level. I was a decent, but not an exceptional student. My parents never  pressurized me into choosing any particular career. But the fact that both my father and my grandfather are corporate lawyers did influence me.
In fact, my grandfather was a lawyer as well as a company secretary. My father has been working as an in-house legal counsel for over thirty years, which has included stints in some of India's biggest companies. So, the profession of law was not something that was alien to me. I had grown up watching my dad go about his business and law was, sort of, a natural choice for me. I was also keen on the practical aspects of companies and businesses and as a result, I pursued Commerce in Classes 11 and 12.
Can you recall any specific incident that made you choose law as a career?
No specific incident as such. As I mentioned earlier, I was inspired by the lawyers in my family. In addition to that, I was quite curious to learn  how the legal system of the country works and I had a general spirit of enquiry towards the laws of the land.
How would you describe your experience as a student aspiring to be a professional at NLU Jodhpur?
It was definitely a rewarding experience, but not in the traditional way that you might expect. Obviously, those five years of law school come during a very formative period in your life. From the age of 17 to 22, you  live on a residential campus in a hostel environment. It's a period that does shape your personality to an extent. What I am most thankful for is the friendships I made during those years. Those bonds will remain with me for the rest of my life.
The feeling of playing sports and training with a team was another major aspect of my law school life. That's the beauty of sport, isn't it? It teaches you so many life lessons. How to be a leader, how to work in a team, the competition, how to accept defeat and learn from it, the spirit of sportsmanship – it's just so beautiful. Most of all, you learn from the purity of sport – there are no shortcuts. You just have to put your head down and work HARD.
As regards my legal career, well, having studied in a national law school definitely gave weight to my resume. But academically, the entire law school experience was not ideally what it should have been. Although National Law University, Jodhpur is ranked among the top 5 law schools in India, the reality is that this ranking has very little to do with the quality of teaching there. That ranking and recognition, in my opinion, was mostly built by the students and their own determination to make something of themselves. This was the case with me as well.
I graduated with average grades. But that did not stop me from reaching a good place in my law firm career. So, obviously, there is no set formula for success or for bagging that coveted job placement. But what is essential, in my opinion, is that you continue to gain knowledge and experience. During your initial college years, instead of pre-deciding the field of law you wish to  specialize in, I would suggest gaining internship experience working in several different fields. This not only helps you decide what your area of interest is, but also helps you develop a holistic way of thinking, when you are working on any matter.  The other factor is to believe in yourself and your ability. Be confident and cut the faff.
What were your areas of interest during your graduation? Did you engage yourself into some extracurricular activities and how was the campus life?
To be honest, for the first two years of my law school life, there was very little that interested me on the academic front. There was too much focus on theory and very little focus on the practical aspects of the legal profession. NLU-J offers an honours system in which you can choose a  specialization that ideally would be your calling after you graduate. I chose the field of Business Laws and this is when my interest piqued. Studying the laws that govern businesses, mergers, acquisitions and other corporate transactions was one of the few areas of interest that I had in law school.
Along with the knowledge gained in law school in this area, I also interned in the corporate teams of some of the best law firms in the country and was fortunate to find work pertaining to some fundamental areas of company law. Then, the real knowledge, of course, was gained during my time spent working in law firms.
With regards to extracurricular activities in college, I was mostly into sports – I played on the college basketball team in a few tournaments and the college football team in a couple of tournaments. During my last two years of college, basketball took up most of my extracurricular activity space. We had quite a picturesque basketball court on campus and a bunch of fun guys to play with too. Apart from sports, life on campus was great. There was a lot of freedom given to students during my time, which ensured that kids enjoyed college life the way they should.
Right after graduation, you joined as an Associate at Tempus Law Associates and thereafter Trilegal which  is one of the Top law firms in India. What did an average day of work look like?
My first job after graduation was as an Associate with Tempus Law Associates, a mid-size law firm in Hyderabad. My parents were living in Hyderabad at that time, which was convenient as I got a chance to stay at home. As the law firm was still a young and growing one, I got a lot of exposure and first-hand experience advising on matters of corporate law and working on corporate transactions. There was a lot of PE activity in the Hyderabad market at that time in the IT/ ITES sector, mostly with domestic mid-size to established companies. I gained precious experience working on these transactions from end-to-end. As a small and understaffed firm, I got to work on transactions right from the term sheet stage to the due diligence up until the definitive agreements and closing. With this experience under my belt in my first one and half years, I was able to land a job in the Hyderabad office of Trilegal.
When I joined Trilegal, I  realized the vast difference in the quality of legal services and the output expected from you. It took me a couple of months to adjust to the expected pace of delivery and quality of work. But once I gained the confidence of my partner and senior associate there, I worked on a number of good transactions. The most important thing that I learned there was the ability to handle matters independently, no matter what the matter was. At the end of the day, as lawyers, no one knows everything there is to know. What is important is that you learn where to look for information, pay attention to detail, approach matters in a logical and structured manner and also take into consideration the practical aspects.
Now the most important question, what made you leave one of the leading law firms, Trilegal, and join as a partner in Ekalavyas? What was the thought process behind taking that decision?
Yes, it was a crucial decision and it did come after a LOT of brainstorming. I was in a good place in my law firm career and the financial incentives were more than adequate. But there is a certain lifestyle that you want to lead and each person has his or her own preferred way of functioning. Although I was happy working on corporate transactions and business laws, the long hours and the way of going about any matter was not to my liking. Besides, sports was my true passion and I realized that I might as well work on something that I was truly passionate about and I had more ownership over. I waited till I had enough savings to last me for a while, and I took the decision to quit and work for Ekalavyas full-time.

What is the motto behind creating Ekalavyas and who are in the core team? What exactly does Ekalavyas do and what is your job role, who are your clients and what are the services offered?
I think for each of the co-founders, the reason behind starting Ekalavyas would be different. The basic idea was to bring attention to non-mainstream sports and sportspersons in India, who are constantly in the shadow of cricket and therefore, immensely suffer.
In any field, a monopoly is never good. There should be always be a healthy balance and fair competition. Unfortunately, when it comes to sports in India, cricket is the dominant sport in the minds and hearts of the majority of the public. A lot has to do with media  exposure to a sport. If you really put it in perspective, cricket is played only by a handful of nations and its origins lie in the colonial era. Not that I have anything against cricket. I watch and follow cricket just as much as any other Indian and still continue to do so. But what about people who are passionate about other sports? Do they have to give up their dreams and aspirations of becoming professionals in the sport just because your nation does not pay attention to it? That would be highly unfair and a let down to your fellow countrymen.
Although anti-competitive practices and monopoly is restricted in other sectors in India by law, in the field of sport, there was no restriction to the growth of cricket. Nor should there be, but at the same time, other sports should be given equal attention. Let's take a fellow commonwealth nation like Australia for example. They are world-beaters in cricket. But at the same time, they manage to qualify for the football world cup, the basketball world cup, are one of the best  at rugby and so on and so forth. They even have five-six players currently playing in the top professional basketball league in the world, the NBA.
So the motto behind Ekalavyas is to create an equal and balanced world of sports in India. We aim to bring respect to all sportspersons, irrespective of the sport they choose to excel in. Ekalavyas can be described as a sports media and talent management enterprise. We have started with our focus on Indian basketball, but the plan is to eventually implement this model for other sports as well. On the media front, we are looking to cover as many Indian basketball events and tournaments as possible, as well as major events on the international front. We also provide PR and content creation services for tournament organisers, basketball academies, state basketball associations and other entities.
On the talent management side, we are currently building a database of players and coaches with the aim of finding the right opportunities for them in India and abroad. We have already been involved with sending a couple of India's best players to play professionally in Japan. We are also focused on building better infrastructure and facilities for basketball around the country. We have a tie-up with sports infrastructure companies for refurbishment of basketball courts. We have a few other ideas and divisions that we intend to begin in due course of time. As a member of the core team, I do have my hands in almost all aspects of the business at some level or the other. But I'm majorly focused on international content for Ekalavyas and the talent management division.
In our short period of existence, we have worked with a variety of clients, both in India and abroad. Some of our major clients include the Basketball Federation of India, NBA team Sacramento Kings and the UBA (Universal Basketball Alliance, the company that organized India's first professional basketball league). We recently provided location scouting services for basketball courts for an advertisement campaign by Nike. So, with our database of information on players, coaches, referees, basketball courts, etc., we continue to get a range of work from different clients. For more information, visit www.ekalavyas.com.
Tell our readers whether you had a passion for the game of basketball. Did you actively participate in any basketball tournament? How is the work life at Ekalavyas and how do you maintain the work and family life balance?
Yes, of course. I am deeply passionate about basketball. I've played the sport at an amateur level throughout my life. In fact, I had the classic 'hoop in my driveway' as a kid. But I started taking the sport seriously with regular practice and training only during my college years. I made it to the college basketball team and did participate in a few tournaments. I was a part of the winning team at the sports fest held in RMLNLU, Lucknow. I was the captain of the winning team at the same sports fest the next year. Plus, basketball was a way of life for me in college. We used to play pickup games almost everyday – it was probably the most fun part of college life.
To answer the second part regarding life working at Ekalavyas, it's obviously good to be your own boss. But this also requires a lot of self-discipline – something that I constantly have to work on! Thing is, I don't consider this as work. Instead, it's a way of life. Ekalavyas goes in the direction its founders take it and we only work on those things that interest us. As a business that is still in its initial years, it obviously requires a lot of time and effort. But at the end of day, it's worth it because we are building something we truly believe in and are passionate about.
Having said that, of course, I still am servicing clients as an independent corporate lawyer and this is necessary for financial sustenance. But since these are also on my own terms, i.e., according to the processes I think best and my own timelines, work-life balance has not really been an issue.
You have been a part of Ekalavyas for a period of more than one year. Tell our readers how the journey has been and the challenges / difficulties encountered by you.
Any startup business faces a number of challenges in its nascent stages. On the personal front, initially, I had to adjust to not receiving a fixed amount of money per month and I had to be careful with the way I spent my money. But as time went on, and money started coming from my legal practice and from Ekalavyas, I gained  a certain level of financial comfort.
So far, we have run the business without any external financial aid. We work on a self-sustaining model, where we slowly grow through the revenue earned from providing our services. Without major funding, growth has obviously been slow, but the important point is that we do not have any external pressure or influence in the way we function (which is of paramount importance to us). But now, we've reached a stage, where are ready to take things to the next level and will be considering investment offers.
Overall, the journey has been great. I've met so many people from literally every state of the country, travelled to so many new places, which I otherwise would have never been able to travel to and I've been closely associated with the sport I love. So despite the challenges, I wouldn't have it any other way.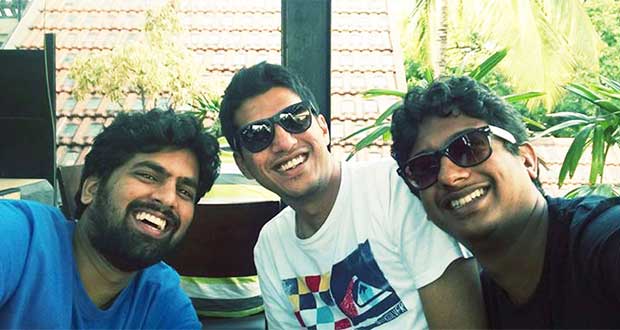 How did your relatives react to the decision of your quitting Trilegal and joining Ekalavyas? Did your family support you and what was their advice to you?
They were hesitant at first. Understandably, my parents were surprised at my decision to quit Trilegal. They were worried about the financial security I had created for myself. But soon, they realised that I was happy with what I was doing and were very supportive, which was reassuring to me. My parents have always told me to be realistic about anything in life. Their simple advice was that your passion is one thing and it's great to do something that you're passionate about. But you have to approach it in a structured manner with long-term vision that yields success. Further, you need to be able to sustain yourself and your lifestyle. I have always kept this advice in mind.
Do you have any plans to pursue higher education in the future, especially in sports laws?
No plans right now. I'm not sure whether any higher education course would be as useful to me compared to the practical experience of running a business. Many of the things that you learn in the real world are rarely taught in any educational institution. As of now, I plan to continue to focus on the growth of Ekalavyas and my independent legal practice. But who knows what the future holds.
Tell our readers what is the growth potential of sports law in India and what suitable measures are needed to promote sports in this country.
Sports law in India is already sort of established. Thing is, sports law is basically an amalgation of various other areas of practice. It involves contract law, labour and employment laws and other commercial laws. Of course, sports law also entails familiarity with international and domestic sporting guidelines (anti-doping, laws governing sporting bodies, professional league rules, etc.). When I was working in the Hyderabad office of Trilegal, I came across my first brush with the field of sports law. I directly worked on drafting of commercial contracts for two prominent cricketers.
With the advent of professional leagues in sports other than cricket and the growing interest in other sports in India, the need for lawyers who specialize in sports law will definitely increase. So, that way, it's another avenue open for law students today. Unfortunately, sports law is not a course offered in many law schools. NLSIU, Bengaluru, recently held a conference on sports law. So, things are moving in the right direction.
As regards what measures are required to promote sports in the country, well, there is a lot that can be done. Without getting into all that detail, I would simply say that people just need to go out and play! It all starts at home and if people are more sporty and physically active, automatically the respect for various sports and sportspersons will increase. Current facilities and infrastructure should not be used as excuses.
Lastly, what are your plans for the future? What advice would you give law students wishing to work in the niche sector as you?
We have some big plans for the future. We are looking to build a sports conglomerate with focus on various divisions that include media and PR, talent management, coaching and training, sports infrastructure and a lot more.
Look, the advice that I would offer to any student is to focus on living their lives. In college, try and experience as much as you can – don't hold back, because that time is not going to come back. Apply your own judgment to every situation. Do not just blindly follow people who are senior or higher in command to you. Lastly, try and do something that gives you satisfaction and not something merely for the sake of your bank account.
Finally tell us in which specific role would you like to see yourself-the role of a lawyer, entrepreneur, a founder or a sports enthusiast?
All of them, actually- I am a lawyer, who is also an entrepreneur and founder as well as a major sports enthusiast.