Arush Khanna graduated from Symbiosis International University in 2012. He is an Advocate & Legal Consultant enrolled with the Bar Council of Delhi and is a fifth generation lawyer in a family of highly respected lawyers.
After having worked in M/s Karanjawala & Co. and in the chambers Mr. Sanjeev Anand, Advocate at the Delhi High Court, Arush started his independent practice in New Delhi.
His principal areas of practice are Commercial & Corporate Litigation, Arbitration and Property Litigation. Arush has been providing dispute resolution and consultancy services to number of private and public sector undertakings in India.
Arush was also selected as a Scholar to represent India at the Inter Pacific Bar Association (IPBA) Conference in Kuala Lampur in April 2016. He was a speaker at the event and was bestowed with a three year honorary membership of the IPBA. He is the Youngest Indian to be given such an honour.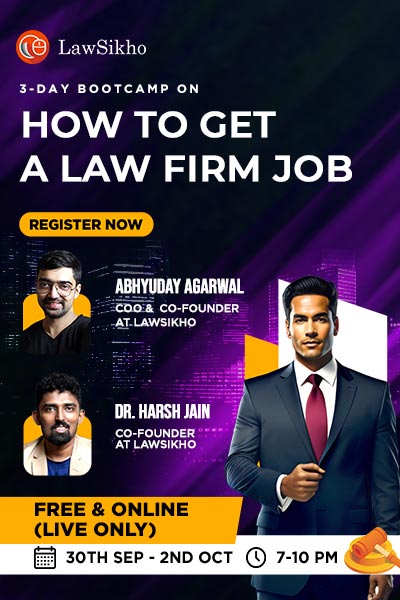 In this interview he talks to us about:
Why he chose independent practice over secured employment.
His experience as a youngest Indian to be selected as a Scholar at the Inter-Pacific Bar Association (IPBA).
His journey from Shanghai, 2015 to New Delhi, 2016 (Being a part of The BRICS Legal Forum).
Importance of writing for a law student.
How would you like to introduce yourself to our readers? Please tell us about your family background.
I come from a very typical food and cricket loving Punjabi family. My forefathers (both maternal and paternal) migrated to Delhi from Lahore post independence. My paternal grandfather was a wholesale cloth merchant who worked out of a shop in Chandini Chowk along with his brothers. After having been in the line for over 45 years, he recently took retirement and now spends most of his time with my most doting grandmother.
From the maternal side, well, you can shake our family tree and a lawyer may fall from it. The four generations preceding mine have mostly been lawyers. My great grandfather was a senior advocate who appeared for a host of freedom fighters during his distinguished tenure at the Bar. My grandfather has been actively practicing law for over 54 years and I would need a separate interview to speak of his accomplishments.
As regards my parents, my father is an importer of furniture and home decoration products. My mother is a lawyer by profession and was practicing corporate law for over 15 years before switching over to the field of image consultancy and soft skills training.
I have little twin sisters who are not so little anymore. They are currently working with a talent aggregating Startup Company.
What prompted you to think of law as a career?
I was a very enthusiastic cricketer during my days in Modern School and like every third boy in India, had dreams of making it big in cricket. However, reality struck me after my 12th board exams and I suddenly did not know what to do in my life. I was never inclined to join my father's business or sit in Chandini Chowk selling cloth yarns for the rest of my life. It was then that the thought of doing law came to my mind. So, in all honesty, law came in my life more as a last refuge than a first love.
Describe your experience at Symbiosis, Pune as an undergraduate law student.
As is the case with most students moving out of their hometowns to pursue under graduation, the initial days were difficult, as I had to adjust to life in a new city. Little did I know that they would end up being the most memorable five years of my life. Living in Pune and studying in Symbiosis taught me so much more than just getting a law degree. The thrill of making new friends, living within a budget, taking care of your own apartment, commuting in buses and autos and the exposure to small things was quintessential in helping me gain the confidence and awareness which I would have never got in the comfort of my home or within the four walls of a classroom. I would urge every student or anyone who wishes to pursue further education to get out of their comfort zones/homes for it may very well be end up being the most enriching experience of your life.
Please share your experience at Karanjawala & Co.?
After graduating (with good grades) from law school, I was clear in mind that I wanted to pursue litigation, atleast for the first few years of my practice. I was fortunate enough to get an opportunity to start my career with one of the best litigation firms of the country. During my tenure, I had the opportunity to work on some noteworthy cases like the N.D Tiwari paternity suit and the Lodhi Hotels case and brief eminent seniors like Mr. Mukul Rohatgi and Dr. Abhishek Manu Singhvi.
I will always be grateful to Mr. Raian Karanjawala and all my colleagues at Karanjawala & Co. for taking such an active part in nurturing me during my infancy days in the profession.
How did you decide to work under a Counsel even after getting an offer from Tier I firm?
This was the toughest decision I've had to make in my entire life. As much as I was thrilled to learn that I was offered a job with a very lucrative pay-package, there was a part of me that wanted something more than just money. That urge inside me to go out there and make a mark for myself kept dissuading me from accepting the offer. I always had dreams of setting up my own independent practice and I thought working with a counsel who can encourage that sentiment would be the best platform for me to pursue my dreams. Since I was only 23 years at the time, I thought myself to have the privilege of time to make decisions out of choice and not compulsion so that in the event they don't work, I could fall back on the secured environment of working with a law firm.
Please share your experience with Mr. Sanjeev Anand, Advocate at Delhi Court.
They were most enriching three years of my life. Mr. Anand was a true mentor for he made me love my work. When your boss becomes a mentor then your profession becomes your passion and when that happens, success is sure to follow (fingers crossed and touchwood, I've barely started).
He consistently emphasized the importance of sound lawyering. He always told me that a good lawyer must be a surgeon in office and an artist in court. I would often go up to him with my problems and despite his busy daily schedule, he would always make it a point to sit with me and help me out. It's like holding your child's bicycle from behind to make sure that he learns before he can out there on his own. So much was our bond that on my last day in his chambers, both of us had tears in our eyes. I want to make him proud one day.
Why did you choose independent practice over secured employment?
Everyone has a perception of the kind of environment they wish to see themselves work in, one which not only gives them job satisfaction but can also bring out the best in them. I always felt that working independently would give me that kind of satisfaction and feeling of fulfillment. There is no better feeling than having to see someone invest their faith and money in your individual ability to fight their case, however big or small that person may be. I must confess that it is difficult line to choose, but then nothing worth having comes easy. Having said that, I am still very young in this profession and stand to change my views depending on what life has in store for me in the near future.
What are your areas of interest? How did you go about developing expertise and knowledge in these areas?
I was fortunate to work on a host of Commercial and Arbitration matters during my time with Mr. Anand. His phenomenal command over the original side Civil laws (CPC, Limitation and Evidence etc.), Contract law and Arbitration led to me developing a keen interest in the said areas. I am currently working on some noteworthy arbitration matters and also providing advisory services to companies in contractual matters/disputes pertaining to employment, shareholding and joint ventures. I have done trials (predominantly civil) for over 4 years and it is one of the joys of our profession, I hope to get some trial work coming my way in the future.
Well, the concept of 'practice makes you perfect' does not apply strict sense to lawyers because apart from handling his cases a lawyer must also keep himself abreast with the latest developments in his strata of practice. Even small things like reading the newspaper help a lot. As for myself, I use my limited financial resources to invest in the some journals/reporters/magazines, which I read on a weekly/monthly basis. I also make it a point to attend the various conferences and seminars, which cover topics of my areas of practice. This gives me a chance not only to educate myself and but also get a practical insight from the experts in the industry.
You are the youngest Indian to be selected as a Scholar at the Inter-Pacific Bar Association (IPBA). Tell us about the experience.
I attended the IPBA Conference in New Delhi in 2012 and since then I always had a desire to take part in it. More than a 1000 lawyers from the Asia-Pacific region meet annually to discuss the major legal issues concerning their respective jurisdictions. There is tremendous scope to broaden ones horizons both in terms of knowledge and network. It was there that I learnt about the IPBA Scholarship for lawyers less than 35 years of age and since the registration fee was exorbitant, the only way I could attend the conference was through a scholarship.
I applied twice and my application was vehemently rejected stating that my qualifications fell short of scholarly standards. It was only in early 2016 that I got third time lucky and finally got the opportunity not only to attend the conference. While being conferred my certificate at the Gala evening, my name and picture was flashed on the big screen in the backdrop of the Indian flag. That was a red-letter moment for me, one which I will never forget.
Being a part of The BRICS Legal Forum, please share with us your journey from Shanghai, 2015 to New Delhi, 2016.
This opportunity initially came with a stroke of good fortune. I was a last minute addition to the delegation, since two PHD students from the Indian Law Institute had to cancel their plans last minute. It was a great honor to represent your country especially when delegation is led by a stalwart like Mr. K.K Venugopal.  I also successfully completed a three-week academic program on Chinese Arbitration Law whilst I was in Shanghai.
As a result of my contribution at the Shanghai conference, The Bar Association of India (BAI) asked me to be a part of the Organizing Committee for the Third BRICS Legal Forum, which was held in New Delhi under the stewardship of Mr. Venugopal and Mr. Rohatgi. I was a part of the team that drafted the New Delhi Declaration for the establishment of an Arbitration and Dispute Resolution Centre for BRICS Countries at New Delhi, which was signed in the august presence of the Chief Justice of India.
I was recently made a member of the newly formed Youth Wing of the BRICS Legal Forum and I must thank Mr. Prashant Kumar, President-Elect, BAI, for having faith in me and supporting me throughout my association with the BRICS.
Tell us about your publications. What is the importance of writing for a law student?
I have been authoring articles since 2012. Being predominantly a litigating lawyer, it's hard articulate yourself in a non-adversarial manner, so I resorted to writing articles on the topics that interest me. Apart from sharpening your ability to research and draft, they also give you some recognition and visibility which is very important in the competitive world we live in today.
Seeing the mushrooming of publishers/journals(both physical and online), I would strongly encourage all law students and young(er) lawyers to pen their ideas and research in the form of reader friendly articles for it will help them immensely in the long run. Having said that, I hope they help me in the long run.
What are your short-term and long-term goals? Where do you see yourself five years from now?
I'm at a very nascent stage of my professional life, so every day brings a new adventure and every conversation opens a new box of opportunities. The erratic flow of work and the uncertainty of remuneration keep me on the edge and motivated to do more.
My short-term goal is to increase the volume of work that I am doing and I am confident that in times to come, more and better work will come my way. Moving forward, I wish to establish a solid niche practice in field of commercial litigation, arbitration and corporate advisory. I am open to exploring the option of collaborating with like-minded people/offices (both domestic and overseas) preferably specializing in different branches of law so that the office can provide more comprehensive services to the clients. Since India is on the cusp of liberalization of the legal services sector, I believe this is time for consolidation, not fragmentation and we stand to gain more by working in teams than in isolation.
What would be your parting message to our readers?
It does not befit my position to preach anything at this stage of my life. However, from my limited experience at the bar, all I can say is that it very important for a lawyer to constantly grease his wheels of knowledge. It is also very important to be enterprising, whether you are working on your own or with a firm. Try to find a space for yourself in this vast profession where you can enjoy what you are doing without thinking about competing with 1.3 million lawyers in India. Burn the midnight oil when needed but also spend time with family and friends. Don't get too busy making a living that you forget to make a life.