Interviews
Nishant Choudhary shares his experience being the first Indian lawyer in Myanmar, being recognized as a top 40 EU Business leader and embracing change.
This interview has been published by Isam Kabir and The Super Lawyer Team. The Interview was taken by Priyanka Cholera.
---
Nishant Chaudhary is a partner at DFDL and is also the co-chair of Euro-Cham Myanmar Legal Advocacy Group. Furthermore, he is a board member of the India Myanmar Chamber of Commerce. Mr Chaudhury completed his Masters in Legislative Law from George Washington University (Business & Finance Law) after his Bachelor's from Symbiosis Law School, Pune.
1. You chose to be a lawyer when most people were inclined towards learning science or entrepreneurship. How did this journey happen?
I opted for law in 2001, when law as a career started to pick up. So, the law was not wholly an off-beat career. An uncle of mine gave me insights into the legal profession at a family gathering since he was a lawyer, and I thought it was not a bad idea. Initially, I was confused with respect to opting for law, however, gradually during my 5 years programme I started to appreciate the course and enjoy it.
2. Could you tell us a little about your time and experience studying at the prestigious George Washington University Law School? What encouraged you to do masters right in the middle of a full-fledged practice?
My experience in George Washington was good. Although I don't want to make a comparative analysis, I hope that schools in India adopt a more practical education system than a theoretical approach.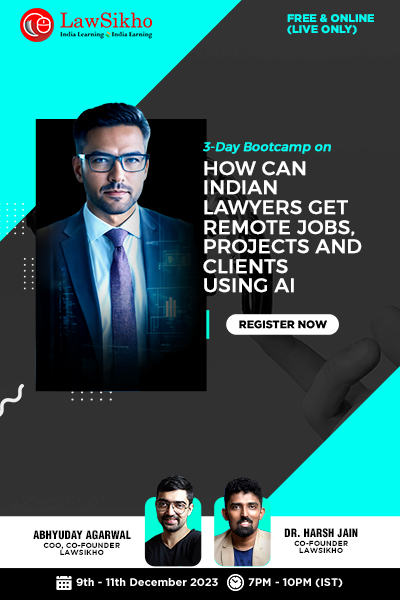 I would generally not recommend taking a masters course right after one's first degree because it clarifies the legal system and general interpretations. A certain sense develops after you have practised or worked in a law firm or corporate house. After my LLB, I focused on practising litigation civil, constitutional, criminal, and excise matters. While I was in Washington, I deviated from litigation and opted for business and finance laws. I realized that to further accelerate my career I had to diversify and which will likely be a career approach that will last longer.
3. Having studied at law schools in India and in the United States, what are some substantial differences in the pedagogical approach among schools in India and schools in the West?
I was a graduate of Symbiosis, Pune and the examinations were based on an academic standard. The practical intake was restricted to the fifth year. On the other hand, if you look at the American schools, they have a case-based education system and adopt a more practical way of teaching. Although, I believe now the New York curriculum in the law schools in India is moving towards that approach.
For example, In George Washington, there were mock trading sessions. During the anti-money laundering classes, we had a mock investigation session, basis on which we were asked to draft and an indictment. The course of teaching was very different and entertaining. Indian legal education system is very conventional, whereas the West has a more interactive way of teaching. But if education and entertainment go hand in hand, it tends to stay with you more comprehensively.
Moreover, the infrastructure is superior in American schools. The professors in reputed schools have several authoritative books to their names. My project finance teacher was a lawyer for OPIC, now known as Development Finance Corporation (DFC).
Another difference is the flexibility of choosing different and mix-matched subjects and the possibility of interlibrary access.
4. How was your experience before you moved into Banking and Finance Practice, i.e. as an Advocate at the Patna High Court and as a Counsel with Parekh & Co. (Advocates and Attorneys), where you worked on Competition law, Bankruptcy and Tax matters etc. Can you share a few experiences from that time? What is your take on specialization in the early years?
It is difficult to practice on the original side if you are unaware of the work at district levels. For young lawyers who will start practising litigation, it would be highly beneficial if they start practising in the District Court, or can even co-practice in both District court and High court at the same time.
Mr and Mrs Parekh, along with Mr Kumar and Mr Mohanty were very learned and great mentors. Unlike a regular law firm, Parekh & Co. had a very close-knit working culture. I assisted Mr and Mrs Parekh on the cement cartel matter and ADR, especially in infrastructure-related projects. In addition, I had the opportunity to walk into the chambers of prominent legal faces in India for case briefings, ranging from Mr Harish Salve and Mr Ashok Desai and other reputed lawyers. The experience was very enlightening.
5. How did the transition happen to be an In – house at a leading bank, and how did your time as a Senior Manager at ICICI Bank shape you into the Banking and Finance professional you are today?
I was a litigator while looking for a job in Banking and Finance. I had to undergo many difficulties in most of my interviews, although my prior experience was appreciated. I was deemed ineligible since I lacked transactional drafting experience. Furthermore, the recruiters provided that I would be a mismatch if given to work with junior associates. It is a misconception that earning a master's will get you a job. It serves as an academic degree, not a professional degree. Someone suggested that an in-house role will be more appropriate for me, and from there, I could transact back to law firms. I applied for ICICI Bank and was interviewed by Ms Nitu Agarwal, who hired me.
6. Towards the end of 2014, you made the shift to Myanmar. How did this new role come about in your professional journey?
In my professional journey, I kept looking for any opportunity in ASEAN, not particularly Myanmar, but suddenly Myanmar opened up in 2013 and was recognized as the future market. A new market fell from the sky, where everything had to be done from scratch. I wanted to work in ASEAN, which Myanmar was a part of. Therefore I decided to move. I had to undergo a fair share of struggle initially, but it is now as convenient as any other metropolitan city in India with its growth in the last seven years.
7.How was your experience of starting life afresh in a foreign country? Were there any challenges that you faced for being a qualified Indian lawyer in a foreign jurisdiction?
I was likely the first Indian lawyer to enter Myanmar after it opened up in 2013. It was a completely different culture. My workplace consisted of people from Myanmar, China, the USA, Australia, Italy, the Philippines, Vietnam, Japan, etc. One aspect of working abroad is that you need to be culturally sensitive, especially towards the locals. For instance, Myanmar is not a template western country and has a robust culture that they take pride in. The sensitivity facilitates a better work experience in a multi-cultural environment.
8. You are a member of the Executive Committee at Indo Myanmar Chamber of Commerce and Co-Chair of the EuroCham Myanmar Legal Advocacy Group. Do you take it as your responsibility to make Myanmar more inclusive for foreign legal professionals, mainly Indians and put it on the map as well?
I have been in the EuroCham Myanmar Legal Advocacy Group as co-chair for a long time. I work towards advocacy for the EU business in Myanmar, alongside regulators, to make the business efficient. Similarly, I am a part of the India Myanmar Chamber of Commerce. Naturally, being an Indian, there is undoubtedly similar scope there. So, the idea here was to facilitate good business and at the same time not just as a part of India Myanmar Chamber of Commerce or EuroCham, even in general conferences or networking events or in public interactions, I have always highlighted the potentials of Myanmar, and that is because Myanmar deserves it. It has tremendous potential with 53 million people, with abundant natural resources across the country, one of the larger oil and gas deposits in Asia, located between two large Asian economies and the connection of these two large Asian economies to us here. I do take it upon myself to showcase Myanmar for what it is.
9. Can you tell us a little about your role as a Partner with DFDL? What challenges or responsibilities do you shoulder?
DFDL is a great employer, but that also brings about the responsibility of working with DFDL. While working as a partner with DFDL is to gain business for the firm and for the execution part where I am supported by a team. There is a lot of management work where it is essential to harmonize how things are to be achieved. As at the same time, I am also the deputy managing director of the Myanmar Company, so I have a fair share of admin roles as well. Furthermore, I have a role in different chambers where I am not in any position per se but just a member. I am regularly a part of it as well. My role ranges from business development to working on the project, training of the team to the administration of a firm's entity and then general business community interactions and responsibilities.
10. Your extensive practice experience working in Myanmar and India and working on significant financial transactions include the first and one of the largest onshore syndicate financings of Myanmar foreign banks branches and the licensing of one of these branches. Apart from case preparation, how do you keep the morale high for you and your team?
I enjoy a blend of things, like business development, because of its challenging nature and how it develops the confidence to deliver. But, at the same time, I enjoy working on a matter with the team, and I am fortunate to have an excellent team.
When one works as part of a team and leading it, where issues are discussed openly, the working is efficient. That way, it's the team's decision as to what they are going to prefer. I believe in active participation so that my team is aware that I am also working with them. I don't believe in a hierarchical approach. I think that we are all in it together, yes there has to be a degree of mutual respect amongst people, but it should be more of a casual atmosphere and more of teamwork. I try to be a facilitator because I want to remove the hurdle that my team is facing on a given task to efficiently work forward.
11. You have received numerous accolades for your professional achievements, all of which are very well deserved and earned. Of particular note is Top 40 EU India Young Business Leader, 2019, by Europe India Centre for Business & Industry, which you received at the European Parliament, Brussels, Belgium. What do these milestones signify as a lawyer as well as an Indian?
These are primarily appreciation of one's journey in a way that incentivizes the person. But they are also recognitions. For example, on the business or negotiation side of the market, a client will prefer somebody who has a commercial approach and is recognized to be a facilitator of business in the relevant market. Especially the India Europe Business Leader happened because of my involvement in EuroCham Myanmar and assistance of Indian Companies. It was an invitation from the Europe India Centre for Business & Industry (EICBI) at the Europe India Business Leaders Conference 2019 held at the European Parliament in Brussels, where I was facilitated by Hon Caroline Nagtegaal, who then was the Member of European Parliament – Netherlands & Vice Chair- European Parliament delegation for relations with India.
12. When hiring young law graduates, what factors do you take to be non-negotiable?
There is no exact template or box for the procedure. Everybody has their journey. A harmonious working attitude is essential for being part of a team and being driven by the teamwork process. There has to be a balance where everybody should get their own space and at the same time be a part of the team. Therefore, attitude is primarily crucial because knowledge is endless. Consequently, I can't expect a person to know everything under the sun. However, if the person is unaware of the answer to a question, he needs to own up to the fact that he is not aware and is willing to work towards it. Finally, one needs to take ownership of the work. The client doesn't pay a lawyer to tell them what they can't do, but to guide them on how they can do it.
13. Do you have any advice for young lawyers, law students, etc., who are trying to make a career in Myanmar, Vietnam, Laos, and other jurisdictions in the South East Asia region which are booming grounds for legal talent?
Southeast Asian countries are the market of the future. It is essential to keep reading about these markets and see how the business trend is moving. These locations are highly remunerative. The career path is faster compared to a bigger market due to less competition. But there are also challenges like language barriers and cultural elements.
14. Finally, any parting words of advice for our ambitious readers?
It should be remembered that opportunity comes to everybody but not at the same time. Therefore, instead of being disheartened, one should work on their career goal and be focused.
GET IN TOUCH WITH NISHANT CHOUDHARY