Faisal Sherwani graduated from the Faculty of Law, Aligarh Muslim University, in 2009. Thereafter he received the prestigious Thomas Buergenthal scholarship and completed his LL.M. from George Washington University Law School, USA. Since then, he has served as Counsel in the chambers of Mr. Rakesh Dwivedi, Senior Advocate. He is currently working as a Senior Associate at Parekh & Co.
In this interview we speak to him about:
Graduating from a non-NLU
Studying in America
His experience at Parekh & Co.
What motivated you to pursue law?
Part of my early schooling was in Blackburn, England, where my father worked as a doctor. Thereafter, my family moved back to my hometown in Aligarh and I completed my schooling there. After my basic schooling, I developed an instant fascination  for Political Thought, History, and Economics. I was drawn towards writings which advocated freedom of speech, religion, thought and life of the individual. Before I knew it, I was drawn towards law. Though not my immediate family, but a large part of my extended family was in the legal profession. Many of such family members mentored me into going to law school and taking up law as a career.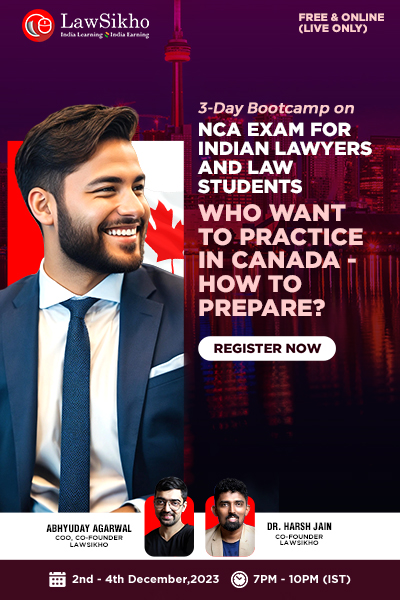 Tell us something about your life at Aligarh Muslim University.
I have fond memories of my university. It was an extremely lively place to study law in and it helped me and grow up into a young man. I remember it to be one of the most multicultural and diverse places. We had students from troubled parts of the country as well as those who were from abroad. Such students, often did not necessarily agree with your point of view, your beliefs or the policies of our Governments. It is here that I became an ardent advocate of freedom of speech and of the individual (this often landed me up in trouble with more popular and conventional groups). Probably the best thing that I learnt there apart from law, is that even as friends, we can disagree. During my time as a law student at AMU, I interned at the National Minorities Commission, at Fox Mandal & Little, Advocates & Solicitors, and at the Chambers of Mr. Rakesh Dwivedi, Senior Advocate.
Would studying in a National Law University have helped you in any way?
Not at all. In fact, if asked, I would do it all over again. My strongest inclination was always to practice law and the Faculty of Law, at Aligarh, provided the perfect platform. We had the opportunity of meeting judges from the Allahabad and Lucknow Benches of the High Court, law officers serving in the Government and young aspirants of the Judicial Services. The University, gave me an opportunity of addressing and speaking to large groups of students (who I remember would give you a hard time, for reasons of divergent views, different ideals or just out of plain boredom) this removed any stage fright which I might have ever had. I also participated in various moot court competitions and would often meet students from the National Law Schools at such events. They were bright and often better organised than us, but that apart I realised we were all the same lot of law students.
What was your motivation behind doing an LL.M.?
In the final years of my studies at the Faculty of Law at Aligarh, I realised that I was not done with my academic pursuits. By this time, I had developed an interest in foreign legal systems and a taste for Property and Corporate Law. I had the opportunity of meeting the Dean and Associate Dean from the George Washington University Law School, Washington DC, who were travelling to India at the time. I invited them to visit the Faculty of Law at Aligarh. They instantly showed an interest in me. I had applied to several other foreign Universities by this time but then, I applied to GWU too. I remember receiving an acceptance letter from my Dean with a personal note, which I cherish to this day and before I knew it, I was packing my bags for Washington, D.C.
How should one go about choosing a university for their masters?
I had applied to various other law schools throughout the USA and UK. The idea really should be to ask yourself what you want to study rather than pick a college which has a great name for itself, but does not necessarily match your requirements in terms of modules you would like to study or credits you would want to earn from them. It is common knowledge that some law schools are just better for some specific subjects while that might not be the case for subjects that one might want to concentrate on.
Tell us about your experience in George Washington University.
The experience at GWU was a once in a lifetime kind. The faculty was warm and just as interested in the diverse experiences of its foreign LL.M students as we were in what the law school and its faculty had to offer. The best thing about studying at GWU is the fact that it sits in the Nation's Capital and all important Government establishments are just around the bend. One can attend hearings at the Federal Circuit and speak to Ambassadors from different countries, lawyers and important functionaries who visited the law school for talks with the students. The faculty was great at what it did, courses were taught by professors who were noted academicians in their field, one by a sitting judge and another by the former Register of copyrights for the United States.
I lived just ten minutes walking off-campus at Massachusetts Avenue in a rented apartment. It provided for a healthy walk every morning, walking past the White House, IMF Building and World Bank.
Anything memorable that is stuck in your mind?
The most memorable moment has to be a few days before I was scheduled to leave DC and be back in India. I got a call from my Dean asking me jokingly, "When would you get the hell out of his country and go do some good in the courts in India?" I then met him, shook hands and promised to stay in touch. It was an emotional moment.
How was the academic schedule?
It was a rigorous course schedule and I remember we were required to complete 28 credits in order to graduate. Course sessions were interactive, loaded with food for thought and always challenging. Though there was a lot of course work, organisation and belief in yourself ensures that one sails through.
What did you study?
As stated earlier, by the time I had decided to go abroad for further studies, I had developed an interest in Property Law and Corporations. Though I had studied a lot of the conventional property law back home in India, including the statutory and codified aspects of the same, I wanted to study Intellectual Property. This interest had been garnered by earlier internships where I had had the opportunity to work on such subjects. I also studied Corporations and Legislation, which amounted to extra credits for me. Apart from these courses, which I officially studied, I would often attend course sessions such as Government Contracts, International Business Law etc.
How's the Indian fraternity over there?
My batch of LL.M students had quite a few Indians. They are the same old lively lot, we celebrated festivals like Diwali together and talked about the affairs back in the home country.
Are there any scholarships available specifically for Indian Students?
I had applied for and was awarded the Thomas Buergenthal Scholarship. This covered my tuition fees. There are various scholarships available for foreign LL.M aspirants at the law school, though not specifically for Indian students.
What would be your advice to law students who plan to go for higher studies?
Pin point your interests and ask yourself why you want to study a particular specialisation and then go about short listing your desired Law School.
How do you expect this experience to influence your career?
I have always believed that any experience is better than none. GWU was a rich experience and the interactive sessions which I was exposed to there have helped me till date to better analyse, understand and help real life clients which I entertain today as a lawyer.
 What does a regular workday at Parekh & Co. entail?
Parekh & Co. has been the perfect platform to practice hardcore law. We handle complex and high stake litigation for major business houses, consortia and even for Government Institutions. I had been working in the Supreme Court for about couple of years and I would often meet the Partners at the firm in Court. They have been generous enough to make a place for me here. A normal day starts with a drive to the Bengali Market Office, which is just ten minutes from the Supreme Court. We have a 9:30 AM meeting in order to ensure who is handling what and who is going to attend early morning court hearings. This is rather essential, I believe, as a litigation office can often prove to be a frantic place, with court room items swiftly passing by and often boards collapsing. Thereafter, depending upon schedules, I usually find myself entertaining clients during the early part of the afternoon. The late evenings are reserved for conferences with Senior Advocates and briefings for matters scheduled for the coming morning.
Do you accept interns at Parekh & Co?
We most certainly do accept interns. It wouldn't be the same without them! I am sure I speak for all the Associates at Parekh & Co. that working with interns is the most refreshing part of a hectic day and it takes us back to our early days. All applications can be sent to parekhco@parekhco.com. We are interested in interns who have an urge for learning and who can bring their own experiences to the firm.
Based on your interaction with the law students, what do you think they should do in order to excel in their internships?
The greatest favour that a young law student can do for oneself is to have an urge to learn from the experiences of others who are on the job. One should always feel free to ask questions. We appreciate it when interns concentrate their thoughts and take the initiative. After all, that is how we all started.
What would be your parting message for our readers?
Believe in yourself and your capabilities. Work hard and everything else will follow.