This interview has been published by Ayush Verma.
How would you like to introduce yourself to our readers?
I graduated from the Hidayatullah National Law University, Raipur in 2015 and have been practicing in Delhi since then. I have had stints at the trial courts in Delhi, with an Advocate on Record at the Supreme Court and with a Senior Advocate. I have been running an independent practice since 2019 and deal with a mix of civil, criminal and commercial work in Courts and tribunals in Delhi and elsewhere.
What pushed you towards building a career in the legal field?
A semester of studying civil engineering made me realize that I wasn't cut out for it. However, I did not know what to do if  I'd quit. I came across a CLAT brochure somewhere, and decided to take a shot at it. This was purely because I thought I was good at the subjects that were part of the syllabus, and stood a decent chance of scoring well in the paper. I did not tell my parents that I was going to take the examination. I ranked 400-odd and was allotted HNLU. This was the first time I had heard of the university. This was also the first time my parents heard of my interest in law. A few days of tumult followed and ultimately they let me have my way.
I have been associated with law for close to 11 years now – 5 as a student and 6 as a lawyer. On most days, I enjoy my work immensely and find it hard to think of an alternate career choice.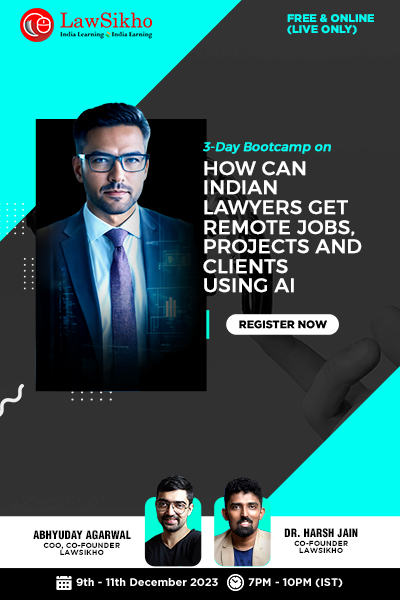 Are there any specific memories from law school that come to your mind which made you believe that you were cut out for this line of work? 
I lacked the self-awareness to recognize such a moment while in college itself. But in retrospect, this moment came during a trial court internship at the end of my first year. We had represented an old couple during a win in a property dispute. I felt thrilled to be a part of "justice being done." (ref: Tom Hanks, Philadelphia). When I think back to when the decision to litigate first started taking roots in my mind, I think of May, 2011 and that internship.
I am now old enough to know that it's almost impossible to recognize when you have become a part of "justice being done" but back then, winning in what seemed like a good cause was a big deal. Now it is mostly about winning in an ethical way. A good cause is a bonus.
Is there anything that you would do differently at law school if given a chance? 
I learnt far too many things, to be able to compress all of that into an answer. So I'll leave you with my one regret – I wish I had focused more on grades and spent a little more time on academics while in law school.
Grades are not a measure of your intelligence because it is hard to quantify intelligence. However, grades do reflect your consistency and ability to put in the long hours. My grades, or lack thereof, have so far not gotten in the way of what I have wanted to do in life. That said, I could have saved myself some of the effort I have had to put in post-college, if I had done the same earlier.
What inspired you to choose litigation over a more comfortable corporate job?
This was as much a matter of elimination, as it was of selection.  I was always certain that a job as a transactional (corporate) lawyer wasn't for me. My family and friends believed that I was cut out for the civil services. I had flirted with the idea during the first few years of college, but I decided around the fourth year that I did not have the patience to spend another couple of years living off my father's money, while I prepared for the examination. I was also not sure if I could put in the long hours that UPSC preparation requires. Having now seen my younger brother successfully go through the UPSC process twice, I am certain that I wouldn't have qualified if I had taken the examination.
Someone had told me (before I joined college) that if you like "reading, writing and speaking" you'd enjoy litigation. This idea stayed with me. Almost every internship I undertook in college was at a litigation chamber. I was attracted by the variety of the work, the freedom it seemed to offer and the fact that you spent most of your working day running around from court to court (as opposed to sitting at a desk). I also realize now that the hobbies I have pursued over the years – sport, quizzing, mooting and debating all involve an element of competition. I guess it's the thrill of preparing and competing everyday which attracted me to litigation. And is one of the things that keeps me going every day.
What are some of the key learnings that you acquired during the initial years of practice?
Humility. I was tasked with marking appearance in a matter on my first day at work. I did not know how to. And I was too proud to ask. After a day of being pushed around in a crowded court-room, I called up another lawyer, a friend's sister and she told me how to go about it. It was clear to me then that the reputation I had in college would not have much relevance now. As was the fact that I had to give up my pride, and admit that I do not know everything. I have often found that this is something lawyers find hard to do.
I also figured out before long that as a young lawyer, your office clerk is your best friend. A lot of what I learnt about the drafting and listing process has been through clerks. Another key takeaway is that the profession is full of kind and helpful people who are always ready to help. One has to find the courage to ask.
What, in your opinion, are some of the skill-sets that one could acquire to make themselves indispensable in their senior's office?
No one is indispensable. But get the basics right, and one can get somewhere close. The basics are the same for any profession – be humble, curious and thorough. Also, take pride in your work and work very, very hard. I think it is very important to realize that the work that you do has consequences – it may be one of your or your senior's many cases, but for clients, it is often a matter of their lives, and they have entrusted it to you. Every piece of work that you do has to be given that respect. 
Once this is taken care of, one needs to recognize that there is a lot more to the practice of law than the knowledge of law itself. One of my first bosses told me that a lawyer's primary job is to "add value". This is true at all stages –during internships, as a junior associate and also as an independent lawyer. How to best add value as a junior is something you will have to figure out. Often the value that you add will have nothing to do with your knowledge of the law. For example, when I was working with Mr. Sanjay Hegde, he would often have multiple matters spread across different courtrooms. The ability to predict which matter is likely to be taken up first, where a Passover is likely to be declined etc. is invaluable. There are times when the Senior will have early matters (say an Item 1), in two courts. A junior who can figure out which court is likely to sit a couple of minutes late, or which court has a mentioning which will take time etc. which makes life much easier for a senior and allows him to focus on his brief. Bear in mind that the financial consequences of a senior making it to or missing a matter are big – often both for the senior and the client.
These are things you figure out as you go along. But make sure that the basics I referred to above are taken care of at all times.
What prompted you to join Mr. Sanjay Hegde's legal chambers?
I was working with an Advocate on Record who was assisting Mr. Hegde during the time he was amicus in the 'Nirbhaya case'. I ended up interacting with him extensively during the process. The Judgment came out in May, 2017 – a few weeks before the summer vacation. I think it was on closing day that he asked me if I wanted to join him from the July session. I had a good working relationship with him. I had also noticed  Mr. Hegde having a fairly general practice – he appears in both civil and criminal cases at the Supreme Court, the Delhi High Court and tribunals. Besides this, I would be his only junior – meaning that I would be exposed to the entire gamut of work he was doing. The fact that sir had come across as (and later proven to be) a very fair man was another thing that also stayed with me.
What is the importance of a mentor in guiding the life and career of a first-generation lawyer in Delhi?
Life as a first-generation lawyer, especially as an outsider in Delhi is tough. The entry barriers to the profession often seem insurmountable, and the money that you make at the beginning is a pittance. Working as a chamber junior invariably entails scheduling your life around one individual, their plans and idiosyncrasies. It helps immensely if the said individual is cognizant of the difficulties you are facing. Given all of this, I think your choice of first boss(es) is the most important choice you make. To be honest, it requires a great amount of privilege to be able to have a choice in the first place. I was fortunate to have had four extremely fair bosses – Mr. Dhritiman Bhattacharyya and Mr. Piyush Sharma at Unity Legal, Mr. Anil Mishra (AoR at the Supreme Court) and Mr. Hegde. All of them worked on the principle that a junior lawyer is a co-worker, and not an employee. They let me be flexible with my work – I have never had to ask for leave. I would simply inform them if I was going off somewhere.
All three of them gave me freedom to handle work in the manner I saw fit, gave me credit when my ideas succeeded and took the blame when they did not. They also let me pick up my own practice. I remember Mr. Mishra once jokingly told me that the 'doctrine of parens patriae' applied to a junior-senior relationship. All of my bosses have lived up to it, and I hope to live up to the same going forward.
I have also received an immense amount of help from a senior AoR – Mr. MP Vinod. He has helped with filings (his clerk, "Jaggi Uncle", is a superstar), with space in his chamber and treated me as part of the family. My experience in the profession would have been very different but for these people.
You have worked with Mr. Hegde in 2017 and 2018, a period when he argued several high-profile matters such as of the Rafael PIL, CBI Director Tussle, PILs on lynching incidents etc. How was your experience working on such cases?
It was very good. But honestly, more than the cases everyone else remembers, some of the most satisfying ones have been of those where no great legal question was settled, or where nothing of any consequence to the country at large was at stake. These include a number of matters arising out of the Foreigners Tribunal in Assam, death penalty cases etc.
What are the factors that led to you going independent and establishing your own practice?
I'd keep asking some of my seniors as to how and when to decide to go independent. Almost all of them would tell me, "You'd know when the time is right." This answer always irked me. In retrospect, I know that this is true.
It was in early 2019 that I considered taking off on my own. The thought first came to me when I realized that regardless of how hard I worked, I could not cope with my own private practice, and work that I was supposed to do as a chamber junior. However, the security of a monthly salary was not easy to give up.
It was sometime in March, 2019 while on a journey for a matter at the Chandigarh High Court, Mr. Hegde, first nudged me to move on. I think his exact words were: "You are comfortable working with me. And I am comfortable working with you. And that is not good for either of us."
This was just that little push I needed. In retrospect, of all the things sir has done while I was his junior and thereafter – that little nudge remains the most important. It came at just the right time.  Besides he has kept an eye out for me till today.
My advice to anyone who wants to consider going independent is to make sure that they evaluate their financial situation and the work they have in hand. I had no obligations, a small clientele of my own, six months of savings and two months of billable work lined up when I took the plunge. Fortunately, a lot more work followed.
How many times have you given serious consideration to quitting litigation? What made you persist?
Often! But then "Kaun jaye Zauq par Dilli ki galiyan chhod kar". In all honesty, litigation is tough and there are days when your work seems inconsequential.  But these are also interspersed with truly great days.  Closely contested matters, hard fought wins or something as simple as a judge agreeing with an argument you had formulated. There are also days when you know you have truly helped someone –mostly pro-bono cases, where you end up with an immense amount of satisfaction.
Litigation also gives you the opportunity to do different things on the same day. There are days where I have attended court for a criminal matter in the morning, drafted a Civil Writ Petition in the afternoon, and prepared for an IBC matter in the evening. This variety has helped reduce the burnout that a 7- day work week invariably causes.
All said, I've enjoyed the profession. If things go right, you make a fair bit of money and you often get to help out people who genuinely need help. What more can one really ask for!
What are the key differences you experienced in the profession after going independent?
Like I said earlier, the practice of law entails a lot more than just the knowledge of law. As a junior, the knowledge of law often gets you by. There are other people to take care of the non-legal stuff. Clerks send out bills and letters, arrange files and deliver them to a Senior Advocate's office when required. Clients themselves are mostly handled by the senior in office.
All of this changes once you start your own practice – where you often end up as the boss, clerk, junior and intern all at the same time.  I often spend a large part of my day making phone calls – following up with clients, clerks and other lawyers. This could be regarding a bill that has not been cleared, a filing where defects have not been removed or simply whether a particular set of briefs have reached a senior advocate's office on time.
While all of this is happening on the side, I also have to ensure that every document – a petition or a letter or an email that goes out under my signature has been done to the best of my ability. You have to be well prepared for court as well. All this seems like a lot when I say it here, but truth be told, you don't dwell on any of this too much, when actually doing it.
In what ways has the ongoing pandemic affected your practice?
I can't complain too much to be honest. After the initial shock of April, 2020; work started coming in as courts across the country started adapting to the virtual system. Speaking from my position of privilege (of having high speed internet, multiple devices and an office-space), I found the VC system to be extremely convenient and efficient. But I recognize that this does not hold true for the majority of the profession.
Lastly, where do you see yourself in a decade?
I have a good mix of a pro-bono and commercial practice. I'd like more of that in the next few years. The idea is that if somebody has a legal problem in an area of law that I practice in, I'd like to be one of the first five names that the person concerned thinks of.
On the personal front, I am getting married later this month. Every male lawyer I know has had a sexist joke to make on this. But it is something I look forward to. My fiancé is an incredibly talented and hardworking lawyer. Her proficiency with commercial laws has been extremely beneficial to my own practice. I hope I can be of as much support to her work, as she has been to mine.