Sagnik Ghose is currently an in-house counsel for FactSet India. He graduated from NUJS in 2006. While in college, he has worked with Paras Kuhad Associates, Kolkata and interned at Reliance. After law school, Sagnik was an Assistant Manager at Dr. Reddy's. Subsequently he has worked at the Chugh Firm, an international tax accounting firm, and IBM.
In this interview he talks about:
Law school experience at NUJS
The first year after graduation
Working at various Law Firms and Companies
How was your life before college? Kindly tell us about you pre-university educational background. Plus, do you have lawyers in your family?
I haven't had any lawyers in my family. My dad is a doctor and all my uncles are engineers. Plus, I have grown up in Calcutta, a city rich in art, music and cultural heritage. My mother is a trained classical musician. I, however, never had any exposure to law and the legal profession during my years growing up, and even after joining college, other than whatever exposure I got in college itself. Hence, there was almost no exposure to law during my precollege life.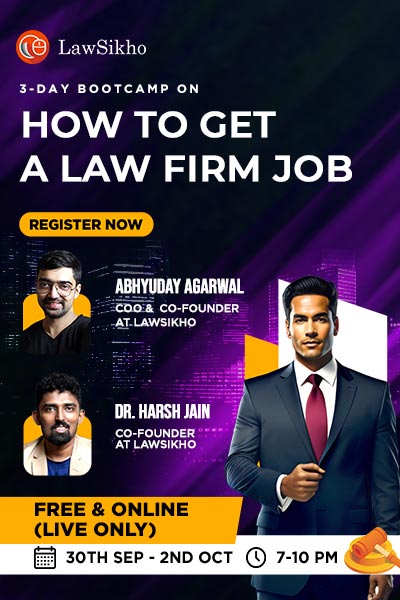 Did you not aspire to become an engineer, doctor or artist, given your family background? How did you get to know about law as a profession and what motivated you to take up the same as a career?
Well, I was never really pressurised by my parents to do something that I didn't have an inclination towards. However, I had very little exposure to and knowledge about the scope and array of things which a lawyer can do, except litigation. As and when I was exploring my career options during the final years of school, NUJS had come up as a new college, not even a year old. The motivation to get through to NUJS and join the legal profession was the fact that the university had been set up by Dr. Madhava Menon, who at that point of time (and even now), was a figure to reckon with. I had a discussion with my father about law as a career option, and he supported me completely. After having made up my mind, I gave the entrance exam a serious shot and became the first person in my family to enter the legal profession.
According to you, what should a person, who hasn't had the fortune of studying in a top law school, do so as to develop skills required in the legal profession? Do you think that they are at the same standing with NLU students?
Well, my personal opinion is that a person graduating from a top NLU has that extra edge when it comes to campus placements only. On a close look at the industry, we can see that most of the top rated general counsels, partners or senior partners in law firms or senior law officials are from non-blue-blooded law schools, and have made their way to the top through the more difficult old school way, that is, working hard. It is after litigating for years or advising clients in Companies that they have figured out what the clients need. I think that which law school you graduate from makes little difference. Just like my other passion, cooking, it doesn't matter which culinary school you pass out from. If after passing out, you put in your best, nothing can stop you from becoming a great chef. Even if you fail to get into an NLU, there is no reason to give up hope on the legal profession. If, after entering the professional field, you work hard and apply yourself correctly, you are guaranteed to be a successful counsel. The flip side is that, if you do graduate from an NLU and get placed in a law firm or a Company, you get to learn a lot more during the initial stint of your career. So, yes, there are both pros and cons, but I would say that studying in a top NLU is just a part of it, but certainly not the entire picture.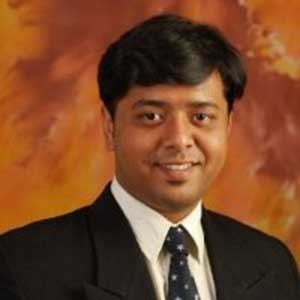 How was law school? How did you go about your academics as well as extra-curricular activities? Were you into mooting?
For me, the law school experience has been very positive. Having studied at NUJS, I got involved in many activities apart from the mandatory academics. I was a part of the student juridical association for a very long time. I did a bit of intra college moots, but I was not too much into mooting. I had realised that a career in litigation was not for me, and therefore, did not place too much of an emphasis on mooting.
During my final year of law school, all throughout, I used to study in the first half of the day, and during afternoon I used to work in Paras Kuhad and Associates.I used to help them with small issues and research work and worked on various legal questions with a senior, Kushagra. Apart from other internships, this actually helped me mould my understanding of what actually a client is looking for, why a business lawyer is so much in demand, and what is expected from a business lawyer when he joins a Company in house.
Apart from this, I also worked with Arjya Bir Majumdar, one of my closest friends from school, to help the WWF in whatever way we could. We actually took time off on a Sunday morning, went down to a market in Chingrihata, found turtles being sold (sale of turtle meat is banned), bought one of the live ones with our pocket money (what with us being students and money being short!), and then went to the Alipore Zoo to release it into the water!All of the above, in addition to the obligatory line of heartbreaks and new girlfriends, soulful music and endless food, hanging out at the movie halls and getting hammered at the local bars. It was an eventful five years!
Despite them thinking otherwise, students actually have a lot of time, and they should take some time off to go get some valuable guidance under a senior lawyer to figure out what excites him or her the most.
Kindly tell us about you internship at Reliance. Was it then that you decided to become an in-house counsel?
Well, the Reliance internship was definitely the turning point for me. Before that, I had only worked with law firms and NGOs, but the Reliance internship actually changed everything for me. One, I had never spent so much time, almost three months, outside my city, working, that too in a city like Mumbai, which has such a brilliant work environment and where you get to work with the best of legal and business professionals. So the Reliance internship was an eye-opener on a lot of fronts, since I got to work with many good, solid lawyers, some of whom continue to be my friends even after so long. I got a learn a lot about laws around privacy, intellectual properties, copyrights, business laws, both procurement and sales, trademarks, media, technology, basically every law a lawyer can think of under the TMT business. There were a lot of intricacies that were involved in the Reliance internship. Getting a taste of the work, I decided to extend my internship. An internship is normally for 6-8 weeks, but I did it for almost 12 weeks, because of which I missed college a bit, but it was worth it. I also got a very good stipend at the end of my internship. Plus, I got due recognition for the work I did and also built a good rapport with my seniors. I also gave a couple of compliance presentations. Hence, summing up, I got really healthy work, and it helped me realise that working in a Company is something I can actually do, and contribute positively to the growth of a Company.
Would you say that NUJS prepared you for the real professional world? Were the things that were taught at NUJS relevant to your internships and first year at work?
Well, the answer to that is yes and no. I feel that some of the courses at that time should have been better tuned in the final year when students are looking to enter the work field. I am saying this because when I started working, I realised that almost three quarters of my time is being spent in working on contracts, which is a subject which was taught in the very first year of law school.
So I really think that our college should have offered an advanced course on contracts, apart from the courses which were taught to us is our final years, to give students an exposure to various aspects of contract law that they would be dealing with while working. There are complex concepts like change control, confidentiality, data privacy and control, termination, warranties, indemnities, limitation of liabilities and there are various aspects to each of these concepts which one has to deal with while strategizing, understanding and negotiating contracts. I really think that every law school should offer, atleast as optional courses, tools which can equip you to deal with situations where you have to negotiate with more experienced professionals.
For example, the person on the other side of the table would either be an in-house counsel or an external counsel. So, for an in-house counsel, it becomes very important to be more reasonable and break the ice during negotiations, whereas, for external counsels, you have to test waters and understand his level of aggression (because he has to justify his bills, I have more often faced very aggressive external counsels) and knowledge of his client before you start negotiations. Areas like these, which you learn during your professional experience, should atleast be offered as an optional course.
After graduating from NUJS in 2006, you got to join Dr. Reddy's Laboratories as an Assistant Manager. How did this happen, and what were your responsibilities?
After passing out in 2006, Iwas appointed as a management trainee, and I spent about a year in probation before getting appointed as an Assistant Manager. In the first year, I was doing general corporate legal work, and then I moved on to more focused branded formulations work. My primary responsibility was to look at all the branded formulation contracts for all the thirty six countries. That is what I used to do for about a year, before I decided to move on.
Many law students suspect that they would need to know a bit about pharmacy and chemistry if they want to join as an in-house counsel at a place like Dr. Reddy's Laboratories. Is it true?
Well, again yes and no. If you are looking to join as a fresher then they'll not expect you to know much about the pharmaceutical industry, which you'll have to learn on the job. But, if you are looking to join as an experienced professional, then ofcourse they expect you to know things like what licensing terms and conditions typically are, how much time does it take for a molecule to develop and so on. So yes, if you are joining as a fresher, you are not expected to know these nuances but if you join as a professional, you have to have a strong grip on the basics.
How was your experience working there?
It was excellent! I had a very good mentor in Mr. Narasimha Das, who was their General Counsel. He taught me the basics, like creating a checklist to be looked at while creating, or marking up agreements, managing time, speaking to clients and managing expectations. He exposed me to the maximum number of agreements, co-development, licensing, confidentiality, distribution, marketing, services, IT services, basically, the works. He literally held me by the hand and taught me how to strategize mark-ups and negotiations, learning body language and identifying signs of closure. I owe a great deal to him!
After your work at Dr. Reddy's Laboratories, you moved on to join an international tax accounting firm, the Chugh Firm. How did the shift take place, and how different was it from working at a pharmaceutical firm?
The Chugh Firm is an international tax accounting firm. However, I joined their Indian partners, Universal Legal. I was a part of the core corporate legal team where I was helping in incorporation of Companies, post incorporation compliances, assisting in agreement processes and so on. It was very different, since I moved from an in-house counsel to a service oriented role. It was very different in terms of work culture.
Specifically, in a mid-sized ambitious set up like Universal Legal, if you don't provide answers to clients as of yesterday, your clients just move on the some other firm, which we could not have allowed to happen! Most of our clients used to be start-ups, who are typically hungry and desperate to succeed. They expected super high turnaround time and high quality of work. The thing with start-ups is, if you start off on a good note with them, and if it clicks, then they will be your clients for life. So I did that for about 3 years, where I learned to advise clients on a variety of legal aspects.
After that, you joined IBM. What does an attorney do at an MNC like IBM? What were your responsibilities?
In big Companies like IBM, the superstructure is usually broken down into wings dedicated for specific purposes. I was appointed at IBM as a deal lawyer for Global Business Services, which is their consultancy business. Basically, I used to negotiate on behalf of IBM from the legal perspective and help close deals for IBM. I used to work closely with sales, taxation, business, solutions and software teams for helping to take calls on questions of liability, protection, tax implications and so on. My time in IBM was very enjoyable, and this is the place which taught me how big Companies manage work efficiently in spite of their bulk and reach. A shout out here to Ajay Dua, who heads the legal function in IBM India for helping me out on multiple occasions with easy, workable solutions to complex problems. He has been an excellent mentor!
At all the three places you worked, was the work similar or did you have to learn new skills every time you joined a new place?
Well, some basic things like principles of contracts, litigation processes, HR policies etc., have to be the same, because the underlying laws are the same. The important change is whom you are working for. For example, working with Dr. Reddy's Laboratories, you have to think from a global MNC perspective, and the effect on the position of an MNC dealing with pharmaceuticals. When you are dealing with something like pharmaceuticals, the liability is much greater, since human life is involved. One has to exercise extreme amounts of caution when you take on certain liabilities. But when you work with an IT giant like IBM, the life threatening aspect goes off the table.
However, that doesn't mean that there is any less liability. In a Company like IBM, you are dealing with large nationalised banks, which perform transactions worth millions of dollars in a single cycle. Accuracy and speed are tantamount to such transactions, and therefore, the liability is no less here.The heads of risk might differ but the risk of doing business is always present. One needs to figure out which risk is acceptable and which risk is absolutely non-acceptable in that particular industry. So there is this learning curve which you go through when you enter any work culture or a firm or a Company, and that is the learning curve you need to adapt to, and once that is done, things easily fall into place. So all the places where I have worked have been extremely different but equally rewarding and enriching as far as my understanding of different workplaces go.
What are the highlights of your career till joining FactSet? How did you decide to leave IBM and join FactSet?
FactSet has been around for a good 36 years now, and is a global leader in the field of financial information analytics, intelligence and solutions. I decided to leave IBM primarily because at IBM I was doing very high level of work, but I was doing only one kind of work, that is contracts and negotiations. I had no reason to complain, this is how any big Company functions, since efficiency is of paramount importance. After having worked with IBM for three years, the next logical step I could take was to expand my field of work in order to move up. I was looking for an opportunity where I could deal with not just contracts but also corporate matters, administrative matters, general government regulatory mechanisms, compliance matters and the entire gamut of general in house counsel queries, including sales. As a counsel for FactSet, that is just what I do, and it is brilliant working here!
At FactSet, I have a dual role. One, I provide advice to my internal clients with regard to a number of matters, like contracts, real estate, labour, compliance, government regulations, negotiations and so on. This is at a local level. At the global level,I work a lot with the global team with regard to contract negotiations and deal making. If anybody is looking to move in an MNC which gives dual responsibility, they can expect a kind of work in which they'll have to work at both local and global levels.
Does your current role at FactSet involve any amount of data crunching?
No, that is done by the operations team, just like at Dr. Reddy's, a lawyer is not expected to develop molecules! I am the legal counsel for FactSet. As a legal counsel, you need to understand how the different wings of the Company work in tandem, what risks your Company can or cannot take, how flexible you can be for contract negotiations, which factors should influence your judgment of risks and so on.
Do you have any vacancies for legal interns at FactSet?
We do not have a permanent internship facility at FactSet. Normally, legal interns are taken for two reasons.
One, they learn about FactSet and what sort of issues/ concerns come up in a global Company. That is the short term internship, which is for a month or so, which most Companies are open to.
Secondly, there are long term internships to hunt for a good prospective employee. Currently, we aren't really pursuing the second kind of aspect since all the positions are full but if somebody wants a shot term internship, then probably we can give it a thought.
What do you think of higher studies as a career strategy? Do you plan to go for higher studies?
I don't, but then a couple of years ago I was thinking of an MBA, purely because I was interested in management, setting up a legal team and helping a Company to grow. So I would say that it's a good idea to work for some years at different places, maybe a combination of Companies and law firms, and figure out what you are actually interested in. At that point of time, one can figure out what kind of higher studies you want to go in for, be it LL.M, MBA or anything. So it entirely depends upon a person. I have a very neutral stance with regard to higher studies, since I have seen many students studying advanced courses but still not making a mark in the market and some who havea simple law degree doing a wonderful job. So it completely depends on the person.
The question that whether one should specialise in a particular area of law or be more of a general lawyer often comes up before law students. What is your opinion on the same?
My opinion is to never specialise early on in your career, especially when you are in law school. That is because when you specialise, you start leaving out on some other spheres of law. Always explore the field. One should know about all the options that are available. There are so many avenues which a lawyer can go into these days, and the scope of work which a law student can do now is phenomenal. Never specialise in your last year of law school or your first year in a job. Just keep on generalising and growing on general strengths. Once you have done that, in around 8-10 years, you can know in what area you really want to go forward, if at all, and then you can specialise.
What is your advice to law students who want to build a great legal work profile?
A couple of them. One, you need to be a generalist at the start of your career. This comes with a disclaimer, that if you have a lawyer in your family and you at an early stage know what you want to do, it is a different ballgame. But when you don't have that advantage, you should be a generalist at the start, and you should then build your profile with regard to being a general lawyer who is good at researching and understands the law of the land. It's not just the work profile as far as going to office and advising your clients is concerned. You should be the scholar who a person on the road can have the confidence of approaching with a legal query and expect a well-structured, solid answer.
Second, understand what your client wants. Always listen carefully to what your clients are saying, understand their needs and then respond. You don't need to respond right away, but don't give them a wrong response.
Be very careful, since people automatically assume that being a law graduate, you are an expert in all laws. Hence, you need to be extremely careful with the advice you are dispensing. If you have read Kafka, you would be able to draw parallels between law and a big black house in a dream. You turn a corner, and all the roads look the same. It is scary for an outsider. Lawyers are supposed to be the friends, figure out the dream and help their clients. Law is as dangerous a field as medicine. So the amount of trust you place in your doctor, if the same amount of trust your client can place in you, then you are going to make it big, and there is no stopping you.