Susieben Shah pursued her majors in Economics from Sophia College and obtained her degree in Law from GLC, Mumbai, which she followed up with work as an advocate in the Mumbai High Court. She veered towards social work and activism subsequently, focusing on women's rights and enabling access to justice for women. She has authored books on the subject and has provided opportunities for gainful and ethical employment of women across service sectors.
In this interview we speak to her about:
Her inspiration to pursue law and her time in the Bombay High Court
Her views on the current state of women in the country and the changes that need to be brought
How she manages her various roles as activist, author and social entrepreneur
How would you like to introduce yourself to our readers who are young lawyers and law students?
I would like to be known as a woman committed to women's empowerment, with special  focus on economic empowerment of women, a social and political activist, not a hardcore feminist but certainly a woman who celebrates womanhood.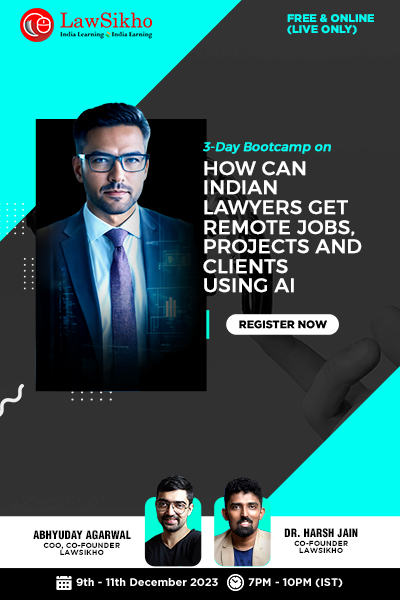 What made you pursue Law from GLC, Mumbai, after your Economics major? How was your experience practicing at Bombay High Court?
From the very beginning, my father, Shri B.A. Desai, a Senior Advocate and until recently the Additional Solicitor General of India, was a source of inspiration who continues to be my mentor and guide. As a college going young woman I have seen him passionately arguing in the High Court and Supreme Court. Since then, my mind was made to be a lawyer. He was the reason that I decided to join the legal profession.  I did my B.A with major in Economics from Sophia College, an all women's institution, but we had a great time, created a strong bond and are still friends with most of my colleges colleagues.
Life in, Sophia college was, in short, was serious studies coupled with fun and frolic. I did my law  from Govt. Law College, Mumbai. In the Government Law College the curriculum was interesting and interactive. I enjoyed participating in moot courts and from my last year I started my Articleship. It was always my desire to pursue Counsel Practice.
During early days of my counsel practice, I was also assigned to be a Commissioner to record evidence, of a witness who could not attend High Court. As I mentioned earlier my father is a Senior Advocate of the Supreme Court and a Counsel of repute, his pleadings across the Bar inspired me and hence I made a foray into legal practice.
What do you think about the current situation on awareness of law, for the common man? How do you think the situation can be improved?
I believe information is the gateway to knowledge. Unfortunately despite various women friendly legislations enacted by the Government of UPA 1 and UPA 2 the women of India across social and economic backgrounds are not aware of their rights accorded to them in the constitution. With that in mind, I penned the book Legal Awareness amongst Women and published it in four languages. I have once again started writing a book on the latest amendments thereon, focusing on the Criminal Amendment Act and Prevention of Sexual Harassment at the Workplace, which has just been enacted by UPA Government, to protect the safety and dignity of women. It is going to be my sincere effort that these books are available at every bus-stop, railway station and all public places for women to read and make themselves aware of their rights, because it is only when you know your rights, can you enforce them.
Can you tell our reader about the other initiatives you've undertaken?
(Susieben has actively participated in and organized a number of political and social-community events, such as Priyadarshini Taxi Services, Rakhis for Jawans and Marathons for causes.)
Priyadarshini Taxi Service was conceptualized and implemented a novel and unique concept by me with a view to economically empower women. It has been very satisfying and exciting journey so far which has been appreciated by one and all.  Rakhis for Jawans was our gratitude towards the war heroes of Kargil on the occasion of the 10th Anniversary of Kargil War. It was our effort to express gratitude towards our brothers in the army.
The 10km Environment Run was organized to celebrate the 25 years of Priyadarshini Park & Sports Complex, a 22-acre sports complex and community center, of which I am the General Secretary. To know more about the Priyadarshini Park & Sports Complex, kindly visit www.priyadarshinipark.org
How supportive have your family and friends been towards all this?
I have always been committed to the economic and social empowerment women and the aam aadmi. I was greatly inspired by the leadership of Smt. Indira Gandhiji, the Iron Lady of the millennium. I must mention that in all my social and  political  endeavors, my family, and specially my husband Mr. Vidyut Shah, who himself is a first generation successful industrialist,  has supported  and guided me in in ever way possible.  He has been my strength and guiding force. I would also like to stress here that for a woman to succeed it would be necessary for the family to support and the men in their lives to support them. It is not that women cannot do it alone – but certainly she can do better with the support of her family and near and dear ones.
What has been the biggest challenge that you have faced, and how did you overcome that?
The biggest challenge that I faced was the implementation of Priyadarshini Taxi Service from the Domestic Airport. I had to wage a war with the unions and other vested interests to start our operation under the pre-paid category despite a government notification in our favour. I had to move the Mumbai High Court to have it implemented. The only way to succeed in this man's world is to believe in yourself, your endeavors and believe that the mission that you sought out to accomplish has to succeed against all odds. In short women entrepreneur has to have a 'never say die' attitude.
For more information on all my endeavours kindly visit www.susiebenshah.in and www.priyadarshinitaxi.com.
Where do you see yourself in the next five years, and what are the changes you expect to bring about in society till then?
In the coming five years, I certainly see myself entrenching  in  the political process, of nation building under the leadership of Shri Rahul Gandhi and Shri Milind Deora, M.P. from South Mumbai. I am a firm believer that for us to bring about the change the political system, to weed out the evils of corruption, red-tapism, we have to plunge ourselves in the political process, else you would remain in the periphery and your ideas and aspirations would not go past the drawing board. As Mahatma Gandhi always said, you must be the change that you want to see in the world".
We wish you all the very best in your endeavors. What is your message for the youth of the country?
Let us all together, take concrete steps, in whichever field we are involved, in your own humble manner,  for the upliftment and development of India. Let us also vow and pledge for the safety, security and dignity for the women of India.