Vipin Puran Singh graduated from National Law Institute University in 2010. He has recently joined Tata Teleservices Ltd. as Circle Legal Head (MP-CG region). This in itself is a huge achievement at his age, given that his counterparts are having at least 16 to 17 years more experience than him. Prior to Tata, he has worked with different organizations including Mahindra & Mahindra and Viom Network Ltd.(Tata Group). Apart from this, he has also been associated with many educational institutes.
In this interview, he talks about:
Importance of academics and internships
His journey from Legal Consultant to Circle Legal Head at Tata Teleservices Ltd.
Recruitment process at Tata Teleservices Ltd. for Circle Legal Head
Given that most of our readers belong to legal fraternity, how would you introduce yourself to them?
Dear Readers and the Super Lawyer team thank you so much for providing me with this opportunity to share my thoughts & experience. My journey as a Lawyer started from 2010 when I graduated from National Law Institute University –Bhopal. Presently I hold position of Circle Legal Head at Tata Teleservices Ltd (Docomo). My previous work associations were with Mahindra & Mahindra, Viom Networks Ltd (Tata Group) & office of Asst. Solicitor General of India.
Apart from being professional works, I take time out for community/ social work with Utho-Jago (NGO). My leisure time is dedicated to my family and friends who I consider my life's strongest pillars. It had been a great journey so far and I feel there is a lot to come to make it far more interesting, meaningful and worth as individual & professional.
How did you gravitate towards law? Why law and not engineering or medical studies?
I am answering this question from my entrance exam days. Well this is most probable question indeed an interesting one to answer. Decision to pursue law, was one of the most difficult decision of that time. During my last few days of school, I had decided to do engineering like every maths-science student plan to do.  To be modest, pursuing  law was my dad's advice, he always used to discuss about Law Universities  like NLS, NALSAR and NLIU but then, I could not imagine anything else but boring lawyers, Court's Buildings and life time obligation of reading and studying. So, I did not take any interest in it until the day I read an article in newspaper regarding 100% placement and beautiful Library of NLIU!!! It struck my eyes! I did R&D on these universities and asked few of my seniors and the response was overwhelming. So here I am giving an interview as a Lawyer.
As a law student which activities did you participate in?  Tell us about your law school journey from the 1st year till your final year. Did you have any guidance on how to go about your academics, co-curricular activities and internships?
Five years at law school are the most valuable years of life for every law student for the purpose of personal and professional development; it makes you a mature professional from a immature teenager. Like every law student, my journey of five years at law school was very topsy-turvy and consist of highs and lows, friendship, love, drama, emotion everything you call feeling   If I start from my first year, it was the most difficult year of my law school life, I have studied from M.P Board where seldom you find English speaking friends even teachers never interacts in English and then I reached to law school where everyone was so fluent with their language and speaking skills. To be honest I used to be very scared of public speaking and I did not like giving  presentations before the class but this is what Law School teaches you by putting you in to the situation where either you will drown or you will learn to swim an survive. And I had no choice but to improve myself and overcome the weakness. It took me two years to come to the so called main stream!
Where I can consider myself confident enough to handle the law school pressure. I was the students who have gone through every kind of excitement of law school from Repeats, Re-repeats and debarring from exams due to short of attendance. I have enjoyed my law school life at uttermost and have no regrets because today I am doing well in my own way. My advice to every law student that there is no harm in bunking the classes or may be exams because these would be the moments you would be cherishing for lifetime not your class room lectures. I was also involved in many co-curricular activities, I was the General Secretary of Environmental Research centre at NLIU, which has conducted National and International Environmental meets, Also made a documentary on global warming, I used to be amongst the few dancers of college. So my suggestion to aspiring lawyers is make the most of your law school days to groom themselves  and never give up to your past and do everything at your best from legal studies to loving your girlfriend. Face the current standing being head strong and don't miss the fun of being a law student, that life never comes back live it every moment.
What kind of internships did you do while you were a student? Any remarkable experiences during your internships that shaped your career choices later?
Internships are the most important part of our curriculum,  I was always focused on my internships; I had got an opportunity to work with good organisations, law firms and corporate like Industrial Finance Corporation of India (IFCI), Minerals and Metals Trade Corporation(MMTC), Bharti –Airtel , M.V. Kini and Co.and few NGOs. My advice to every law student is that last two and half  years of internship works for you in placements because recruiter is always interested in your last 2 years of intern/work and first two and half years interns/trainings should be at places where you wish to visit (trust me!).  My most remarkable internship was with IFCI Ltd. I had worked with them for almost 3 months, where I had really learned the meaning of responsibility you possess being a legal advisor of the company, which relies on your opinions and decision, which would be of rupees more than thousands of Corers and Yes!! That is the reason you draw hefty salaries.
All my internships had taught me something or the other but one thing I suppose I have learnt is to be honest and professional with your organisation and clients. It is the most important thing in this profession. My advice to every law student that do anything you wish to do in college life but be diligent and fair while going through internships because your work and appearance reflects your college reputation and your casual approach towards work may close the doors for your other batch-mates, juniors and for your university. Be passionate to work while going through internships which will open the doors for you in future and remember it's a small world whose reference may take you to heights or land you in trouble.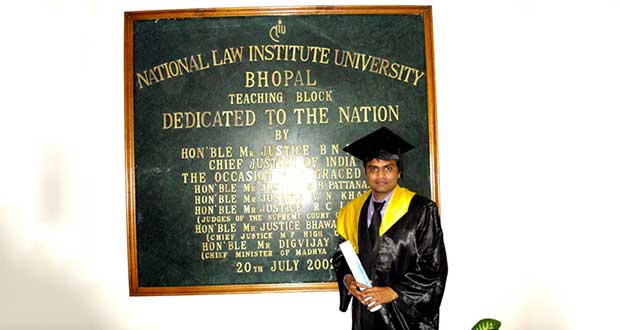 Did you find that your law school education had prepared you sufficiently for the many tasks you were required to execute during your internships and later at your job?
Absolutely yes! Law school taught me many things from my intellectual skills to appearance. Researching and drafting was the most imperative skills which made my internships successful. When I say successful, that means I had come up with desired result which was expected from me during all the internships, secondly law school developed and polished my presentation skills, a prerequisite for any internship because at the end you are always required to justify internship and there your presentation skills works for you, I have always managed to present more than I worked because that's the lesson I learned from law school studies, present anything at its best!!  One of the most important skill which, later on became a key for my success was drafting skills, from any mail communication to any legal notice reply or any litigation document, all you need, is perfect drafting of matter/issues. I think, its one area, where you always have a scope of improving and I am still working on it!
You practiced for one year before joining Tata Tele Services Ltd., Bhopal. What made you to choose litigation and what prompted you to leave it?
Well a bit painful question Corporate was never my dream though I am proud to be associated with Tata Group, I have started my from the office of Asst. Solicitor General of India, who was father of my senior and gave me this opportunity to work in his office. I have practiced almost one year, learned many finest arts of being an advocate and started practicing alone with two offices at Bhopal and Indore. But my experience as private practitioner had very mixed feedback it appeared to me – that weightage in our profession is not given to learning and knowledge alone but more to the number of years of practice. So I thought its wise enough to move on something which can justify my learning, experience and intellect hence I quit litigation. And I am happy very happy with my decision of making my career in corporate as the learning here has no limits.
After that, you left TTSL and had worked with VIOM Network Ltd (Tata group) & Mahindra & Mahindra Financial Services Ltd. What prompted you to keep changing your job very frequently?
I have worked with TTSL as a legal Consultant and started my first in-house corporate job with VIOM Networks, which is an Passive Telecom infra company of Tata Group as a circle legal executive which was comparatively a very small position but everyone was impressed with my work and got appreciation from everyone, all credit for appreciation goes to my boss Mr. Prashant Chauhan who happened to be my immediate senior at NLIU, I have learned many tactics on how to manage work, people and pressures in Corporate where you are suppose to deliver the work within a blink of eye.  At same time I have started getting call from other corporate houses and one fine day I got a call from Mahindra, though there was no specific reason to choose Mahindra over any other company except change in monotonous work. Best part of private corporate sector is that you can explore many opportunities, if you have guts to prove yourself to other company that if they don't choose you it would be their mistake.
You've recently joined TTSL as Circle Legal Head (MP-CG region). How did the switch from Mahindra take place?
From Mahindra to Tata as legal Head was the most dramatic switch! Mahindra never wanted to leave me and I feel proud that my superiors were so much happy with my work, but I could not bear to leave the opportunity which was knocking my door and I grabbed it, In the age of 27 years, it was really a gigantic opportunity for any law graduate, my every counterpart -legal heads of other states in Tata are approximately 16 to 17 years more experienced than me , though it is very challenging because when you work on higher position you have very few people whom you can seek help and you are suppose to be ready with instant legal opinion in any critical situation. Before joining TATA as legal Head, I had gone through many rounds and interviewed very comprehensively, I had been asked and interviewed on various parameters which were mainly including of H.R rounds then legal rounds and finally intense Business rounds.
Oh my god! That business round digged me to extreme. Sharing few questions with you like, How your presence can improve the business of company? (My thought was, am I supposed to be your marketing head?). When law expressly barred to carry out business at any place how would provide way to do business without breaking laws? (Now what is that?), well well! but after all I am a lawyer! How can I fail to impress you with my prompt answers! and yes today I am Circle Legal Head !
Many young lawyers at corporate firms complain about the work being too exhausting, and that maintaining a work-life balance is just not possible. Could you share any advice on this?
Generally every corporate sector's official working hours are 8-Hrs 8.5- Hrs, and there could be no work which cannot be finished in specified timing, if we work diligently (may not apply to law firms) and every work is not meant to be finished in one day. I follow very unique strategy; I always streamline my work in different parameters like a work which can be completed on next working day. We should not sit back in office to finish that task, because remember one thing, work in corporate sector is never ending process and that is what you are being paid for. I never stretch my team to work after official hours, if something can be done on next working day it should be done accordingly.  Always keep one thing in mind, we work to make our life prosperous and if we fail to take out time for family and friends, our exhaustive working is of no use. Always try to prioritize work according to its timeline and work accordingly, once in a week if you are sitting late in office, it is justifiable but if you are sitting back in office every day after working hours than it is not work pressure it is a failure of your managerial skills.
If you could re-live your 5 years in Law school, is there something you would do differently?
Well, there could be hundreds of things which I would want to do! But I think whatever I did in those five years was my conscious decisions or decisions I made for myself after knowing the aftermaths of that situations. As I said earlier also, I have no regrets!
Where do you see yourself five years from now?
That's a tough one, though everyone has aspiration so do I. Down the line five years I see myself more experienced and professional law personnel. I am confident that where ever I would be working I will grow with my Organization and would try to set new benchmark for aspiring lawyers.
Lastly, what would be your message for our readers?
My Message to aspiring law graduate is to live law school life fullest Learn! Learn! Learn. Learn to the extent that it becomes your habit, your routine and then your necessity. If we can do so world is all yours nothing can stop you from growing. I try my best to support aspiring graduates and I would say – If you think I can add some value in your learning I am just a call away.
The views expressed on this site/article/interview are my own and not those of Tata Teleservices – Vipin Singh