Aditya Parolia graduated from Guru Gobind Singh Indraprastha University, Delhi in 2011. Thereafter he pursued an LL.M. in Corporate and Financial Services from National University of Singapore. Later, he had worked as an associate at Advani & Co., and at present he is a partner at PSP Legal.
In this interview we asked him about:
Faculty and academics at NUS
Transition from an Associate to Partner
Requisite skills for a successful legal career
Tell us a bit about your childhood and pre-college life as well as educational background. Did you have lawyers in your family?
I did my schooling from St. Peters College, Agra in Science & Computers, where I was more inclined to pursue my career as a Bio-tech Engineer. During my school days I was an average student, however, I tried my best to pay equal heed to academics, sports, debates, quizzes and other extra-curricular activities. I always had that inquisitiveness to learn something new, which turned out be a major reason for me to pursue law.
Sports and extra-curricular, were really helpful for me when I chose to pursue law, because as a lawyer and a law-student I was not only required to have a mugged up knowledge of law but be spontaneous, a team-player, social, curious to learn and many other things which you can only grab if you have been active in other spheres as a student.
I am a first generation lawyer and I am thankful for that, if there were lawyers in my family knowing myself I can say I could have been complacent and would have restrained my ability to think out of the box.
What motivated you to choose law for a career?
Always being more inclined towards science and computers, law as a career option never crossed my mind. Also, Agra not being a metro city did not show much promise for law as a profession and more importantly there was hardly anyone to guide students to various options that are available to them post matriculation. The trend was more towards engineering or medicine.  A lawyer for me, as a child was so stereotyped that it only meant a person wearing a black coat, sitting under an umbrella with a type writer. Law schools were revamping them self and Nationals Law Schools have just entered the academic regime and not many knew about five year law courses.
Luckily my father had to shift to Delhi for few months, when I was just done with my 12th board exams; there I got to meet a few lawyers who gave me an insight towards law as a profession and five year law course. I always had interest in Political & Social Sciences and the close nexus between law and these subjects made me interested and everything else just fell into place.
Tell us about your internships experiences. Were they all meticulously planned or did they just happen to you as you went through law school?
Well, being in a law school in Delhi turned out to be very advantageous for me. I got an opportunity to work with many law offices/firms during my LL.B., which included tier one law firms in the capital, Solicitor General of India, two Additional Solicitor Generals, Senior Advocates, and a Judge of Supreme Court of India. This gave me a good insight about various areas of practice in legal industry and most importantly it introduced me to some practicalities of the profession. Additionally, as an intern you get to share and learn from other interns a lot, this I must say is very important part of internship, which is mostly ignored by students. I am thankful to many of my co-interns of introducing me to possible internship opportunities, law journals, online-courses, higher studies and many other such things. Internship is very important and must for law students, if not for being introduced to laws but at-least for being introduced to the profession.
My plan all along was not to give any particular practice area priority but to gain as much experience as I could from these internships and then reach any conclusion, if possible. As for planning internships I always tried to apply at least 8-9 months in advance so that I have options to choose from as per my convenience.
Did you have an opportunity to study the subjects you chose to specialize in your LL.M. when at college in India? What influenced you to study abroad?
You never know what will make you change your decision in life, you can have all planned but then you may be introduced to something in absolutely different direction that will make more sense. I found myself in a similar situation, I chose all those subjects which I had studied before so that it would be comparatively easier for me and I could easily grasp their global perspective.
But I thank my Dean Prof. Simon Chesterman for giving wonderful introductory speech and explaining us why not to choose subjects we have already studied, I ended up taking subjects like Aviation Law, Construction Law, Negotiation and Drafting of Commercial Contracts and Mergers &Acquisitions  which were absolutely new to me.
I was out of my comfort zone I had to work hard and be prepared before every seminar/lecture. This required daily hours in the library reading some of the best authors on these subjects, which brought the best out of me. Also, after reading these subjects I can claim to have gained a new area of practice.
Well I cannot say I had lack of influence to go for higher studies abroad, I always wanted to do so. But yes I have few of my seniors from law schools to thank for guiding me to my way there, especially Mr. Shashank Garg.
However, we cannot ignore the lack of guidance in India for a law student who wants to pursue his/her higher studies abroad. People misrelate higher education abroad as an opportunity to find a good job there or in India, it is a misconceived notion. LL.M.s are purely academic in nature, they enhance your knowledge of law and give you different perspective to practice law.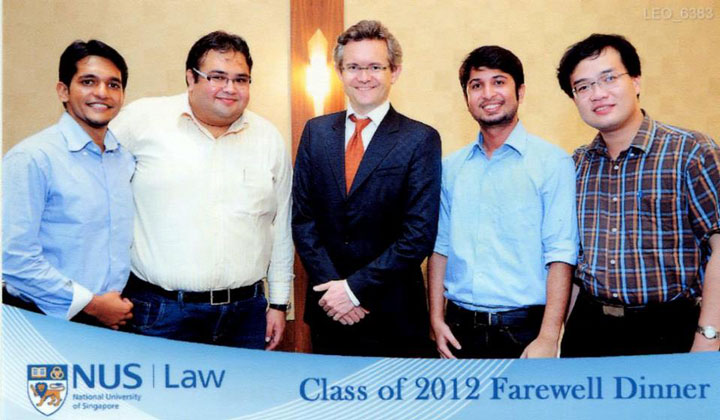 How did you go about choosing which college to go to for your LL.M.? Did you ever consider Indian colleges for LL.M.?
Initially I chose colleges and jurisdictions where I wanted to pursue law followed by expense that was to be incurred for pursuing them. For example, I did not apply to any college in US, for sole reason that it was not in my budget. You need to know where you stand and then weigh pros and cons. As I said, LL.Ms are not something you do to get a better job, you do it to do better in your job.
When I got an offer letter from NUS, I decided to accept it immediately and reject others, for many reasons.
The major reasons were:-
If you want you can read Indian laws; NUS has options like Indian Business Laws, Indian Penal Code, and Contemporary Indian Laws to name a few.
It is commercially viable as compared to UK and States.
The legal industry is open and promising for Indian Lawyers. Nearly half of our batch, including me, had offer letters in their hand before the final results were out.
Also, since NYU was also offering LL.M. course in collaboration with NUS we got to read many modules provided by NYU and learn from many renowned NYU professors.
I wanted to learn arbitration and Singapore being a major centre for Indian parties showed lot of promise. Further, studies in arbitration at NUS give huge importance to Indian practice & case laws etc. And not to forget that they have Professors like Mr. Gary Born, Mr. Lawrence Boo and Mr. M. Sohanrajha to teach the subject.
No no doubt it is one of the top most universities in the world and has an excellent dedication towards the students. I can write pages to explain this dedication of NUS.
No, I did not consider Indian Colleges for LL.M., no disrespect to them but it time that we revamp our higher education system. Indian Colleges rather than focusing on specialized/ super-specialized areas are still majorly focusing on subjects being taught in LL.B. The approach has to be changed, it's not like we do not have good teachers or law schools. We have alumni who are not reputed lawyers of the country and will be more than happy to contribute.
For instance, I was taught Mergers & Acquisitions by Prof. Umakanth Varottil at NUS, he is an NLSIU alumnus, former partner of AMSS, ranked as a leading corporate/mergers & acquisitions lawyer in India by the Chambers Global Guide and no doubt an authority on the subject.  I have seen students, in a three hour seminar, willing to stand throughout and learn from him. I had no inclination for M&A and today it's only because of him that I am advising companies on the subject. It is simply the method and atmosphere that International Universities create that grows that willingness in a student to learn something new.
How difficult was studying abroad in terms of finding accommodation, finances and settling in? Are there any scholarships for studying at NUS available to Indian students?
I was working for a while before leaving for NUS and since studies at NUS was not that expensive finances was not much of a trouble though I had seek some help from my parents for the second semester.
NUS has recently come up with a state of the art residential campus, UTown, for international students, which is fully equipped with all the required amenities, including shopping centres, food courts, restaurants, sports complex and not to miss excellent education resource centre. Also since Singapore has huge population of people of Indian origin you do not feel away from India, every food court mandatorily has an Indian food stall and shops are full of Indian food supplies. If one is applying to NUS I will advice that one should apply for hostels provided by NUS they are comparatively affordable and has transport facilities linked to them.
Every student selected for NUS gets automatically eligible for the university scholarship. To my knowledge NUS awards three from each batch and same it communicated at-least a month before the session starts. I am not aware if there is any scholarship specifically available to Indian students.
How was the faculty & academic schedule at NUS? Was there time enough for non-academic pursuits at NUS? How did you find the work-life balance to be?
You can find authorities on the subjects teaching at NUS, like Gary Born, M. Sonarajha, Simon Chesterman, Umakanth Varottil, Stephen Girvin, Alan Tan, Franco Ferrari, to name a few. It will be wrong for me to even explain their credentials. The manner in which the faculty communicate and reach the students is unheard of. Then within the especially dedicated campus of NUS Law School you have LKY School of Public Policy, where you find lectures delivered by eminent world leaders every other day. We had opportunities to hear lectures and interact with renowned personalities like Mr. Pascal Lamy, Mr. SashiTaroor, Mr. Henry Kissinger, Mr. Kofi Annan and many others.
The methodology adapted by NUS in their academic schedule is quite innovative. You generally have 5 subjects a semester, having a three-hour seminar for each subject a week. You are given academic calendar and class-schedule prior to your selection of subjects. So if one wants he can have just 2 or 3 days a week of classes, based on his selections, and rest of the week can be used by the student as he wants. In my batch that we traveled throughout Southeast Asia during our studies and it was hardly a burden on our academic schedule.
However, since for each subject you have to write an article you will have to put hours in library from these non-class days and manage accordingly. Yes if you ask me that if you can pursue a part time job that is not possible. The modules are very demanding you need to be prepared before sitting for each lecture. The classes are also very interactive you cannot simply go unprepared. NUS had developed special software IVLE to provide students all the required readings for a lecture at-least a week in advance. The Integrated Virtual Learning Environment (IVLE) is a NUS' custom designed and built course management system for the NUS community. It is designed to facilitate and supplement teaching at the NUS.
Do you think higher studies help shape a successful legal professional? What would be your advice to law students who plan to go for higher studies?
Yes I believe they do to a huge extent. I cannot say all that I learnt during my LL.M. has been put to test in practice, but surely it enhances you as a person and a lawyer. The way you see or study a subject and write on it changes to a great extent. Further, since you have to settle quickly in an alien land you become more independent and responsible.
For me, it was a correct decision. Had I not been there I would have never shifted from my orthodox approach of law and have stayed just a litigation lawyer. Thanks to LL.M. that I now advice companies in FDI, Aviation and M&A apart from appearing in courts.
Well I can just advice that if you are going for higher studies don't think that you will land up getting a big job there or here in India, one might get it but that is not the purpose of higher studies. One should go for LL.M. to learn new possible approach towards law, how other legal system implement their laws, what can be possible changes that we can bring in legal system. The purpose of doing LL.M. should purely be academic and self-growth.
Since today we have major multi-nationals coming in our country, they are very demanding and require you to work as per international standards. Until we have that experience it will be difficult for us to meet their expectations.
Also, if I may suggest please choose few subjects which you have never studied before, it will be worth it. I should also warn that if you are thinking that LL.M. will be cake walk please be aware that you are absolutely wrong, rather it is very demanding and have high expectations.
Plan well in advance. To start with, prepare your documents and references at least during April/May and make sure to choose your colleges wisely. Seek advice only from people who have gone for higher studies as I don't believe it will be proper for someone to be a critic of something without experiencing it first.  If possible, work for couple of years and then go for higher studies, you will be on a better footing.
What kind of effort should a young associate put into work to get it appreciated? What are the major differences between a young associate with a partner?
A young associate is required to be sincere and hard working, nothing much. It will be wrong to say that he should have deep knowledge of laws and procedure, this is not possible; you get to learn them eventually, books and practice rarely co-relate in fact. But, yes you need to be aware of things and development in laws, ignorance cannot be an excuse.
Being a partner you will have to be more responsible and a team leader at all times. Your juniors' mistake is your mistake you cannot at any time use your juniors as a shield. As a partner you have additional responsibilities which might affect the speed of your delivery but these are essential for the job, like socialising, management, delivering lectures et.al.
I believe responsibilities make you grow as a person, the earlier you have them the better.
When you hire lawyers, what kind of skills and profile do you look for? Are the attributes different for working lawyers and fresh graduates?
We just require few things in a candidate, sincerity, willingness to learn and ability to think out of the box. Candidate's marks or which college he graduated form does not matter to us.
Of course experienced professionals have to be scaled separately; you cannot have a set formula. If one is adding value to the firm he/she is always welcome.
Do you offer internships at PSP Legal? What is the application process and what do you look for in a cover letter and CV?
No currently we are not offering internships. Recently our work has grown well and our lawyers are keeping busy meeting the deadlines.  It's not that we do not offer internships, it's just that we have closed it for this summer.
We believe if we have interns it is our responsibility to provide them enough exposure and give adequate time to their queries and explain them the work process. We make it a point to deliver a lecture for them, at-least once a week, explain to them about the profession.
However, we might soon put up notification on our website for internship opportunities.
Given a chance to turn back the clock would you have done anything differently from what you've done?
You learn from your mistakes and then they become experiences in life. Experiences are said to be the most valuable things, why would you take a chance to lose it.
And as for me, I do not really know what and how things have worked for me till now, the pieces just seemed to have fallen in right places.
So, I am not sure that I would like to change something from past.
Lastly, what would be your message to a student pursuing a law degree?
Whether you are are from a NLU or not doesn't have any bearing in your long term legal career. All that matters is your hard-work and sincerity. You have to build your own path, just keep your eyes and ears open and keep learning. Every time you put yourself out of that comfort zone you gain/learn more and emerge as a winner.
Lastly, try to be as active as possible in extra-curricular activities it's not about winning a moot or debate, you learn a lot in the process. This displays your ability to try things.