Akshath Goyal graduated from the National University of Juridical Sciences in 2012. Just after graduating he worked at the Intellectual Property firm Anand & Anand, and thereafter at Shardul Amarchand Mangaldas and Co. He is passionate about Intellectual Property and has interned and worked in IP related matters since qualification. He is currently the Assistant Legal Manager at a PayU Payments Pvt. Ltd.
In this interview, he talks to us about:
His experience at WBNUJS
The importance of clarity, networking, and hard-work
The experience of working in big firms and start-ups
How to prepare yourself for the profession beyond the first placement
How would you introduce yourself, given that most of our readers are law aspirants, lawyers-in-the-making & young lawyers?
I am a first generation lawyer and I graduated from WBNUJS. Post-graduation, I have worked with IP boutique firms, full service firms, and now as a counsel for a fin-tech start up company. Over the course of my relatively short career so far, though it feels like a lifetime of work, I have had the privilege of working on subjects/ areas that I enjoy with some of the smartest people in the fraternity.
What interest or influence propelled you to pursue Law as a career? What other options were you considering apart from Law and how did you make the final decision?
Growing up in a family of Army doctors, I was neither exposed to law nor did I grow up with any innate disposition towards the same. Prompted by my nervousness with the onset of college admissions, I spoke to my parents, teachers, counsellors, etc. most of whom, surprisingly, suggested that I try law.
I assume one of the major reasons for that was the Law School Entrance being the only exam that tested General Knowledge and Logic for under grad admissions, and being in my school's quiz team, they assumed that I would have an edge. I then spoke to a few seniors of mine from school, who were doing their legal studies from Bangalore and Hyderabad, and they were very encouraging. So I took the entrance exam for NUJS, which used to be held in January back then, and even before my board exams started I had gotten an admission result. That pretty much sealed it and I was off to Calcutta.
I did think of medicine as a career option, primarily because my father is a Doctor, but once I realised that the Medical entrance exam involved extensive rote learning of facts I realised it wasn't my cup of tea and that law just seemed to be a more appealing option for me.
You pursued your Law from the WBNUJS. How would you describe the experience? Would you like to do anything differently if given the chance?
My time spent at Law school was, without doubt, the happiest 5 years of my life. Calcutta was an excellent city to study in and NUJS had a lot of extremely smart and interesting people. Being a tiny campus with a small student body, you invariably ended up knowing almost everyone and befriending people not just from your batch but from batches above and below yours, which provided for a rich and diverse learning experience.
I essentially used law school as a platform to explore my interests in law. I mooted, debated, wrote papers, joined societies and committees, conducted events and even played football for my batch team (I still think that's my greatest achievement in college). I tried my hand at everything law school had to offer and loved every bit of it.
The one thing that I wish had done differently was maybe focus on my grades a bit more. Unfortunately, despite being one of the best law schools in India, NUJS did not have the best faculty and the entire teaching system was geared towards rewarding rote learning rather than actual legal knowledge and acumen and I think that was one of the reasons why I just never did well academically. Looking back, I probably should have been less stubborn and made the best out of the system that was available. I also regret taking Elective courses simply based on what would appeal to potential recruiters, I now wish that I had taken those that I had genuine interest in and wanted to learn about.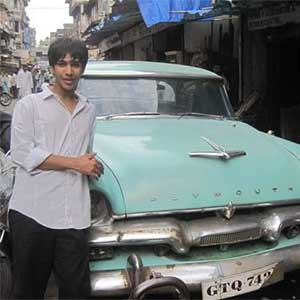 How did you perform on a purely academic scale? Which disciplines did you find especially engaging and challenging? What was the reason for the same?
On a purely academic scale, I don't think I did all that well. I could have definitely done better, but I was left extremely disappointed with the teaching system there. We, of course, had some fantastic professors such as M.P. Singh, Ruchira Goswami, Shamnad Basheer and Anirban Mazumdar, all of whom who made a lot of effort in their lectures, but overall the system left much to be desired leaving a lot of us feeling a bit disappointed.
I enjoyed my IP and Legal history lessons the most. In fact it was because of the fantastic set of IP professors at NUJS during my time there that I ended up choosing the field as my career.
Having said that, grades obviously are an indicator of performance but beyond my first college arranged recruitment interview my grades haven't really been a factor in my legal journey so far. Once you're in an organisation and in the industry in general, your work and skills count for more than your grades. Yes, getting good grades makes it easy to get that first job or get you that first interview but beyond that it's your knowledge, handwork and passion for the subject counts.
How did you build a CV which could offset your academic performance?
Grades only form a part of your application. The CGPA system unfortunately is a very unforgiving one. Abad semester and the math goes against you. Even though I started progressively improving my academic performance after my second year, overcoming the deficit created due my prior performances turned out to be extremely difficult. I would assume that's where my extensive participation in extra-curricular activates and rigorously pursuing internships helped me off set my academic performance. The fact that I had mooted, wrote and presented papers in India and abroad and organised legal seminars and talks probably tilted the decision in my favour. Having said this, I would also like to advise law students, who are in the same boat as I was, to not underestimate the power of networking. Talk to your seniors, your professors, your friends in other law schools, actively seek advice and recommendations, etc. Most of my internships came because I wrote to people and spoke about my interests and why I wanted to work with them.
Everyone sends a CV and a generic two liner when applying, what will separate you is the fact that your letter should be able to effectively convey why you want to work with the firm or a particular partner, something that you will only get if you invest time and effort into researching an organisation and then choosing to work with them rather than just applying to the big names.
By all means, apply to the big 6 but know why you want to work with them, which practise area of theirs fascinates you and why. Once you do the basic leg work and convey the same effectively, I don't see any reasons why firms will not be glad to have you on board.
Please share with us your experience of participating in in the Surana and Surana Corporate Moot. Did the same help you find your area of interest?
(Akshath's team won the runners-up position at the Surana and Surana Corporate Moot)
I believe that I owe whatever success I had as a mooter to my seniors and team mates from college. I was extremely fortunate that I had a supportive team who never lost faith in me and we ended up working well together and reached the finals of the competition. Since I hadn't really studied corporate law before the moot, the experience helped me gain confidence in my research skills and ability to understand and solve complex problems without any formal training in the subject.
Since I did the moot in my first year, it really was too early for it to have an impact on my choice of corporate law as a career. I did, however, enjoy researching the problem.
What interest led you to write research papers? What research techniques did you adopt and what focal questions did you ask in order to write such a paper?
(Akshath co-authored a paper titled 'Freedom of Modern Media & Privacy' which was published by the University of Thailand.)
Technology and its interplay with law was always something that fascinated me. Which is why when an opportunity to contribute to an international journal came up, I grabbed it with both hands. The fact that I was then invited to Thailand to present the paper was just a fantastic experience. Besides this, I have also co-authored papers on Sustainable Tourism and the Impact of International Trade and its impact on the environment.
I really didn't follow a particular theme with my articles, I simply worked on issues that fascinated me at different points of time.
Could you tell the readers about your internships, how you searched and applied for them, the experience and diversity of work you received a chance to engage in, the development it led to?
Internships were something that I was very careful about. Having decided that I wanted to practise IP laws, I worked in firms with extensive IP work. Even when I did intern in full service firms like Amarchand or Karanjawala, I ensured that I worked on IP disputes and transactions.
You worked as an Associate at Anand&Anand in Noida. What was your work profile like and how did you secure that job?
Since I wanted to be an IP lawyer, Anand and Anand was an obvious choice. I spoke to my professor, Mr. Basher, who had previously worked at Anand and he had only good things to say about the firm- its culture and practise. Once I had a general sense of the firm, then it was all a matter of applying and interviewing with the firm. Luckily, the firm liked my previous work experiences in the field and took me in.
Being the biggest IP firm in the country, Anand provided me with an opportunity to work on some fantastic matters for some high profile clients. Being surrounded by some of the best IP practitioners in the country was an insanely enriching experience and ensured that I built a solid foundation.
You then went on to work as an Associate at Shardul Amarchand Mangaldas & Co, Delhi. (SAM & Co.) What prompted this shift and what was the nature of your work?
While Anand was a great place to learn, as with all boutique firms, your role tends to get highly specific and specialised. I personally felt that it was too early for me to specialise in one part of IP. I wanted to not just work on the contentious side of IP but also on the transactional side of it. That's where SAM & Co. with its massive corporate practise and international clientele was the best choice. At the firm, I was exposed to the various aspects of IP practise such as technology transfer agreements, comprehensive IP Protections mechanisms, Patent litigation, Regulations governing Technology and IP valuation etc. all which prepared me for my next role as counsel for fin-tech start up.
What qualities do you think a lawyer needs to possess beyond pure numbers on paper? What advice can you provide for a more holistic learning process to attain goals?
Look don't get me wrong, numbers help, having great grades gives the employers the confidence that at least you have the basics sorted and that they're not wasting their time interviewing you. However, having said that, I think one of the biggest qualities a lawyer can possess is having an insatiable hunger for knowledge and information. Don't just stick to the course material, read things that interest you, talk to people who have been in organisations that you see yourself in.
I think one of the best things about having a five year college life is that it gives you ample time to figure out what your interests are.  Honestly, my only recommendations to the current bunch of students would be to use this time to understand what you want to do and not where you want to be. Moot, debate, travel, network, and use all the tools available to understand what you want to do and why you want to do it.
Don't follow the herd if you know you're not like them. Understand your strengths and leverage them in your favour, figure out your weaknesses and work on them. Take courses not because they are scoring, but because they interest you (if they happen to be both, then it's a jackpot). Pursue internships not because they will look good on your CV but because you genuinely want to work in those organisations. When I was interning in Amarchand, I was initially placed in the Projects team but I knew that I wasn't something I liked. I enjoyed IP and so I spoke to the HR department and they were more than happy to accommodate me and because I had already worked with the Partner at AMSS before, getting the shift from Anand to AMSS was extremely smooth.
In 2015, you left SAM and Co, to work as an Assistant Legal Manager for PayU Payments. Could you tell us a bit about PayU and the nature of your work? What prompted the shift?
Like I mentioned before, the interplay of law and technology was always something that fascinated me and there is no better industry to watch this relationship unfold than the fin-tech industry.A law firm just cannot provide you with the kind of exposure that a start up can. To be able to sit with the Product Team and conceive and tweak consumer products, to help market the same to your customers, to be part of business strategies of a young company was something that really got me excited.
At PayU, my work is more than that of a traditional lawyer. At a firm, your job is mostly restricted to legal and regulatory advisory work, but in a company your mandate is so much more. Not only do you have to ensure the product is compliant with the existing legal and regulatory framework, but you also need to figure out how to tweak it in cases where it is not. Plus, by joining a start up, you get to be a part of something from the very beginning and gain a sense of ownership unlike any firm experience.
Could you describe your journey from your first job to the present one and how they've contributed to your knowledge and skill set? What has been absolutely memorable through this period?
Well as mentioned before, each of my jobs focussed on developing a certain skill set which I felt was necessary for me to develop as a lawyer. Since my first job was a boutique firm, it helped me strengthen my basics in the field. My job in a full service firm helped me use those basics to further expand my knowledge base. Finally at my in house job, I've been finally able to use my acquired skills and knowledge to work in an industry that fascinates me and challenges me on aspects of not just law but business as well.
The fact that I have worked at some of the best firms in the country, under some of the smartest people in the industry, and had the opportunity to work in a field that I wanted to has been the best part. I have always tried to work in places that have fascinated me and so far its going well.
Which area of law do you think, personally, has the maximum capacity to develop over the coming years and why do you think so?
At the risk of sounding biased, I think that IP is the most fascinating field of law. It's still developing in the country and with all the technological revolution that's going on around us, IP will start becoming more valuable to companies than traditional tangible assets and that's when good IP counsels will be extremely sought after. In fact, in the mature jurisdictions of US and EU, patent litigation is one of the most lucrative areas of practise and I see no reason why India will not follow suit.
What is a typical day of work like for you? What interests do you possess outside of the sphere of the workplace?
Again, the good thing about working in a start-up is that there is no such thing as a typical work day or work profile. Your day can range from working on internal policies for the company, to sitting with the product team and brainstorming on new ideas, or even to negotiating agreements with your business partners, vendors, auditors or your outside counsels. So there's always a lot going on and it's always exciting and engaging.
What is your advice to students in order to strike the right balance in law school life?
My advice to law students would be to use their time to figure out their interests and passions. After that, everything becomes a lot clearer and achievable. Study hard but college should also be about stepping outside your comfort zone. So, join societies, organise events, moot, debate, quiz, dance, etc., because these things play an extremely important role in shaping who you are as an individual, and while grades will help you get your first interview, the rest will help you succeed in life.
Lastly, what makes you believe that you are not a one-shot wonder, or just a lucked out by chance lawyer? What message do you have for our readers?
Quite honestly, I don't think I am a one-shot wonder. I say this because I refuse to believe that only the top 10 students in a class can make good lawyers. I went to a college where only 100 kids out of the 25,000 who apply are selected. Almost all of those who end up there are extremely intelligent and motivated individuals with their own inherent strengths and weaknesses, and almost everybody from the college is doing well. So career success isn't a monopoly for those 10 rank holders. Sure, it makes life easier to get that first job, but after that it's all a level playing field. That's where your passion, work ethic, knowledge and networking skills come into play. The simple fact is that the harder you work the luckier you get.
So just because you didn't get the grades doesn't mean that your career is over, because 6 months down the line nobody cares about your grades. What they do care about is your work ethic and dedication, and once you have that there's nothing that's going to stop you from achieving your goals.