Arijit Bhattacharyya graduated from Symbiosis Law School, Pune, in 2010. After successful stints with Softcell Technologies Ltd., and AXA Business Services Pvt. Ltd., he went on to work in the capacity of Consultant- Risk Advisory Services (TMT) at Ernst & Young LLP. Currently, he is a TMT Lawyer and a Business Consultant currently deployed in the Risk Advisory Services LoS of PwC specialising in providing ITeS clients advisory services overlooking areas of Overseas Expatriate Taxation, Employee Mobility strategy and policies. He regularly advises clients on regulatory compliance of employment, payroll tax and mobility laws of predominantly Americas and Europe region.
In this interview we speak to him about:
Working at two firms out of the coveted Big Four
Striking work-life balance
His experience thus far
What inspired you to take up law? 
While there was no such resistance from my family and acquaintances, there was a lot of doubt / suspicion regarding the career path I would eventually follow. I am a first generation lawyer in the family and no one in my immediate family is associated with law or legal practice. However, when I was starting to prepare for my 12th board exams, I was specialising in commerce, two of my seniors were trying for national law schools through various entrance tests. There was no CLAT back then and each law school conducted their own entrance tests. One of my seniors cracked NALSAR and I was bit by the curiosity bug. I researched about the five year integrated law course and the diverse career options it comes with. My parents were supportive of the fact that I took one whole year off just to prepare for the entrance exams and after a year of preparation I finally got into Symbiosis, Pune. Symbiosis was a good and established brand and thus I went ahead with the admission formalities.

Tell us a bit about your time studying law as an undergraduate student at Symbiosis Law School, Pune.
I hail from a small town in West Bengal, and as such soaking up the popular Pune culture took time. Law as a discipline was new to me. Nevertheless, I managed to stay afloat academically while participating in various extra-curricular activities throughout the first two years of college. During my first year, I participated in a cultural exchange programme titled "Lexus Nexus Symphony" and went on to participate in fests such as Mood Indigo – IIT Bombay. My grades improved drastically third year onwards as I got a foothold on the exam pattern as well as when specialised subjects were introduced like International Law, Corporate Finance, Accountancy and Taxation. I took a general liking towards the specialised subjects in which I scored more.
What were your areas of interest during your legal education? 
My areas of interest during my law school days were a mix of subjects. I took general liking towards International law, Company law and Taxation. Naturally, my interest in Company law paved the way for my inclination towards regulatory compliance. However, in practice, my short traineeship in Legasis Partners opened up Regulatory Compliance as a viable practice area. Nevertheless, it has taken me seven years to gain a foothold in the Regulatory Compliance domain. While on the domestic front Regulatory Compliance is seeing frequent enforcement now, the scenario is very different in global markets with enforcements being conducted by enforcement agencies frequently. Hence, subsidiaries of Indian companies run the risk of getting pulled up by enforcement agencies quite often. Very few people know that Regulatory Compliance as a career choice is equally rewarding.
Could you tell us about the internships you took up, and what you learnt from those experiences?
Of all the organisations I interned with, my memorable experiences are when I had interned with Victor & Moses, a full service law firm based out of Kolkata, and Tata Steel, Mumbai. Both the internships were very enriching and taught me the everyday nuances of a corporate lawyer's life that I am leading now. More than expertise, these internships taught me the schedule of a corporate lawyer and the various roles you need to juggle with when at work. I would not be honest if I mentioned that the above internships imparted expertise in the truest manner, as, you need to intern with a particular law firm twice or thrice to gain a foothold in any particular subject matter.

What advice would you give students in avoiding a decision paralysis?
Rather than choosing to study further immediately after completion of graduation, I would suggest students to focus on choosing the right place of work where for the first three years, one would learn from their seniors thereby acquainting themselves to a particular service area. Any further study should be taken up by an individual only when he/she has a foothold over an area of specialisation and want to probe more into the subject matter. Further, in light of the present day recession, the pros and cons should have been measured by the individual regarding the return on investment. This according to me is the practical choice, however, choices differ and ambitions vary from person to person, hence this is very much subjective to individual choices.
From a law student to a lawyer, how will you describe the transition?
The transition from a law student to a lawyer has not been smooth. Each day was a learning for me. Law schools invest heavily on the theoretical knowledge and do not prepare you with the practical knowledge of advocacy as well as advisory. Time and again the in-house counsel roles have changed to include popular business skills such as risk evaluation, risk management, data analysis, excel skills and cost evaluation.
When it comes to a career in a Big Four advisory firm, the gamut of skills that you should be equipped with change drastically. Apart from soft skills, one should be very skilled in evaluating numbers and should at least have a basic idea of data analysis. I had to invest a lot of time in learning number crunching, excel analytics, advanced excel and data analytics for my roles in EY and PwC. As assignments in Big Four advisory are shorter in nature, one has to be very through and precise with knowledge pertaining to the regulatory risk area, its impact and the enforcement risk.
What are some of the key nuances that are often overlooked in drafting and research?
There is only one guideline to drafting and research and that is "attention to detail". Any research work or drafting assignment should be properly thought through, comprehensive in nature and should not end in a rush. Remember, that even after checking the document n number of times there can be improvements made in the document and mistakes discovered.
What prompted you to take up a position at the Ernst & Young LLP?
The Brand itself was a deciding factor. EY is a leader in consulting, tax and audit not only in the global arena but in India, it tops all the other Big Four firms in terms of revenue, ranking, growth and employee strength. Moreover, EY was always a dream job for me. Bagging EY gave me recognition amongst my peers and even boosted my confidence. I owe my practice area and specialisation to my learning in EY. A regular year at EY would constitute of specialised trainings, business simulations and learning academies for honing business consulting skills.
In EY I was part of the TMT team overlooking Technology sector and occasionally Telecommunications. I was part of the largest Technology team servicing a client list of who's who of ITeS industry, NYSE listed organisations and Fortune 500 Companies. As a consultant, my primary job was to conduct third party regulatory assessments of overseas subsidiaries of ITeS companies in the areas of Employment, Immigration, Payroll tax and Data Protection laws, highlighting red flags, suggesting process improvements and cost saving initiatives. This aside, there were other assignments as well which kept me busy, such as compliance framework services for ITeS clients and contract risk review projects for Telecom clients.
What was the experience of meeting with the Global CEO of Ernst & Young and sharing stage with him like?
Typically, throughout school and college extracurricular activities have always kept on interesting me. Similarly, in EY I got the opportunity to be a founder member of an in-house rock band named RAAGA. Being a self-taught guitar player I play electric guitar mostly in my leisure time, and had the opportunity to participate in college fests during my early college days. However, when there was an announcement by a HR team member in the induction regarding registrations being sought for musicians, I couldn't help but register myself. Over the next year and a half, the Partners at EY were supportive enough to invest in full studio equipment for us and we did host some of the memorable in-house rock shows in EY. One such in-house performance was scheduled specifically for the visit of the Global CEO and on completion of our show, we were greeted by him personally. He literally spent two minutes talking with us on stage. That was a priceless moment for me and would always remain etched in my heart. Meeting and talking to the Global CEO of an organisation like EY doesn't happen everyday.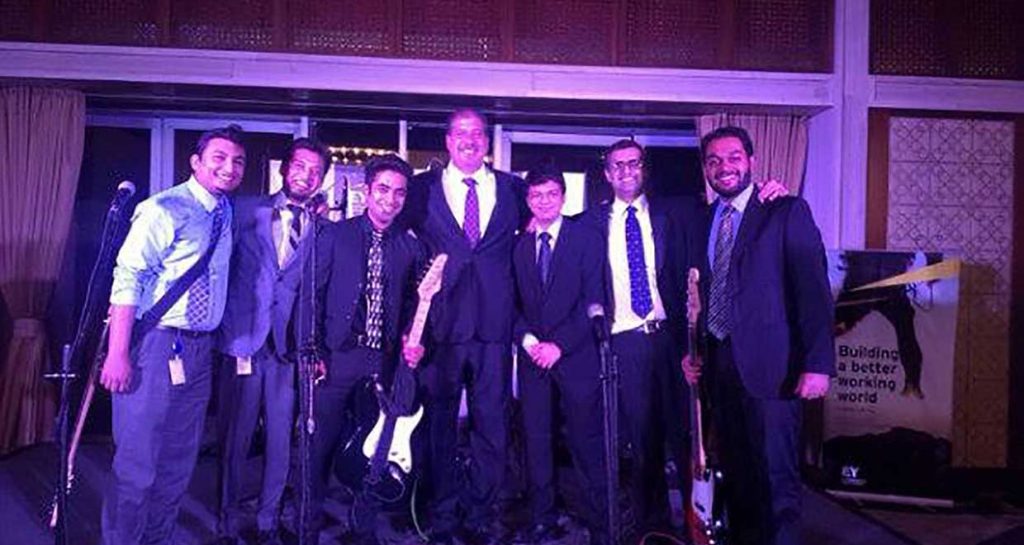 Tell us about your present role at PricewaterhouseCoopers.
The core service area and target clients I cater to has not changed much from my stint at EY. As an Assistant Manager / Senior Consultant, I now have got the opportunity to delve more in the practice areas that interest me. I am a subject matter expert of Overseas Expatriate Taxation and primarily specialise in leading third party regulatory compliance assessments of overseas subsidiaries of ITeS companies in the areas of Expatriate Taxation, Employee Mobility strategy and Regulatory compliance with employment, payroll tax and mobility laws of predominantly Americas and Europe region. PwC has offered me the opportunity to diversify my industry expertise to include Pharma clients as well. A routine yet significant part of my role also covers training of junior resources as well as taking part in sales pitch and other business development activities for my practice.
What does a typical working day look like for you?
A typical working day would start at 10:00 in the morning and go on till 10:00 / 11:00 in the night during peak season. However, there are regular shorter days at work during the lean season. My work profile includes meeting and interacting with clients, understanding their business needs, their business model, operations and business functions in order to add value to my services.
Every single day at work is unpredictable which is why working in a Big Four is severely competitive and interesting as well. There are lots of multitasking required on a daily basis as one may be working on multiple projects/assignments at the same time. Time management, attention to detail and soft skills are of essence as there are stringent deadlines to be met more often and you have to be on your feet constantly.
Did you have a mentor or guide during the formative years of your career? 
I did have a mentor and guide during my college days and also during the early days of my career. In my college days it was my senior at college Adv. Boudhayan Bhattacharyya. While on the career front it was Apurva Amitesh who helped me develop my core expertise in regulatory compliance. It is certainly important for anyone to have a role model and a mentor to guide you during the early days of your career. It helps you to learn important skills from your mentor as well as prepare you for future roles.
How do you manage your time between your professional and personal interests? 
My interests outside law are motorcycle touring and playing guitar. Though time available is very limited during a working week, I do follow my interests and hobbies on weekends. I strictly take an annual vacation of ten days at the end of the year to strike a balance between leisure and work.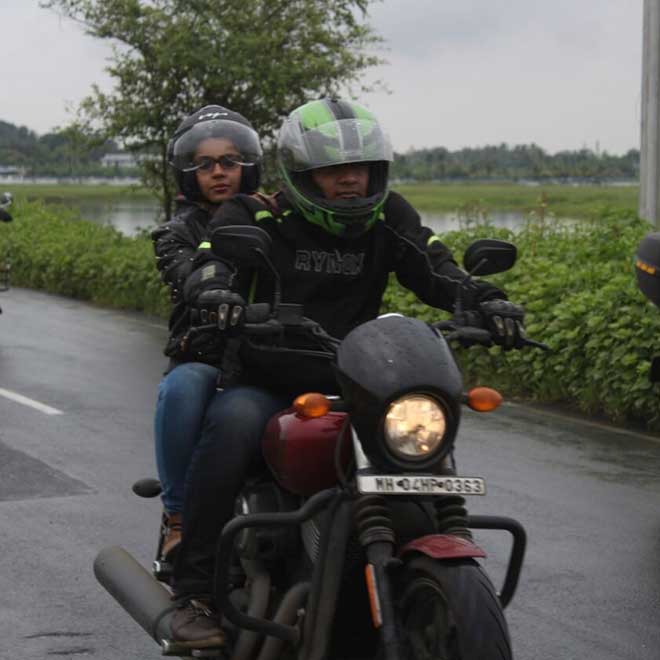 Where would you like your career to take you five years down the line?
Well I sincerely want myself to be regarded by my clients as one of the finest TMT lawyer and Business Consultant in the global employee mobility space.
Is there any other suggestion you would like to give to our budding lawyers and Corporate law enthusiasts?
Once you have chosen law as your career, at least by your fourth year be certain of the line of practice that you would want to pursue after graduating (advisory, academia, law firm, in-house counsel). Be sure to intern in a law firm more than once and keep exploring lines of service which interest you. Chances of landing a pre-placement offer with any law firm increases once you have interned with the law firm at least thrice and have been able to demonstrate keen interest in a specific area coupled with commitment to better your prospects in that area. In any case internships should be strictly limited to law firms as you learn more in a law firm. And like I said earlier, be focused on choosing the right place of work where for the first three to four years, you would learn from your seniors and get acquainted to a particular service area.