Arjya traces his life from his unlikely admission to NUJS, his internships throughout and his growth as a person during his LLM. He makes most interesting observations on the fundamental similarity between the work at a law firm and academia as making different sets of people aware of the law with certain differences that were small but are all that matter at the end of the day.
Most of our readers are law students and young lawyers. How will you introduce yourself to them?
I'm assuming you know my name. For a full description of my education and work life, please refer to my linkedin profile. What won't be mentioned there is that I love singing and I crack bad jokes. Really bad jokes.
In a nutshell, former corporate lawyer- now turned professor, aging hippie and slightly intolerable.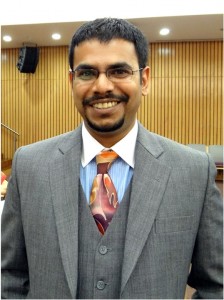 Why did you decide to study law? Tell us about your college life.
In many ways, this decision was made for me. I originally wanted to be a journalist. My mother came home one day with an application form to a completely unheard of NUJS. I decided to give it a shot, just for a lark. Didn't study at all. Landed up at the exam centre half an hour late. Managed to clear it. That was when I realized that the people who administer the entrance test must think of my answers as worthwhile enough to teach me to be a lawyer. These people had been (presumably) teaching law for many years and therefore knew better than I did. I gave up on my journo dreams. The rest is history.
College life was mostly fun. For the first couple of years, I learnt about stuff I didn't know existed (coming from a science background in 11-12, studying Rousseau and Hobbes was scary). Getting into a groove in my latter years, I managed to devise a personal pattern of attending classes, studying and fun and games which allowed me to get by with regard to CGPA. Like many others, I fell in love and out of love- the standard ups and downs. Had my share of substances that shall not be named and fights with people who will also not be named.
NUJS, now and then. How would you describe the change?
Major changes. As one of the first few batches, we were instrumental in our own successes and relied less on teachers. As a new national law university we had a point to prove to NLSIU and make ourselves known. We won international moots without any mentoring or help whatsoever. This kind of enterprising behaviour has, in my opinion, died out over the years.
On the flipside, I know it's become tougher to survive. With more national law colleges, the competition, and not just for jobs, has become fiercer.
I do wonder though, whether NUJS is still as chilled out a place as I remember it to be. I have made friendships which will last for life. I do hope the same applies to present students of NUJS.
Not going to comment on the recent developments concerning the NUJS administration.
What kind of internships did you do while you were a student? Any remarkable experiences during your internships that shaped your career choices later?
I did the standard NGO, trial court, appellate court and law firm internships. Mind you, it was one internship a year and not two or three as I see happening presently. Two internships stand out. One was with the WWF where (along with dear friend Sagnik Ghose) I visited fish markets in Calcutta to find out if turtles (a Bengali delicacy) were being sold. Trading in turtles is generally illegal. We managed to rescue one turtle from certain death and released it in Alipore zoo. We also managed to tip off the local police regarding these illicit activities.
The second internship was with Mulla and Mulla in Bombay. Mr. Shardul Thacker was most encouraging and allowed me to work on matters that would usually be given to first or second year associates. Of particular note was an opinion on software technology parks which gave me the inspiration for an article "Taxation in BPOs" published by ELT and later on, a book titled "Special Economic Zones: Policy and Procedure" published by CCH India.
Both of these internships inspired two very important aspects of my career- one, a love for the environment and two, a love for legal academic writing.
Right after graduating, you worked for three months in a law firm and then went for LLM. Why did you decide to go for higher studies?
Somewhere down the line at NUJS, I got interested in Maritime Law (possibly because my father was a sailor). I must have written about 4 or 5 projects in maritime law and did maritime law based internships (including at Mulla). I wanted to learn more about the subject. Hence the choice to opt for higher studies.
Tell us something about your LLM year at Tulane University Law School. How did this influence your career?
As a lawyer, it didn't influence my career at all. At least not professionally. A degree in maritime law has no place in a corporate law firm where you're working on M&A and Capital Markets.
But it did influence me in many other ways which I found to be invaluable in my career. A foreign degree forces you to stay in a foreign land, to understand and appreciate customs other than yours. I was staying in a town steeped in conservative American and black culture and the university had possibly 10 students from India. You learnt something new every day. As a result, I became more open minded, I gained an ability to walk up to and talk to complete strangers. More importantly, it broadened my horizons and sociability.
It was also tough. Having to fend for yourself in a foreign land (where you might be misunderstood) is not easy. That, plus working part time and studying was a novel experience at the time.
I'd say everyone should live (and not visit) abroad for a year. It gets you out of your comfort zone and makes you learn things about other countries (and more importantly, yourself)
Any memorable experience you would like to share?
I was working part time as a cashier at the university grocery store. A lady customer, upon noticing that I wasn't white, black or hispanic, asked me if I was from India. When I affirmed her assumption, she asked me if we all rode elephants to work and had charmed snakes as pets.
I still don't know if she was joking or was for real.
You worked as a senior associate at two major law firms. Tell us something about that.
It takes a while to learn the ropes. You need to be able to put in the long hours and the constant attention to detail. Your boss also plays a huge role in your life. How he/she allocates work and how much you can learn from him/her will decide your bonuses and career in the firm. I am and will forever be grateful to Mr. Som Mandal, a number of former partners at FML, and some present partners at D&D.
I also realized along the way, how important it is to create an image of excellence for yourself. Like the saying goes "Justice must not only be done, it must also appear to have been done". This plays a huge role in law firm politics which I have unfortunately been witness to from time to time.
How is a typical day for a senior associate in a law firm?
Depending upon whether you have a deadline that day, life in a law firm varies on a daily basis. You work on your transaction, consult with your partner on a point on which you are stuck, read up on it, revise your document accordingly. If you have been diligent in your work, it should pass your partner's review and the client should be happy. If not, you do get screamed at (not necessarily literally) and its back to the drawing board. All this is fairly par for the course.
Sometimes a client will come back and express his appreciation for your work or will come to you (and not the partner) for a new mandate. Somedays you get to scream at an investment banker or a merchant banker. Those are the days which are worth recalling with a smile.
Currently, you are teaching at Jindal Global Law School as Assistant Professor. Why this switch?
About two years into FML, I realized that I didn't want to spend the rest of my life drafting and negotiating on the same standard agreements, chasing after new clients for mandates and old clients for pending invoices. I knew I loved teaching (ask any of my former interns or colleagues) and had a flair for academic writing.
Unfortunately, academia in India doesn't pay as much as a law firm. Given the vast sums of money transferred to my bank account at the end of every month, it was difficult to tear myself away from the comfortable lifestyle I had built. However, JGLS salaries are at par with law firm standards and when the opportunity came, I took a leap of faith.
Life of a law firm associate and a professor, what do you think are the major differences between the two?
There aren't too many differences. As an associate, your job is to make your clients aware of the law. As a professor, your job is to make your students aware of the law. As an associate you are expected to research and provide answers to questions of law in the form of a legal opinion. The same applies to being a professor, where instead of an opinion, you publish a paper.
The only difference is that as a professor, you get to choose what turns you on intellectually. You choose what you want to research on and not what the client wants. You develop your own understanding of the research questions and are not expected to adhere to the understanding of your partner. And this makes all the difference in the world.
Please describe a typical work day of yours at JGLS.
Since classes haven't started yet (it's been less than a month that I've joined), much of my work is preparatory in nature. Preparing course modules and lists of possible research topics which my students will write projects on, consulting with the administration on university policies, studying for my own course (which I remember very little of) takes up most of my time.
A lot of time is also spent in researching on ongoing projects which will hopefully be published or presented sometime soon.
When classes start in August, I suppose a lot of time will be devoted to teaching, mentoring and guiding students and reading up on the next day's class.
How would you compare the JGLS of today with the NUJS of your time?
I have seen NUJS during its fledgling years and am seeing JGLS during its early years now. I'd say the infrastructure at JGLS is far better than that at NUJS at the time. The faculty is younger, and therefore a lot more attuned to the needs of students (I feel that as students, we didn't always connect with old, but very respected teachers such as Prof Menon, Prof Konar and Prof Banerjea).
As I mentioned before, the competition has gone up. I see JGLS students applying for and presenting papers at conferences and publishing papers. While all this has happened during my time at NUJS too, I think the need to stand out in the crowd has become even more imperative now.
One interesting difference I see is the student demographic. While at NUJS, you had a fair cross section of society in terms of economic class. At JGLS, that demographic is slightly skewed upwards, although you do have a large number of very deserving scholarship holders.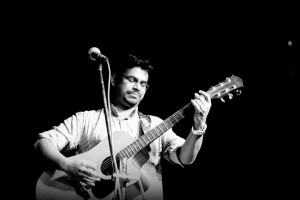 What's your take on work- life balance?
Extremely important. You need to have the courage to refuse work if you think you have too much on your plate. Either that, or devise a way where you can work quickly without sacrificing accuracy. I have personally followed this through my years and it has ensured my sanity for many years. Singing at a rehearsal for a Broadway musical or an opera after a bad day allows you to get back to work the next day with a smile on your face.
Last but not the least, what would be your message for law students?
Don't take law school too seriously. CGPA and class ranks, like old friends and enemies, will be forgotten. Learning the law isn't important, anyone can learn the law. What is important is that you learn how to learn the law. Other than that, chill (while you still can).