Bhavin Patel is a graduate of NLSIU, Bangalore, having sixteen years' experience across the legal, technology, and education industries.
He is an integral part of the E-ADR challenge which has been conceptualised by ICICI Bank and co-organised by HumLab and Vayam.  In  the interview he speaks about the E-ADR challenge, how will the E-ADR institutions be set up and  what will be the mode of operation.
Please tell us in brief what is the E-ADR challenge?
Disputes are a healthy and essential aspect of a functioning democracy and market, but our current platforms of dispute resolution, most notably the courts, are not able to serve our needs due to huge pendency of cases.
Issues of pendency, the cost of arbitration, and misconceptions around mediation are derailing both business and society. Even as we work to unclog the courts, we need large-scale, expedient, cost-effective, and trusted mechanisms of alternate dispute resolution.
The E-Alternate Dispute Resolution Challenge 2019, which has been conceptualised by ICICI Bank and co-organised by HumLab and Vayam, invites innovators, practitioners, and social and business leaders to constitute teams and propose comprehensive solutions for the creation of an E-ADR Institution that can resolve millions of disputes online through technology and mechanisms of alternate dispute resolution such as arbitration and mediation. More details on the Challenge and how one may apply to it are available at: https://www.agamiprize.org/eadrchallenge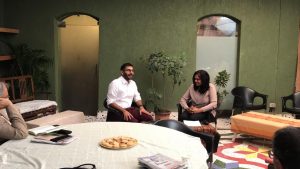 What is your vision with this competition?
We hope that the establishment of the E-ADR Institution that emerges from the Challenge will be able to help in some substantial measure towards the reduction of pendency in the court system, even as it provides a cost- and time-efficient mechanism for resolving large volumes of disputes. The Institution could provide a trusted mechanism that would enable consumers and citizens to resolve disputes easily and effectivily as well as improve the degree of contract enforceability in India, thereby boosting the nation's position in the Doing Business
How do you plan to set up the E-ADR institution?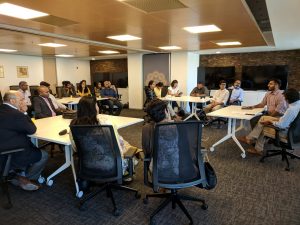 Applicants to the Challenge must respond to a detailed set of Specifications, which are available here. The Challenge organisers understand that no one applicant – and especially no one individual – may be able to fulfil all the requirements of the Specifications, and are therefore encouraging applicants to form consortia with other applicants who may be able to complement their skill sets and abilities. All consortia applications, once received, would be subject to a thorough screening process before being presented to a jury of eminent and qualified persons, who would deliberate upon, and then identify, one winning consortium that would be provided the mandate to establish and operate the E-ADR Institution.
The winning consortium would then be supported in its endeavour by the Challenge organisers and a panel of leading practitioners in the field of alternate dispute resolution as it commences work on establishing the E-ADR Institution.
ICICI Bank as the Conceptualist and Challenge Partner will be one of the first users of this institution and intends to utilise the E-ADR Institution for dealing with disputes arising in its products and services that are offered online and will consider extending the platform to its retail liabilities and retail assets businesses, which would supplement the other dispute resolution mechanisms available to the customers of ICICI Bank. Further, ICICI Bank has also agreed to provide suitable incentive at the inception stage of the E-ADR Institution established by the successful Challenge participant, by prepaying the institutional fee (adjustable in future) for a given number of matters that it would refer to the E-ADR Institution over a period of time, thereby making available to the E-ADR Institution, suitable sums of money in advance for utilisation towards the E-ADR Institution realising its objectives. Such a prepayment would go a long way towards easing the capital requirements of the E-ADR Institution in its early stages.
Please do note that the financial incentives do not take the nature of prize money or any equity stake in the E-ADR Institution, as ICICI Bank intends to be a user of the E-ADR Institution that meets the specifications of the Challenge.
How have you planned the mode of operation of electronic dispute resolution? What will be the Modus operandi?
The proposal for the E-ADR Institution is that it would be able to provide a cost- and time-efficient mechanism for dispute resolution by providing a means of resolving such matters in an online medium, and through the use of technology. The time and cost associated with traditional mechanisms of alternate dispute resolution, including, for example, the costs of travelling to another location, may often dissuade a genuine grievant from being able to present their matter to a dispute resolution mechanism. Through mechanisms such as electronic submission of pleadings, video conferencing for trial proceedings, and systems that keep parties informed at each stage of proceedings, we trust the E-ADR Institution would be able to provide not only a quick and inexpensive means of dispute resolution, but also a fair and transparent one.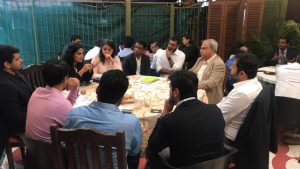 How do you plan to have arbitrators, mediators and conciliators handling Multi-party discussions in electronic mode? Do you believe India has the infrastructure to execute E-ADR?
While means such as video conferencing systems can be deployed to provide a mechanism for multi-party hearings, the Challenge organisers recognise that significant hurdles still exist in the country, which may pose problems for such a mechanism. That said, the winning Consortium may well be able to provide certain facilities from where Parties could participate in proceedings; additionally, we hope to create a Coalition that would include organisations who would consider using the E-ADR Institution to resolve their high-volume disputes. Such users may also have physical facilities spread out across the country, with good access to the Internet, and may be willing to provide access to these facilities for the use of the E-ADR Institution. Where, however, the requirement for verbal hearings is not felt to be necessary – such as in high-volume, 'templatised' matters of a low order of complexity, matters may well be resolved purely through the submission and consideration of pleadings, without the need for hearings and arguments.
Furthermore, we believe that an Institution such as this could trigger and nurture the creation of a large number of trained dispute resolution professionals who can resolve a large volume of small and medium sized matters on a daily basis and develop their careers as such. In the first few months this may involve retraining existing professionals, such as retired judges and practicing professionals, but, subsequently, this could include the training and certification of a whole new generation of professionals, not limited to lawyers.