This interview has been published by Priyanka Karwa and The SuperLawyer Team
Can you share your journey of becoming an Advocate on Record and your motivation to specialize in Criminal Law, as evidenced by your LL.M. in Criminal Law from the Indian Law Institute?
I am a first generation lawyer, nobody even in my distant family belongs to or is associated with a legal background. After pursuing my B.A.LL. B (5 years integrated course), I wanted to pursue LL.M. to add to my resume; as I come from a medical background and always had an inclination towards higher studies. After clearing a few entrance exams for LL.M., I opted for Indian Law Institute. There were two branches available for masters one being IPR and the other Criminal Law. As I always had a thing in me for litigation, I chose the latter. I was lucky enough also to have the finest professors teaching us.
Advocate on record also was something which emerged from the fact that I am a first generation lawyer, as with no assistance or guidance I felt that clearing the AOR exam will help me in establishing myself in the Hon'ble Supreme Court, as the Hon'ble Supreme Court recognizes only two sets of advocates: i). Senior Advocates and II) Advocate on Record; as per the Supreme Court Rules.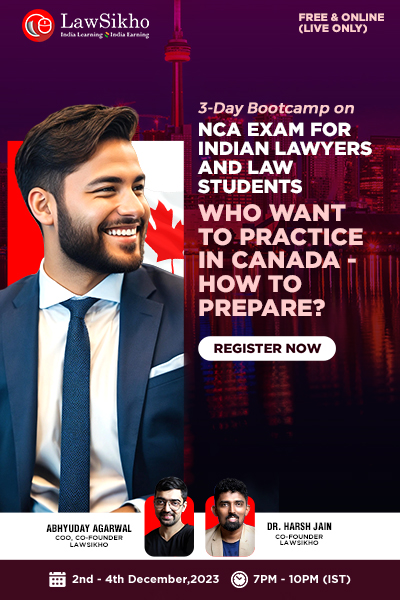 You've written a dissertation on "Pardoning Power of The President Article 72 Of The Constitution Of India." What led you to choose this topic, and what were some key findings from your research?
The topic for my dissertation again culminates from the fact that I have keen interest in the sphere of criminal law. It was intriguing to know the development from the death penalty being given very commonly to the rarest of rare cases and thereafter the effect of the Mercy Petitions as we call the power of the president under Article 72 of the constitution of India. Research included the recommendations of the Law Commission Report and study of the death penalty across the globe.
In addition to your specialization in Criminal Law, you've also written research papers on "Juvenile Justice" and "International Law in reference to Right to Food." How do these areas of study tie into your legal career and advocacy work?
The best part to pursue masters from the Indian Law Institute was that we had to submit various papers during our course and this apparently helped me to have better research skills which eventually helped me and till date helps me by inculcating the habit of researching some case laws on a daily basis; it also helped me to develop patience to read lengthy judgments and keep myself updated with the latest developments in legal field.
Your professional experience includes working with Designated Senior Advocate. Could you tell us about your responsibilities and experiences during this period and how they contributed to your legal career?
During the brief stint of period I was associated with the senior, I was assigned duty to research and prepare statements of cases. I was also given free hand to deal matters before the Registrar Court in the Hon'ble Supreme court. The exposure that I witnessed was essential for me to understand the knitty-gritty of the profession; also it helped me to understand the court craft. I also got an opportunity to listen and observe some of the finest advocates which helped me a lot to learn by observing the Art of advocacy; skill of argument, to learn the importance of body language, etc. and how one should conduct themselves during an argument.
You've represented the Government of India and the State of NCT of Delhi before the Supreme Court. Can you share some memorable cases or experiences from your time as a 'Panel B' advocate for the Union of India?
Being a panel counsel gives one immense exposure, as we get a chance to represent different States, Central Government and various PSU's. The maximum litigation that occurs in supreme court is wherein the government is a contesting party and thus the government has huge stakes and so do we as we represent the government.
You've filed Public Interest Litigations and intervention applications in the Supreme Court, leading to legislative changes, such as the incorporation of provisions in the Consumer Protection Act. Can you discuss the impact of these legal actions on consumer rights and advocacy?
The PIL filed by me pertaining the consumer awareness was particularly at the time when there were infiltrations from the Chinese side at the border and as an aware citizen of the country i felt the necessity of the awareness of the consumer before purchasing anything by way of e-commerce as the decision of the consumer should be an informed decision. The data of this year again shows that there is a humongous loss to the Chinese government as the Indians had chosen the local products over the other products.
You've taught various law subjects as a visiting faculty. How has your teaching experience influenced your approach to legal practice and advocacy?
In our field everything is connected and as the proverb exists Knowledge is the power so would i say that while teaching i used to extensively study and prepare for the classes; this helped me as well to have a grasp upon the subjects. I would like to add here that law is a field where no amount of reading, be it related to legal field or otherwise, goes unused or un utilized. One may never know that when one gets to deal with a particular matter about which you must have read way back; but as there would be little knowledge about the same, that will give confidence to study more about it and take up the case.
As an accomplished legal professional, what advice would you like to offer to fresh graduates who are embarking on their legal careers or considering a specialization in law?
To all the aspirants who are keen to take up litigation, my advice would be that do not shy from hard work, develop a habit of reading, this will take you a long way. Develop discipline and patience. The field of litigation is not for the impatient. But I can surely say one thing from my own experience: having Patience and perseverance is of utmost importance in the litigation field. One should also try to have as I call them 3 D's- Determination, Discipline and Devotion to not only sustain in this profession but these 3-D's will help one to achieve great heights.
Get in touch with Divya Jyoti Singh —