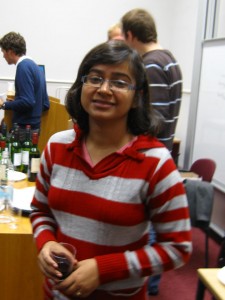 Debadyuti Banerjee graduated at the top of her class from WBNUJS, Kolkata, in 2011. Thereafter she went to King's College, London for an LL.M. in International Commercial and Business Laws. She has been in the editorial board of both NUJS and KCL's Law Review. Presently, she is working as an Assistant Manager at Lexplosion, Kolkata.
In this interview we ask her about:
Studying in King's College
Insight into the International Commercial and Business Laws Course
Experience as a member of Editorial Board of NUJS and KCL Law Review.
Work at Lexplosion and internship requirements
How would you like to introduce yourself to our readers?
I am a lawyer by profession, and I'd like to clarify at the very outset that I did not gravitate towards Law but, in fact, chose it after careful consideration. I decided right after ICSE that pursuing law was the way forward for me. Till then I had been toying with two very different subjects—engineering in Computer Science or English literature. And then, I landed on the perfect combination—law!
Awareness of the presence of conflicts in every sphere, from personal to political and the tiff between theory and implementation—how sometimes something in theory looks good but may actually be different in reality—made me keen on pursuing law as a career. It might be pertinent to mention that I do come from a family which has a long history (and hopefully future) of lawyers and judges and it's always been a part of who I am.
I made the switch from Science to Humanities for ISC and started preparing for the National Admission Test for admission to NUJS. I cannot begin to emphasize how helpful subjects like Economics, Sociology and Political Science at the school level were to build a solid base for the first couple of years in a LL.B course.
Did you have an opportunity to study the subjects you chose to specialize in your LL.M?
My specialization was in International Commercial and Business Laws from Kings College London (KCL/Kings). Other than World Trade Law, which was taught on the bare minimum terms in NUJS, I did not really get an opportunity to study the subjects that I chose in my LL.M. Lectures in World Trade Law were delivered by Federico Ortino and Piet Eeckhout, who are subject matter experts in the EU and thorough in research in this area as well. I must make a special mention of the subjects lectured by Mihael Jeklic (who has also been associated with Harvard Law School in the past)—Legal Negotiation and Analytical and Quantitative Methods for Lawyers (AQM).
Mihael is a very cordial teacher and his classes were an absolute pleasure to attend. He adopted an extremely casual attitude inside the class, going as far as to encourage us to eat our breakfast in our early morning class! Legal negotiation involved us to engage in real life negotiation situations, sometimes in class and at other times of our convenience. These exercises consisted of real life scenarios, requiring participants to come up with well thought out BATNAs, be aware of the Zone of Possible Agreement (ZOPA) and learning on the job to exert soft skills to achieve the closest best result each person had in his/her mind. Closely related to this was AQM, where things became more interesting. These lectures weren't lectures at all, in that it was completely a discussion.
We got to read and talk about interesting topics like decision analysis, game theory, behavior of markets especially its irrationality, bubbles and their growth trajectory and a fair bit of accounting. The skills learnt in these courses go quite far to teach one to evaluate real life scenarios from all angles on a rational basis and would find application in litigation as well as a corporate scenario. A thing to note here was that I was the only Indian national in my batch to take both these courses. Legal negotiation was a bit more popular among my Indian counterparts as it was a half module, while AQM was a heavier subject which involved deep diving.
For example: We were expected to take part in an exercise on Marketwatch which provided valuable insights into the mechanics of trading and provided several discussions surrounding efficient markets theory and behavioral finance. For those interested to read up on this further, I would suggest "Freakonomics" to be a good starting place. I would also recommend reading of "A Random Walk Down Wall Street" for its stellar theory on the efficient market hypothesis and Warren Buffet's rebuttal of it.
These are very interesting eye-opening subjects. Apologies if I rambled there. I also took International Commercial Arbitration on which I chose to submit my primary research paper. This comprised a much larger group, both international and Indian, the lectures themselves were more of a formal structured style and there were periodic (about fortnightly) written assignments to complete. Lectures were delivered by Toby Landau, Salim Moollan, Ricky Diwan, Sam Wordsworth, Maria Duval, among others.
How did you go about choosing which college to go to for your LL.M?
Having pursued an integrated B.A.LL.B (Hons) programme at the UG level from a prestigious law school in India, pursuing a Master of Laws seemed to be the next step for me especially since I have always been academically predisposed. I was sure that I wanted to go to the United Kingdom for my postgraduate studies. I had applied to Kings College London, Queen Mary University of London, University of Durham, University of Kent and University of Nottingham based on my course preference. I was accepted to all these Universities and was offered scholarships at KCL and Kent. I accepted KCL because of several reasons—location (both in UK and in London), faculty, ratings (consistently ranked in the world top 20 for law), history and background, employability ratings and the most important, the Kings International Graduate Scholarship that I was offered. There were only two scholarships given out that year and I was thrilled to have been offered one. Finances were always the most important consideration in my mind. (I'll talk about it in some detail later.) KCL is international in its composition and outlook, with a wide array of organisations and societies made available for students, and this offered me a superbly rich study environment. It is located in the heart of London, and by that I mean, I could see the London Eye every day, the law department is housed in the historic Somerset House—it doesn't get much better than that!
You have worked on the board of the NUJS & the Kings Student Law Review. How has that experience been for you?
That's a very good question. Both experiences were fantastic albeit in very different ways. I worked as a Senior Associate of the NUJS Law Review and it was a great learning experience to make the transition from merely writing and onto mentoring, reviewing and finishing articles within a given time period. There was some editorial work involved, but not much, it was more about writing articles. Kings Student Law Review (KSLR) was a different ball game altogether. As a member of the Editorial Board there was a good amount of reviewing and decision making in the selection process involved. Since I was also heading the copy editing team (which is somewhat rare for a LL.M student as the other guys heading teams were PhD students), I think my previous Law Review work experience held me in good stead there. The painful bit of citing articles as a writer was of great help when I was doing the editing especially as OSCOLA was the norm and it was new to me. It was amazing that I had the independence to choose my own subordinate team members. Having been a Law Review member certainly did add to my resume when I was tailoring it for the LL.M application.
How did your interning experience boost your LL.M. application?
(Debadyuti has interned at Khaitan, Amarchand & Fox & Mandal in addition to interning with advocates and Supreme Court judges.)
A well rounded CV is always helpful and I think that a variety of internships at leading law firms or advocates or even Supreme Court clerkship showed willingness to learn different skills and thriving under pressure. I believe that this unique blend of experiences also gave me an unique point of view in life and that was super helpful while writing the Case for Support applications for scholarships. Each of these internships imparted new skills and a view into how these organisations work so I would say cumulatively they all helped in grooming my legal skill set.

How difficult was studying abroad in terms of finding accommodation, finances and settling in?
Personally I faced a lot of trouble with finding accommodation in London, but mine was a one off thing. There was a certain amount of time during which I was staying with kind strangers and then flat-sharing with a friend. I was finally offered a place in Kings College Hall (There are separate applications for accommodations as well—the various application processes are mind boggling!). It was a beautiful old Victorian building with a park and a thriving international body of students which made my life incredibly interesting! I got the opportunity of interacting with a wide milieu of students (both UG and PG) cutting across continents and cultures. I would definitely recommend living in student halls for the experience it offers. One needs to be careful of finances and carefully plan the expenditure from beforehand, otherwise it's easy to go overboard since London is an expensive city. However, there are several concessions available to students like the Oyster card and discounts at departmental stores. I was extremely thankful to have been offered a scholarship award as I was very clear that I would not be pursuing my masters without one. There are several attractive scholarships available at KCL especially full scholarships now that it has received extremely generous donations from its alumni.
How was the faculty and academic schedule at KCL?
I spoke in detail about the faculty and the subjects before so I won't repeat myself. A typical day would be early morning classes, hanging out with my fellow LL.M mates in the canteen discussing any topic under the sun, afternoon classes (if any), going to the library to study/pick up books, going back for late evening classes (some were scheduled at 7 pm so that active members of the Bar could come down to lecture), travelling for an hour to go back to hostel (Travelling is a big part of living in London!), reading up for future lectures and/or assignments. Readings were given beforehand and one was expected to have read most (if not all) the articles or pieces of work on the list. If you are not reading and not updated, it is very difficult to keep up with the lectures and engage in a meaningful discussion with the class. It will be waste of time if you're not engaged in the classroom discussions is what I think. There were regular assignments and written essays which needed to be handed in on specified dates, so it was an intense course and pretty busy.
Was there time enough for non academic pursuits at KCL?
You need to find time for non-academic pursuits. There's no work without play! In London there's always something or the other happening—be it wine tasting sessions, guided tours, and the like. I found the study-life balance to be easy to handle and anyone who is good at time management would enjoy their time in KCL and London. There is an education happening inside the classroom and there is an education that London as a city has to offer. It feels extremely rewarding to have gotten a taste of both.
How in your opinion is the LL.M experience abroad different from that in India?
Not having pursued a LL.M from India, comparing an undergraduate course in India to a postgraduate course in the UK might be a little unfair so I would not like to venture there. However, I would like to emphasize on the world view it imparted and the variety of specialized skills I picked up in my LL.M.
Again, I cannot really comment on the decision of my batch-mates. Personally speaking, it was never about the job prospects. I was placed as a part of the CRC process with a law firm in Mumbai which I declined to go abroad for my higher studies. I have always been keenly interested in legal writing / research and that's what led to the LL.M.
There is a school of thought that labels LL.Ms as being little more than an expensive holiday unless the individual concerned wishes to enter the world of academia/research? Your thoughts?
I am yet to come across a person who has gone on this "holiday" terming it as one! It is expensive and I would not dream of having gone on a fully self-funded LL.M without a scholarship. So the "expensive" bit is definitely true. I rate the LL.M to be an educative experience beyond par—both inside and outside of the classroom. Whether one practices, joins the corporate world or is into research is a purely personal preference, but I am sure reading for an LL.M helps in that journey. In my experience, employers also give a fair amount of weightage to an education abroad.
Tell us a bit about Lexplosion. What is an ordinary work day like?
Lexplosion is a new age company which is blending law with technology to solve clients' pain points. Its tagline is to "Innovate Legally" and its main product offering is a cloud-based software which offers regulatory and legal compliance management. Other than that, it also provides a plethora of services which includes a fair bit of work that a typical law firm does, like legal research on specific client queries, contract drafting, due diligence and the like. Lexplosion was set up by a group of ex AMSS, GE, Seth Dua alumni. It's a young place with the average age being around 30. There is no ordinary work day as such; each day brings with it a set of challenging activities my way.
Can you tell us something about mentoring interns at Lexplosion.
I am happy with the law students that I have had the chance to interact with during my stint as a mentor here. Most are bright, enthusiastic and make me optimistic about the new gen lawyers. I wish to emphasize writing skills which is frequently missed out on. It's important as a lawyer to have impeccable research and writing skills. And by that I mean looking at primary sources, citing everything properly and deep diving into issues to address multifarious angles. You don't need to write using a lot of meaningless words strung together. Writing in simple formal English which shows depth of thought is how one should start.
Regarding internship applications…a well written cover letter and a proper CV with no grammatical/spelling mistakes are a MUST and automatically points towards a person being organized and diligent. Random applications with multiple addressees are not welcome. And that does not mean putting everybody in the bcc either. There is also a telephonic interview as part of the selection process here and that is very helpful to both parties involved for determining suitability.
Given a chance to turn back the clock would you have done anything differently from what you've done?
Not second guess a lot of things!
What would be your suggestion to law students who plans to go for higher studies?
Do your research on the courses, faculty, living costs et al., do not blindly follow rankings and go to a University which would suit you the best. Apply well in advance of the respective deadlines for application to the selected course, scholarships and accommodation, and put in a fair bit of thought to each application. Honesty shines. I had made a controversial quote in my SOP for the KCL scholarship and had a lengthy discussion about it with my mentors at the KCL scholarship ceremony. Important takeaway for me was that people will remember you for who you are and what you stand for.