Gopal Sankaranarayanan is an advocate at the Supreme Court of India. He graduated from NLSIU, Bangalore in the 2001 batch, immediately after that he went for a Masters in Criminology from the London School of Economics. A prolific writer in various journals and leading dailies, a co-founder of Care For Air, an independent, volunteer organization and a successful practitioner of law, Gopal speaks to about:
His college and university experiences.
Mooting – the culture and its importance.
Helping Bhutan draft its Constitution
Legal writing, research and his new project Care For Air.
His views on Section 498-A and his advice for being successful in both personal and professional spheres.
Could you please introduce yourself to our readers?
I am a son, husband, father and friend. I am also an Advocate of the Supreme Court.
You graduated from NLS Bangalore in 2001. How was preparation for the entrance exam like then?
The entrance exam in the mid-90s was very different from what it is now. There were fewer candidates taking it then – a few thousand or so – and the questions were fairly straightforward Math, English, GK, Logic and Legal Reasoning. With time, they have become more complex, and with the advent of the CLAT, fairly random, inconsistent and thoughtless, which is why I am helping my friend Prof. Shamnad Basheer in his challenge to its arbitrary nature which is pending in the Supreme Court.
Preparation for me when I took the exam was interesting. I took it twice, in fact. The first time in 1995 with less interest, a week after a teenage romantic heartbreak and which led me on to the NLS waiting list and then St.Joseph's College in Bangalore for a year. That was probably my best year of College – I travelled the country for literary fests, I bunked classes to have beer at Brigade Road and investigated kabab roll joints across the city.
The second time the following year I spent a week reading that godforsaken Competition Success Review and flipped through the equally mammoth Manorama Yearbook to figure out who had won the Padma Vibhushans and to understand what GATT was. It didn't help. But what did was the fact that a friend was in NLS and she gave me a few ideas, most important being to finish all the questions. I weaselled my way in, though if the faculty had any idea, they would have nipped it in the bud!
How was your time at NLS – could you share your experience with us?
My time at NLS was a lot like life. It was a microcosm of India – girls and boys from across the country from a variety of backgrounds all thrown into this melting pot– there was competition, pettiness, talent, imagination and insecurity. I tried my best not to change who I was (which wasn't a great idea because I have a prickly personality!). As a result, I tried everything, giving academics the least priority. I played a lot of sports, and was most partial to Cricket and Hockey. I mooted nationally and internationally, helped co-found and convene our annual fest LeGala led by the wonderful Meghana Abraham, participated in literary and cultural events across the country from all the IITs to BITS Pilani's unparalleled Oasis, sat in dive bars in Nagarbhavi, did all-nighters with cigarettes and dumb charades, danced and sang, choreographed fashion shows, and loved my internships with K.K.Venugopal, Zia Mody and Karanjawala. Subject wise, I fell in love with Constitutional and criminal law and fortunately, that affair continues.
I made some very dear friends at NLS – many for life, and I am happy that their interactions have made me richer, while not necessarily enriching them! One of those collegemates now shares her life with me, though she claims she barely noticed me then.
On the flip side, I had my share of controversy and run-ins with the faculty, a few of whom completely lacked the emotional maturity to deal with young people. There were others, like Prof.N.L.Mitra who probably saw some potential in my rebellious streak, and when I objected to the undemocratic manner of NLS student elections, he allowed me to form a Committee to revise our Constitution. That effort thankfully bore fruit largely due to the efforts of P.M.Thimmaiah and Nandan Kamath.
In my entire tenure at NLS, there were very few members of the faculty who really had what it took both academically and emotionally – A.K.Rai and V.S.Mallar were the exceptions, and the blame for this lies at the doors of a series of Vice Chancellors who were insecure and lacked the imagination to encourage young academics to truly flourish.
You did your Masters in Criminology in the London School of Economics. Tell us a little about your time there.
I guess the fact that I didn't seem like a nerd appealed to LSE when I applied seeking to enlarge my passion for theoretical criminology. At the time, LSE was still a part of the University of London and we had multiple faculty across King's, UCL and SOAS taking a single subject. I knew Nicky Lacey was at LSE, and that's why I applied, but to have the erudite Robert Reiner and the accomplished Ben Bowling (now Deputy Dean at King's) teaching us about feminist theory, stop-and-search and media manipulation was fantastic. The rigour they expected and the inputs we got from international students made the subjects so much more attractive. As we could opt for a non-specialized subject as well, I chose International Law of Armed Conflict & Use of Force, which was helmed by Prof.Christopher Greenwood (now a judge at the ICJ). Greenwood to me sums up everything a Professor ought to be – charming, informed, witty, humble and extremely disciplined. While he taught us, he was also a Queen's Counsel, advising the British Government on the invasion of Iraq (this was shortly after the September 11 attacks), editing the ILRs (with Lauterpacht Jr.), churning out a series of articles in the top International journals, appearing before the ICJ and also taking 4 other courses on law. Teaching one course at the Masters level can be exhausting – to do all this is superhuman. Along with Greenwood, giants like Christine Chinkin and Rein Mullerson (Gorbachev's former Advisor) brought into sharp perspective the practical real-life experience that is so necessary for a good academic. I could probably bore you to death about how the approach of teachers in the UK ought to be emulated here – so that they give you some respect and treat you as equals, or at least sentient beings.
Apart from the classes, which after a long while, I truly enjoyed, I also played Hockey for LSE's First XI team, and won medals for the Universities League and Championship that year. We trained under the shadow of the iconic Battersea power station and I will never forget freezing my butt off while running around on this Pink Floyd pitch.
What is the value addition of a Masters in your career?
I think if you are curious and you like to learn, you should always step beyond our shores to try and experience that world. For me, my Masters was always just going to be knowledge for the sake of it, as I had no plans of working in London and was coming back to practice. I have almost never used the actual lessons or the subject matter of what I was taught in my practise, but the tools of research, of pithy presentation, of verification of sources, of comparison, of context I apply on a daily basis.
What has been the role of sport in your college days and thereafter? What role do you think sport plays in getting a postgraduate seat?
I was and continue to be passionate about sports. I still play tennis, badminton, basketball and golf as time permits, and whenever Amit Sharma remembers, I will turn out for a day-night cricket match! As the great American broadcaster Heywood Broun said – "Sport doesn't build character. It reveals it." If you allow it, it can be the most defining aspect of who you are. Sport has taught me passion, camaraderie, leadership, sharing and loyalty. It has given me perspective about everything else I do because it is so inclusive and rewarding. You don't have to play it, you don't have to be good at it, you don't even need to understand it to actually be moved to tears when something great happens. I haven't seen anybody crying enraptured by a great argument in court or a wonderful contract clause. If I were unwell, I would probably skip Court, but I have stepped onto a cricket field with one hand in a cast, and shared a 45 run partnership for the last wicket with Siddharth Agarwal, who now knocks it out of the park in Delhi's criminal courts.
During my years as a lawyer, I have been happy to see the seniors at the bar readily reach for their cheque books when I approached them to donate for Shiva Keshavan's luge at the last Winter Olympics, and my own recent experience as Secretary of the Lodha Committee has been very rewarding in helping formulate policy at the highest levels of one of the world's most watched sports.
As far as your applications question is concerned, I can imagine sport playing a big role if you apply to Universities that have strong sports agendas (Duke, Michigan, etc.) or if the evaluator is partial to sport. But if you are unfortunate to have your exquisite essay read by a serial academic topper who frowned at such frivolities, you are up the creek without a paddle.
What are some of the important observations you have found regarding the moot culture in India in recent years, when you have acted in the capacity of judge?
I have had varying experiences. I know it's very tough to know what to prioritize before which judge – some prefer citations, some (like me) love to go into the facts and work the angles, others just want to show how much they know. There are, however, 3 basic things I tell mooters –
(1) Dont interrupt the judge, but please don't be obsequious;
(2) Stick the moot problem on your bedroom door and read it a hundred times – it always throws up something new;
(3) Use real life examples to illustrate your point and make it simpler to understand (this is actually the Mukul Rohatgi staple!)
What role do you think mooting should play in a law student's life?
I think it has its place. It shouldn't be an overarching priority because there is so much else on offer in your 3 or 5 years at college. For most young people, this is your last free stretch before responsibilities overtake you. If you can, enjoy it by doing other stuff and meeting new people. This might be the time to walk over and talk to that girl or guy who sits quietly in the second last row without interacting with anybody. Go over, have a coffee together and figure out what makes them tick. Not as a social experiment, but just because it is what humans ought to do.
Will you give us a brief recount of the time you helped the Kingdom of Bhutan draft their Constitution?
This really happened by chance. I was in the Chambers of K.K.Venugopal, Sr.Advocate [KKV] and he was approached by the erstwhile King of Bhutan, Jigme Singye Wangchuk to advice on a Constitution. He is quite a forward thinking man, and as a monarch, realized that a Constitutional set-up would be a progressive one. There were many interactions with the Law Minister and the Chief Justice of Bhutan, accompanied by their advisors. Their initial draft was a mish-mash of the UDHR, the ICCPR, the US and Indian Constitutions. KKV spent hours reworking it while I researched the areas that required special attention and suggested alterations where necessary. This was not an easy task for two reasons: One, it required me to fully understand the development of South Asian constitutional law, and Two, KKV almost always asked me questions to which I had no answer! Eventually, the Constitution came into force, with KKV playing the role of Bhutan's Ambedkar and B.N.Rau rolled into one, while I visited Thimphu in 2008 and sat in their Parliament watching their most polite legislative proceedings.
You have several publications to your credit. Tell us a little about writing legal articles and research in a lawyer's career.
Research is compulsory. Articles are voluntary. Just as with moots, I spend several hours reading caselaw, online articles and books to come to terms with a legal point. If it is a considerable one which I believe the public would like to know about, or an anomaly, or something which is just patently unfair, then I feel compelled to publish. I write from the heart, and I know that often candour is unappreciated, but it also corrects an incorrect impression that people may have. I believe legal writing should be so exhaustively researched that there can be no doubt that it is original and that also there is something novel to say. Also, anyone interested in writing should attempt to have their work spread across multiple publications so that there is no suspicion of nepotism or partiality.
Is there any habit or skill you picked up over the years that you believe is critical to a lawyer's success?
Integrity. If you try to mislead the court or try pulling a fast one on a colleague, the ephemeral pleasure will ruin your reputation for life. Before you know it, judges and lawyers put you down as someone whose word cannot be trusted, and their displeasure starts dampening your performance. While hard work and application are important, they are meaningless without the respect of others.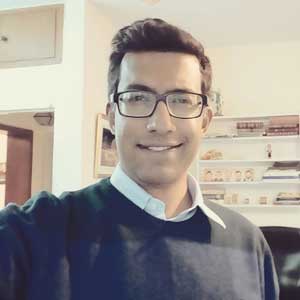 Tell us a bit about your love for Constitutional law and work experience.
As I mentioned earlier, this was something born out of some invigorating classroom discussions we had in Law School with Profs. Mallar and Vijayakumar.
When I came into practise, I started assisting KKV in some Constitution Bench cases and I realized how much reading it involved. A turning point came when Mr.Fali Nariman, after seeing me assist KKV in a matter recommended me as his junior counsel for the 9-Judge Constitution Bench hearing the scope of the Ninth Schedule [I.R.Coelho]. I was overwhelmed by his generousity, and later by the fact that preparing for it meant I had to read Golak Nath and Kesavananda cover to cover! It was a brief 5 day hearing under the strict gaze of Chief Justice Sabharwal, and we subsequently succeeded, but even if we hadn't, it was a personal achievement – to spend hours brainstorming critical aspects of our Constitution's fundamentals and then to assist one of our finest minds in putting it across.
Subsequently, I spent 4 continuous months on the reservation challenge in Ashoka Kumar Thakur and learnt that nothing about Constitutional law is easy or brief. It requires rigour and reading, and while it takes time for an opportunity to come your way, it invariably will. I was thus fortunate to address the Constitution Bench concerning the postponement of reportage [Sahara v. SEBI] and to successfully challenge Section 6-A of the Act setting up the CBI [Subramaniam Swamy]. Recently, my arguments on vagueness and liberty were accepted by the Bench that heard the challenges to Section 66-A of the IT Act [Shreya Singhal] and also struck down Section 118-d of the Kerala Police Act.
At NLS, we were taught one trimester by the late Justice A.M.Bhattacharjee, whose unique grasp of the subject is best reflected in his book "Equality, Liberty & Property" [now out of print]. I remembered his Chapter on Privacy when we were doing the AADHAR case earlier last year, and it was this little bit of stray reading which allowed us to have the case referred to the Constitution Bench, doubting the correctness of how Kharak Singh had been followed. So, you never know when a little extra can come to aid!
Outside of its use in the Courts, I was always fascinated that while the Constitution was our most important textual document, we had little general knowledge about it. How many Indian homes have a Constitution? But many have the Gita, Bible or Koran. The more I realized how Indian courts have made the Constitution such a dynamic instrument of social change, I felt something needs to be done to increase its reach. An early suggestion to Sumeet Malik from the Eastern Book Company to have a coat pocket edition of the Constitution bore fruit, and the slim leatherbound volume of which I am the proud editor is now in its ninth edition. It is an endeavour to have it in every home soon – our entire Indian cricket team have personal copies and this was what was presented by the President to Arvind Kejriwal when he visited him on the occasion of his election last year.
I also conceived of an Oral History project which was implemented by Rainmaker, where we conduct and upload free on YouTube hour-long video interviews with the doyens of the legal profession so that those who might otherwise not have a chance to interact might have access to their lives. Soli Sorabjee, Iqbal Chagla, Harish Salve, Gopal Subramaniam, Ashok Desai, Raju Ramachandran, Goolam Vahanvati, and several dozen more have shared their life stories.
Things like this, apart from actually arguing in court, are way more fulfilling, as they allow your countrymen to slowly become aware of their Constitution and their rights.
What are your views on Section 498-A and the realities of its application?
I think, much as the Supreme Court itself has, that this provision is being abused often. In some States there are police advisories not to automatically arrest the accused in such cases and to be cautious. Marital discord is usually irreparable once you reach this stage, and the deepset rancour coupled with the lethargy of our judicial process eventually leaves the victim (husband or wife) with no way out of an unhappy situation. Based on my Note, the Supreme Court recently laid down guidelines in Arnesh Kumar, but I don't know how it is being implemented in the respective States.
How do you manage your professional life and personal life? Do you keep both separate?
Actually, I don't. I am thankful that my wife Haripriya Padmanabhan (also a Supreme Court advocate) is such an excellent multi-tasker – she does her Court work (much better and more thoroughly than me), she manages our three kids, she cooks wonderfully and she discharges her role as the Secretary of the school PTA, so that all I really have to manage is my own practise!
One of the things Haripriya and I agree on is that family is more important than anything. Thus, we have our office a mile away from home so we can be close to the kids, but we don't work on anything together. We have our distinct practise areas (she is more into commercial litigation, education and civil law) and we never discuss law at home. Our work grants us the flexibility to be home with the children during the day and when there is pressing work, we work into the night after they sleep.
It's not easy, especially when you come into Delhi from outside and you don't have grandparents around, but with patience, luck and friendship, you will always find a way.
What do you do in your free time? Have you continued activities related to literary and debating (as you were given awards for the same in college)?
I love films, books and music. The arts have always been my weakness and I collect what I love. Travelling Wilburys, Billie Holliday, Sam Cooke, Guru Dutt, Stanley Kubrick, Wong Kar Wai, Watchmen, Sandman – I love them all.
Recently, a more grim issue has taken up my time – air pollution. It is something that is slowly enveloping our cities and making India unliveable, particularly affecting the very young, the pregnant and elders. A few of us have founded Care For Air, [www.careforair.org] an organisation aimed at raising awareness about the problems and solutions regarding the toxic air. We make presentations to school and residential communities and continue to spread the message.
L&D-wise, one of the things I do on an annual basis is to host MyLaw's A Question of Law, a quiz on law for lawyers, law students and the general public on Law Day (November 26th). Its light hearted and fun, which is evident from it being conducted at Monkey Bar! We just finished 5 years of that, and it is a lot of fun with several hundred participants and regular rounds of tequila shots.
Do you have any parting advice for all our readers out there?
Just one: tomorrow, you could be hit by a truck, so don't keep worrying about your majestic long-term goal. Keep small workable milestones which have nothing to do with your peers and where they have reached in their lives. Make time for sport or music or painting or language or whatever you enjoy. Try and travel, even to small places nearby. Don't let work come in the way of your important relationship moments (weddings, birthdays, anniversaries, even funerals). If you have a partner or a child, try and be there for his or her doctor's appointments or school performances or shows. When you're 55 with an empty nest, you won't remember which case you were arguing when your daughter was winning the relay.
As the windows of Chartres Cathedral will tell you, as long as we are on the shoulders of the giants who came before, we will always be okay.