This interview has been published by Prabhjot Singh, Priyanka Karwa and The SuperLawyer Team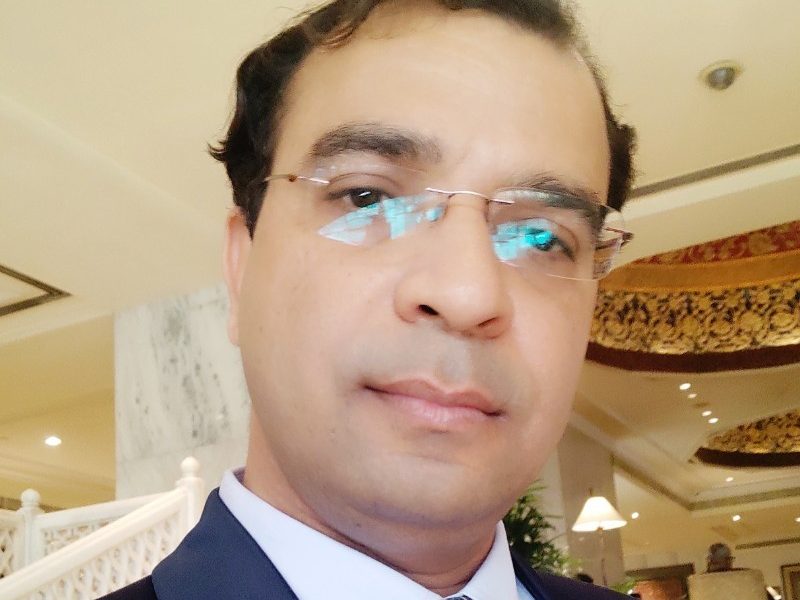 Let's start from the beginning – What prompted you to choose law? Was choosing law came naturally or it felt easy to adapt?
Actually, law was in my blood as my father was also from a legal background. When I opened my eyes, I started realizing the rules of justifying the difference between right and wrong and perhaps with the passing of time I started using it to justify my stand during childhood discussions. However, I was never willing to adopt legal practice as my profession because at point of time the legal profession was in very bad shape, especially in small cities. Since I was from science and mathematics background in my study, I always believed to identify and focus on the root cause and key points of any situation.
This was the time when new computer courses were being designed and attracting science graduates to search for their carrier in computer line which also attracted me. Thereafter when my father was about to retire from legal practice, he advised me to adopt the family profession and keeping in mind my interest in science, mathematics and computer he suggested me to add the skill of my interest in the legal field which will stand me at a different level of legal practice.
I think even my father has realized that the legal domain is about to knock on the doors of a new era, which will be very fascinating for me. Finally, I started working on legal procedures of hardcore legal practice during my law graduation and also started to do specialization courses in corporate and cyber laws.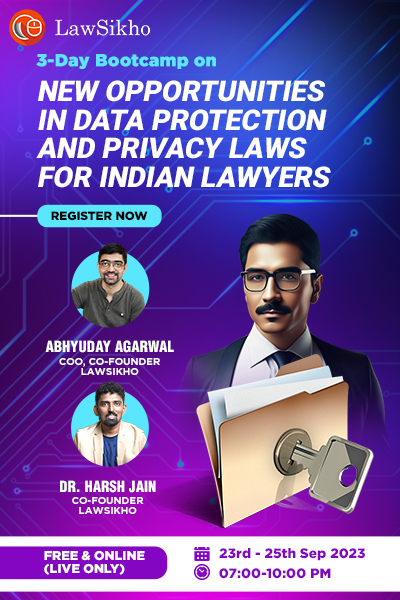 How has been your experience dealing with International Clients on corporate matters, on what grounds do you differentiate between national and international clients? Are there any particular parameters? Also which one's are easy to get?
My experience dealing with International Clients is really good and satisfactory. The expectations of international clients are always higher side which makes the work more challenging and interesting. It is always fascinating for me to work in a no-scope-of-error environment. Sometimes your International Clients are not much aware of Indian Laws, especially procedural law and explaining to them the step-by-step strategy and plan of action was really a new experience. The basic difference between a national and international client is their expectations, their thoughts towards existing laws, level of accuracy and perfection in work.
A national client understands the timeline of each step of litigation and on-ground difficulties whereas an international client does not have any idea about it and only expects a quick resolution. I personally believe that a strong strategy, through practical knowledge and preparation is necessary for handling the work of either a national or international client.
Do you think that participating in National MUN, National Parliamentary Debate or National Moot Court Competition helps in the legal field?
Yes, It is correct that participation in Moot Courts, legal debates Competition for law students is very important. I would suggest Law Students not run behind their senior advocates and feel satisfied by only marking their appearance in the Court's order sheets. Young law graduates should not keep themselves limited to only getting adjournments and Passovers in Court proceedings. They should first try to understand and focus on procedural law.
Since most of the Law Firms and big offices of Advocates are handling a good number of cases and these law firms and advocates have their own mechanisms for such a big volume cases therefore the Fresher candidates should also understand such mechanisms.
The actual difficulty is such Law Firms and advocate offices are paying a handsome salary even to the freshers, therefore, all such law firms and advocates expect from a fresher law candidate to start working for them from day one which is not possible. Therefore, it is always advisable for Law Students to actively participate in Moot Court Competitions as much as they can.
Any special preparations that you suggest for lawyers looking to grow in the Banking & Finance sector as well as for corporate recoveries?
As we know the Banking and Finance sector is the backbone of any developing country and plays a remarkable role in the growth of the economy. The banking and finance sector has also grown remarkably in the last 20-25 years and supporting Indian Industries. There is a variety of work for advocates from the Banking and Finance industry like, Due to Diligence Report for issuing loans to individuals, Corporate Houses, Hotels, automobiles etc. Similarly, there is a variety of litigation for the recoveries, commercial disputes, interpretation of legal contracts, dishonour of cheques, litigation before DRTs & DRAT for recovery of loans etc.
I would suggest the young generation of legal professionals to have a good command over the new laws and regulations which are being introduced and good practical knowledge. There is a requirement of focusing on the Banking & Finance laws which are slightly different from other streams of Laws.
Similarly, if a law graduate wishes to be a specialized legal professional for corporate & commercial recoveries of Companies, firms etc then he/she must start focusing on the latest laws, Codes, regulations, case laws, interpretation of laws and procedures law of such recovery proceedings i.e. Insolvency Petitions, Domestic & International Arbitrations, recoveries under Commercial Court Act.
We assume that such expanded work requires smart people in the room. So are you a team player or is it a "one-man show"?
I strongly believe that this is a time of specialized professionals all over and there is a high demand for specialized legal professionals too. Since we regularly meet the General Counsels, Legal Heads and other legal professionals representing big corporate houses, multinational companies, PSUs etc and sometimes they have no hesitation to express their views that they are in contact with many legal professionals, partners of the law firms and renowned advocates offices and they are good to handle the routine work being assigned to them.
But when we have any legal issue which is either critical or high stack involve these legal professionals having a good communications skills and impressive way of discussion.
I personally feel that most of the legal professionals are investing their time & energy only in showing off, scheduling meetings and they are moving away from the very basic knowledge of the law which should ideally be their primary concern and because of this kind of approach clients are suffering even when they are ready to pay a handsome professional fee.
I personally believe and also follow that I must be updated with the latest laws, and trends which are being changed almost every next day. The old traditional laws are not capable to resolve the issues which are coming in the way of this third-largest economy of the world and these all laws are being replaced with the latest laws and regulations. Similarly, legal professionals must be enough smart, quick learners, well-updated, well-equipped with the latest tools & technology and specialized in corporate and commercial laws.
I remember there was a time when an MBBS doctor treated all kinds of patients but now the time has changed and now there is a specialized doctor for every kind of medical complication. In the same manner, there is a high demand for specialized legal professionals.
However, nobody can ignore the strength and importance of teamwork. I personally believe that with the help of teamwork we complete the work in a systematic and time bound manner as well as we provide an opportunity for our junior colleagues to learn under the supervision of specialized legal professionals. The pattern of teamwork also provides a high level of accuracy and perfection in the work as it is being checked at multilevel and finally by specialized legal professionals.
We all know you have dealt with a plethora of cases in your career, is there any special case that has affected you deeply as a person or which has changed your mindset towards the Corporate world?
Although there are many cases which are in my mind because of something special associated with them but still I remember in one of the cases our foreign client was facing two civil cases for directing them to supply the goods to their dealer where the dealership agreement had already expired and our client was being harassed to keep supply the goods even when there was no such agreement existed between them.
On top of it, a huge amount of money was due to the dealer and they were not ready to clear the long pending invoices of our client. Finally, on the one end, we vehemently contested the civil cases filed against our client and for the recovery of the amount we decided to approach the NCLT under The Insolvency & Bankruptcy Code. Finally, after great effort and with a quick and result-oriented approach, we got a favorable order from NCLT and Hon'ble Tribunal allowed our Insolvency Petition filed under section 9 of the Code.
Thereafter, we recovered the entire amount of pending invoices, withdrawal of false civil cases and 50% of the litigation expenses as settlement. From these cases, I understand that it is quite necessary for a Company to have a strong back of legal resources for doing business in a better environment.
Appearing before various law tribunals and forums needs extra effort, how do you plan your work to be super-efficient?
Since we also have a high volume of corporate & commercial litigation including, consumer litigation, civil recoveries, Domestic & International Arbitration, Recoveries under the Insolvency & Bankruptcy and the Commercial Court Act, Labour disputes and litigation across India therefore we have developed an automation system for performing the responsibility as per the seniority of the advocates of the firm.
Whenever a new advocate joins the firm first we identify his capability and level of experience and thereafter fit him in the system at the right place accordingly and give clear visibility about his/her current responsibilities as well as his future plan of action and goal so that the advocate keep performing his current responsibilities with keeping in mind in future goal and achievement in the firm.
We have a clear automation system of work therefore by investing less effort and time we all give our best and maximum output. Our work environment is unique which encourages each associate, senior associate, partner etc to work with a team spirit. Any matter is not being handled by a single either associate or partner of the Firm and a mutual team works on each matter.
There is clear demarcation on the roles of the firm members that's why I myself look after a number of the high stack, profile and higher judicial form matters. As I discussed earlier, we have a very strong and automated system of communication which keep the concerned advocate updated and also reminds the right person for his actionable which turns ultimately into a maximum output even from my end.
Any advice for young legal professionals?
Actually, there was a time when advocates had very limited resources and society was not much developed and hardly there were two basic streams for legal practice: Civil and Criminal. But in the last 20-25 years India has opened its doors to foreign investors, traders & companies and there is a remarkable improvement in the Indian corporate society therefore a variety of new legal streams have been opened for lawyers. The new generation of advocates can not keep themselves limited to either one or two streams. 
But at the same time, advocates can not achieve the specialisation in a day or two and the same will take its own time. Therefore every time when a new client comes with an issue of a new stream the advocate can not seek time for the examination of the issue and its related laws etc.
In order to counter such a situation, the young generation of advocates needs to develop legal reasoning and analytical skills according to the existing legal mechanism and framework.
The new generation of advocates also needs to start thinking like lawmakers so that they can understand and predict the redressal of the challenges which are arising in every new and developing sector of India. At the same time, I would also suggest that the young generation of advocates to have a specialisation in the field of their choice and do not hesitate to equip themselves with the latest technologies and tools [hardware/software] supported with artificial intelligence.
Where do you find the Indian Legal industry in the next 10 years?
The growth rate of Indian legal Industry is remarkable and the same is going towards a more consolidated format in the next 10 years. Many established industries like E-commerce, Banking & Finance, automobiles, Telecommunications & Internet etc and some new and developing industries like Electric Vehicles, renewable sources of energy, Energy storage devices and Virtual platform for the exchange of money is attracting foreign and internal investment which increases the chances of work for the legal industry.
Similarly, the enactment of new consumer laws, Data Protection Bills, and Capital regulatory Rules are going to widen the scope of legal support for the Companies and also create work for legal professionals.
The enactment of new laws is speeding up the disposal of corporate & commercial litigation which earlier used to be pending for a long and the same is encouraging foreign and internal investment in India. I believe in the coming decade specialized legal professionals will help to create an environment for the Companies, Banking & Financial Sector, MNC to work in an environment which is the basic requirement of any developing and under-developing industry and economy of the Country.
I am sure there will be a requirement of such legal professionals, law firms and legal offices which are well-equipped with the latest technology, Artificial intelligence, and Strong communications storage platforms. I would suggest to the young generation to keep themselves ready to work in a virtual environment and decrease their dependency on paper and physical meetings, seminars, workshops and court appearances.
I am sure we are going into an era when every associate of a Law Firm or big advocate office must have their own cloud-based mobile application for case management and these applications will reduce the role and assistance of clerks and artificial Intelligence shall perform said responsibilities in a very accurate and effective manner.
---
Get in touch with Mirza Aslam Beg-