Dr. Kalyan C. Kankanala pursued law at Osmania University, graduating in 2001. From there he went on to do an LL.M in Intellectual Property from Franklin Pierce Law Center and a PhD. in Patent Law from the National Law School of India University in 2006. Kalyan is a renowned Intellectual Property attorney in India. He specializes in helping clients maximize business value from their intellectual assets. He is the founder of Brain League IP Services and BananaIP Counsels. He is also the founder of the popular IP Blog, SiNApSE.
Kalyan is a prolific writer, with several fiction and non-fiction books and publications to his credit. He teaches at premier institutes like National Law School, Bangalore and IIM, Bangalore. He worked as a consultant for the United Nations Industrial Development Organization and is at present a trustee for the Cane Foundation, and a member of the editorial board of the Journal of Intellectual Property Rights, NISCAIR.
In this interview, Kalyan speaks to us about:
His days as a student and motivations during his academic journey.
His tryst with Intellectual Property Law and his work as an IP Attorney.
His passion for researching, writing and publishing.
The future of IP practice in India.
The challenges faced while establishing his start up Brain League, and later BananaIP and his views on social welfare.
How he balances his personal and professional life.
His Legal Thriller novels and other IP works.
How would you introduce yourself, given that most of our readers are law students, law aspirants or professionals in the legal arena?
I am an Intellectual Property attorney, who loves to work with creators and inventors. The merger of law, Science/Technology and Business excites me, and I am glad to have chosen this profession. Apart from practicing IP Law and helping clients realize business value from their intellectual assets, I also teach at institutions like National Law School, Bangalore and the Indian Institute of Management, Bangalore.
I enjoy writing and have published several articles and books. In addition to academic publications, I also write legal thrillers on socially relevant themes. Right now, I am finishing my third book in the IP Law Thriller Series, The Dravidian, a traditional knowledge thriller. Earlier, I published Road Humps and Sidewalks, a Patent Law Thriller, and Pirates of Bollywood, a Copyright Law Thriller.
What would you say motivated you to take up law as a career, given that it was not a very popular option in India?
I was never motivated to pursue a career in law. In fact, I never considered it as an option. My entry into law happened by accident. I wanted to be a medical doctor, and therefore, joined a medical school. After six months in school, I had to leave due to the rapid progress of retinal degeneration, which led to a loss of working and reading vision. Then, on a well-wisher's advice, I joined a law program in Hyderabad.
How well did your experience in Hyderabad prepare you for a life of academic prestige and professional success?
Though I did not study at one of the best law schools in the country, my law college at Hyderabad gave me the foundation and encouragement to pursue higher education and research in Intellectual Property. Some of my Professors at the law college were a great source of knowledge and inspiration, and continue to be so even today. Hyderabad was in fact the starting point of my IP career – both academic and professional.
What were the influences behind your decision to pursue an LLM in Intellectual Property Law from Franklin Pierce?
The convergence of Science and Technology with law played a major role in influencing me to pursue an LLM in IP. In those days, Franklin Pierce was rated as the best IP School in USA, and therefore I decided to study at that law school. I was fortunate to not only get a good scholarship from Franklin Pierce, but also funding from the Tata Foundation for my LLM program.
Were you always as fascinated by the field of IP law or was it an acquired passion that set in through your college years?
As I mentioned earlier, I joined the LL.B. program by accident, and throughout the course, I was looking for an interesting career subject. Intellectual Property Law caught my attention in my fourth year and I was convinced by the end of the academic year that IP would be my area of specialization. Two factors led me to this decision: the role of IP in creativity and the involvement of Science and Technology in IP Law, especially Patent Law. The fascination started only after I started delving deeper into the subject.
While most opt to end their education at an LL.M, you pursued a PhD in Patent Law from National Law School of India University. What drove you to higher education in your field of interest?
Initially, I aspired to have a career in academic research and teaching, and therefore, joined the Ph.D. program at NLSIU, Bangalore. In light of my medical background, I chose Genetic Patent Law as my research theme. However, certain circumstances drove me into IP practice. In fact, I co-founded my first firm, Brain League, now BananaIP, when I was at National Law School, pursuing doctoral research.
Between founding Brain League (now BananaIP Counsels) in 2004, while pursuing a PhD at NLSIU, and subsequently teaching at NLSIU as visiting faculty from 2005 onwards, how did you manage all of these time intensive tasks together, all while publishing research papers in domestic and foreign journals, and writing novels?
Well, I love to write and teach, and have never faced issues with managing my time between practicing IP, teaching, and writing. Teaching and writing in fact help me do well in my profession as they drive me to learn continuously and keep abreast of IP developments. I enjoy creative writing, and have found time to write at least one novel every year during the last three years.
Would you attribute any of your success to the types of internships you were exposed to? How would you advise current students to go about the process of finding and targeting internships?
During my days at law school, interning was not very prevalent. I did not intern anywhere and missed the opportunity to learn the nuances of legal practice during my student days. Internships are a great way of learning the dynamics of legal work and choosing the right field that fits one's goals. Students must look to intern at firms and companies specializing in different areas of law to get a flavour of the various fields of practice.
Where does your love for writing come from? What motivates you to write?
I do not need motivation to write. I write because I thoroughly enjoy writing. Reading and writing give me great happiness. Sometimes, writing helps me learn and understand a concept/issue better.
What kind of research and work goes into your publishing?
Normally, to write 500 words I spend at least five hours on research. Having said that, some topics require much longer, and some others, much less time based on my familiarity with the subject. For example, I take much longer to write on Medical Law when compared to patent law.
Also, there is a difference between fiction and non-fiction writing. While my fiction is largely driven by experiences and observations, non-fiction is based on law, facts, case laws/studies, etc.
How would you advise students to go about their careers with respect to research and writing, publishing-grade academic papers?
I wrote my first article during the second year of LLB. It was not published but it taught me a lot about the topic. My first publication came along only during my LLM Program. It required one full semester of research to be eligible for publication. Nowadays, it is not very difficult to get published if one writes a well-researched, articulate paper on a contemporary issue.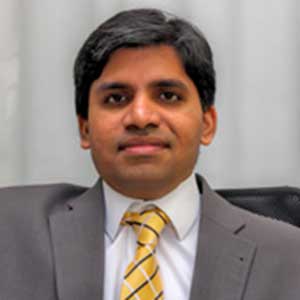 What sort of an effort did it take to get published by world-renowned publishing houses like the Oxford University Press, Japanese Innovation Foundation, Thomson West, etc.?
It was quite challenging to get my first book published. I started by identifying appropriate publishers and writing to them. All publishers send you a proposal form, which asks for much more than details of your book. It is basically a pitch document through which one must make a case for acceptance of his work for publication. In addition to book details and sample chapters, it includes market data, marketing and promotional information, author profile, etc.I sent proposals to six publishers and got offers from three of them. Then, I weighed their stature and published with the one that I felt had the best visibility and reach. Once my first book was published with a reputed publisher, it was easy to get good publishers for my subsequent works.
What are your upcoming novels? Are they also related to IP?
Two of my books are set for release in 2016. Both of them do not relate to intellectual property. The first novel, The Oath, is a medico-legal drama. The second one, DogMafia, is a short thriller on the dog abduction mafia in Bangalore.
My next IP Law Thriller is 'The Dravidian'. This book is expected to hit the stands in 2017 if I finish it as per schedule.
In setting up Brain League (now BananaIP), what were the challenges and obstacles you faced as a legal start up in the Indian market?
Unlike start-ups in other areas, legal start-ups cannot market, advertise, and scale up through standard channels. While incubating out of IIMB's entrepreneurship cell, we ran around the campus brainstorming for different strategies, only to realize that none of them would apply to us. To make matters worse, I was a fresher out of law school, with very little experience. My partner had some technology experience, but no legal experience or background whatsoever. We were probably in the sixth month when the first opportunity came our way. Sasken Technologies, a company based out of Bangalore, was looking for large-scale IP training and we managed to get the contract. Thereafter, for reasons we cannot really pin point, clients got in touch with us at IIMB and wanted to work with us. At that time, most patent lawyers lacked technology backgrounds and we provided that value to clients. By virtue of the said uniqueness, several newspapers and magazines carried stories about us, and things started falling in place.To cut a long story short, I think we were at the right place at the right time. Also, we were fortunate to get the backing of reputed Professors like Prof. Pavan Mamidi (IIMB), Prof. Ramakrishna (NLSIU), Prof. Anil Suraj (IIMB), Prof. Damodaran (IIMB), Prof. Murali (IIMB) and several others.
What are your views on career choices other than mainstream corporate or litigation streams such as teaching, etc.? How, if at all, have your views on the same been affected by your time spent as visiting faculty at NLSIU and teaching at IIM, Bangalore?
Today's law graduates have more choices than before. The practice of law is getting more specialized, and many new opportunities are opening up on a daily basis.
I once wanted to be in academic research and teaching, but could not take that path owing to certain circumstances. Unlike those days, the salary scale for teachers is now quite decent and it surely is a very good career option. In addition to teaching, students may also consider options like public interest advocacy, policy level lobbying, government positions, judicial services, etc. Starting up is also a very good option for law graduates. When we started Brain League in 2004, joining a corporate was an attractive proposition, and most of my friends preferred to join law firms or companies. Though we initially made several sacrifices by starting up, we were able to build the third largest IP Firm in India by 2012. Today, BananaIP is one of the fastest growing firms in India, and in hindsight, I feel I made the right decision. At present, the ecosystem in India is very conducive for entrepreneurship, and there is a higher probability of success for legal startups.
What are your views on Intellectual Property as a lucrative and growing area of legal practice in the global scenario today?
Intellectual Property is one of the fastest growing fields of law in India. Several areas of IP like licensing, open source, portfolio management, technology transfer, valuation, IP Management and even litigation are still in their early stages, and have a long way to go. These areas will have great growth potential in the coming years.
IP Practice in India has progressed substantially from the filing, prosecution and registration perspectives, both qualitatively and quantitatively, and I foresee some kind of equilibrium in these areas by 2020. Having said that, if the Indian IP filing scenario grows like that of China, there will be tremendous growth in these areas as well.
Moreover, there are several areas of law, where IP forms a very important component. Such areas include Entertainment Law, Sports Law, Technology Law, Ecommerce Law, Art Law, etc. These areas of law are still largely unexplored, and I foresee great growth potential in the said areas of practice.
Having spent nearly three years as a National expert on IP at the United Nations Industrial Development Organization, how did your experiences there affect you as an individual and as a lawyer?
Working with the United Nations Industrial Development Organization (UNIDO) taught us many things. I took up this work in association with my colleague, Soma Shekar, who is a leading Mechanical Patent Expert, and also, a good friend. At some level, we can say that working with UNIDO changed us as individuals. The work with UNIDO cluster companies in machine tools, plastics, and foundry gave us great insights about the said sectors, and how SMEs in those sectors operate. Today, this experience not only helps us understand SMEs better, but also enables us address their needs effectively. During our fieldwork, we met some very special, yet humble individuals, who have been making telling contributions through their innovative activities for more than thirty years. They taught us a lot about their work, and life in general. We feel privileged to have met them and treasure the knowledge they have given us.
As a Trustee at the Cane Foundation, what motivated you to participate in social welfare for the disabled?
Well, I always find it difficult to put this across. I am visually disabled, and had to fight the system for almost everything ranging from getting a scribe to travelling on a flight. We started the Cane Foundation to ensure that other disabled persons do not face the same problems and also, to take disability support to the next level. We were fortunate to get support and funding from people like Prof. Ramakrishna (NLSIU) to get the trust going.
What advice would you give students looking to build a career in Intellectual Property Laws?
Intellectual Property is a great field to be in. If you like to work with creators and inventors, have the ability to understand business, science and technology, and can adapt to change quickly, go for it. But, note that working with creators is not the same as creating. You will mostly be at the back end of creativity, helping your clients protect, manage, enforce and make money out of their intellectual assets, and may not get the visibility creators get.
Amongst so many things do you find enough time for a personal life or does that have to be managed separately?
Time for family and fun has never been a problem. I enjoy doing most things I do, and do not necessarily manage my personal life separately.
What factors, facets, or traits would you attribute your success to? What, if at all, do you believe still needs work?
Intellectual Property as a field is vast, and continuously evolving. To be competitive, you must learn on a daily basis and swiftly adapt to change. Over the years, I have been fortunate to work on some cutting edge projects, and learn from some of the best in the field. So far, I have merely touched the tip of the IP iceberg, and have a long way to go before I can call myself successful.
What would be your parting advice to our readers?
Pick a career path you enjoy and give it your best, the rest will fall in place.