Lavin Hirani, though not a Bollywood actor himself, is a star in his own right. The present Head of Legal Affairs at Red Chillies Entertainments Pvt. Ltd. (Shah Rukh Khan's Company), he could very well be termed as a mega star in the field of Entertainment and Intellectual Property Rights Law. A graduate of the University of Mumbai (2007), as well as post-graduate from The University of Manchester (2009), he first started off his career as a Litigation Associate with Khaitan & Jayakar, soon moving on to work as a Media & Entertainment Attorney, first with Naik Naik & Co. Advocates, and then with Hariani and Company – leaving the position in August 2015 to join RCE.
In this interview, he speaks to us about:
Given that most of our readers belong to the legal fraternity, how would you introduce yourself to them?
Hello, everyone. My name is Lavin Hirani. I am settled in Mumbai, and have been a practicing lawyer since having graduated from the 3 year LLB course in Mumbai University in the year 2007. I am thrilled to have been given this opportunity to share my modest experience of 8 years as a practising lawyer, with the legal fraternity and readers of Super Lawyer.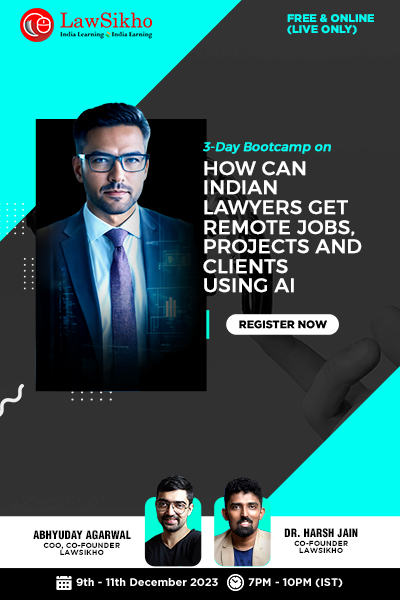 I currently work as the Head of Legal Affairs at Red Chillies Entertainment, a film production studio based out of Mumbai since August this year, prior to which, I was handling the  media and entertainment practice at Hariani & Co.
Having done B.Com from Mumbai University, what motivated you to choose law as a career from the same University?
Well, I would love to say that it was an independent decision, however the truth is that I come from a family of lawyers, including my father, who is an active practicing advocate, due to which I was always intrigued by the profession of law. However, I was never sure of the field of law I wanted to specialise in, and therefore I involved myself with different aspects including criminal and civil litigation prior to deciding that I wanted to specialise in Intellectual Property/Copyright and Media Laws.
Did you find that your law school education had prepared you sufficiently for the many tasks you were required to execute during your internships and later at your job?
Well, the bitter truth about most of the law schools in India, except for a few of the highly rated national law schools, is that the education and the curriculum never fully prepares you for a career in law.
Thankfully, I was informed about this by various friends and family members, due to which I went for a law internship even before I started my law education.
Formal legal education in India can only prepare you so much to help you get an initial background of what the procedural laws / substantive laws in India are all about. The real education starts only once you engage yourself with real life cases, which enable you to realise the intricacies involved in solving the day to day issues faced by clients and how you deal with them.
Right after graduating, you joined M/s Khaitan & Jayakar as an Associate where you worked for one year, and then went for an LL.M. Why did you decide to go for higher studies?
I always wanted to pursue a Masters in Law. However, I personally believed that a Masters degree in law would have a greater impact and be more fruitful if I had some kind of practical experience as an advocate before I embarked upon any form of specialised education. And to my credit, it did work for me, as I was better able to imbibe the course and appreciate the finer nuances of law, including the subjects I wanted to specialise in.
I would also like to add that there is no ideal time to educate yourself. Every opportunity is a good opportunity. I know of several colleagues who waited for 3-4 years after graduating law before enrolling in a Masters degree, and several who jumped into one directly after law school, so there is no real straight-jacket approach to a Masters degree.
Tell us something about your LL.M year at the University of  Manchester (UOM), United Kingdom. How did this influence your career?
There are various reasons why one may pursue a Masters degree, especially from a foreign university. Some of the reasons would be – getting a better position with their current employers/law firms, or as the first step in their journey to work and settle abroad, or better earning prospects, etc.
However, the reason why I chose to pursue my Masters degree abroad, was to get a broader perspective in my chosen career path, and also to gain further expertise in subjects like IPR, Competition and Business/commercial laws, which I was really interested in, with an accredited university like UOM.
Although I would like to believe that pursuing a Masters degree abroad did help me with my career, I wouldn't say that a mMasters degree is a must for everyone, as the costs involved are huge, and it may not always directly co-relate to an increased compensation / better position at work once you are back in India, if that's what one is looking for.
Soon after Masters, you joined Naik Naik & Company and worked there for two years before joining Hariani & Co. How was your experience working there?
As I said earlier, one of the subjects I had enrolled in during my masters abroad was intellectual property rights. Naik Naik & Co. was back then and even now one of the few law firms specialising in IP and Media laws and therefore was one of the law firms I interviewed with on my return to India.
I started working at Naik Naik & Co. from July 2010 for a period of approximately 2.5 years, wherein I got the opportunity of being involved in all kinds of matters ranging from handling transactions related to media and IP related documents to criminal and civil litigation before various courts, commissions, tribunals, CBI, the Supreme Court of India, various High Courts across the country, etc.
I was involved in several film industry related disputes between producers and broadcasters, guild issues,  issued faced by artists, copyright infringement cases, writ petitions, criminal litigation relating to film personalities, while also being involved in non-media related issues/matters pertaining to land disputes, company petitions, service tax, the Adarsh Scam, etc.
As a law associate, this was one of the most exciting periods of my professional career back then, as I was engaged in multifarious kinds of litigation and transactions, which is extremely important for any junior starting out in law.
Since November 2012, you started working with Hariani & Co. Tell us about the nature of work you're entrusted with therein.
Hariani & Co. is a full service law firm specialising in real estate, litigation, media & IP laws, with several media and film production companies as clients. Although I was really happy with the kind of work I was doing at Naik Naik & Co., I always had a penchant for transactional IP work, which I was missing out on, due to the humungous litigation practice at Naik Naik & Co. I was entrusted with.
I joined Hariani & Co. in November 2012, and worked there till August 2015. During my stint at Hariani & Co., I was able to hone my skills and knowledge of IP laws, especially copyright law, due to the substantial film and television related transactional work I was entrusted with, including a fair amount of media related disputes/litigation.
I would like to mention the name of Mr.Ajay Vazirani, Senior Partner at Hariani & Co., under whose guidance I was heading the M&E practice, where I was given full charge of all media clients including some of the biggest film producers in India.
I have been fortunate to have worked with a great set of people at both Hariani & Co. and Naik Naik & Co., which I believe is extremely essential for any lawyer, as I believe that the only way one can develop and gain, is from learning from others, including juniors, in addition to keeping yourself abreast with developments in your chosen field of practice.
You have specialized in IP law. What made you interested in the same? How would you suggestone can gain expertise in IP Law?
As I said earlier, I was never sure of the field of law I would choose to specialise in, which I think, in today's world, is extremely important, while also being competent and informed to deal with any other legal issues your client may face.
I have had the opportunity, at various stages in my career, of dealing with all kinds of laws, including criminal, civil, real estate, commercial, tax, maritime, contracts, customs, etc. However, I, since my college days, have continued to be extremely enamoured with IP laws, especially copyright laws.
One of the primary reasons I chose to specialise in media and entertainment law is that it is extremely dynamic and ever-changing, and continues to inspire me with so many issues being faced by authors and the industry, in general, especially pursuant to the vast amendments made to the Copyright Act in the year 2012, some of which issues, the film industry continues to battle with.
In addition to having a special interest in copyright, I am also interested in commercial/business, and contractual laws, which I think is extremely important for any lawyer today. Except for a few branches of law, everything in today's world is about business and contracts, where another important skill for a lawyer is drafting and negotiation, which also is something I strive to get myself involved with, and improved at, with each passing day.
Further, I am not aware of how one can gain expertise in IP law, as I do not consider myself to be an expert. However, I believe the best way to get yourself to become an expert in any subject of law, would be to involve oneself with the constant practice of dealing with real world issues of the particular field of law you want to gain expertise in, and also by updating yourself with various developments happening in the said chosen field, including through court judgments, reports and industry specific notifications/updates on a regular basis.
What are the primary essentials of an IPR lawyer? How might a fresh graduate work on building these skills?
According to me, the essentials of a good IPR lawyer is knowledge of the acts governing copyright, trademarks, patents and designs, including laws pertaining to contract and specific performance, as most of the acts governing IP provide for the requirement of written agreements recording transfers, assignments and registration of IP.
It is also good to have some basic knowledge of how litigation works in India, and not just procedural laws governing the subject, as it is very important for a lawyer to understand the difference between probability and possibility of issues arising from any particular clause / agreement negotiated by one, and moving forward accordingly. Every deal/transaction has its own modalities and specifics, and therefore good drafting and analytical skills are an absolute must for a lawyer, as this is something where many lawyers miss the bus.
I have had the fortune of working with several accomplished lawyers as a junior, and from what I have learnt from watching them from a vantage point over the past several years, I believe the best way to learn for any fresh graduate is to be sincere and spirited, as the only way one can learn is through eagerness and hard work.
What would be your advice to students interested in Intellectual Property Rights?
My advice to anyone interested in IPR would be to follow your instinct. There is no right or wrong field in law. There may be ones that are more lucrative than the other. However, you may only succeed if you are interested, and have some form of expertise in your chosen field.
IPR is also vast, with lawyers specialising in trademarks, copyrights, technology, and also as patent attorneys.
You have recently joined Red Chillies Entertainment (RCE), which is promoted by Shah Rukh Khan. How did this shift take place?
Due to my work profile, I was involved with various film production companies, and as some of you may know, RCE has recently adopted a major shift in its strategy towards being a full-fledged film production studio. Knowing my interest and aptitude with film related transactions, and not only as someone having a legal background and approach, but also someone interested in the business end of things, I was offered to join RCE to head the legal department, which, according to me, was an interesting opportunity at this juncture of my career.
Having known the entire team at RCE, having worked with them closely since the past several years, it wasn't a difficult decision to make.
What all falls under your responsibility as Head Legal at Red Chillies? What are the primary requirements for such a role?
I am engaged in the dual capacity of Head Legal of RCE, and also as a personal in house legal advisor for Mr.Khan's personal endorsement's and investments.
However, in my role as the Head Legal of RCE, I am responsible for all legal issues faced by the company on a daily basis, including being responsible for all transactions pertaining to films produced, and various other IP controlled, by RCE, including acquisition, sale, licensing and distribution of films, brand associations, etc.
Does specialization in IPR Laws, especially Copyright, help in such a work profile?
Yes, it does. RCE being involved in the business of production and distribution of films, I deal with issues relating to copyright laws on a daily basis. However, in addition to the same, it is also extremely important for me to delve into various issues concerning the internal workings of the company, for which knowledge of employment and labour laws, corporate, sports, real estate and various other Indian and international laws, is also a must.
What will be your message to those who aspire to join Bollywood as a lawyer?
I won't use the word Bollywood, as it's an extremely restrictive term, and is used in reference to the film industry in Mumbai, only. However, the media and entertainment space is growing day by day, and furthermore, with the onslaught of entrepreneurial ventures and start-ups in the technology / ecommerce and entertainment space, there is huge potential for IP lawyers in the future, as long as they are willing to be striven towards, and genuinely concerned about IP laws, and not just the sugar coat of the media industry, which fades away in no time.
As a parting note, all I would like to say is that in addition to having knowledge and experience, it is extremely important that one is pragmatic and enthusiastic about their chosen field of law, including understanding the importance of maintaining inter-personal relationships with fellow lawyers / colleagues, as law is one of the few professions where you are bound to interact, in some form or the other, with your past or present colleagues, seniors, juniors and others, over transactions, deals or some form of dispute/s, and therefore one must not ever under-estimate others or over-estimate oneself, as everyone you interact with will in some way or the other contribute to your being a better lawyer.
Wishing everyone at SuperLawyer and its readers a very Happy New Year!