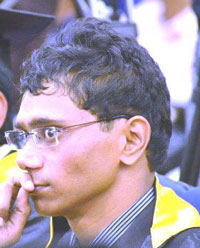 Manoj Bhati graduated from the National Law Institute University in 2011. In the same year he cleared the Madhya Pradesh Judicial Service Examination. He has been serving on the MP Judiciary for the last two years.
In this interview we speak to him about:
His experience as a law student at the National Law Institute University.
Preparing for Judiciary during college years, without coaching
Tips on clearing competitive examinations in the country.
How would you introduce yourself to our readers?
First of all I would like to thank SuperLawyer for giving me this opportunity to have some words with you. For our readers, I am a BA. LLB (Hons.) from NLIU Bhopal. In the same year I got selected in the M. P. Judicial Services as Civil Judge/ Judicial Magistrate. I have been serving on the Indian Judiciary for the last two years.
What motivated you to choose law as a career?
I agree. Back when I joined BA. LLB, pursuing law was considered by the ones who had no other option (I have confirmed it from many seniors of mine), many of my neighbours had no idea how graceful and career oriented the course could be. They only had a thought that like others I too would go and sit in court to become an advocate but now things are different. As we see young chaps are leaving IITs, etc. and joining law programs through CLAT and other exams. As I told earlier I decided to study law to get legal knowledge that would have helped me in my IAS exam.
Prior to entering law school did you ever wish to be a Judge?
I never really thought of being a Judge. Initially at NLIU I was a person who wanted to join the corporate sector just not to be an unemployed person whose ultimate destination was civil services. A teacher I knew of, used to teach at Bhopal University, and she became a judge back in 2008. Her selection motivated me and her guidance helped me in preparing for the exam.

When did you start preparing for the exams?
I started preparing formally at the beginning of 4th year. But I had already started to focus from the 3rd year on subjects which were asked in judicial service exams. My advice to the aspirants is to start preparing by the end of your 3rd year of a five year course and focusing more on subjects like CPC, CrPC, IPC, Evidence act, Constitution, contract act, Hindu Laws, Muslim Laws etc. when we study them in the Law School. It helps us in reducing the workload when we prepare after College. New Subjects which we are not taught in Law School will need time to be prepared thoroughly.
How valuable do you think coaching institutions can be for preparation of judicial exams?
To be very frank, I am not a big fan of taking coaching classes. I did not attend any coaching classes. For me, coaching classes just help you in getting disciplined e.g. you will at least study at the coaching time and at home whatever taught at coaching on a particular day. Law school is very hectic and after attending classes 9 through 5 the energy level goes down. On the other side, it is a boon for those aspirants who have not been able to focus on studies due to some problem during college or who need some base to start with. My advice for students is to get Standard Text Books for each subject and start with yourself and if they find it difficult to prepare themselves then only switch to coaching classes.
What are your views on taking notes in class?
For me, taking notes is the most important part of your preparation. Notes will help you in revising your subject as you need to revise the subjects more frequently. Better take rough notes in classes and later mend them as per your need to make useful notes.Notes save your time when you have lesser time in between Pre & Mains Exam. I did not adopt any special strategy except to focus on those subjects which are asked in Judicial Service Exams. One should give more time to subjects like CPC, CrPC, IPC, Evidence act, Constitution, contract act, Hindu Laws, Muslim Laws as preparing them in college means preparation half done!!
Did you undergo a rigorous academic schedule?
As we know life at a law school is very tough. You have a hectic schedule and time management is a very important aspect. At law school I chose evening time when everyone was busy with sports, gym and other things to avoid disturbances. I still feel sorry for my dear friends who used to knock my door to go to the market or outside but I had to refuse them.
Tell us about your time at the Judicial Academy.
For training of new Judges of the District Judiciary of MP we have the State Judicial Academy at Jabalpur. In future when I visit National Judicial Academy as a Judge I will share my experiences with the readers. For me, training period has been just like 1st year at college. You have to start afresh and go ahead just like a beginner. Gradually you grow in confidence with your experience. Thousands of people attempt for judicial exams and only a few get selected.
Which are the prime skills and expertise required to crack the exam?
Competition at judicial services is very tough. My tips to aspirants is to start preparation early after you have been taught procedural Laws such as IPC, CPC, Crpc at your college. Starting too early is a waste of time as you won't be able to understand these subjects without a basic idea. A candidate for judiciary should be well versed at procedural laws because they form the very base of your knowledge. You should be focused on studies. Get previous question papers from the market and try to get a basic idea about sections on subjects which are important and how to prepare them. Maintain good writing speed by practicing as main exams are lengthy and you have to attempt the whole paper to get selected in a tough competition. Prepare Self notes on each subject; they will help you in a quick revision as time is very limited. Keep revising the subjects continuously because if you prepare a subject and then don't revise, you will end up losing command over it.
What is the importance of CGPA for law students for judiciary aspirants?
If you want to join corporate sector CGPA is very important. But for Judiciary CGPA is only important to the extent that you must have a prescribed minimum percentage to sit in the exam which is generally 50-55 %. CGPA does not make a difference at the interview, only the questions during the interview do. The honorable interview committee mainly focuses on legal knowledge, besides how many placement offers you had bagged, why would you want to leave a lucrative city life and want to work in a rural atmosphere and whether you would be able to work at small districts and villages. Besides subjective questions, basic questions on international law and events were asked.
What is a typical day at work like?
You have to work 10 AM to 7 PM, 6 days a week. You can say life is just like that of the corporate sector. Important files you have to read at home for the next day's work i.e. you have to prepare in advance. You have to devote the most of  your 24 hours.
What do you think of the Indian judicial system?
Indian judicial system is one of the best judicial systems in the world. As we see judiciary has been protecting the rights of people since independence. Every system has some flaws, and so does our judiciary. For me, the notable thing is legal delays, the reason being lesser number of judges and more number of cases. In India we need adequate number of judges and need police reforms in effective justice delivery system. Plus we need drastic changes in old laws. A judge can't go beyond what the law is and old laws need changes with respect to changing times.
What will be your suggestions to our readers who wish to join judiciary?
Best of luck to all readers who want to join this noble cause. You should develop good reading habits, accumulate knowledge with as much reading as you can, try to be a good listener and prepare thoroughly. You must remain focused and patient.