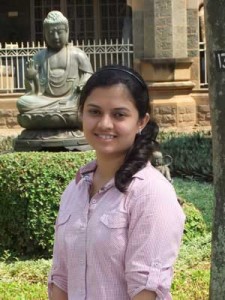 Arpita Majumdar is currently a student of Bangalore Institute of Legal Studies (BILS) and shall graduate in 2015. She has secured All India Executive Rank 13 in Company Secretary Course and has interned at top notch firms.
She tells us about:
Preparation for CS exam and bagging AIR 13
Coaching Institutes and CS
Importance of Internships
How would you like to introduce yourself to our readers?
I am a fifth year law student from Bangalore Institute of Legal Studies and a potential Company Secretary. I was born and brought up in the vibrant city of Indore in Madhya Pradesh and completed my schooling from St. Raphael's Girls School, Indore. Having been nurtured in a Convent School, I was inducted into public speaking quite early in my school life. Fortunately, it has continued to remain a passion ever since.
What motivated you to choose law as a career?
Although I hail from a family that has seen a generation of Engineers, fortunately I was encouraged to pursue a career of my choice. However, given the lack of awareness about varied avenues available to a law graduate, my peers were skeptical of my decision. Also, I believe that there is a peculiar dogma and a certain amount of disrespect associated with the legal profession in the smaller towns.
My first encounter with the legal regime was as a National Service Scheme (NSS) volunteer whereby, we undertook a project for the education of female inmates in Jails. This tryst with the justice mechanism motivated me to pursue a profession that infused a feeling of empowerment in an individual. Although, I must admit that initially I was perplexed between journalism and law; eventually the decision to opt for the latter came quite later in time.
As a law student which activities did you participate in?
Well, I believe everybody should invest considerable time and effort in exploring diverse opportunities that law school has to offer. It provides the requisite perspective to make an informed decision regarding your preferred area of practice.
I have always tried to maintain an effective balance between academics and other activities. Along with, a consistent endeavour to maintain good scores throughout law school (as clichéd as it may be); I also, play Chess and have represented my College at "Spiritus" –the Sport's Fest organised by NLSIU, Bangalore. I have also been a member of an Expert Panel Study on Access to Healthcare in India by IIM-Bangalore and University of St. Gallen, Sweden.
Mooting has been another formidable part of my law school life. In fact, in my very first year I represented my institution in the Amity University Constitutional Law Moot; in which we were the semi-finalists. I have also, participated in NLIU Juris Corp, NLS Arbitration Moot and Surana&Surana Corporate Moot. However, it was eventually, the Nani Palkhivala Tax Moot Court Competition that had the effect of framing the course of my future endeavours and hence, the greater emphasis on CS Course.
I was privileged to have few very proficient seniors who guided me through every effort of mine at law school, ranging from academics to moot courts, internships, etc. In all fairness, although, institutional guidance was very limited; I am particularly grateful to our Moot Court, Faculty-in-Charge for providing the desired opportunities.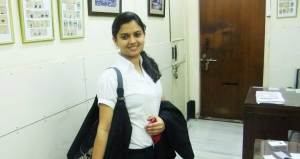 What kind of work did you have to do during your internship at AZB Partners and Nishith Desai Associates?
The nature of work varies according to the place and the team allotted. At Nishith Desai Associates, I was assigned a Mentor and highlight of that internship was the fact that interns could work with all the offices and were not confined to the location office. At AZB there are no watertight compartments so I was not assigned to a particular team, as such. Also the work environment is extremely interactive and you tend to get feedbacks which help you to improve. Through the course of my law firm internships, I was allotted research works, reviewing contracts and drafting opinions.
How was your experience interning with Senior Advocates?
My litigation internships have been under Senior Advocates, Mr. Soli E. Dastur and Mr. Arvind P. Datar, both eminent Supreme Court counsels and renowned tax jurists. Both the internships were very rewarding in terms of, the quality of interaction with Mr. Dastur and Mr. Datar and the quality of work that I was assigned. In fact, during Mr. Datar's internship I worked as a Student Editor on his upcoming revised edition of the Constitution of India. Also, having observed them argue in Court, it gave me an intricate understanding of the critical nuances of law practice and the art of Court craft.
While at a law firm the work is primarily based on research for client advisory or proposed transactions; a litigation internship offers more diverse research experiences. At the same time, it offers you great insights into the judicial mind based on the Judges response to a well-researched argument to which you may have contributed substantially. I personally, enjoyed the respective challenges offered at a law firm and under a lawyer; although, with an inclination for the former.
Did you pursue your internships throughout law school as part of a deliberate plan or did it all just happen by chance?
In my opinion, internships are an outcome of the initiatives you are willing to take in furtherance of your career. So when I say initiatives, it would be fair to state that it was well planned; although, the execution required considerable effort. Given that I had identified my area of interest fairly early at law school I was determined to intern with the best law firms / lawyers in the area. Being from a non-NLU, internships are not as forthcoming as one would expect. Therefore, one has to pursue it relentlessly and with a great deal of vigour. In most cases, a well-structured application with a comprehensive CV and thereafter, periodic follow ups fructified into a positive response.
Personally, I believe in any profession academic scores do not validate one's practical knowledge. The University curriculum fails to invigorate any innovation or analytical reasoning – attributes that I found to be quintessential during my internships. Therefore, an active engagement in Moot Courts, internships, research papers, conferences, etc. are indispensable to acquire practical knowledge of the discipline. Thus, there needs to be personal interest to research deeper into the subject and not merely cater to the requirements of routine examinations by reading a few prescribed books.
What does your CS score card read?
(Arpita has secured All India Executive Rank 13 and South Zone Rank 1 in the Company Secretary (CS) examination.)
To be honest, I was expecting good scores but not a Rank as such. So when I checked my results I was fairly satisfied with my scores and frankly, I did not even glance at the merit list. It was only later in the evening that I was informed by a friend that I had secured the 13th Rank. I was pretty thrilled actually although, it took quite some time to sink in.
When and what inspired you to pursue CS course?
Pursuing CS was largely driven by my proclivity for Corporate and Taxation Law. Moreover, since Taxation is taught in the last semester, I wanted to learn the subject in advance.
I have been very impressed with the course curriculum particularly, because of the way it is structured. The practical insights that the course offers and the examination pattern that seeks to test the same are largely, based on one's knowledge of the subject and not merely memory. I would personally, recommend it for students with an inclination towards Corporate, Securities and Taxation Laws, especially, those belonging to State Universities where such areas are not adequately dealt with. I believe in such cases, it serves to give you an edge over your peers.
How did you remember the sections of the Acts in your syllabus and leading case laws on varied areas of law?
Though CS is an extremely concept based course, this particular aspect is not very different from preparing for law papers in LL.B. curriculum. However, it demands more detailed attention to the fundamentals of a concept. I particularly, do not think one is expected to remember every case law and sections that you come across during the course of your preparations. Having said that, certain significant judgments involving intriguing questions of law and relevant sections that test one's reasoning ability ought to be remembered. This may not require much of an effort if you have done a thorough reading of the subject coupled with an interest in the same.
How did you prepare for the exams?
My semester examinations were scheduled around the same time as the CS Examinations, so I was particularly constrained for time. But I am personally of the opinion that with satisfactory time management it is fairly easy for a law student to crack CS Examinations. Securing a rank may require a little more effort. I had put in about a months' preparation; however, it was only possible because most of the subjects were covered earlier in the LL.B. Curriculum.
CS Course material is more than sufficient for preparations for examination purposes; the only exception being Taxation and Accountancy. Additional materials are available in the form of Guides (usually referred as "Scanners" in CS parlance) – which is basically a Question-Answer Summary Guide of past years Question Papers. It is advisable to refer Taxmann Student's Guide and V.K. Singhania's book for practical problems pertaining to Taxation laws and Shukla & Grawal – considered the 'Bible of Accountancy'. I have been fortunate to have some CA friends who have helped me greatly in this aspect.
How would you say a student can go about studying and having distinction in CS subjects?
I strongly opine that each individual has their own study methods. In some cases, it may be studying for long hours while, others may have a preference for short study hours. My study method was modulated around the latter. I base my study on thorough reading and preparation of short points on every topic. On the eve of the examinations, I studied from these notes because there are no breaks between CS papers and it is quite impossible to revise the entire syllabus within such a short span of time. Also, unlike the Law examinations administered at my University, one cannot afford to engage in selective study; in that case, the idea of merely passing the examination may also, appear far-fetched. As such, time management is undoubtedly a pre-requisite.
Did you take any guidance for preparation?
Initially, when I started my preparations for Executive Examinations I attended a Coaching Institute which proclaims to be the best in South India. Unfortunately, it took little time to comprehend the falsity of such proclamations.
Personally, I do not advocate Coaching Institutes. They not only hamper self-study but at times derail your preparation by misguiding you. Moreover, pursuing Law and CS at the same time, sufficiently eases the burden of Law subjects and nullifies the requirement of a CS Coaching Institute per se. Practical subjects like Accountancy and Taxation may pose a handicap, for which a decent Coaching Class which satisfactorily addresses the concepts involved in these subjects shall suffice.
Any dos and don'ts you would like to share with the future CS aspirants?
It is fairly simple the way I perceive it. I have been advised against CS on the pretext that there is sufficient overlap between the two courses. I strongly beg to differ on this. At the cost of repetition, I say it once again, it gives you a wider practical perspective; and in any case, knowledge never harms, does it!
Frankly, if you are not dedicated enough to pursue it all the way thorough kindly do not take it up in the first place. It is tiresome and entails considerable financial and time investment.
Do you think that being from a non-NLU made any difference?
Actually, it is not the opportunities per se that are limited; but the awareness about such opportunities that is found to be deficient. In any law school, your peers have a cardinal influence in generating such awareness which shapes your career decisions. This particular aspect is woefully scarce in certain non-NLU institutions. As such, being amidst the right kind of peer group largely determines one's success in law school. However, the relaxed institutional framework provided me the time to pursue CS, in particular. And as a matter of fact, every coin has two sides!
What are your plans after graduating?
To be honest, I am not too inclined towards pursuing a career as a full time Company Secretary. I am studying to be a Lawyer, and that is what I would like to be. As of now, I plan to join a law firm where my credentials as a Lawyer and a CS would be adequately employed, preferably one having taxation as its core competence.
Lastly, what would be your message to our readers and to the future CS aspirants?
Stay focused, fight for what you believe in and pursue your goals with a great deal of determination.