Manu Beri graduated from Campus Law Centre, University of Delhi, in 2000. With over eighteen years of experience in litigation, he has handled a variety of matters in different forums including the Supreme Court, Delhi High Court, National Company Law Tribunal, National Consumer Commission and Arbitration Tribunals.
In this interview we speak to him about:
His early years as lawyer in litigation practice
His experience in various courts
Challenges of a litigation lawyer
Building independent practice
 HOW WOULD YOU INTRODUCE YOURSELF TO OUR READERS?
I practice in the Supreme Court, Delhi High Court, National Company Law Tribunal, National Consumer Commission and before Arbitration Tribunals. Have been doing a variety of legal matters both in Corporate and Criminal law (Economic Offences) for clients in India and from abroad, including large and medium size corporations in FMCG, Logistics, and Infrastructure sectors etc.
PLEASE TELL US ABOUT YOUR COLLEGE LIFE. WHAT MOTIVATED YOU TO TAKE UP LAW AS A CAREER?
I did my LL.B from Campus Law Centre, Faculty of Law, University of Delhi in the year 2000. Spending three years during my LL.B course in the North Campus of DU was quite good. The best part of it was that Senior Lawyers would come to our Faculty to share their experiences and interact with the students. I had the opportunity to listen to stalwarts like Mr. Ram Jethmalani, Mr. Harish Salve and many others. Likewise, some practicing lawyers used to take our classes. In addition to regular faculty, teaching by visiting/guest faculty helped us to know the practical aspects of the legal profession while studying Law. I hope they are continuing with this system and other Law schools have also introduced this.
My initial interest to do law came from studying subjects like Political Science in which I got to know of constitutions of many democracies in the World. Out of all other professions, I found law intellectually challenging and stimulating. Unlike many other professions, it gives you a chance for lifelong learning. A Lawyer can help develop or change the policy making not only in his client's businesses but Government policies as well. Law helps you constantly learn and grow.
My uncle Mr. Sandip Beri is in the legal profession. After having practiced in the Supreme Court of India and then having done a long stint with law firms and corporations in the USA and India, he is presently a partner with a large Corporate Law firm in Delhi. He was the guiding force behind my decision to take up law as a career. Through him I had a fair idea of what the legal profession was all about.
PLEASE TELL US ABOUT YOUR INITIAL YEARS OF PRACTICE.
After working for about a year and a half as a Junior Lawyer, I started my own independent practice a little early in my career. However, I think I should have worked for a few more years as a Junior lawyer. But luckily for me in my initial years of practice I was able to get good work from some Companies and I learnt a lot from the work I did for them by handling various legal issues for them in Courts and otherwise. Also, briefing Senior Counsels in the High Court and Supreme Court on important matters has been a good learning experience for me. I think learning in this profession comes from handling maximum cases and arguing in Courts. The more cases you work on, the more you will enhance your knowledge, skills and consequently increase your confidence as a litigation lawyer. When I started my law practice, I was advised to specialize in any one branch of law rather than doing a variety of legal work but I somehow did not like this idea and I knew what I wanted to do. It is very exciting to work on cases involving different legal issues. I have had the opportunity to represent clients in a variety of matters like IPR Suits, Writ Petitions, Arbitrations, Consumer matters, Company Petitions and Criminal matters in the higher Courts. I hate monotony in professional work; hence getting to do cases from different branches of law has only enhanced my knowledge and skill set.
AS A LITIGATION LAWYER, THE TOUGHEST CHALLENGE IS TO GET CASES – WHAT WOULD BE YOUR TIPS TO LAWYERS WHO HAVE JUST STARTED OUT IN THEIR CAREER.
Public relations are very important in legal profession. But more than that if you work with sincerity for your clients and give them positive results in a time bound manner, then one client will naturally lead to another through word of mouth and there cannot be a better publicity or advertisement than this for a lawyer.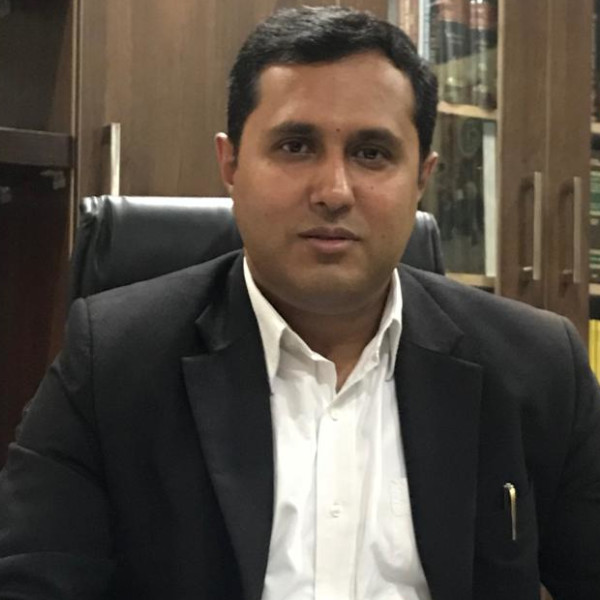 YOU CHOSE TO WORK IN TRIAL COURTS AND DISTRICT COURTS INSTEAD OF MOVING DIRECTLY TO THE HIGH COURT AND SUPREME COURT. HOW IMPORTANT IS TRIAL COURT PRACTICE IN THE INITIAL YEARS OF ONE'S CAREER?
In the initial years of practice one may not get big and high stake matters and even if one gets such matters in higher courts then the clients prefer Senior Counsels to argue these matters. Therefore, Trial Courts give junior lawyers a chance to conduct depositions and argue the cases themselves which is a great learning experience and confidence building measure.
YOU HAVE SUBSTANTIAL NCLT PRACTICE AS WELL. PLEASE TELL US HOW CAN ONE GAIN EXPERTISE IN COMPANY AND INSOLVENCY AND BANKRUPTCY LAW.
Well, as I said for gaining expertise one needs to handle maximum cases in that field of law. Mere theoretical knowledge of any law subject is not going to help. In my view, to gain expertise in any branch of law it is important to read and understand the statute with the relevant judgments passed by the courts and then handling cases in courts/tribunals. Also, one should keep oneself updated with the latest news in the corporate world through print and electronic media. In corporate litigation practice, in addition to understanding the law, a lawyer has to understand his client's business. This has helped me to learn so much about different businesses and industries, as well as the diverse areas of law that impact my clients.
WHAT IS THE ONE IMPORTANT LESSON YOU HAVE LEARNT IN YOUR CAREER AS A LITIGATION LAWYER?
One thing I have realised over the years is that one should also listen with an open mind to what clients have to say about their case in addition to the facts, rather than being dismissive about their logic and opinion. Sometimes, their ideas based on their life and business experience can really help in developing a case.
HOW DO YOU RECOMMEND A FRESH LAW GRADUATE INTERESTED IN LITIGATION START THEIR CAREER?
I started my own independent practice a little early in my career. However, I think I should have worked for a few more years as a junior lawyer. My advice to budding lawyers, who intend to enter into litigation, is that they should spend at least two-three years as a junior in a law office having lot of drafting work and reasonable number of appearances in courts and after that if they get a chance to work in the office of a good Senior Counsel, they should spend a couple of years in the Senior's office as well.
HOW CAN ONE APPLY FOR INTERNSHIP UNDER YOU? HOW CAN AN INTERN STAND OUT DURING HIS INTERNSHIP?
I generally keep one intern at a time so that we can have maximum interaction with each other. I invite CVs from interns and then decide. At this stage of their legal education the interns are expected to do the research work and read case files. I think an intern can stand out by doing good research work and finding judgments for the ongoing cases.
WHAT QUALITIES DO YOU LOOK FOR IN A JUNIOR?
A junior should be hardworking having the ability to put in long working hours, sincere, reliable and courteous.
WHAT ARE YOUR THOUGHTS ON THE JUDICIAL SYSTEM.
It amazes me how under the given circumstances the Judges in this country work tirelessly to decide cases and write judgments by spending extra hours to deal with pendency of cases. It is very challenging to properly hear and decide so many cases on the board in a single day. There is an urgent need to increase the number of judges so that the justice delivery system is quick and more efficient.
WHAT WOULD BE YOUR WORD OF ADVICE TO YOUNG LAWYERS AND LAW STUDENTS?
For young budding lawyers it is very important to plan their career path right from the law school years, by doing extensive internships with Judges, litigation lawyers, Law Firms, and in-house lawyers etc twice a year which can be really helpful as they plan their future in the profession.