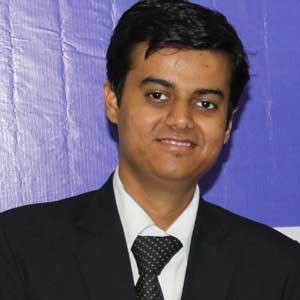 Mrudul Dadhich is a graduate of the batch of 2014 of  RGNUL, Patiala. He is currently pursuing Masters in European and European Legal Studies from the Europa-Kolleg, University of Hamburg and was awarded the prestigious Dr. Angela Merkel Scholarship Award.
We spoke to him, among other things, about:
Tips on pursuing masters
Process of application to foreign universities for masters
His recruitment at J. Sagar Associates
Scope of career opportunities after graduating from a Tier II/III law school
How would you introduce yourself to our readers which are mostly young students of law and lawyers?
Hello everyone, I am Mrudul Dadhich, pursuing Masters in European and European Legal Studies from the Europa-Kolleg, University of Hamburg. I was fortunate to have been awarded the prestigious Dr. Angela Merkel Scholarship Award for pursuing my Masters. I have completed my B.A. LL.B. (Hons.) from Rajiv Gandhi National University of Law, Patiala.
Please tell us a little about yourself, your hobbies, passions, interests and ultimate goal in life.
I am young lawyer with a lot of aspirations to find my feet in the legal fraternity. My hobbies include watching sports (especially cricket, football and tennis). I am passionate about cricket in particular and have a special affinity for numbers (which partly explains my love for statistics in sports). As for the ultimate goal, I tend to take things one at a time and prefer to set short term goals, achieve them and then set another set of goals. So it will be difficult to tell you an 'ultimate' goal in life at this point.
How did you decide to study law? Did you have lawyers in your family? Why law and not engineering or medical studies?
I am a first generation lawyer in my family. During my school days, I was totally inclined towards Engineering and had never thought of taking up law. I didn't know what I was getting into when I came here and in my first 4 or 5 months I was filled with awe. And over the years I have realized that it was the best decision I ever took. All professions have lot to offer, however, personally for me law has offered more dynamism and it has opened up a lot of opportunities and avenues.
You have not only interned at some of the best law firms in India but also secured a job at JSA, Advocates and Solicitors. How did you go about achieving this?
When I was in the 3rd year of my Law School, I realized my inclination towards corporate and business laws and luckily, I got the opportunity in my 3rd year itself to intern with a top-tier firm. Then with the feedback from seniors I soon realized that J. Sagar Associates is a dream place to work at. When I first got the internship I was ecstatic and frankly, was in awe with the work culture and environment at JSA. That internship was a great experience and after that I kept on repeating internships with the firm. And things took their own course afterwards.
Please tell us the recruitment process at JSA?
The recruitment process at JSA is quite transparent and well structured. In my case, we had a campus recruitment activity wherein 6 candidates were shortlisted for the final interview. Based on the interview, the final selection was made.
We note that you have applied for top notch universities for masters. While making applications, what was your strategy – choose a university first and then a course or vice-versa?
I just applied for 2 programmes. I applied for the BCL course at the University of Oxford and the other one was for the DAAD Scholarship (the Angela Merkel Scholarship). My approach was to first select the course and then the University.
There is also a great amount of debate when it comes to allocating your time and energy between research papers and moots as a law student. What is your opinion regarding this?
There is no straight jacket formula for defining which requires greater allocation of time and energy. It works differently for every individual. In my case, I participated in Moots only till my 3rd year. However, I believe that a well balanced CV is more important than excellence in any one field alone. It is very difficult to choose one over the other and one must have fair share of both. Personally, I feel once you have done both then you may decide to pursue the one which interests you more. I had always favoured writing research papers over mooting.
Being a topper, one may safely assume that you chose to devote a substantial amount of your time to academics. However, a lot of people claim that the role of academics (and more specifically, the "CGPA") is limited and often over-stated and hyped. What's your take?
I think academics do play a significant role. However, having said that, it also depends on what your future goal is. I think that, for securing a place in a prestigious institution for higher education, role of a sound academic record is highlighted. I reiterate that it is important to strike a balance between academics and the extra-curricular activities. I also believe that internships are also very important and are a great platform to gain valuable, practical experience. Finally, to answer your question, I would say that academics are not the only thing but it never hurts to have sound academic record. It always helps!!
There's a lot of hue and cry about how the lower-ranked colleges are discriminated against when it comes to opportunities being offered despite at times being equally meritorious as the students from the higher-ranked ones. Do you find any substance in this argument?
I would not say there is any discrimination in the legal fraternity based on the colleges. Generally the recently established colleges (I prefer to use this phrase rather than 'lower ranked colleges' as in absence of a centralised transparent ranking system, it is unfair to call any college higher ranked or vice-versa) have a smaller alumni network which plays a very important role in getting more opportunities. But I don't think there is any discrimination.
Did being a student of a Tier II Law School act as a roadblock during your law school days?
Again I have not come across the categorization of law schools in different Tiers. In my case, I think studying in RGNUL was a boon and since it (RGNUL) was in the nascent stages when I started law school, I got a lot more opportunities to explore and to learn.
If you could list out 3 activities which on a scale of priority, should be at the top in any law student's school-life (given that he wants to secure the same set of achievements as you), what would those be?
I reiterate that maintaining a balance is the most important thing, being perseverant and keeping yourself motivated is the Mantra that worked for me. As for the priority list, I would place Academics (good grades really help you for being accepted for Masters), Internships (this not only gives a practical insight about the different challenges one may face after law school) and Research Papers.
If you could re-do your 5 years in Law school, is there something you would do differently?
No, I am happy with the way things have turned out. The greatest fun is in unpredictability and to respond to the situations as and how they come, it will be too boring if everything goes just as we plan them!!!
Lastly, what would be your message for the readers who want to pursue masters?
First of all decide if you really want to pursue Masters. Once you are clear about that, select the discipline in which you want to pursue it (based on your area of interest and the opportunities which it may present in future). Look for appropriate scholarships. There are many scholarships so research on that and most importantly, start with your applications well in advance. I wish all the readers the very best in their future endeavours.